A creamy refreshing summer treat that you will make over and over again: Homemade basil ice cream.
Welcome to creamy basil ice cream. The flavors of summer, in a perfect iced treat. This is a new family favorite, and we can not get enough. It has a bright flavor and is herbaceous without being overwhelming. And when you're like me and have more basil in your garden than you know what to do with - ice cream is always a good solution!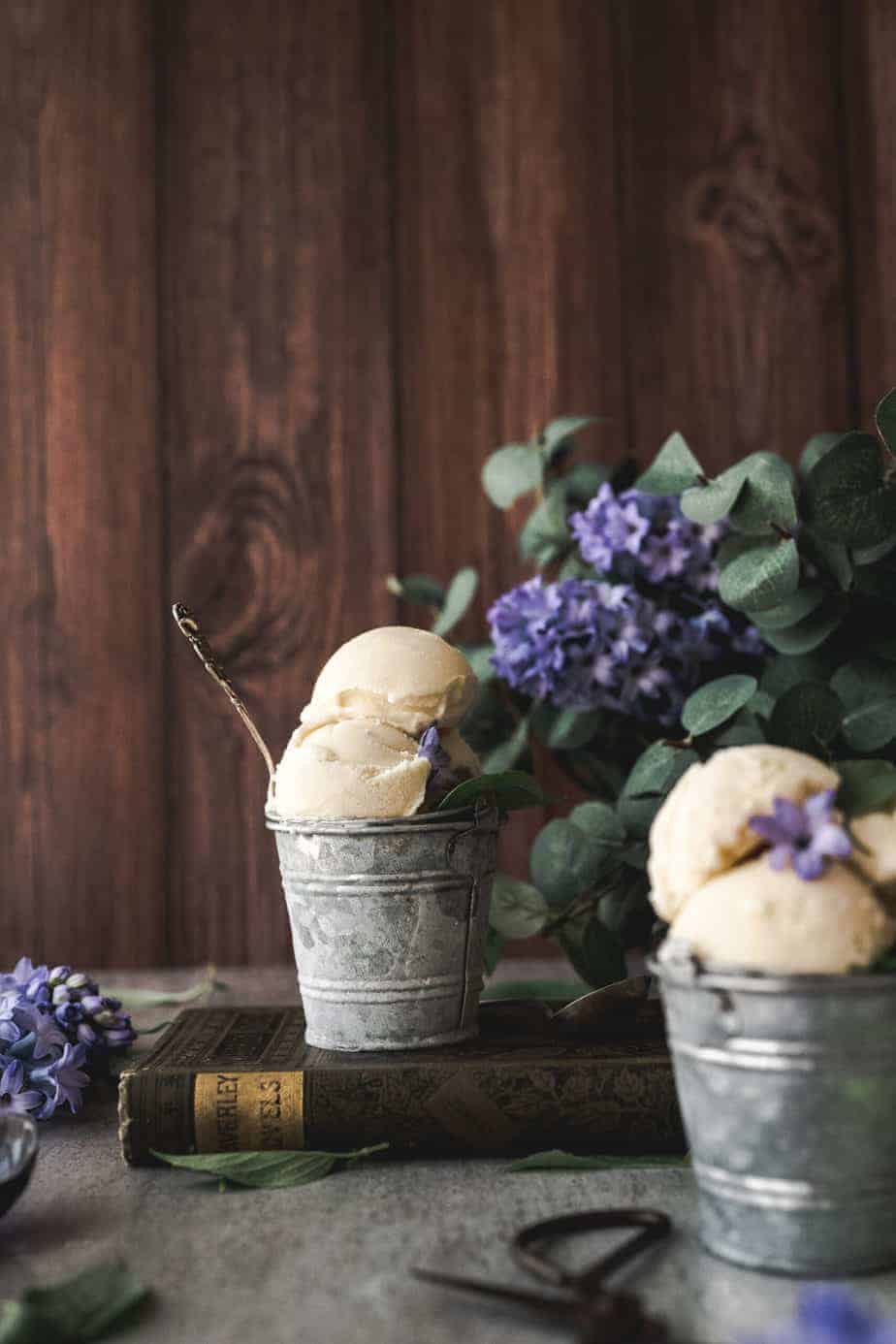 This recipe is written for an ice cream maker, but not to worry. If you don't have an ice cream maker you can still make this ice cream. See recipe notes below!
Other gourmet ice cream maker recipes: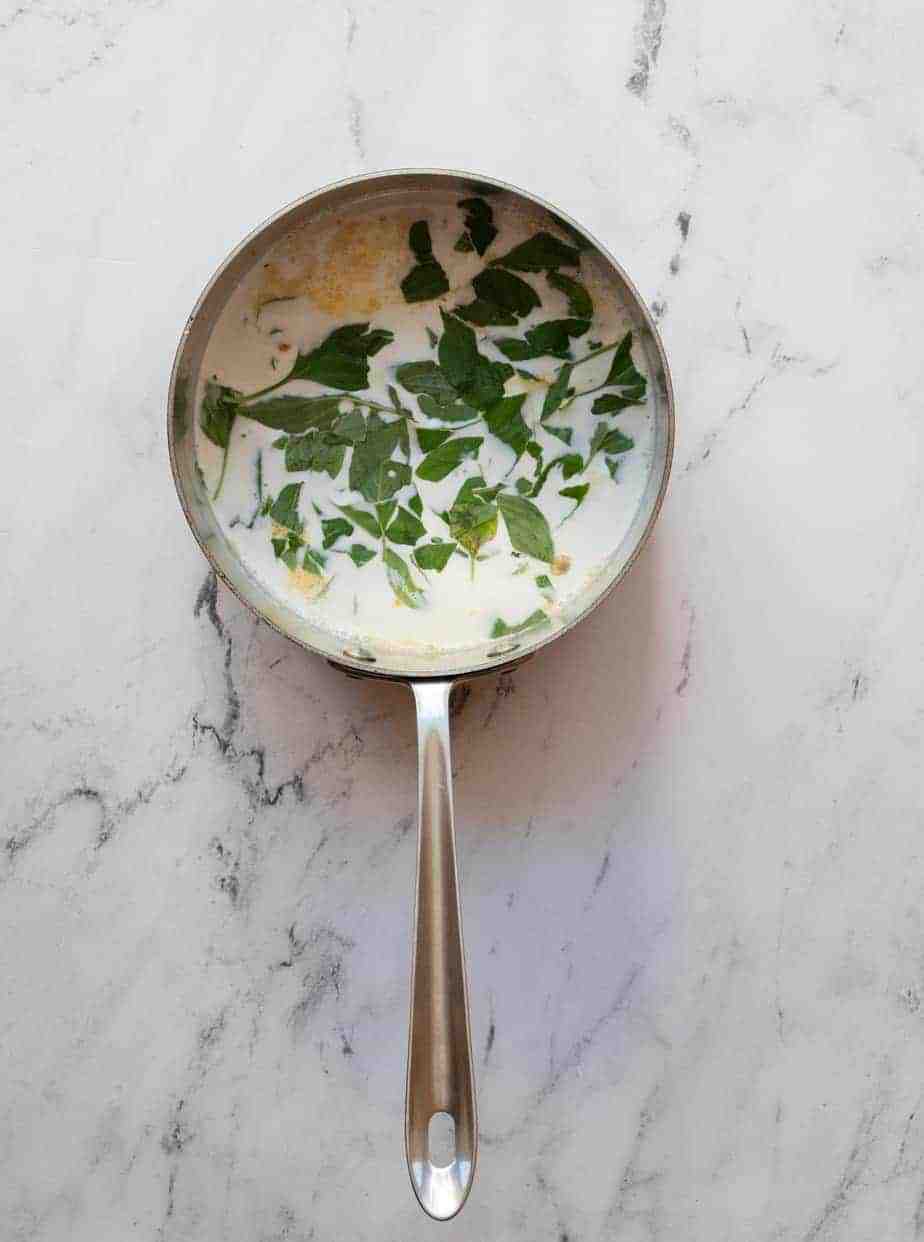 How to make homemade basil ice cream:
Making ice cream with a perfect texture requires a slow reduction. I want all of the sugar to dissolve into my cream and a beautiful citrus basil flavor to come through. You achieve this by simmering your cream, sugar, basil leaves, and lemon extract in a saucepan for twenty minutes.
But... this recipe does require an extra step.
For the BEST results, you chill your reduction with some additional fresh basil for hours (we recommend overnight) before placing your mix into your ice cream maker. It's a little bit of time and effort, but so worth it. I promise!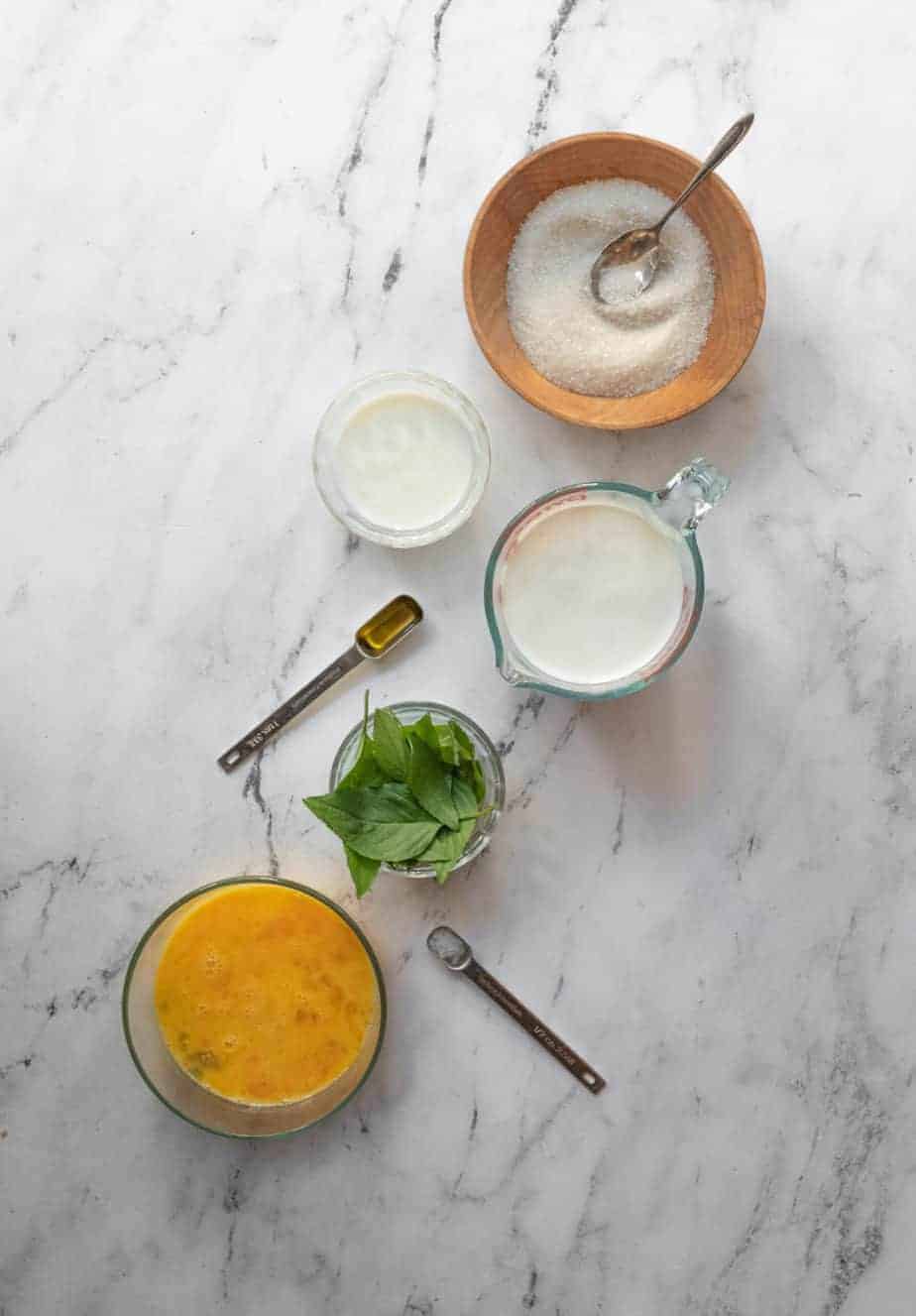 Ingredients:
Heavy whipping cream / heavy cream
Whole milk
Granulated sugar
Egg yolks - For the creamy custard that is ice cream.
Salt
Lemon extract (you can sub for vanilla if needed)
Fresh basil leaves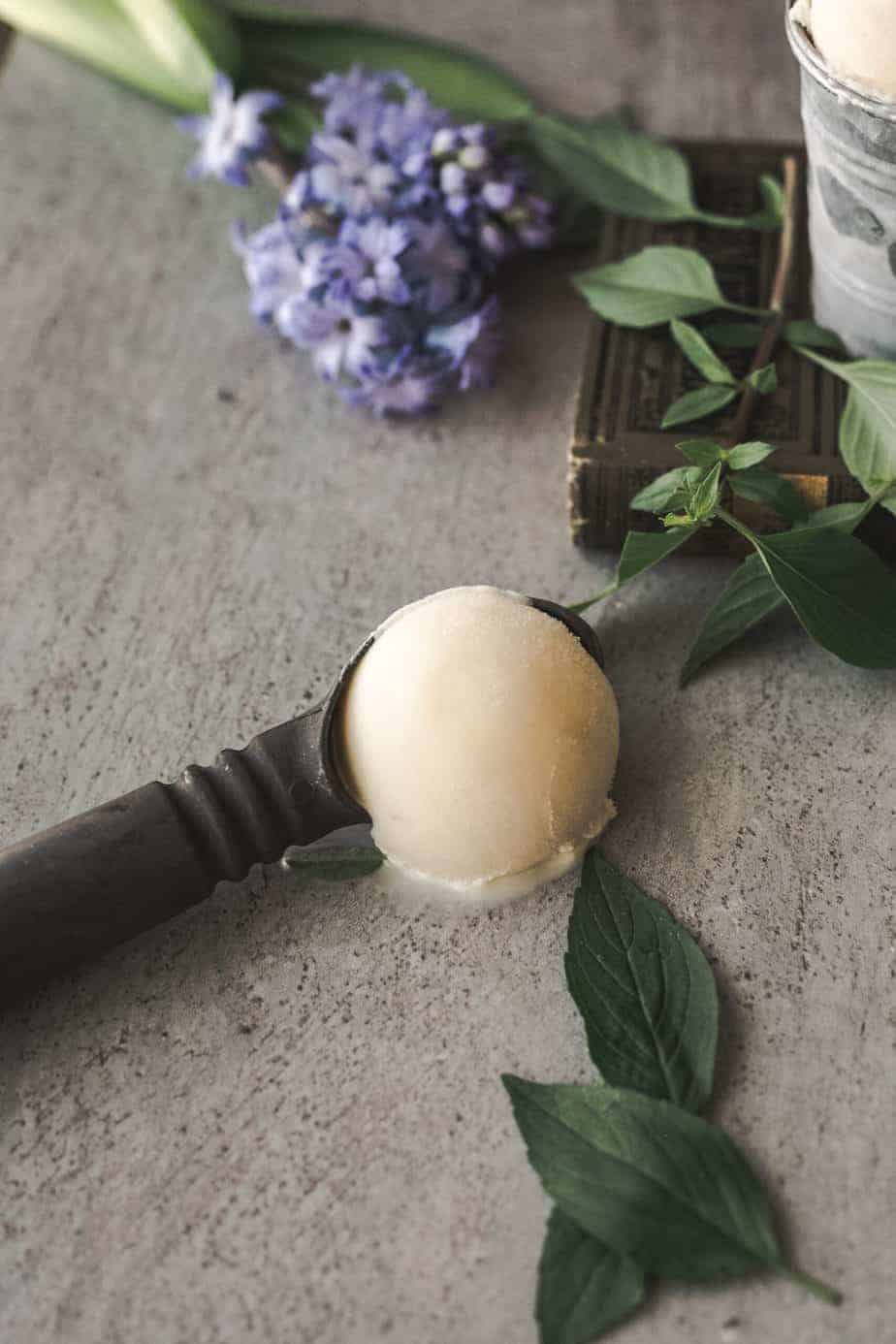 Tools needed to make this ice cream
Quart ice cream maker - We use this simple, affordable cuisine art ice cream maker to make our ice cream recipes (more than I'd like to admit) if you don't have one - don't worry, you can still make this ice cream. See notes below.
Sauce pan.
Whisk
Measuring cups and spoons
Step by step for making ice cream in an ice cream maker
Along the way I've found my base for the perfect, scoopable ice cream that is sure to please!
Mix all of your ingredients together into a sauce pan and whisk well.
Stir over low-medium heat for 10-15 minutes to get a slow reduction, heat the egg yolk and melt the sugars down. Be sure not to overheat or else you'll curdle your milks and cook your eggs. Stir consistently.
Strain your mixture into a large jar and then add more fresh basil leaves. Let sit six hours - overnight in the fridge for the basil flavor to infuse.
When ready to make your ice cream, strain basil leaves out again. Pour mixture into ice cream maker.
Turn your ice cream maker on and let it churn based on manufacture's recommendations. For me, it usually takes 20 - 30 minutes.
Transfer the ice cream into an air tight container and let it chill in the freezer for at least six hours. From here you should have perfect, scoopable ice cream!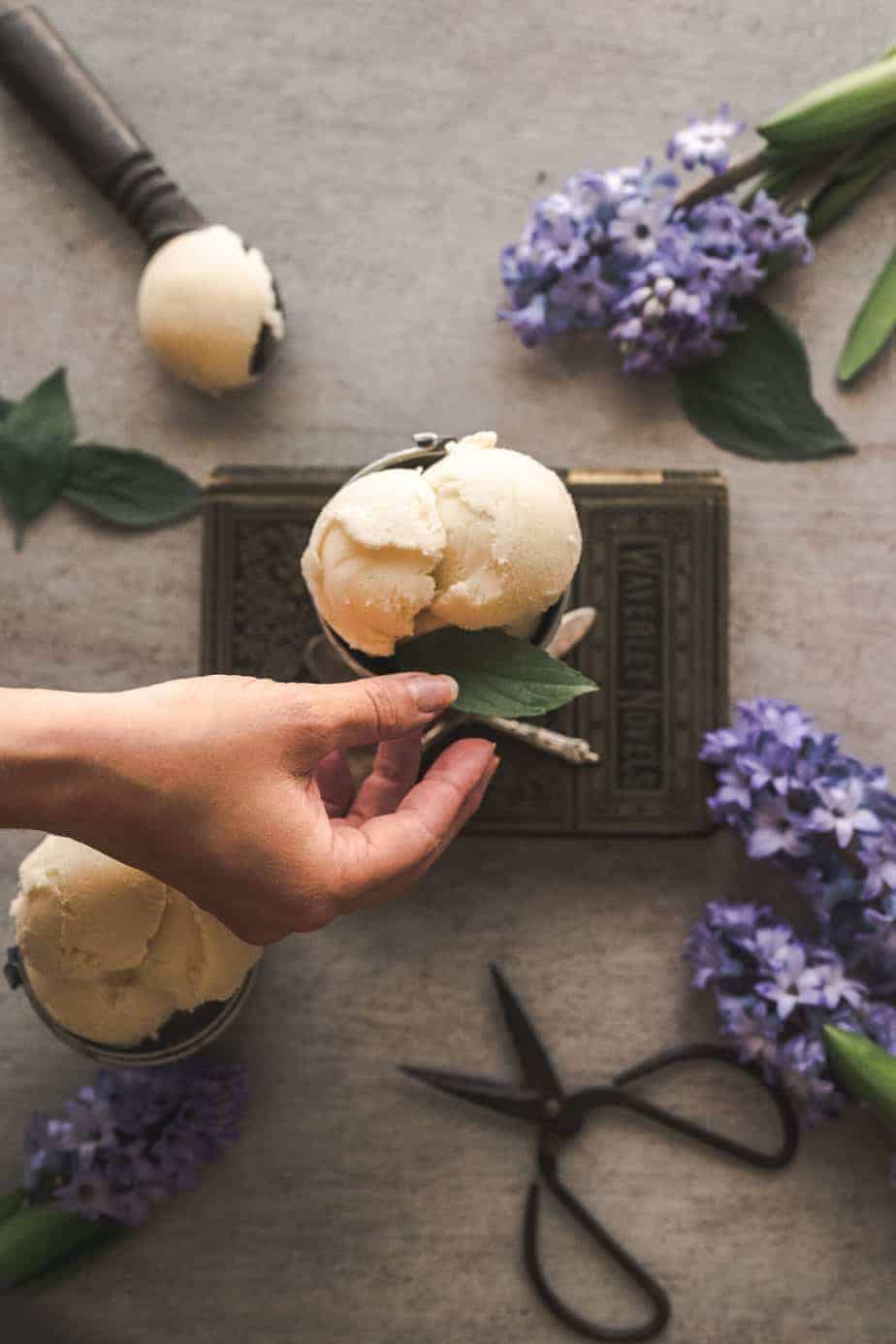 How to make this basil ice cream without an ice cream maker:
Tools you'll need:
8x8 metal baking dish
Spoon for scraping
Step by step:
Create an old fashioned custard ice cream by combining egg yolks, heavy cream, your basil, milk, sugar, lemon extract and salt. Let this sit overnight.
Slowly mix and simmer the ingredients for twenty minutes, allowing the ice cream to reduce down, dissolve all of the sugar, and then let the mixture cool completely. Do not overheat your mixture as we do not want to cook our eggs, just thicken the mixture for the right consistency.
Pour mixture into your baking dish.
Place it in the freezer for 90 minutes.
Remove from the freezer and whisk the mixture, scraping the sides of the pan well. Use a sturdy whisk or hand mixer to whip the mixture a bit as it begins to freeze.
Return to the freezer.
Continue to freeze, checking on ice cream mixture every hour. Break up large ice pieces with your mixer, scraping the sides each time, and then return to freezer.
After a couple of hours, it should begin thickening to a slushy soft-serve consistency. Once it reaches that stage, you can serve it or cover it with a lid and return to the freeze until firm and scoop able.
Note: Ice cream made without a machine will freeze to a very firm consistency after a day or so in the freezer. However, it will thaw nicely at room temperature after 10-15 minutes and will be perfectly scoop-able.
Serving recommendations:
Serve with:
More frozen treats to love: