DIY elderberry gummy bears
Kids and adults will have a blast making these antioxidant-rich treats. These DIY elderberry gummy bears are colorful, healthy, and delicious!
Making homemade gummy bears is easy as can be. These super cute snacks only take a few minutes to make and once you've made your first batch, you'll never stop coming up with new creative creations. These elderberry gummies are delicious and the perfect way to convince little ones to take their medicine during cold or flu season--or year-round for maintenance.
Every time I make gummy bears, others seem to think it's really impressive. But I'll let you in on a little secret... it's so easy my toddler could do it! Making delicious gummy bears only requires a few simple ingredients and a gummy bear mold.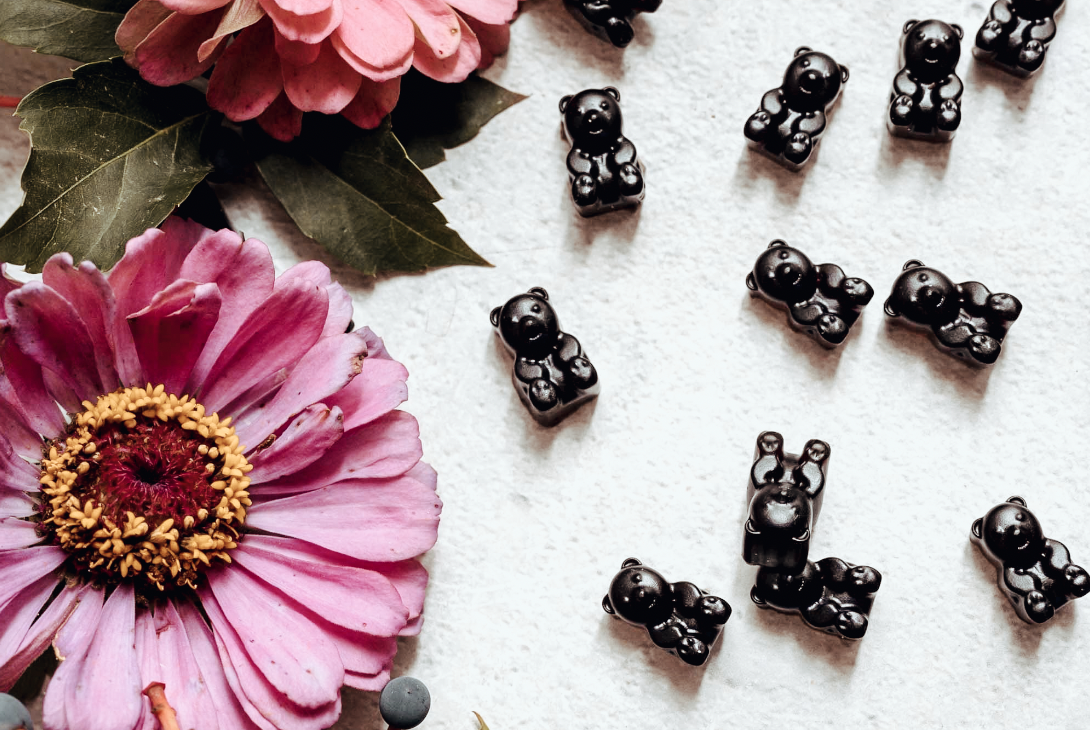 Why this recipe is great for kids:
-It will help them get the nutrients they need. The benefits of this simple homemade syrup include its high vitamin C content, which offers both antioxidant and anti-inflammatory effects!
-Making gummy bears is simple, fun, and relatively mess free. You can easily get your children involved in creating them.
Does elderberry work ? What are the benefits ?
Elderberry has been used in folk medicine for centuries to treat influenza, colds and sinusitis. Research shows that it can be an effective antiviral against the flu. In one study, 60 people who were suffering from symptoms were enrolled into two groups: placebo or elderberry treatment patients. Results showed that those taking the remedy had much faster recovery times (they felt better 4 days sooner than with traditionally prescribed medication!) - suggesting its effectiveness may not just be folklore! Source - pubmed study
This is why we make elderberry syrup during cold and flu season, and take it daily. We take 1 tablespoon daily, as the study listed above used just under 1 tablespoon (15 ml) in their trial, which showed effectiveness. If we develop a cold or flu, we would continue to take 1 tablespoon a day. You can find my recipe for homemade elderberry syrup here: HOMEMADE ELDERBERRY SYRUP
You can also skip making your own elderberry syrup and buy it instead!
How many gummies should I take per day?
We take four of these gummy bears per day each, along with our other supplements.
"Elder is referred to time and again as "the medicine chest for the country people," alluding to its wide-ranging medicinal actions and ready availability. Elderflower and elderberry are both exceptional allies during colds, flu, and respiratory infections due to their diaphoretic and antiviral actions. Taken at onset, elderberry can reduce the duration of cold/flu because it interferes with virus replication, and strengthens cell walls to inhibit viral penetration (Hoffmann, 2003). Elderberry has been the subject of numerous research studies. In one placebo-controlled, double-blind study using Sambucol (a syrup containing elderberry juice), significant improvements in flu symptoms were seen in 93.3% of the elderberry treated group within 2 days."
– Elder Monograph from The Herbarium
Where do I find elderberries in the wild? How do I forage them safely?
When the sun sets, and night creeps over your beloved garden on those warm summer nights, it's not only time to harvest elderflowers but also clusters of small dark purple berries that ripen mid-summer to early fall. How fun would it be to create a healthy homemade candy from berries you foraged from the wild?
Sambucus nigra L. ssp. canadensis is a shrub that's commonly found throughout most of North America as an ornamental plant. It is often found along hedgerows and forest perimeters where the ground has been disturbed to create a habitat for new growth. Its characteristic cream-colored flowers, or elderflowers. The flowers grow in umbrella shaped clusters; each flower has 5 petals with an urn shape to it.
You'll want to make sure you've properly identified the elder shrub so that you know you're foraging elderberries.
When I'm home in Colorado, my mother has a beautiful elder tree. The flowers bloomed in late July, however depending on where you are you may see them blossom in late spring or early summer. The flowers bloom before the berries rippen.
The elderflowers and berries are edible, however you can't just pluck them from the tree and eat them raw, like you would with blueberries. Raw elderberries, and leaves, stems, bark and roots of these plants contain toxins that would harm your pancreas if consumed. It's important not to include any when processing ingredients for cooking with this berry.
Because I move frequently and occasionally don't live in north America, I feel more comfortable ordering elderberries dried from mountain rose herbs. Using dried elderberries also produces syrup that's less bitter.
How should I store my DIY elderberry gummies?
Because these are homemade with juice and without any preservatives, we store ours in an airtight container in the fridge and enjoy within 2 weeks. If you make a large quantity, please store what you will not consume in the freezer to prevent mold.
DIY elderberry gummy bears
Kids and adults alike can enjoy this antioxidant-rich treat. Elderberry-fortified gummy bears are a fun project that gets everyone involved and excited about their health.
Ingredients
1

cup

elderberry syrup

3

tablespoons

gelatin

3

tablespoons

honey

optional

optional but delicious: ½ teaspoon raw grated ginger

½

tablespoon

ground cinnamon
Instructions
Add your elderberry juice and gelatin to a small saucepan

Mix well, and then turn your heat to low

Let simmer for five minutes, stirring consistently

Remove from heat, after one minute while gelatin is cooled but still slightly warm, add your honey. Mix to let dissolve

Use a doppler to suck up liquid mixture and pour into gummy bear molds

Transfer mold to fridge and let chill for two hours
Notes
Because these are homemade with juice and without any preservatives, we store ours in an airtight container in the fridge and enjoy within 2 weeks. If you make a large quantity, please store what you will not consume in the freezer to prevent mold.
Nutrition
Serving:
1
g
Calories:
12
kcal
Carbohydrates:
1
g
Sodium:
1
mg
Sugar:
1
g
More elderberry recipes
I hope this recipe works beautifully for you and is enjoyed for many years to come. Thank you so much for reading. Your visit to my site helped support a small mama run business today. If you enjoyed it, I would be so honored if you would share with your loved ones.
Sending love, fresh baked cookies, and a bouquet of your favorite flowers.