Basil flower pesto in mortar and pestle
You haven't tried pesto until you've made this basil flower pesto the traditional way - in a mortar and pestle. It's easier than you think - and the aroma you'll experience while grinding up your ingredients makes the little bit of physical work well worth it. The taste is far superior thanks to manually blending them together. You'll never make pesto using a different method again!
One of my favorite ways to enjoy edible flowers is to craft something with our garden herb flowers. I like to prune them regularly and add them to salads, pie fillings, sauces, smoothies and more.
Are basil flowers edible?
While most people think of basil as a savory herb to be used in cooking, basil flowers are edible and delicious. They can be added to salads or used as a garnish on dishes. If you're feeling adventurous, you can even try deep frying them! And of course, when you have to prune them - you might as well make a fresh pesto!
Why does basil grow flowers?
If your basil is flowering, don't worry! It's simply following its natural growing cycle. The flowers will be followed by the plant producing seeds. Once it gets to this point, the leaves are no longer as fragrant, delicious and tender as they were previously, and aren't as suitable for using in the kitchen. These flowers are pretty, but they are also a sign that the plant is shutting down and going into reproduction mode — instead of growth mode.
Why you should prune your basil:
The garden is extremely abundant in basil and we like to keep it that way. We always cut the herb flowers from our basil because letting the flowers grow changes the flavor of the basil leaves. We prune the flowers while they're young so they still have a relatively soft texture. They taste just as vibrant and herbaceous as the leaves to us. In the pesto, the flavor when using basil flowers vs basil leaves is unnoticeable. Therefore, it's a great sustainable way to enjoy what would otherwise be scraps from the garden!
If you're curious about how to prune your basil, read this post.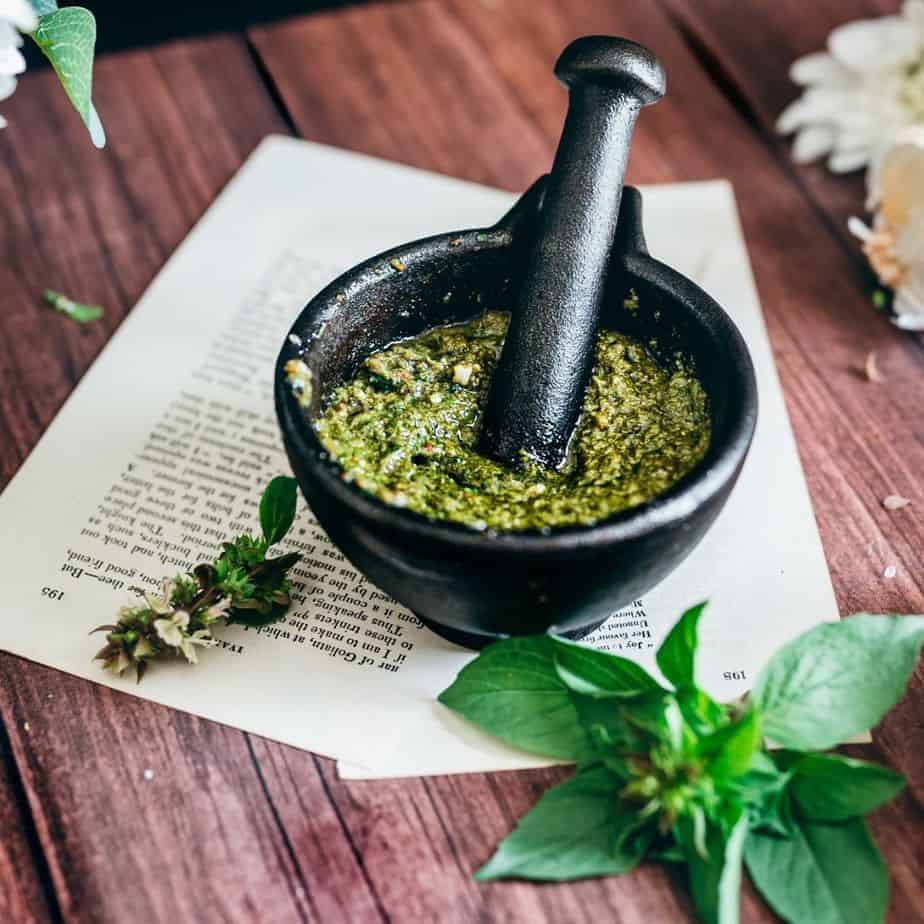 Ingredients in basil flower pesto:
½ cup Pine Nuts
2 cloves Garlic
1 Pinch Salt
2 cups Fresh Basil Leaves
1 cup fresh basil flowers
⅓ cup Extra Virgin Olive Oil
½ teaspoon Sea Salt Or to taste
¼ teaspoon Fresh Ground Black Pepper
⅓ cup Grated Parmesan Cheese
½ lemon, juiced
How to make pesto in a pestle and mortar
Start by roasting your pine nuts. Do this in a sauce pan over the stove. Roast the pine nuts on a low-medium flame for one minute, stirring all the time and removing them from the pan before they turn dark.
Ground the garlic and salt together in the mortar.
Next add in a few basil flowers and leaves at a time, crushing until it's ground well. Add in more when it's become a paste, until you've eventually added all of your basil leaves and flowers. Add olive oil as needed to help create a smooth and creamy texture.
Add in your roasted pine nuts and continue to grind.
Add in your freshly ground pepper, warm cheese and lemon juice.
Frequently asked questions:
How can I store my basil pesto?

Store it in an airtight container in your refrigerator for up to three days.
Can I freeze pesto?

Yes! To freeze, add your pesto into an ice cube tray. Once frozen, store them in a sealed airtight container or bag for up to six months.
What can I serve this pesto on?