Oven roasted chicken thighs with fennel and figs
A symphony is beautiful flavors come together in this simple oven roasted chicken thighs with fennel and figs recipe. With fall of the bone chicken that's braised in brown butter - that slowly marinates with sweet juicy figs and robust fennel and coming together perfectly with rosemary, spicy garlic and red onion .
Minimal prep work and one pan | one baking sheet meals make for a wonderful recipe, don't you think? This entire meal cooks up beautifully while pan juices marinade all of the ingredients. And this gourmet meal will quickly become a family favorite! Easy enough for a weeknight, special enough for a gathering.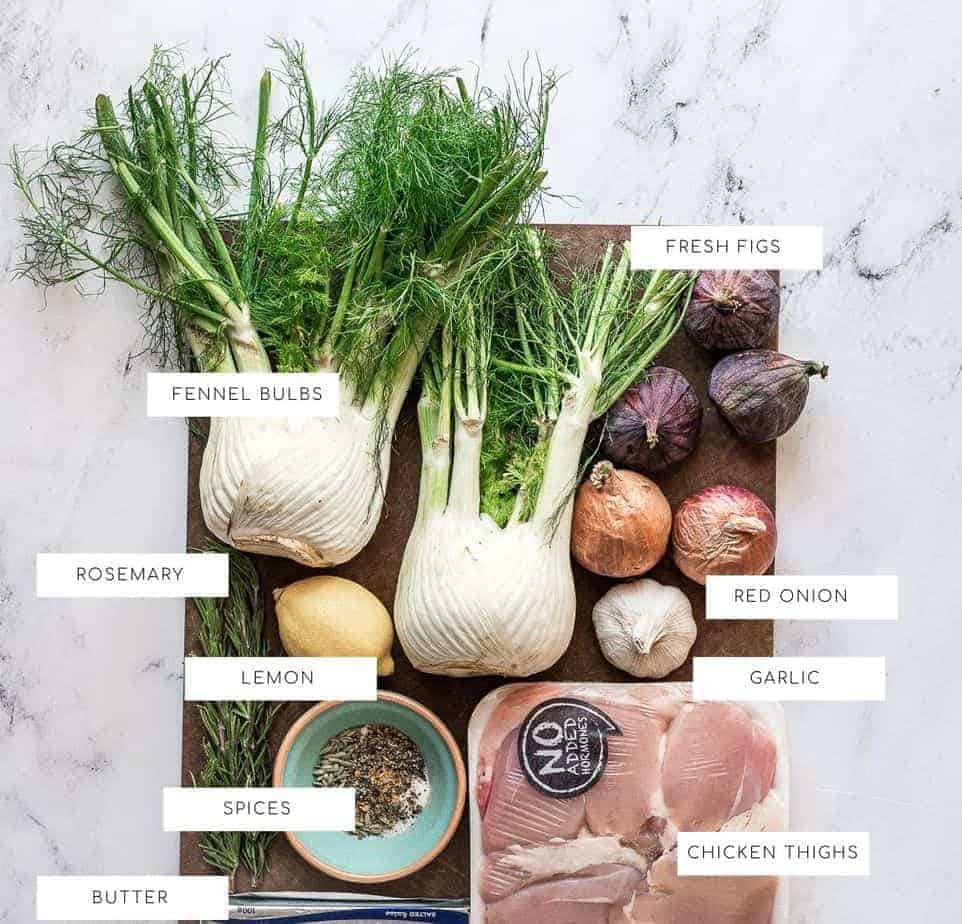 Ingredients in oven roasted chicken thighs with fennel and figs
skinless chicken thighs
fresh figs
fennel bulbs + reserved fennel fronds
head of garlic
red onion
salt + black pepper
lemon zest and lemon juice
fresh rosemary
fennel seeds
Quantities in recipe card
Tools
How to make these oven roasted chicken thighs
Start your prep by cutting your onion in fourths and peeling your entire head of garlic
Cut your fennel bulb in fourths, reserving the fennel fronds
Brown your butter over medium heat and add your lemon zest, lemon juice, fresh rosemary and salt and pepper.
Next, begin arranging your chicken pieces on a baking sheet and patting them dry with paper towels - this will help the skin get crispy.
Arrange your fennel slices, lemon wedges, onions and garlic cloves. Make it art!
Brush your browned butter over all of your chicken and vegetables and figs to marinade ingredients - this will add so much flavor!
Sprinkle chicken with an additional teaspoon of salt and pepper - seasoning is key here, don't skip this step.
Place in your oven and bake. Turn half way through for even roasting.
Remove chicken and let it rest for a couple minutes for best results.
Serving recommendations
I love serving these chicken thighs with my pomegranate, fennel and toasted walnut rice pilaf and a glass of white wine.
Frequently asked questions:
Does this recipe freeze well?

Everything in this recipe freezes well except the figs. If you plan to cook and freeze, cook with the figs for the flavor, but remove them before freezing.
How can I store this recipe?

Store in an air tight container for up to three days, or in your freezer for up to three months. See note above.
The recipe
You may also enjoy these easy gourmet dinner ideas