Sweet, zesty, herbaceous - sweet lemon thyme scones are the perfect way to start your day. Bakery fresh scones combined with vibrant flavors from the garden come together in this soft and tender treat with a sweet lemon icing.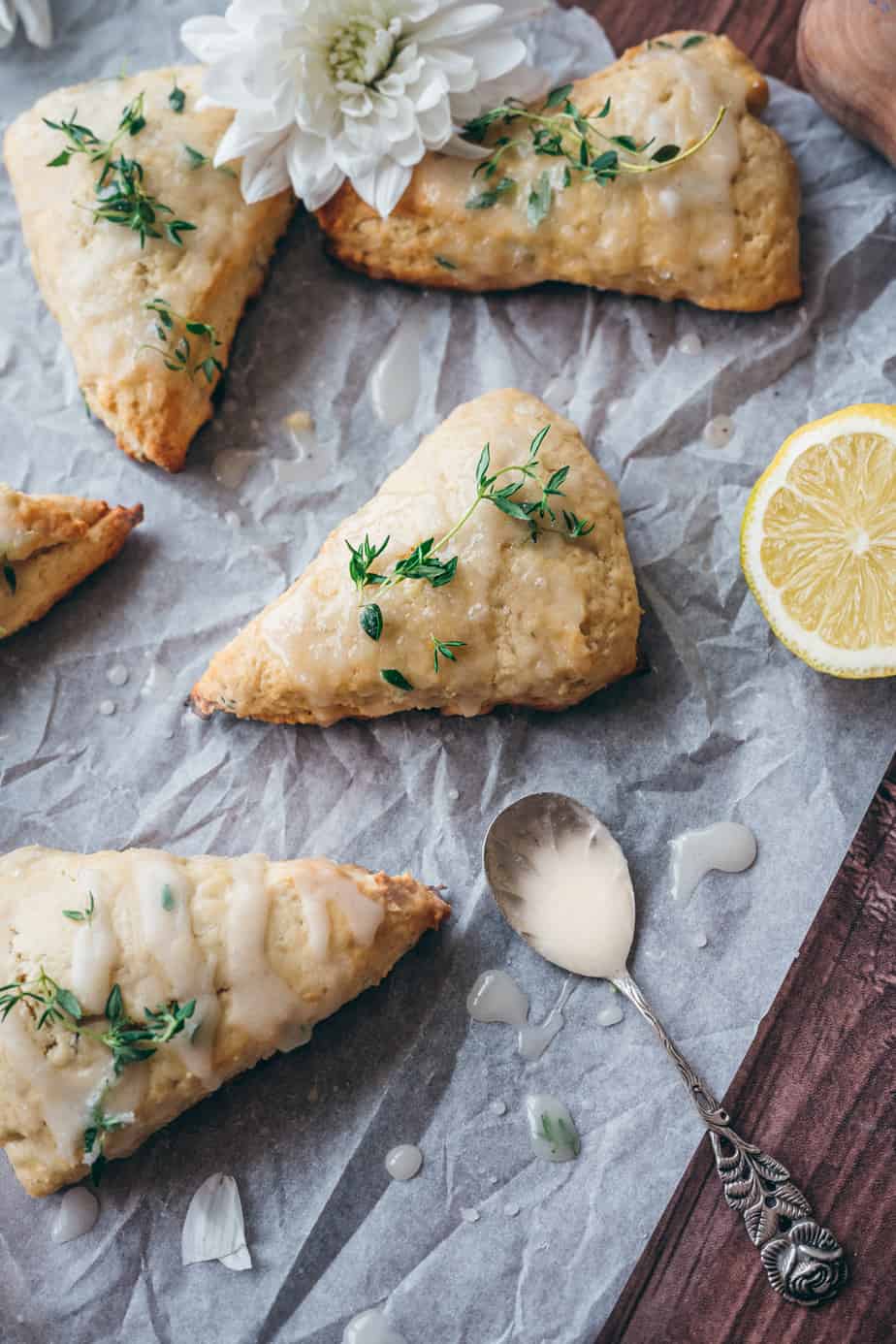 All the herbs are having a moment in the garden. Thyme is especially going wild and needs creative ways to be used. Make these scones, simple syrup or candied thyme if your herb garden is looking abundant too!
These scones are made special by a unique homemade herbal sugar - that easily comes together when you finely grind up granulated sugar, dried thyme, and lemon zest.
Ingredients in candied thyme lemon scones:
All purpose flour
Buttermilk - Buttermilk creates the most tender scones and gives them that classic tang that you love!
Cold butter - Making perfect scones requires cold butter. As little pieces melt during baking, they release steam and create pockets where air can get trapped inside- this creates fluffy lightness with crispy exteriors!
Salt
Baking soda
Baking powder
Lemon zest
Dried thyme
Two lemons - zest and juice
Vanilla extract - You can sub for lemon extract if you fancy!
Granulated sugar
Sweet lemon icing:
Powdered sugar
Lemon juice
Vanilla extract
Fresh thyme (optional)
Step by step process:
This recipe is very simple, and can be brought together in just minutes.
Start by combining your baking soda, baking powder and salt with your flour.
Next, add in your cold butter and cut it into your dough with a pastry cutter. Your hands will work fine if you don't have one. Mix until the butter is in pea sized clumps. Set aside.
Zest your lemon. Combine your sugar, lemon zest, dried thyme in a spice grinder, mortar and pestle or in a food processor.
Pour your lemon thyme sugar into your flour mixture.
Add in your buttermilk. Use your hands to create a dough. Don't overmix, dough will be crumbly, but should stick together to create a dough without being too sticky.
Transfer your dough to a lined baking sheet and shape into a circle about 1" thick. Brush the top with buttermilk.
Slice your scones into 8 even slices, and assemble them on a baking sheet - leaving room for them to expand and rise.
Bake and make your sweet lemon icing.
Let scones cool for a few minutes and then drizzle icing on top.
Tips for the best scones:
While it's tempting to mix your dough until it becomes one solid mass, this will result in tough scones. To get a light and airy texture for not only tastier but also easier-to-eat baked goods, keep mixing just until ingredients are combined into small clumps - do NOT overdo the arm work! I love using my hands because you can feel how much moisture is left within each piece of flour or butter without having any worries
Brush the tops with a little buttermilk before you bake to achieve a crispy, golden brown top.
Frequently asked questions
what are scones?

It depends where in the world you're asking from. These scones are American, and are more of a dessert. American scones are designed to be eaten alone, and often have a higher fat content and are sweeter. You'll also likely find them with more ingredients and mix ins. In this case, we're using orange and ginger + sweet greek yogurt icing. British scones tend to be more plain, because they're meant to be eaten with toppings like lemon curd, preserves or clotted cream.
How to I serve scones:

Scones are best when they're freshly baked, but they taste delicious and remain fresh for several days after you bake them.
How to store scones:

Baked and iced scones last up to five days in an airtight container at room temperature.
Can I freeze these scones?

Baked biscuits freeze well for up to 3 months. Thaw at room temperature or in the refrigerator, then warm up to your liking before serving. Scone dough can be frozen for up to one month.
don't have buttermilk? no problem! substitute with this:
In a pinch, you can make DIY buttermilk using regular milk and lemon juice. I always use and recommend real, full fat buttermilk for the best, tangy, pancakes.
1. Use milk: Pour 1 cup of whole or 2% milk into a liquid measuring cup. For vegan buttermilk, you can use a vegan milk of your choice with perfect results.
2. Add an acid: For every 1 cup of milk, stir in 1 tablespoon lemon juice or vinegar. Let the mixture stand for 10 minutes. You can scale the recipe up or down depending on how much you need. That's it!
have leftover buttermilk? give these recipe a try!
the recipe