This rosemary gin and tonic is a refreshing highball cocktail that's crisp and well balanced. This homemade
rosemary syrup
enhances the aroma while still letting you taste your favorite spirit -
we've got it all figured out here in this recipe!
There's nothing like enjoying some holiday cheer with friends and family, am I right? I always make sure that each year, my guests are fully relaxed by the end of our get together. To get them in an inspired mood for socializing after dinner, all they have to do is sip on this simple rosemary gin & tonic recipe made from scratch using fresh ingredients --no mixers needed here!
And if you enjoy this rosemary gin and tonic, you may also love our pine gin and tonic!
This drink tastes just like good old fashioned G&T's but botanically amped up, thanks to fragrant flavors plus subtle hints of sweetness coming through the syrup. It's just so good. And the best thing about gin and tonics? You can change up their taste just by picking a different gin. Here are my favorites for a rosemary gin and tonic, as their underlying flavor notes pair perfectly with rosemary.
More gin recipes you may like:
What gin should you add to a rosemary gin and tonic?
The tasting notes in these quality gin spirits pair beautifully with rosemary.
Uncle Val's Botanical Gin- Cucumber, Sage, Lemon
Hendrix -Cucumber, Rose, Citrus
Tanguray - Juniper, Coriander, Anise
Bombay Juniper, Coriander, Lemon
Ingredients you need:
Gin
Tonic water
Ice
Juice of citrus fruit of choice. See notes on citrus below.
Garnish of choice
Tools you'll want:
Cocktail shaker - for shaking your simple syrup into your lime juice and gin
Cocktail jigger - for measuring in oz
Both of these are optional, you can absolutely just pour your ingredients into a glass and stir if you don't have these on hand.
How do you make rosemary syrup for rosemary gin and tonic?
To make rosemary simple syrup: In a small saucepan over medium/high heat, heat the water, sugar, and rosemary until it comes to a simmer. Stir to dissolve the sugar and continue simmering gently for 5 minutes, reduce heat and let simmer on low for an additional 5 minutes. Then, remove from heat and let the liquid cool. Lastly, strain into a jar (with an airtight lid)
How do you make an infused gin and tonic?
Add your gin and rosemary syrup, a citrus juice with ice into your cocktail shaker. Shake well. Strain over your glass of choice with ice. Top with tonic water. Add your garnish, and enjoy.
How do you serve rosemary gin and tonic?
Gin and tonics are often served in a high glass glass or rocks glass. They are traditionally served over a large amount of ice and garnished with a slice of lime.
However, since this a twist on a classic. I often serve a rosemary gin and tonic with a different beautiful garnish.
Garnish a rosemary gin and tonic with: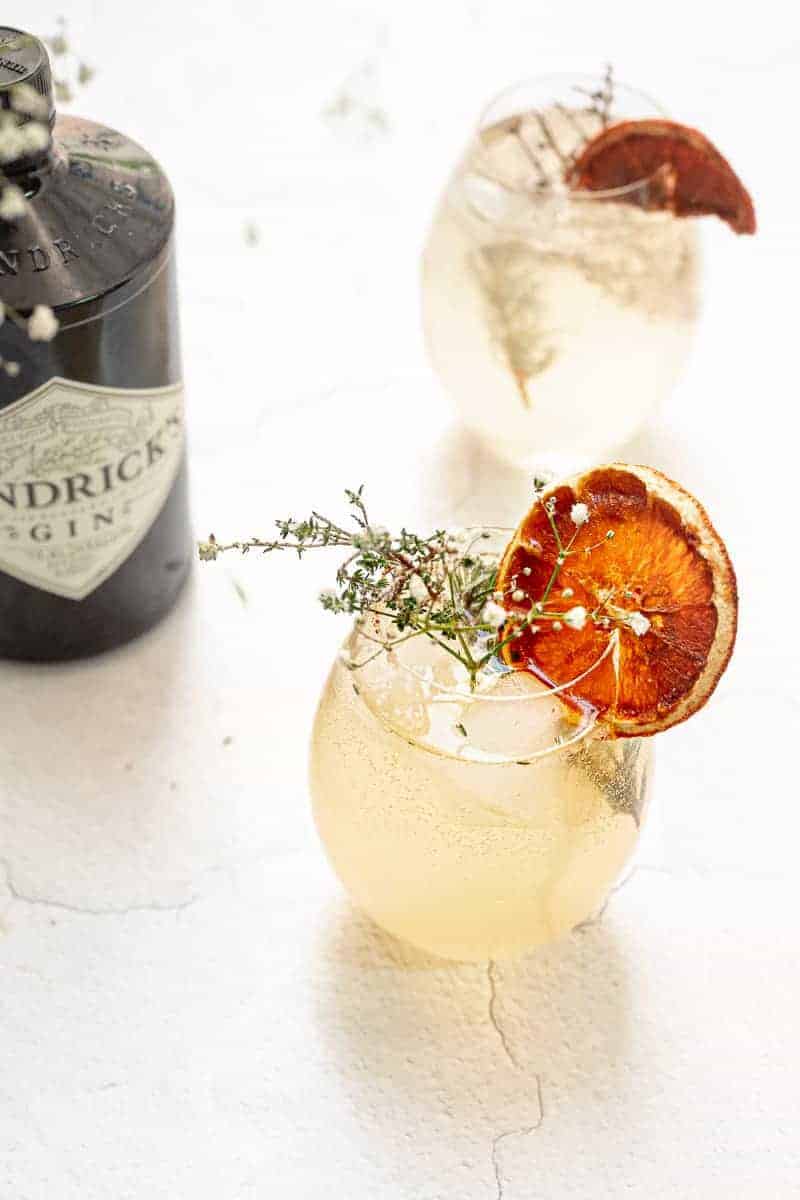 Which citrus goes best with a rosemary gin and tonic?
Gin and tonic is traditionally garnished with a slice of lime, which is often squeezed into the drink before being placed into the cocktail. You can swap the lime for another citrus fruit of choice. I strongly recommend using grapefruit or orange. Both pair beautifully with rosemary syrup. If you love the combination as much as I do, try my grapefruit rosemary paloma cocktail
More gourmet cocktail recipes to love
I hope this recipe works beautifully for you and is enjoyed for many years to come. Thank you so much for reading. Your visit to my site helped support a small mama run business today. If you enjoyed it, I would be so honored if you would share with your loved ones.
Sending love, fresh baked cookies, and a bouquet of your favorite flowers.