Lavender Bee's Knees (lavender lemon honey cocktail)
The name says it all! Lavender bee's knees gin cocktail is a honey lavender lemon cocktail, and it's the perfect, smooth way to get your buzzzzzz. Honey, lavender syrup, lemon juice and gin come together in this bright, tart, sweet spring and summer cocktail.
Why you should try a lavender bees knees gin cocktail
If you love lavender lemonade, you will love this bee knee's gin cocktail. Not only is it delicious, it's simple to mix up at home. This cocktail utilizes the beautiful seasonal fare for spring and summer evenings.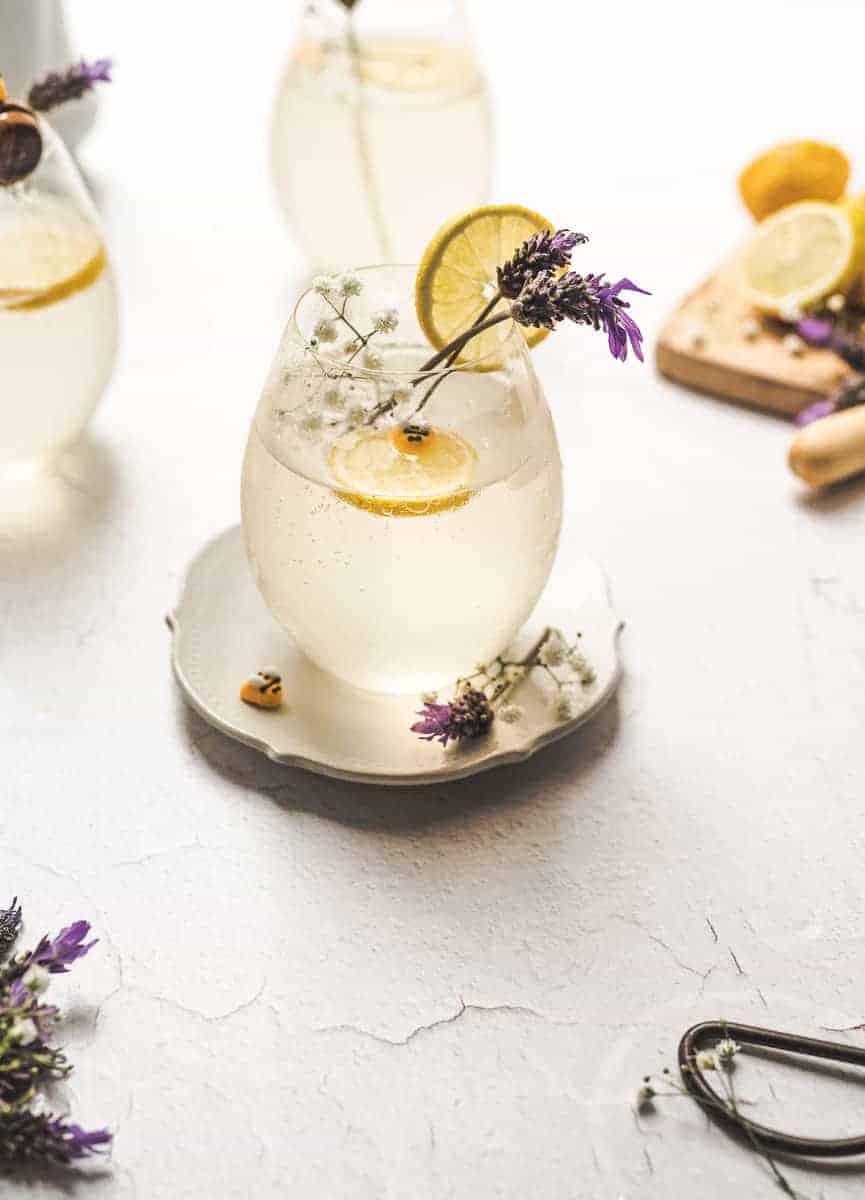 The name bee's knees refers to something that is highly adored, and that's exactly how you'll feel about this drink. It's perfectly refreshing. Sit back and enjoy as the juniper kick in gin mixed with smooth honey, tart lemon juice, lavender simple syrup makes you feel more relaxed with each sip, and the fizzling sparkling water makes ya feel a little fancy. Who wouldn't want that?
What is a bees knees cocktail?
A bees knee cocktail is traditionally lemon juice, honey syrup and gin. Frank Meier created this cocktail at the Paris Hotel Ritz during the prohibition era (1920's). In this variation, we add lavender syrup infused with honey and sparkling water for some fizz.
Ingredients in this recipe:
Lavender simple syrup - buy some premade or make your own!
Lemon - fresh squeezed lemon is definitely key here.
Honey - why not try some lavender infused honey while you're at it?
Sparkling water - sparkling water or tonic will do the trick!
Gin - we love Hendrix gin in our gin cocktails. But any gin you have will do!
If you love gin cocktails as much as we do, save these for later:
How to make a lemon lavender bees knees cocktail
To make lavender simple syrup: In a small saucepan over medium/high heat, heat the water, sugar, and lavender until it comes to a simmer. Stir to dissolve the sugar and continue simmering gently for 5 minutes, reduce heat and let simmer on low for an additional 5 minutes. Then, remove from heat and let the liquid cool. Lastly, strain into a jar (with an airtight lid)
Add your gin and honey, lavender simple syrup into your mixer. Squeeze your whole lemon into your mixer. Shake well. Strain over your class of choice with ice. Add sparkling water.
Garnishes:
In this honey, lemon and lavender based cocktail, I loved adding garnishes that incorporated it's ingredients.
The recipe
More lavender recipes to love
love edible flowers? these resources may be useful to you:
I hope this recipe works beautifully for you and is enjoyed for many years to come. Thank you so much for reading. Your visit to my site helped support a small mama run business today. If you enjoyed it, I would be so honored if you would share with your loved ones.
Sending love, fresh baked cookies, and a bouquet of your favorite flowers.