Learn how to make the most luxurious a delectable, old fashioned honey lavender ice cream with or without an ice cream machine- it's truly the best gourmet flavor, from the comfort of your home.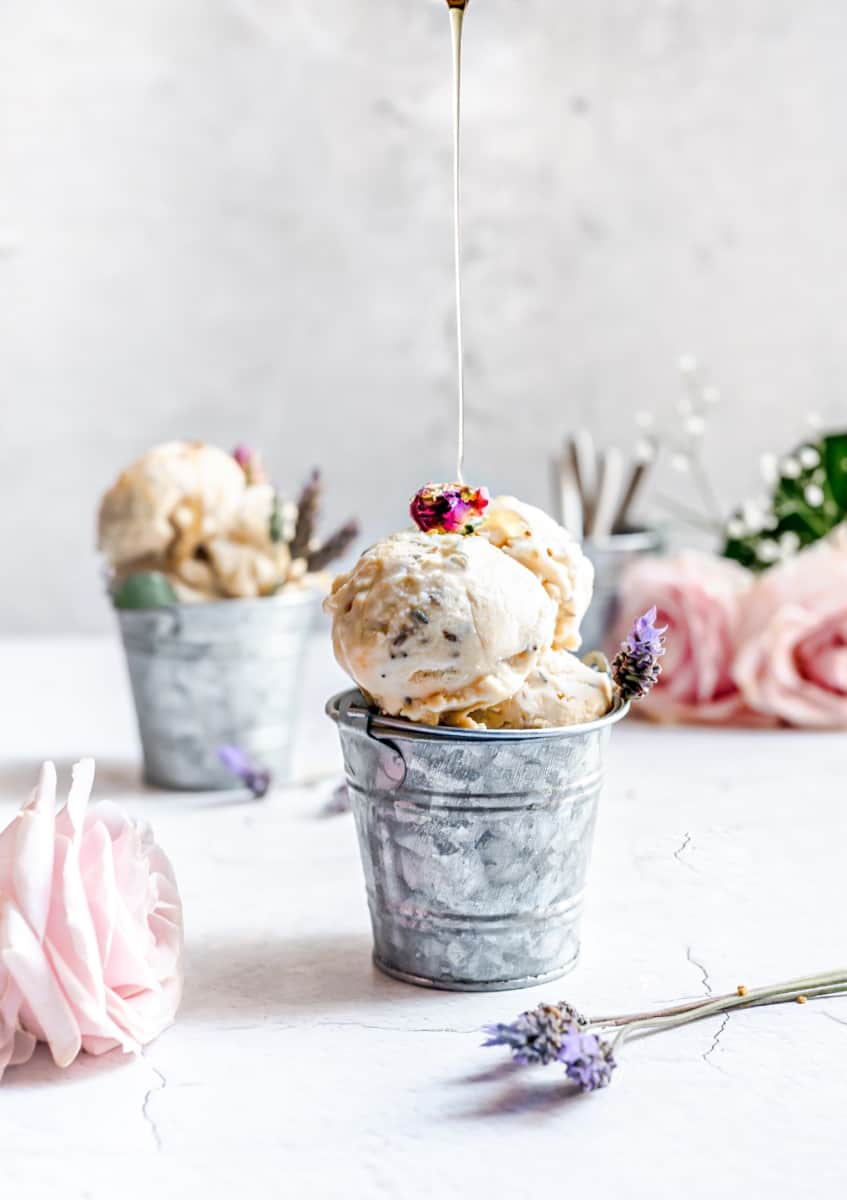 Honey + lavender just blend together like a dream. This ice cream flavor is full of natural summer aesthetic we're dreaming of. With simple fresh ingredients, you'll be satisfying your floral sweet tooth in no time. You may also enjoy our lavender lemon ice cream.
I love to make beautiful gourmet ice cream flavors and frozen treats with my ice cream maker, BUT read the note below if you don't have one - so you can still enjoy this beautiful ice cream flavor! We also have a no churn, egg free lavender ice cream recipe if that's what you need today!
the inspiration
Recently a colleague discovered a had a blog filled with lavender recipes. She told me "I always love getting lavender ice cream at fancy restaurants" which prompted me to share a beautiful and delicious lavender honey ice cream recipe you can make at home. I have an entire category of recipes dedicated to lavender in case you love it as much as we do 😉
Ingredients:
2 cups heavy cream
1 cup whole milk
4 egg yolks
¾ cup honey
2 tablespoons dried culinary lavender
1 teaspoon sea salt
1 tablespoon vanilla extract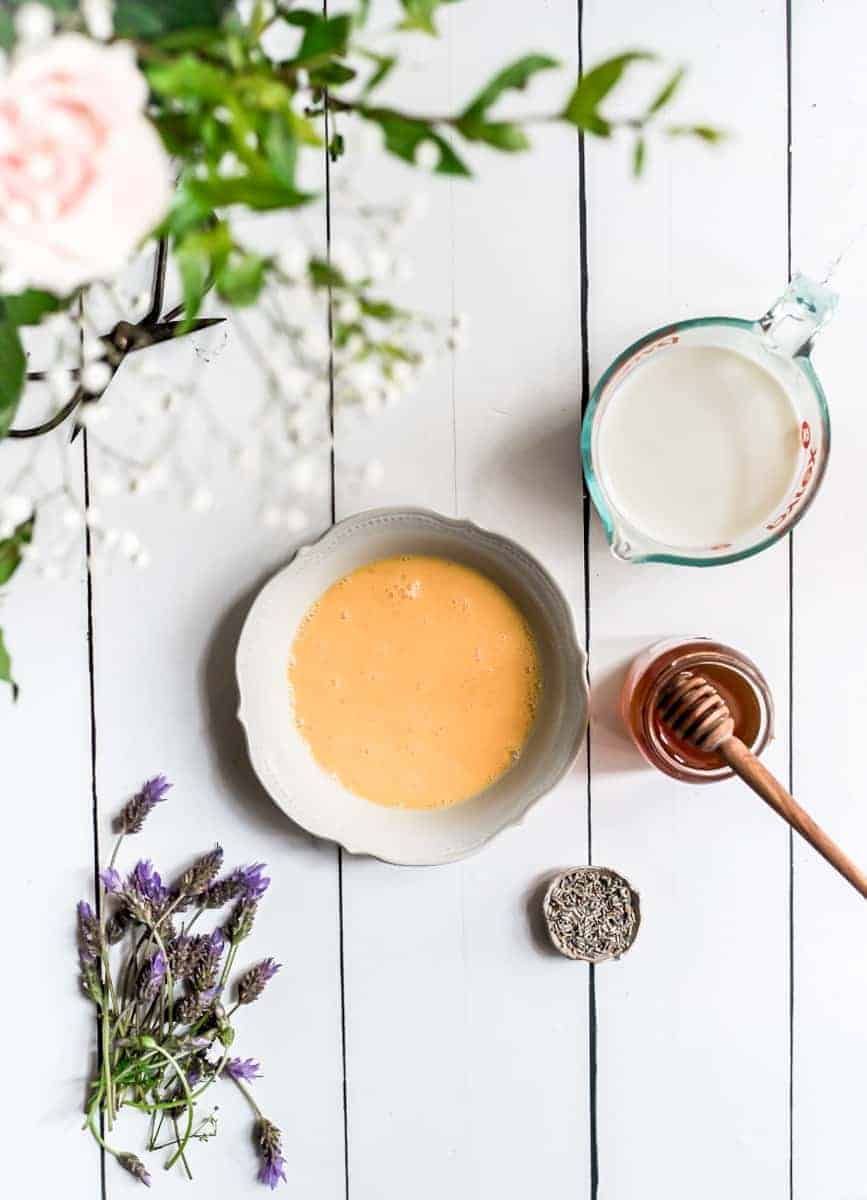 Let's make it!
Add all ingredients two a small sauce pan* see note below
On low heat, mix consistently, and slowly simmer and mix for twenty minutes.
If desired, sieve ingredients into a heat proof container. I personally leave my lavender flowers in.
Let mixture cool for at least two hours.
Mix cooled custard and add to to ice cream maker and churn according to manufactuer's recommendations. Ours churns for twenty minutes. Ice cream should double in volume and be solid, but soft when done.
tempering / custard:
Tempering is the process of slowly bringing two liquids to the same temperature before blending them together. Many homemade ice cream recipes use a tempering method because dairy can become curdled and eggs can bind if cold liquid touches warm liquid. If you are in a place in the world where you store your eggs and fresh milk in the refrigerator, and are starting with cold ingredients - there is no need to temper the eggs and milk. Here is how to temper your milk and eggs.
If you're making this recipe from a place in the world where you keep your eggs and cream stored in the fridge, there is no need to temper the eggs as long as you're whisking consistently.
If you keep either your eggs at room temperature but your milk in the refrigerator, you will want to temper your eggs.
If you keep your milk at room temperature (UHT) but store eggs in the refrigerator, you will want to temper your eggs.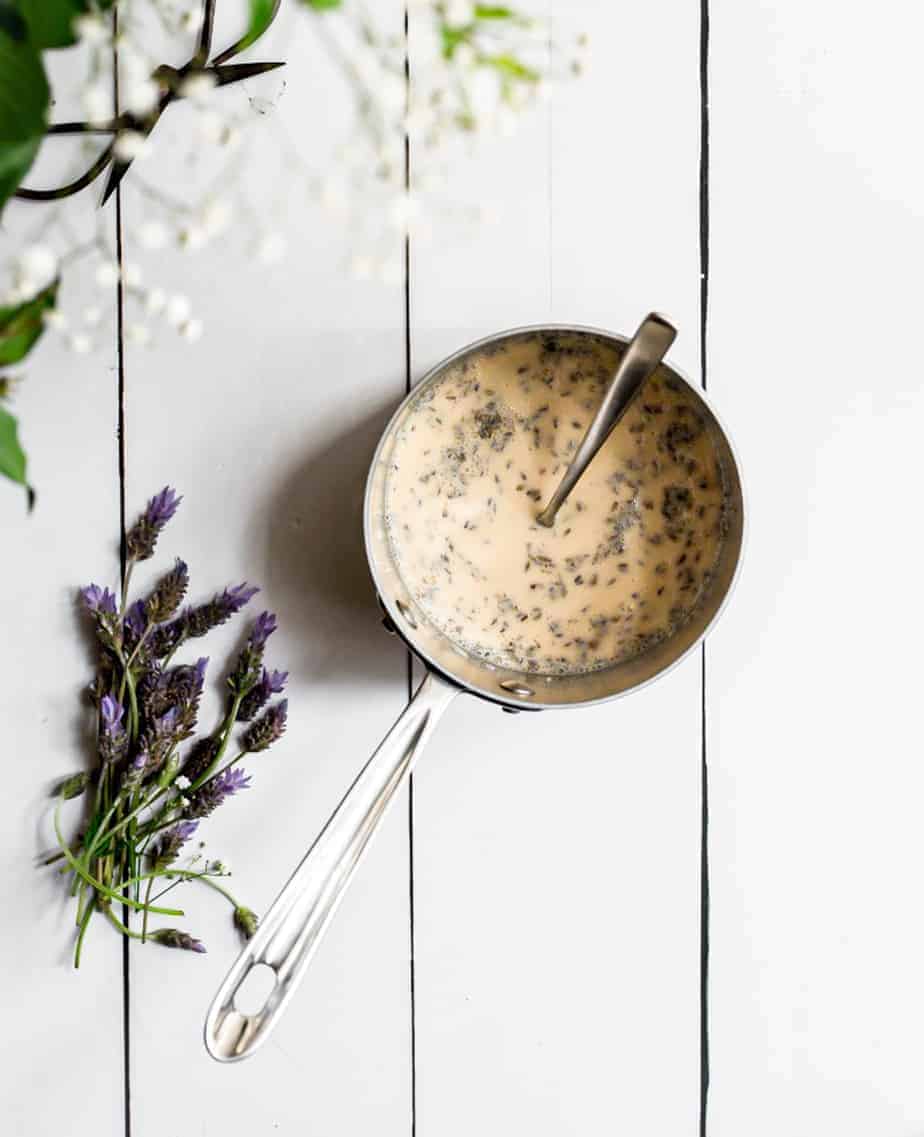 Recommendations for serving: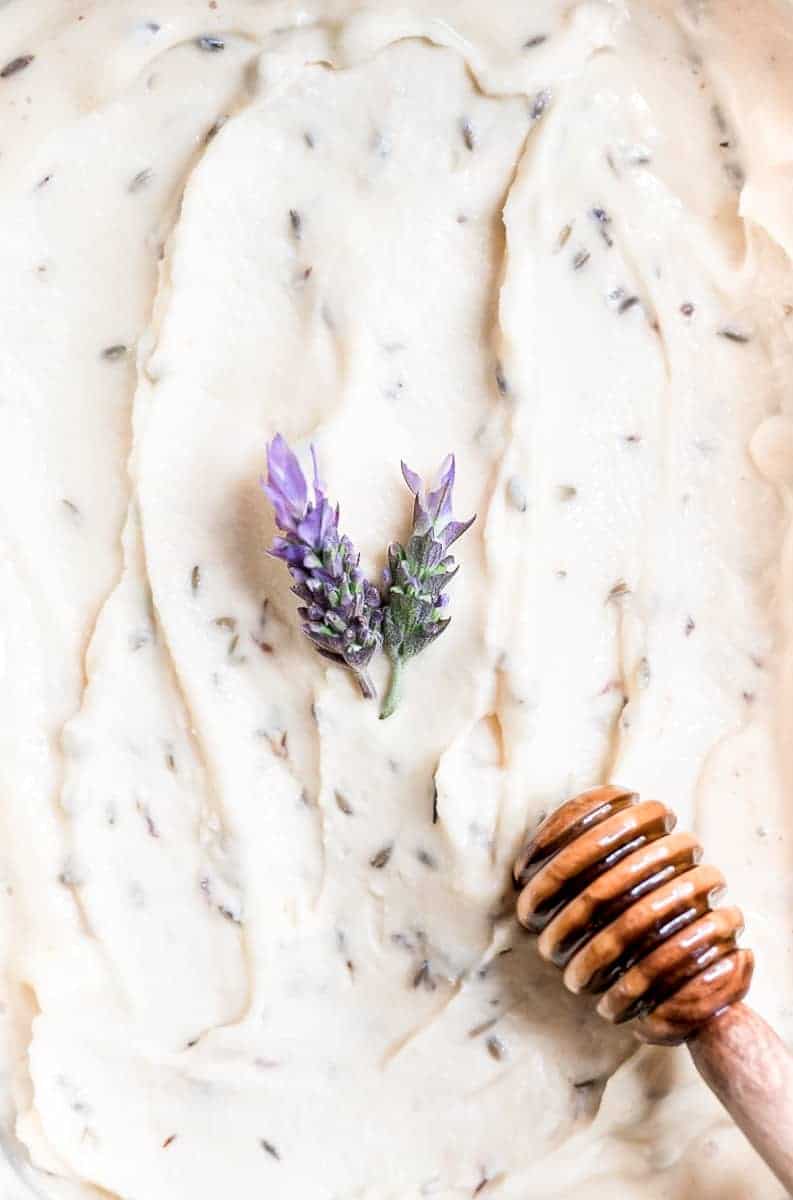 pair with:
Storing your homemade ice cream:
Homemade ice cream should be stored in a sealed, air tight container that's easy to scoop from. Because homemade ice creams often aren't prepared with any preservatives or stabilizers, we like to enjoy ours within two weeks. Otherwise, we find they become difficult to scoop. They will not spoil in the freezer in that time frame.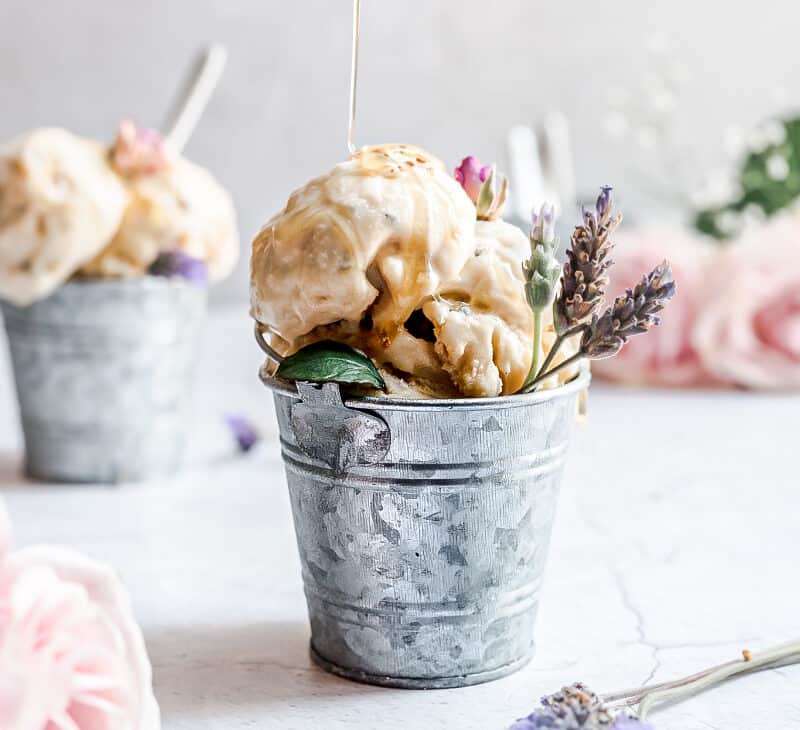 I make this ice cream and all of my gourmet flavors, like my homemade bourbon cinnamon ice cream, basil ice cream, or rose ice cream at home with my cuisine art ice cream maker. It's super affordable and you can make endless recipes!
How to make this ice cream without a machine
You can make this ice cream without an ice cream machine, we even have an egg free No Churn Lavender Ice Cream (egg free) if that's what you're looking for!
You'll need:
8x8 metal baking dish
Spoon for scraping
Start by:
Create an old fashioned custard ice cream by combining egg yolks, heavy cream, fresh or dried lavender flowers, honey and salt. This combination will yield in a velvety smooth ice cream.
Slowly mix and simmer the ingredients for twenty minutes, allowing the ice cream to and then letting the mixture cool completely. Do not overheat your mixture as we do not want to cook our eggs, just thicken the mixture for the right consistency. See notes above about tempering eggs and milk!
Pour mixture into your baking dish.
Place it in the freezer for 90 minutes.
Remove from the freezer and whisk the mixture, scraping the sides of the pan well. Use a sturdy whisk or hand mixer to whip the mixture a bit as it begins to freeze.
Return to the freezer.
Continue to freeze, checking on ice cream mixture every hour. Break up large ice pieces with your mixer, scraping the sides each time, and then return to freezer.
After a couple of hours, it should begin thickening to a slushy soft-serve consistency. Once it reaches that stage, you can serve it or cover it with a lid and return to the freeze until firm and scoop able.
Note: Ice cream made without a machine will freeze to a very firm consistency after a day or so in the freezer. However, it will thaw nicely at room temperature after 10-15 minutes and will be perfectly scoop-able.
the recipe:
I hope this recipe works beautifully for you and is enjoyed for many years to come. Thank you so much for reading. Your visit to my site helped support a small mama run business today. If you enjoyed it, I would be so honored if you would share with your loved ones.
Sending love, fresh baked cookies, and a bouquet of your favorite flowers.

Save for later:
Click the image below to save this recipe on pinterest!
More gourmet ice cream recipes:
these other flavors are straight from the garden, and truly dreamy! check them out for later if you fancy 😉