Meet us for high tea with a slice of this earl grey lavender cake. This is an easy recipe for delicious earl grey infused sponge tea cake with splendid floral lavender buttercream. There's something truly special about the way lavender flowers taste in a small, soft, moist earl grey tea cake.
Curious about culinary lavender? Read our comprehensive lavender 101:
why you'll love this recipe:
Earl grey tea and lavender pair beautifully together - find it featured in our Lavender London Fog Latte
The recipe is adaptable, you can experiment with other tea flavors if you choose
The cake is moist and flavorful, you can really taste the earl grey tea
It's perfect for the tea lover in your life
It's perfect for tea parties and special occasions, serve it alongside some Earl grey scones
Sipping a cup of earl grey tea with a slice of this cake is a dream
Perfect for a spring soiree, baby shower, floral bridal shower, Mother's Day, easter - or any occasion that deserves something elevated
Even those who may fear trying floral flavors will find themselves swooning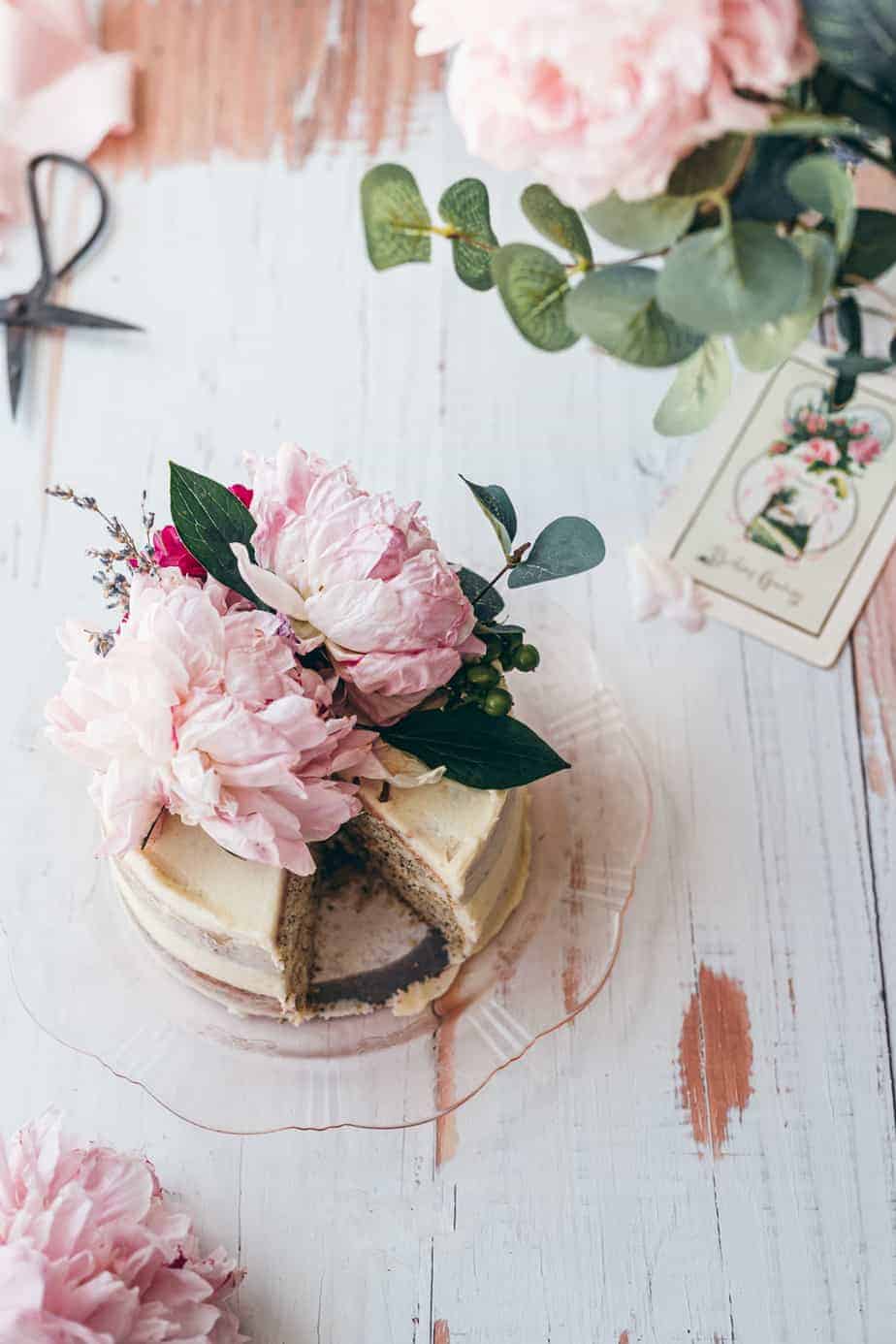 What is earl grey tea?
Earl Grey tea is a tea blend which has been flavored with the oil of bergamot. My sweet daughter drinks a cup each morning with her breakfast and it's special to my heart. I enjoy my cup mid morning with a splash of lavender milk. The flavors pair so well together that I knew they would translate into a dreamy cake. I wanted to make an earl grey cake, and decided lavender buttercream would be a perfect match here.
The ingredients:
Cake:
2 ¼ cups all purpose flour
2 tsp baking powder
1 tablespoon earl grey tea, loose, finely ground*
¾ tsp salt
¾ cup unsalted butter room temperature
1 ½ cup granulated sugar
3 large eggs room temperature
1 ½ tsp vanilla extract
1 cup milk room temperature
*If you have tea bags, simply measure our 1 tablespoon of tea and grind it if it's not finely processed.
Lavender honey buttercream frosting:
3 sticks (1 and ½ cups) unsalted butter, room temperature
½ cup honey
5 cups powdered sugar
⅓ cup heavy cream or buttermilk at room temperature
1 teaspoon salt
1 tablespoon vanilla extract
1 tablespoon dried lavender, processed to be ultra fine.
Step by step how to make it:
Cake:
Preheat oven to 350F. Grease and flour three 6 inch cake rounds and line the bottom of the pan with a piece of round parchment paper.
In a medium bowl, whisk flour, baking powder, and salt until well combined. Set aside.
Using a stand mixer fitted with a paddle attachment or a hand mixer, cream butter, earl grey tea and sugar on med-high until pale and fluffy - this usually takes 2-3 minutes. Reduce the speed of your mixer and add eggs one at a time fully incorporating after each addition. Add in your vanilla.
Turn off mixer and slowly add in your flour and milk to your creamed earl grey butter, fully incorporating the mixture before adding more.
Bake for 30 minutes or until a toothpick inserted into the center comes out mostly clean. If it's not clean, continue to bake in five minute increments, checking each time. I've never had to bake this cake longer than 35 minutes.
Place cakes on wire rack to cool for 10mins then turn out onto wire rack. Allow cakes to cool completely.
Buttercream:
Finely grind your lavender in a food processor or mortar and pestle.
Add the butter and one cup of the powdered sugar to the bowl of a standing mixer fitted with the whisk attachment. Beat on low just to blend, then beat on high for 3 minutes, stopping to scrape down the sides of the bowl a few times.
Add the heavy cream and another cup of powdered sugar. Beat on low speed to blend, then on high speed for another two minutes, stopping to scrape down the sides of the bowl a few times.
Add two more cups of powdered sugar and the salt and extract. Beat on low to combine, then on high for about 1 minute, until the buttercream is completely smooth.
Add in your honey and fine lavender.
Check the consistency and beat in more powdered sugar if the buttercream is too thin. Taste, and add more salt, vanilla if desired.
Assembly:
Place one layer of cake on a cake stand or serving plate.
Top with approximately ⅔ cup of buttercream and spread evenly. Repeat with remaining layers. Frost and smooth the outside with a thin crumb coat. Chill for 20 mins.
After chilling, frost the remaining buttercream and smooth until you have clean, smooth lines.
Frequently asked questions:
Can I make this cake in advance?

Prepare cakes and frosting 1 day in advance. Keep cakes at room temperature, covered tightly. Refrigerate prepared frosting in an airtight container until ready to use. Bring frosting to room temperature before spreading as it will be quite stiff after refrigerating. (Add a splash of cream or milk to thin, if needed.)
How long does this cake last after baking and assembling?

Cover leftover cake tightly and store in the refrigerator for up to 5 days.
Can I freeze this cake?

Unfrosted cakes may be frozen up to 2 months, thaw overnight in the refrigerator and bring to room temperature if desired before making your buttercream and assembling.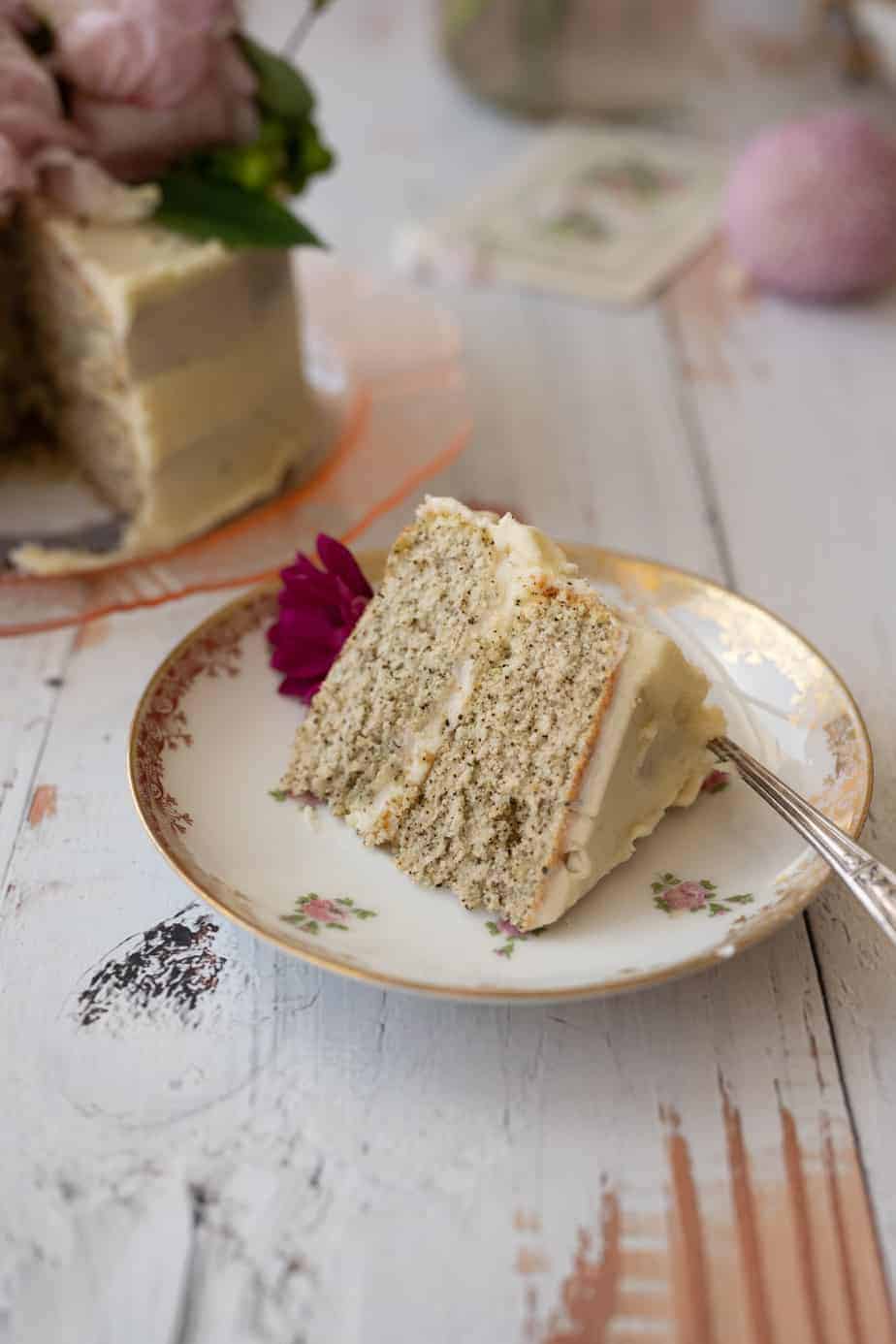 You may also love: