Lavender Lemon Honey Bars
Creamy Lavender Lemon Honey Bars are a soft yet sturdy lavender shortbread cookie with zesty honey lemon custard that is so simple to whip up. A true ode to spring, and bright and floral way to celebrate the season ahead.
Why you'll love it!
These creamy honey lavender lemon bars bars have a light lavender flavor, are buttery, creamy, smooth and tart with the perfect balance of sweetness. Zesty lemon honey custard on a lavender shortbread makes for the perfect spring desert. Welcome warmer and sunshine filled days with a decadent but light sweet, all wrapped up in one perfect square. This recipe is sooo simple and truly is the perfect spring dessert.
It's lemon season!
Our lemon tree was bursting with big, bright, beautiful lemons. I knew I needed to create some lemon recipes, and what could be better than lemon lavender cookie bars? I know I have a serious shortbread AND lavender obsession... You may also love our lavender shortbread and lemon sugar cookies
I debated creating this recipe as I already have a similar ones (I'm looking at you Lavender lemon tart and Lavender shortbread cookies) However, instead of making lemon curd, this recipe uses lemon custard which is undeniably simpler to put together and requires less steps. While both are amazing in their own way, this one comes together more quickly and doesn't require as much attention as the lemon curd tart. With that said, if you're looking to make lemon curd, try my Lavender lemon curd, Lemon rosemary shortbread bars or these Mini lemon basil tarts with shortbread crust!
the shortbread crust:
This shortbread cookie crust is my tried and true recipe that you'll find in so many recipes here on frolicandfare.com. It works like a charm and the baked crust is sturdy, but soft, and it isn't a super crumbly shortbread crust, which make a perfect tart or pie crust. The creamed lavender lemon butter was good and added just a hint of lavender that the shortbread needed. If you're looking for culinary lavender we love this brand.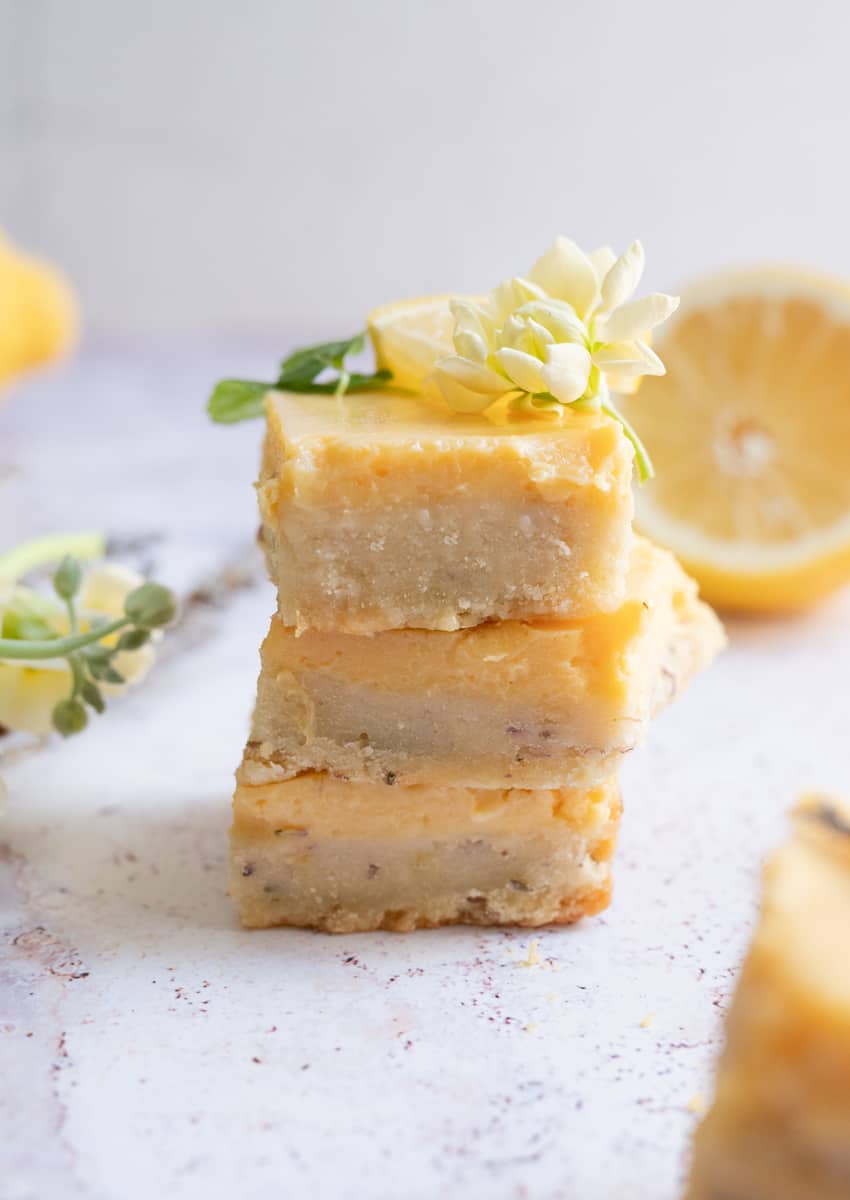 the lemon custard:
Last year I read rave reviews about Martha Stewart's lemon bar, so for this particular recipe I adapted her lemon custard topping from her classic lemon bar recipe. This recipe sets beautifully, the lemon flavor is perfection, and the texture is blissful. My only change here was the addition of honey. We recommend using some homemade lavender infused honey if you have some.
ingredients:
For the honey lemon custard:
4 large egg yolks
1 can (14 oz) sweet condensed milk
¾ cup fresh lemon juice (juice from 3 lemons)
2 tablespoons of local raw honey
For the lavender shortbread cookie crust:
2 cups all-purpose flour
½ cup sugar
½ teaspoon salt
1 cup unsalted butter, room temperature
1 teaspoon vanilla extract
⅓ cup culinary grade dried lavender buds
Juice + zest from one lemon
Note, since you only need the egg yolk for this recipe, save the egg whites for an omelette or macaroons!
the process:
Preheat your oven to 350 degrees F or 176 C and line a square baking sheet tin with parchment paper, leaving enough paper on the sides, so that you can easily lift the tart after it's baked and cooled. I used an 8x8 baking pan.
Shortbread Base:
In a mortar and pestal or food processor, make a lavender sugar by adding your dried lavender buds, lemon zest and sugar and processing to a fine sugar.
Next, add your lavender sugar, lemon juice you just combined into your butter & salt. In the bowl of a stand mixer with a paddle attachment or a large bowl with hand mixer, cream for 2 to 3 minutes or until the butter has taken on a deeper yellow color, that's a good indicator that your ingredients are creamed.
Add in your vanilla and flour and stir well, eventually using your hands to create a dough.
Press the dough into the parchment paper-lined pan and fork with holes to prevent the butter from bubbling. Bake in the preheated oven for 10 minutes minutes. Your cookie will still be soft and fluffy. It will harden more once removed from oven. While it's in the oven, make your honey lemon custard.
Lemon honey custard:
In a large bowl, whisk together yolks, condensed milk, honey and lemon juice until smooth. Pour over hot crust in pan; return to oven, and bake until filling is set, 25 to 30 minutes. Cool completely in pan.
Move to refridgerator and let bars set.
notes:
You'll have to allow this custard to sit in the fridge and set for at least an hour before digging in. They're worth the wait.
Then cut and enjoy!
Frequently asked questions
How should I store these bars after baking?

You should store them in an airtight container in the refrigerator for up to one week.
Can I freeze these bars?

Yes, but if you want to freeze them, freeze he shortbread cookie and lemon custard separately ely before baking.
Can I add other herbs or flowers?

Yes, replace lavender with chamomile or an herb like rosemary!
More lemon desserts:
More floral flavors: