Mini lemon basil tarts with shortbread crust
Sweet, zesty, creamy, buttery mini lemon basil tarts with shortbread crust recipe are truly the perfect treat in mini form!
When we all need sunshine and citrus, enjoying this beautiful pair of lemon + basil curd will satisfy your sweet tooth with a refreshing and herbaceous twist. When you combine smooth lemon curd, and a perfect shortbread cookie, it really is perfection. If you love basil in sweets, you may also love my Homemade basil ice cream.
Each bite is creamy and excites your tastebuds as you get hints of sour lemon and herbaceous basil. When the sun hits this lemon curd it glistens, a tribute to the sunny days coming in spring. My husband's favorite treat is shortbread, so I love combining it with other beautiful flavors in recipes. If you also love shortbread, try Lavender lemon tart, Lavender shortbread cookies, Lemon lavender bars & Lemon thyme shortbread
Lemons are in season now so it's the perfect time to make some lemon curd. You may also love our Lavender lemon curd or Lemon rosemary shortbread bars!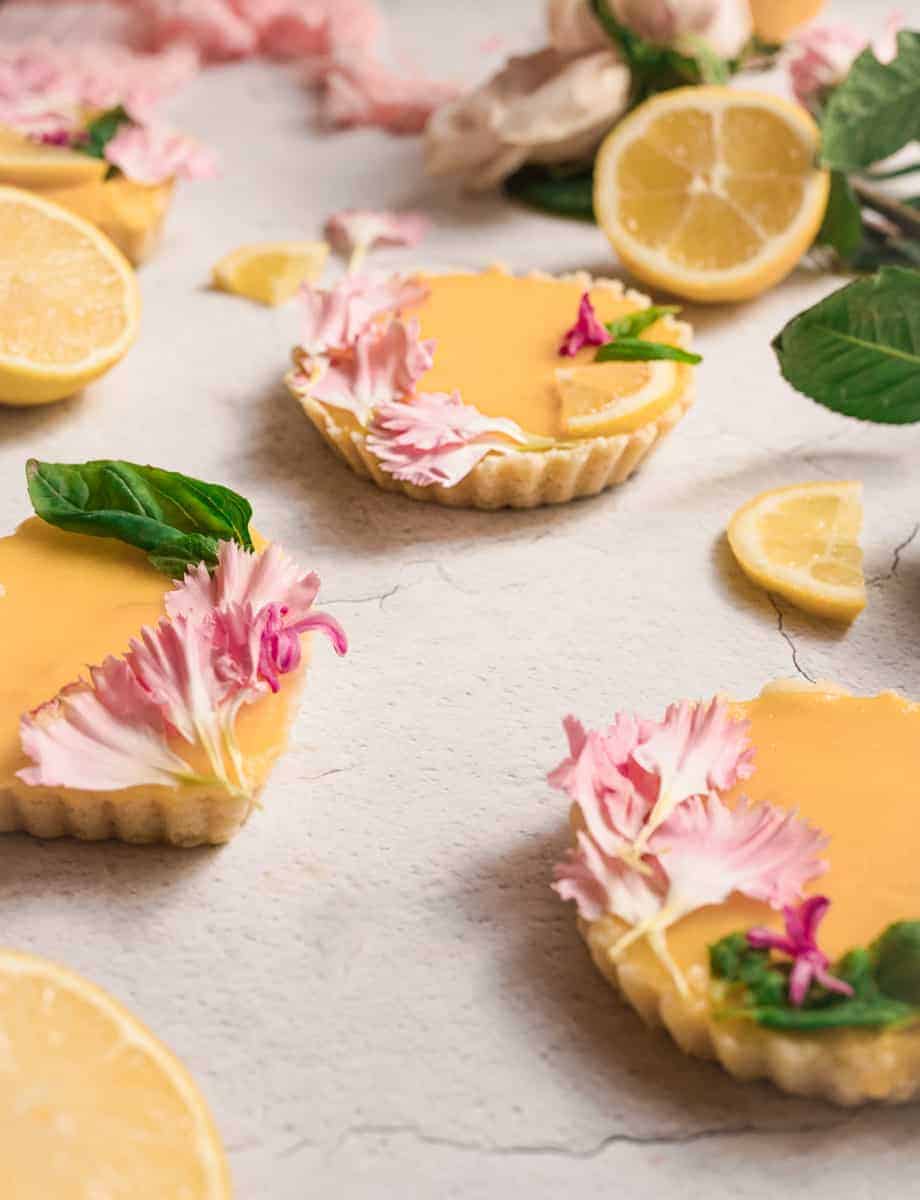 What's in Lemon basil Curd?
Lemon curd is made of four basic ingredients: egg, sugar, lemon, basil and butter, which are gently cooked together until thick and then allowed to cool, forming a soft, smooth, flavor-packed spread. I make a simple lemon basil sugar which allows the flavors of basil to come through gently and evenly through this tart.
Note: It is important to have your cookie baked, cooled, and ready at the time your lemon curd is thickened because you want it to cool over your cookie for a smooth texture. Lemon curd is often used on scones, cakes, pancakes, cookies in parfaits and more! Lemon curd is extremely versatile and absolutely delicious. And we particularly love it on shortbread!
Frequently asked questions:
How long does lemon curd keep fresh?

Lemon curd should be used within a week or two, or frozen up to a year. In this recipe, we use all of our lemon curd on the shortbread tarts. However if you have any leftover, it makes for a wonderful topping.
What is shortbread?

Shortbread is a traditional Scottish biscuit and also made from simple ingredients. This Mini lemon basil tarts with shortbread crust recipe only requires butter, sugar, salt, and flour for the crust bottom. This recipe is slightly different than the one I would use to make actual shortbread cookies because I want the crust to be more firm and less crumbly than traditional shortbread, to withstand the lemon curd topping. However, the taste is unmatched and truly divine
Do I need to poke holes in the shortbread?

Forking shortbread is not necessary, but it prevents the butter from bubbling. Pricking your shortbread also gives it that signature Scottish shortbread cookie design! Though they will be covered by glistening lemon curd in this recipe. 🙂
How should I store these tarts after baking?

Store them upright, and in a large airtight container without stacking for up to two weeks in the refrigerator. These may get soggy after a few days, so while they will stay fresh - we recommend not baking them too far in advance.
How can I store these tarts after baking?
Store in the fridge for up to two weeks, or in your freezer for up to a year!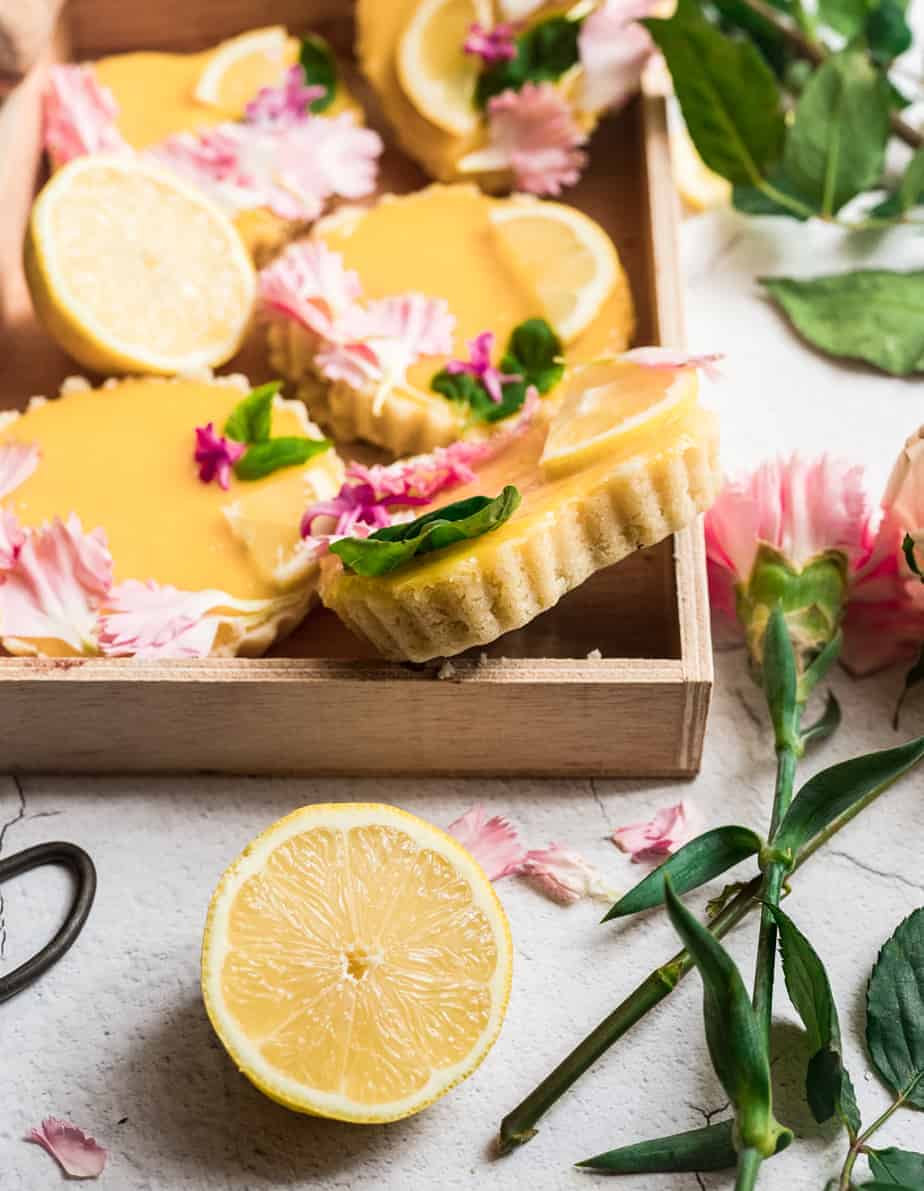 tools you need:
You'll need to use or create a double boiler for your basil lemon curd by adding a glass bowl over a medium sized sauce pan in which your bowl can sit comfortably over. You don't want the bowl to touch the water, because it's imperative you don't over heat your eggs and scramble them. That would not be a good way to enjoy lemon curd.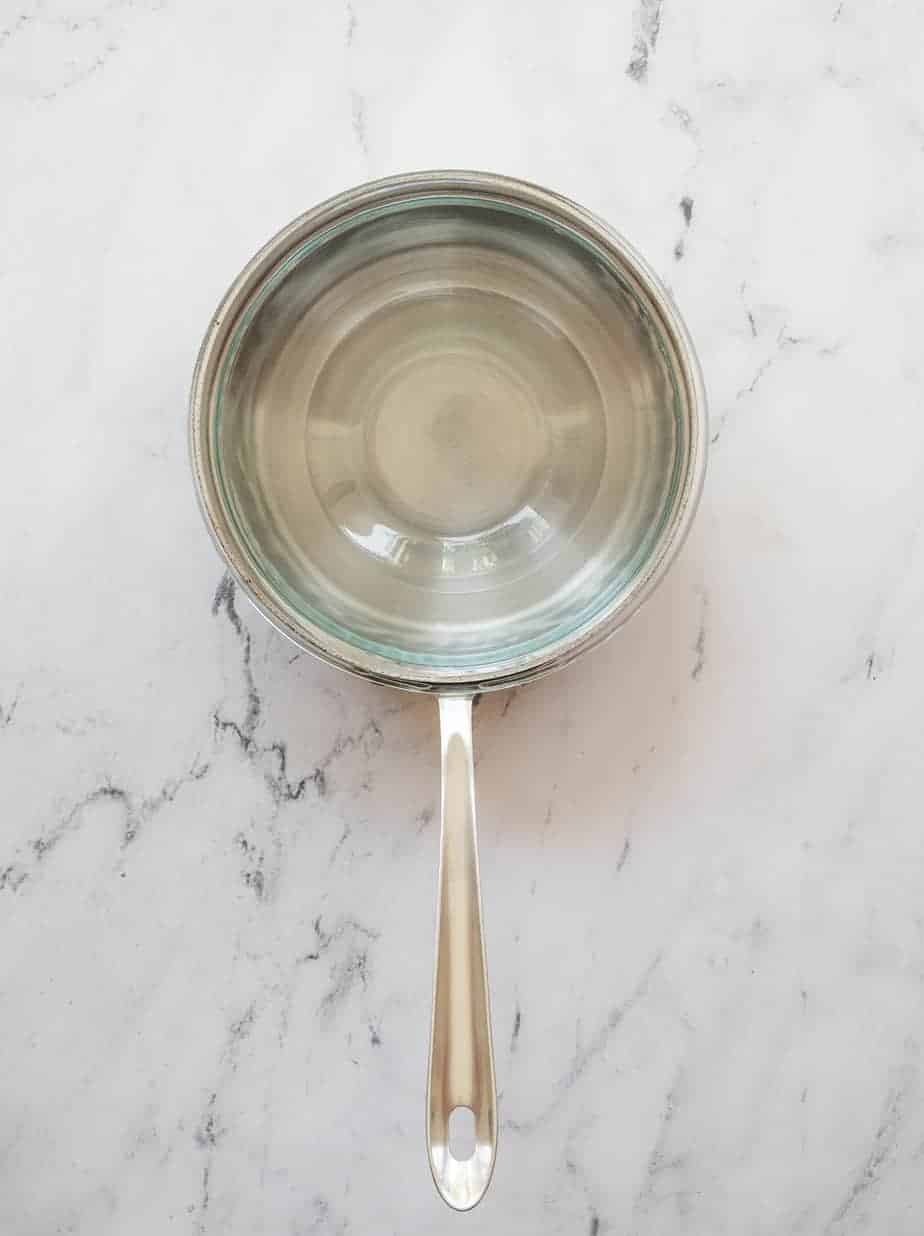 You'll also need a mortar and pestle, spice grinder or food processor/blender to make the fine basil lemon sugar for the shortbread base. If you do not have any of these tools but want to proceed, make the lemon curd - try to finely chop the basil with a knife, and sieve the lemon curd into the jar when you're done and ready to store to ensure no small pieces remain.
You will need 6 mini tart pans or one large tart pan. I used mini 4" tart pans. Mine are from a local bake shop, but these mini heart tart tins are the appropriate size! They come in a set of 6, which is what this recipe yields.
How to make them:
THE SHORTBREAD CRUST
Place butter, sugar, salt into your stand mixer or a large bowl, and mix for five minutes or until sugar, salt are well incorporated, and your butter has taken on a deeper yellow color, usually 2-3 minutes that's a good indicator that your ingredients are creamed.
Add in your vanilla and flour and stir well, eventually using your hands to create a dough.
Press the dough into your the parchment paper-lined tart pans. Poke holes with a fork to prevent the butter from bubbling too much, and bake in the preheated oven for 30 minutes. Check that your cookie is golden brown. It will harden more once removed from oven. Let it cool before adding your lemon curd.
THE LEMON BASIL CURD
In a mortar and pestal or food processor, make a lemon basil sugar by adding your rosemary, lemon zest and sugar. Finely process until it's a very fine sugar.
Pour mixture into a double boiler or your homemade double boiler and mix your lemon zest, lemon juice, fresh basil sugar, and eggs until well combined.
Place double boiler bowl over simmering (not boiling) water in a medium-size pan.
Once your water is simmering, reduce heat. You do not want to overcook your eggs.
Stir continuously to ensure eggs are not overheating.
Continue stirring consistently for 10 minutes, finally adding your butter and mixing until completely incorporated. I do not multi task while making lemon curd. At this point, your lemon curd should be nice and thick. If not, continue cooking and mixing constantly. It will continue to thicken further as it cools over your cookie crust.
When your curd is nice and thick pour the curd over your baked and cooled shortbread tarts and let it cool in your fridge for at least two hours before serving.
expert tips:
Do not make lemon curd over direct heat. Meaning you need to make the glass bowl double boiler or use one that you already have.
Do not make lemon curd in a metal bowl. The acidity will react to it and your lemon curd will have a metallic taste.
If you have a silicone whisk, use that to whisk your lemon curd regularly instead of a metal one.
Make a bigger batch of basil sugar than you need and store it in an airtight container for your tea, in basil lemonade, Homemade basil ice cream and everything else - because you will definitely want to sprinkle it on everything!
Other Lemon Recipes