One of the tastiest ways to enjoy summer berries is by indulging in some strawberry lemon bars. Made with a fluffy lemon shortbread crust, a fruity strawberry custard, and a buttery crumble, these bars are simply irresistible.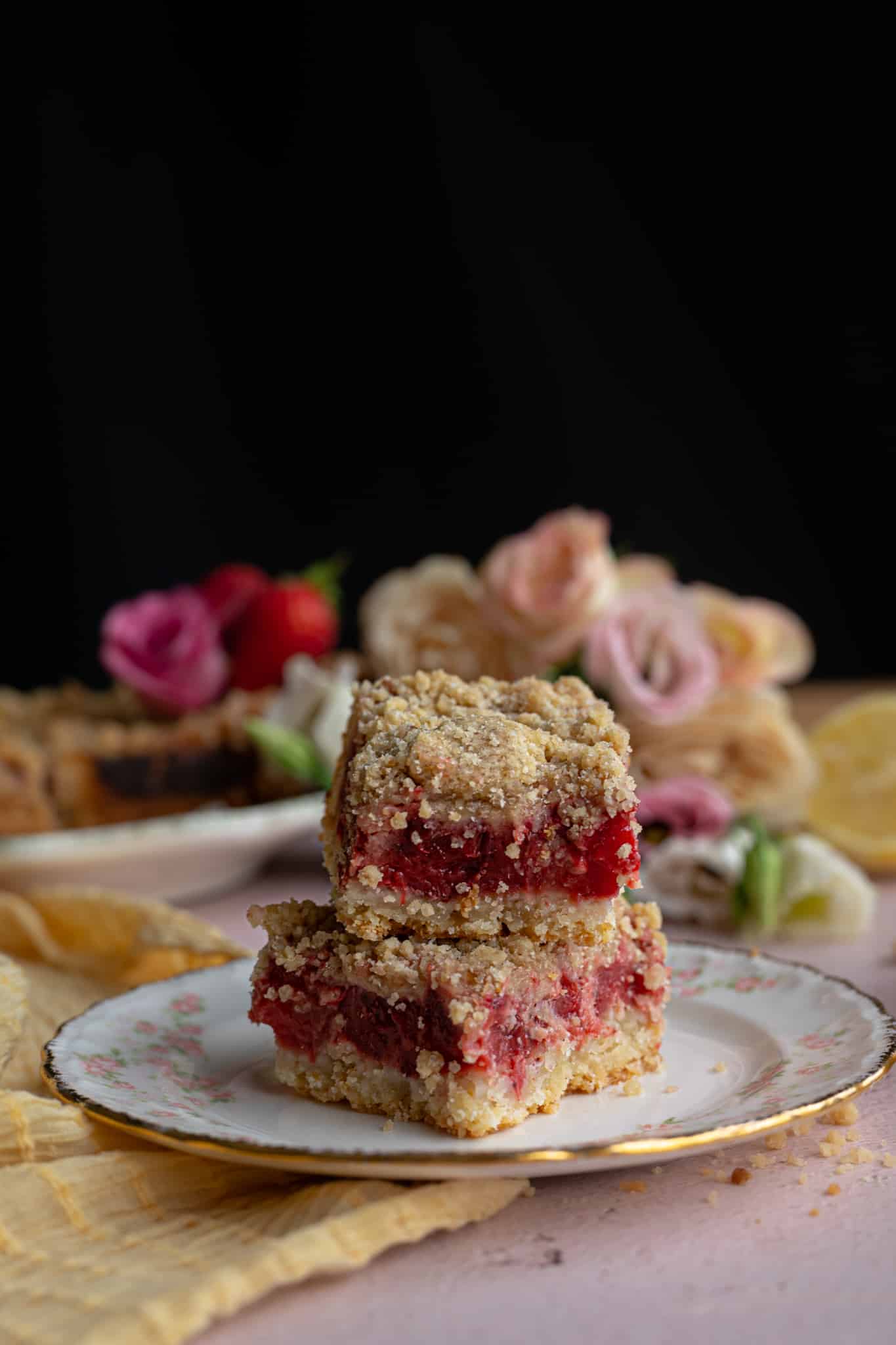 These tangy bars may require a few layers and steps, but believe me when I say they are absolutely worth it. They will melt in your mouth, and people will be begging you for the recipe. The plush shortbread base is perfectly dense to hold up the weight of the custard and crumble, yet not too dense or crispy. Every bite is perfectly tender.
Why you will love this recipe:
It's a combination of tart, fruity, and buttery flavor, which makes them the perfect warm-season treat! Serve them up for brunch and watch them disappear like magic.
You can use fresh or frozen strawberries, so you can make them even if berries aren't in peak season.
You can replace lemon with any citrus or swap the strawberries with other berries, like a blueberry lemon bar or raspberry lime, if you fancy!
I intentionally made sure I didn't make them overly sweet. They have a bit of honey and just enough sugar to work and structurally appropriate for shortbread and crumble, but they are still a little bit tart and perfectly sweet, letting the strawberry and lemon flavors shine.
Ingredients:
To make these strawberry crumble bars, you'll need:
Lemon shortbread base:
Unsalted butter
Granulated sugar
Lemon extract (optional)
Lemon zest
Granulated sugar
Lemon cream cheese custard layer:
Lemon juice
Cream cheese
All purpose flour
Egg
Vanilla extract
Strawberry honey layer:
Strawberries, fresh or frozen
Lemon juice
Honey
Cornstarch
Crumble topping:
All purpose flour
Light brown sugar
Granulated sugar
Melted butter
Tools:
Grab any of the tools you're missing from our shoppable Amazon storefront.
Step by step process:
First, you will need to make your
lemon shortbread base:
Preheat oven to 350 F or 176 C
In the bowl of a stand mixer with a paddle attachment or a large bowl with a hand mixer, add in your butter, sugar, vanilla extract, and lemon zest.
Cream for 2 to 3 minutes or until the butter has taken on a deeper yellow color; that's a good indicator that your ingredients are creamed.
Add in your flour and mix well, eventually using your hands to create a dough if need be.
Press the dough into the parchment paper-lined pan and fork with holes to prevent the butter from bubbling. Bake in the preheated oven for 15 minutes. Your cookie will still be soft and fluffy. It will harden more once removed from the oven. While it's in the oven, make your layers. Keep oven on and heated at 350 while you make the remaining layers, as you'll need to bake it with the custard and crumble topping.
Lemon cream cheese custard:
Add your room-temperature cream cheese, egg, sugar, lemon juice, and vanilla extract in the bowl of a stand mixer with a paddle attachment or in a large bowl with a hand mixer. Mix until well combined and smooth.
Add in the flour and mix until smooth.
Pour over your shortbread crust immediately after removing it from the oven and set aside while you make your strawberry layer.
Strawberry layer:
In a separate bowl, add your strawberries, lemon juice, honey, and cornstarch. Mix until ingredients are well combined.
Add in your all-purpose flour and combine. It is essential your filling isn't too runny, so continue to add 1 teaspoon of flour or cornstarch until your filling is thickened up some.
Pour over the lemon custard on the shortbread and set aside while you make the crumble topping.
Crumble topping:
In a large, microwave-safe bowl, melt the butter for about 1 minute on high power.
Add the sugar to the melted butter and whisk to combine. Add the flour, optional salt, and stir to combine, gently. You want the mixture to be crumbly, not formed into a dough.
Add crumble all over the top of your strawberry layer.
Bake at 350 F (176 C) for an additional 40 minutes.
Remove from oven and let it cool completely, and sit in the refrigerator for at least two hours before slicing into it. Preferably overnight.
Storage and Handling:
Be sure to let them sit in the refrigerator before you remove them from your baking dish and slice into them.
These strawberry lemon bars will keep airtight in the fridge for up to 10 days or in the freezer for up to 6 months.