In this post I'll teach you how to make the most beautiful edible flower cookies. Everything you need to know from where to source the flowers, how to make sure they look as pretty as possible, and the most important part: how to ensure they're delicious!
These lemon sugar edible flower cookies are perfect for a tea party, spring gathering, special occasion, easter brunch, or entertaining. Sweet with tart lemon zest and candied edible flowers for celebrating the beauty of the season. You may also love our Pressed pansy sugar cookies recipe!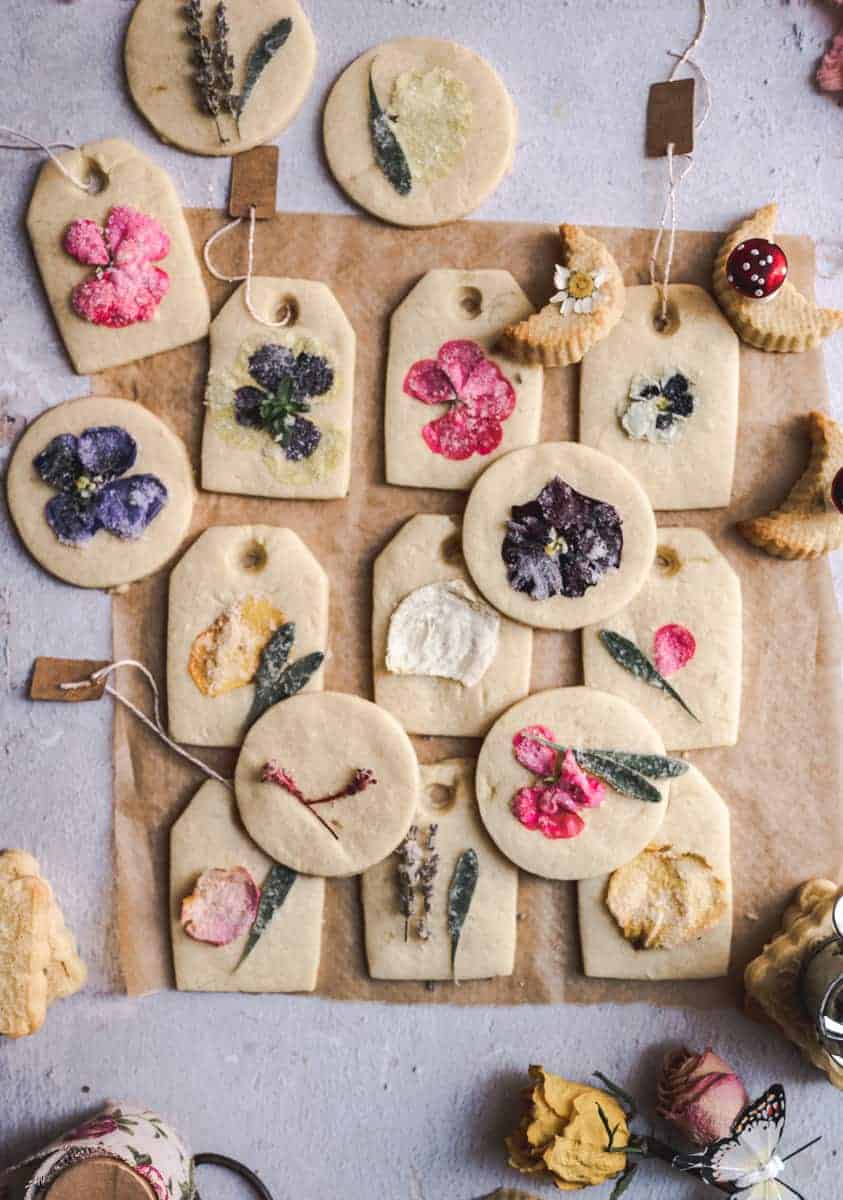 Where to get edible flowers for cookies near me:
Read our post on Where to buy or find edible flowers for cookies and cakes to source your flowers safely!
So if you're looking for fresh flowers near you, try these places first:
Your own garden: If you are serious about decorating with edible flowers, the best place to get them is from your own organic edible flower garden. Now, I know not everyone has the time and space for an outdoor or even container garden. So, you can do what I do (now that we're living in the Middle East and there is no way I can grow flowers outdoors) and use an indoor garden system. This is how I grow my own lavender, pansies, and more. So - rule of thumb, the very best place to get fresh edible flowers is from your own garden. When I haven't been able to grow my own I've found it expensive to source the amount I need. For a one time project, keep reading.
Organic farmers: The next best place is to source them from organic farmers. In every country I've lived in I've been able to find someone who grows organic flowers for consumption. They may be very seasonal, so keep reading to learn how to preserve your flowers and make them last as long as you need. But, it's very likely you can find someone who is already growing them.
Farmers market: The farmers market will often have edible flowers due to their increased popularity. Before certain crops grow, they produce flowers - like squash blossoms, or cucumber flowers. And if you don't see any, ask the vendors. Maybe they'll bring some for you next time!
Grocery stores: During spring, you will likely see them in your the produce section of your local grocery stores. What I do is buy more than I think I'll need, preserve them. The best way to do is is to and make pressed flowers to preserve them so I can still use their natural beauty when they're no long in season. Sprouts and Whole Foods market has sold edible flowers in their produce section.
A local nursery: however you'd have to look for organic plants with edible flowers, these are the ones safe for consumption.
Online sites: If you live in the United States, there are several websites dedicated to selling organic flowers.
Gourmet sweet botanicals: Gourmet Sweet Botanicals sells high quality Edible Flowers and specialty items and ships direct to your door! These products are harvested, packed and shipped the same day from the farm to ensure the utmost in color, freshness & flavor. They ship nationwide and to Canada using FedEx and UPS overnight services.
Cherry valley flowers: As a USDA certified organic farm, we take great pride in growing our edible flowers without the use of synthetic chemical pesticides, herbicides, or fungicides. This means that when you eat our edible blooms, you're only tasting nature.
Melissa's farms: Melissa's Edible flowers complement many dishes, adding glamour and pure elegance. Varieties of edible flowers may include: Carnations, Hollyhocks, Daisies, Marigolds, Nasturtiums, Chrysanthemums, Chicory, Cornflower, Lavender, Snapdragon, Violets and Pansies. Few of the edible flowers have a lot of flavor; they are primarily added for color, design and aesthetic value.
Why you'll love this recipe:
This recipe makes 24 cookies for a large batch and can easily be doubled if you need even more.
These cookies hold their shape beautifully when baked and require minimal effort!
You can get creative with the flavor, feel free to add floral or herbaceous flavor by making a floral sugar, like we do in this Lemon thyme shortbread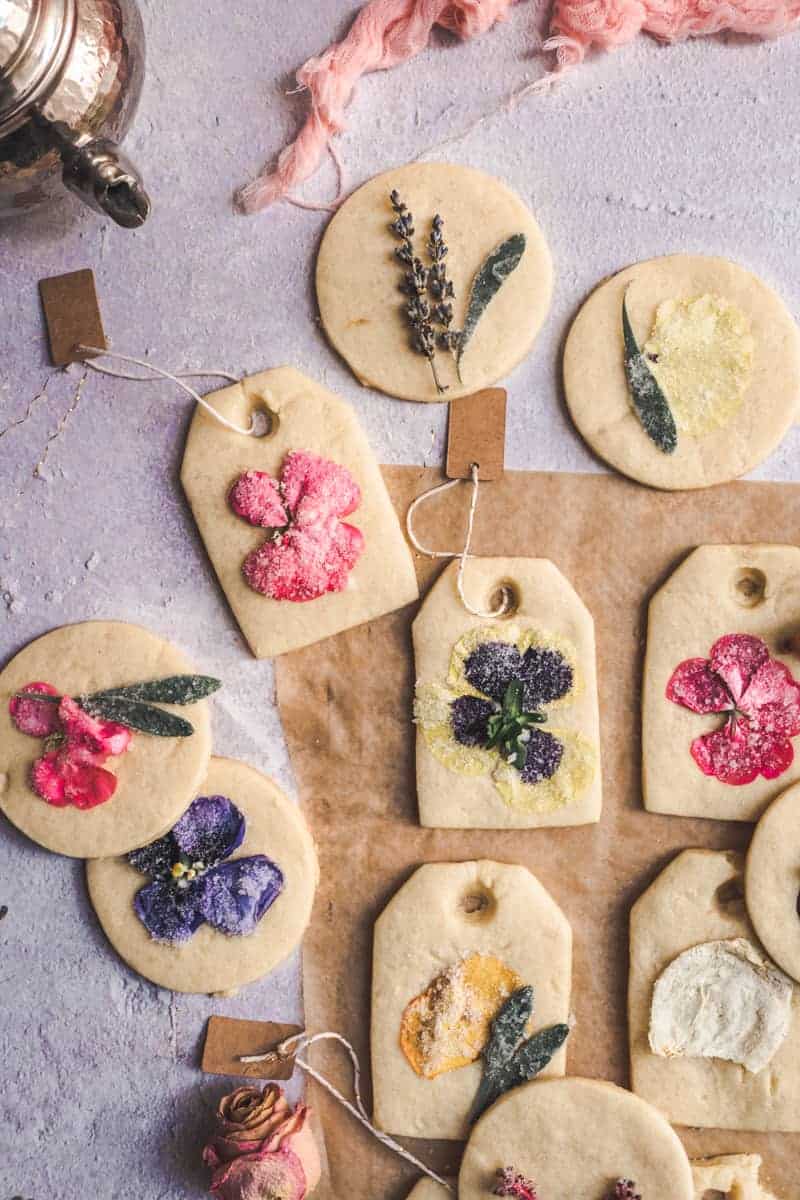 And the candied edible flower petals make them the most beautiful cookies you'll ever see. You can also add candied herbs if you fancy! And the adorable tea bag shaped cookie cutter? So fun for tea parties, and serving with a cup of something beautiful like: Rose tea | Rose water matcha tea | Autumn spiced elderberry tea blend | Matcha chamomile tea or Lavender honey iced latte
How to press flowers for this recipe:
We have a full post dedicated to pressing pansies, which will guide you step by step from garden to flower press. And it even has information on using a book or microwave press if that's what you're working with. Learn how to press pansies here.
Pressing In A Traditional Flower Press:
This is my personal favorite way to press flowers.
Lay out a piece of wax paper on a flat surface. Place the heavyweight paper on top of the wax paper.
Arrange your pansies on the heavyweight paper however you like. Make sure that they're not overlapping too much, as you want each flower to be able to lay flat when pressed.
Once you're happy with the arrangement of your flowers, place another piece of wax paper on top of them.
Now it's time to start pressing! Open up your flower press and place the stack of wax paper and flowers inside. Close the flower press according to it's individual manufacturers instructions.
Let the flowers sit for at least two weeks so that they can dry and flatten out fully.
Once they're done pressing, open the flower press and remove the wax paper and heavyweight paper.. Your beautiful pressed pansies are now ready to be displayed and candied!
Ingredients:
For cookies
1

Cup

unsalted butter

,

226 grams

1

Cup

granulated white sugar

,

200 grams

1

teaspoon

vanilla extract

1

tablespoon fresh squeezed lemon juice

1

egg

2

teaspoons

baking powder

½

teaspoon

salt

3

cups

all purpose flour

,

360 grams

Zest of two lemons
candied edible flower garnish
24-30 fresh or dried flowers or petals
½ cup granulated sugar, 100 grams

1 egg white
baking tips:
Cream butter and sugar until light and fluffy. This takes several minutes. I start by creaming the butter and sugar together for five minutes, until everything is light and fluffy, and after I add my egg I beat it for a minute longer.
Use fresh lemon juice. You'll need lemon zest for these cookies anyways, so use the juice
Use a zester to get the vibrant yellow skin from the lemon and leave the bitter white part behind.
You don't have to chill dough, but I find I get better looking cookies when I do! My shapes come out cleaner when the dough is slightly chilled.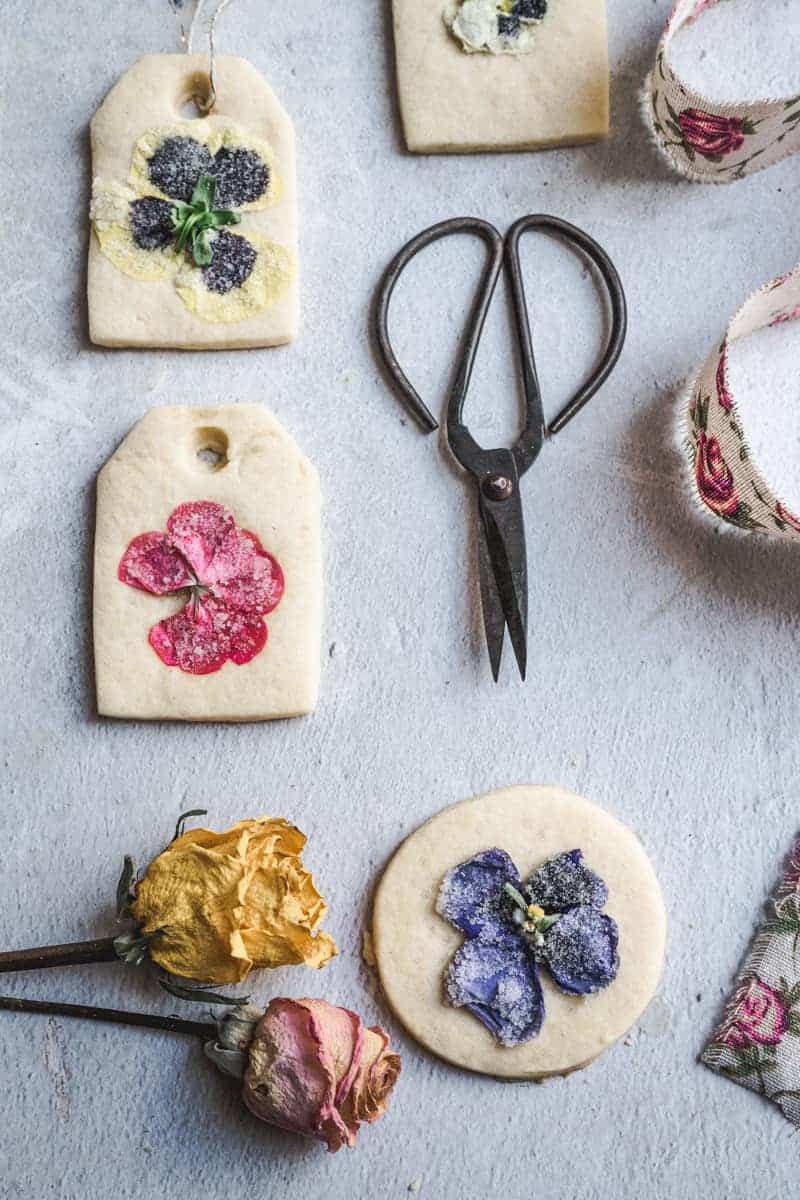 Frequently asked questions:
How do I know which flowers to choose Candied edible flower lemon sugar cookies?

I recommend heading to this page for the full candied edible flower recipe.

Not every flower is safe to eat. Many flowers are considered poisonous. Make sure you have correctly identified your flower if you have foraged them.
Don't use edible flowers from highly contaminated areas such roadways, chemically treated lawns, or areas with animals.
If you haven't tried a particular flower in culinary uses, taste a small piece of the petal before consuming a whole petal. You can be allergic to flowers.
If the cookie dough hard to work with, example: is sticky or crumbly. how can i correct it?

The final recipe is easy to work with and won't be too sticky, however if you're finding it is - try getting a digital kitchen scale and measuring ingredients by weight. Measuring in weight is always best for baking because level scooping measurements can vary.

If your dough does feel too sticky don't be afraid to sprinkle in more flour, slowly. Add ¼ a cup and see if the texture becomes more manageable to work with.
If your dough is too crumbly, simply wet your hands and then incorporate your dough into a ball for rolling.
Can I make these cookies without the lemon flavor?

Of course! Simply skip the lemon juice and zest and add almond extract, maple syrup, or liquid honey in its place.
Can I chill the dough? Can i freeze the dough?

If you need to make the dough in advance, you can chill it or freeze it! Wrap it tightly with beeswax wrap and store in the refrigerator for 3 days or freezer for 3 months.
The cookies look under-baked or less crispy than I'd like. Can I bake them longer?

Of course! My husband only likes his sugar cookies golden brown and crispy so I always bake his an additional 5 minutes.

For recipes for the blog, I almost always pull cookies out of the oven before they look "done" as they will continue baking on the cookie sheet. These are a soft sugar cookie, but if you like a crisp, bake them longer until their tops are golden brown.
Can i make these cookies grain free or gluten-free?

For a gluten free adaptation: Use your favorite 1:1 gluten free flower.

For grain free adaptation: Use this 1:1 paleo baking flour.
How long do these cookies last? How can I store these cookies?:

You want to consume your candied edible flower lemon sugar cookies within a day or two of baking. One garnished with the flowers, they should not be kept long. If you want to freeze the sugar cookies, do it before garnishing.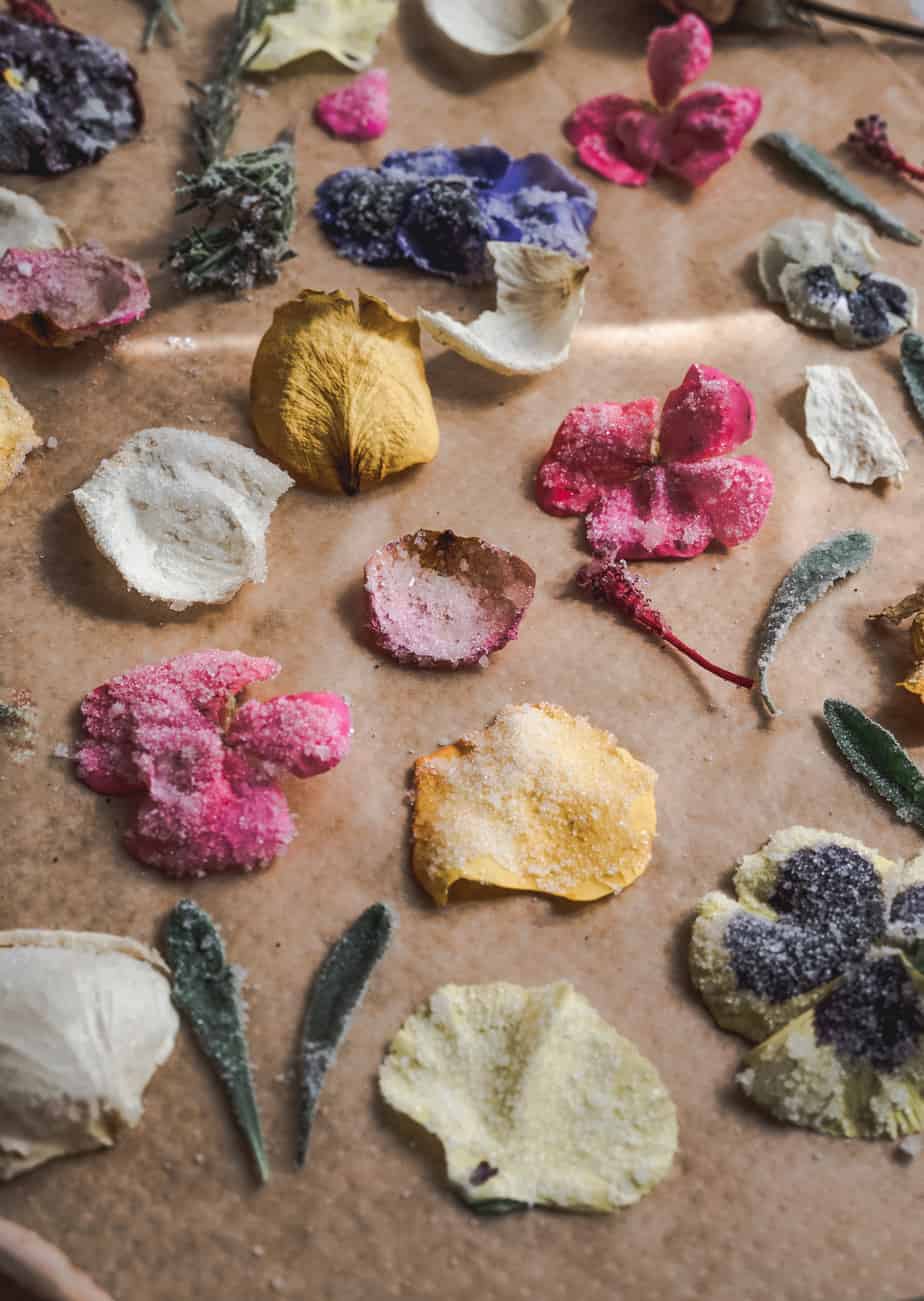 More edible flower recipes you will love: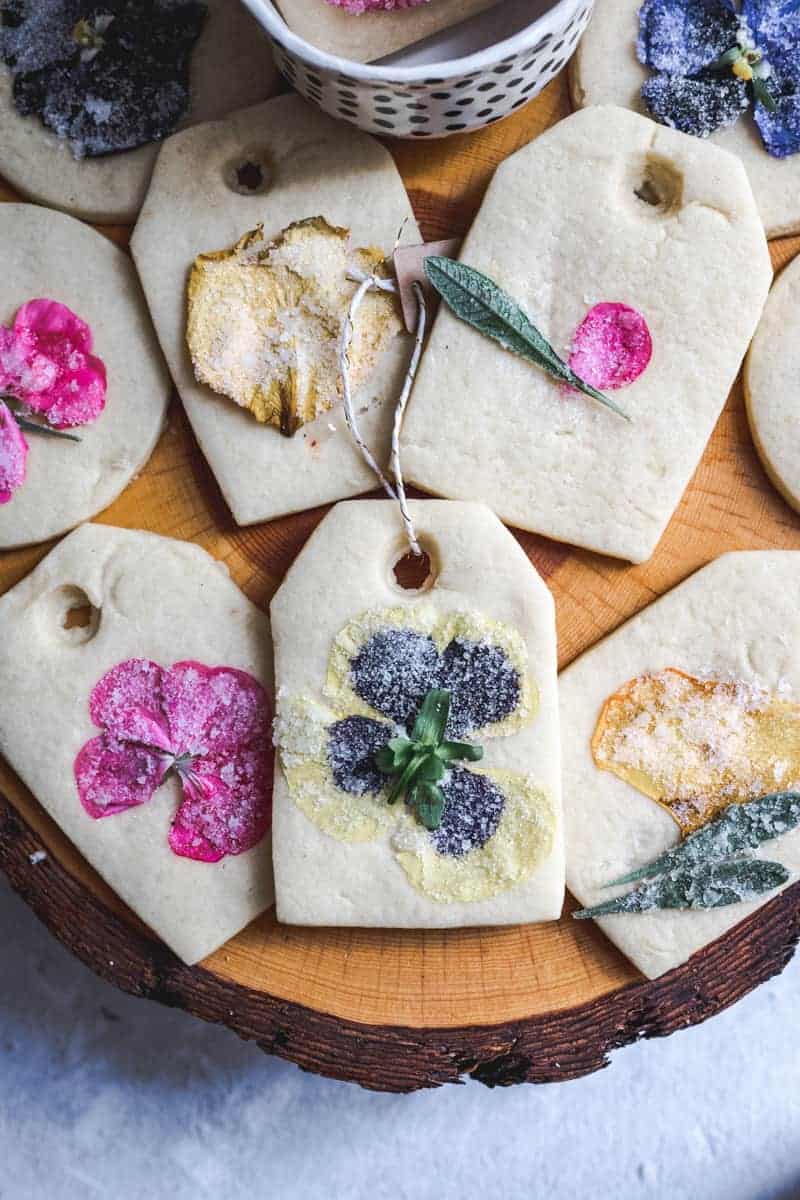 Edible flower cookies
Additional Time:
10 minutes
These lemon sugar edible flower cookies are perfect for a tea party, spring gathering, special occasion, easter brunch, or entertaining. Sweet with tart lemon zest and candied edible flowers for celebrating the beauty of the season.
Ingredients
Ingredients:
For cookies
1 Cup unsalted butter, 226 grams
1 Cup granulated white sugar, 200 grams
1 teaspoon vanilla extract
1 tablespoon fresh squeezed lemon juice
1 egg 
2 teaspoons baking powder
½ teaspoon salt
3 cups all purpose flour, 360 grams
Zest of two lemons
For flowers
24-30 fresh or dried flowers or petals
½ cup granulated sugar, 100 grams
1 egg white
Instructions
First you'll want to make your flowers so they're dried and ready to garnish your cookies with before they come out of the oven. That way the cookie will cool around them and they will stick to your cookie.
Instructions
To make your edible candied flowers:

Carefully pluck the individual petals from the plant.


VERY Gently mist your petals to clean them, because careful not to bruise them. I like to mist them with some water, place them on a towel, and gently place a paper towel on top of them for absorption.

Place a wire cooling rack on a baking sheet. Crack the egg white into a small bowl and whisk it with a fork. Dump the superfine sugar into a shallow bowl or onto a plate.

Gently paint a petal with the egg white using a new soft bristle paintbrush or instead simply dip the petal in the egg white, turning to coat both sides and allowing any extra to drop off, and then place the petal in the bowl of superfine sugar, turning to coat both sides and sprinkling on extra, if necessary, so the petals are completely coated with sugar.

Space the candied petals apart on a wire cooling rack and leave until dry and hardened

To make your cookies:

Preheat oven to 350° F.


Cream butter and sugar until smooth, at least 3 minutes


Beat in extracts and egg.

In a separate bowl, combine baking powder and salt with flour and add a little at a time to the wet ingredients.

Divide into 2-3 batches. I like to roll out my dough at this point and place on a lined cookie sheet for easy handling and cutting once it's chilled.

Chill for 15 minutes in refridgerator.

Remove from refridgerator and cut your cookies from your dough with cookie cutter of choice. You want these cookies to be thicker - ¼ inch.

Bake at 350 for 8 minutes. Add 5 minutes if you want them crispy and golden brown.

When cookies are done, remove and quickly add your candied flowers to them while they're still soft and not cooled.

Let cool on the cookie sheet until firm enough to transfer to a cooling rack.
Notes
You want to consume your candied edible flower lemon sugar cookies within a day or two of baking. One garnished with the flowers, they should not be kept long. If you want to freeze them, do it before garnishing.
Nutrition Information
Yield

24
Serving Size

1
Amount Per Serving
Calories

202
Total Fat

9g
Saturated Fat

5g
Trans Fat

0g
Unsaturated Fat

3g
Cholesterol

28mg
Sodium

107mg
Carbohydrates

28g
Fiber

1g
Sugar

14g
Protein

2g