This lavender lemon tart is a lavender shortbread cookie with lemon curd will make your taste buds sing. Floral hints + zest lemon curd come together sweetly like a perfect spring day. It will be requested for the rest of your life if you make it for others. Trust me on this one.
As soon as I tasted this lavender shortbread cookie crust with zesty lemon curd, I knew if I owned a bakery, this tart would be my name to fame. And a quick stop to frolic and fare blog in the spring will leave no question that I love lavender! For a similar recipe but in bar form, check out Lavender lemon shortbread cookie bars or Lavender shortbread cookies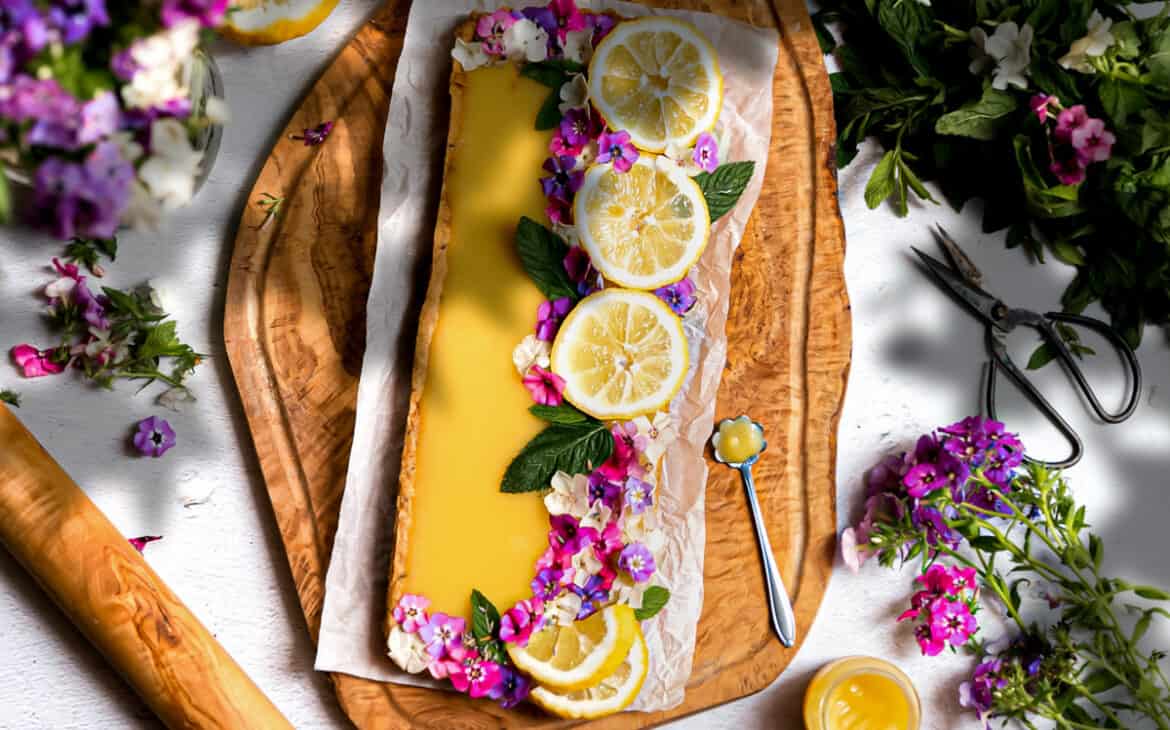 Why you will love this recipe
This recipe brings about a crispy shortbread cookie crust, laced with lavender and lathered with zesty lemon curd. Each bite excites every tastebud as you get hints of sour lemon, sweet and slightly salted shortbread crust, and lightly floral lavender.
And when you combine smooth lemon curd, and a perfect crunchy cookie, it really is divine. I loved how lemon curd it solidifies so smooth and glossy over this shortbread tart. It's as beautiful as it is delectable. When the sun hits it glistens, a tribute to the sunny days of spring. My husband's favorite treat is shortbread, and mine is anything lemon + lavender. Combined these were a match made in heaven.
Ingredients:
All-purpose flour
Sugar
Salt
Unsalted butter, room temperature
Vanilla extract
Lemons
Eggs
The shortbread cookie in this recipe
This shortbread cookie crust is the perfect base for any treat. Some other ways I've used it as my base is: for baked apples with crumble in the fall and covered in a chocolate ganache for Christmas. Lavender and lemon are the perfect way to enjoy shortbread in the spring. When cut, this cookie is firm enough to be picked up and eaten like a bar. Yet, buttery and soft enough to be enjoyed if you decided to eat with a fork. It even manages to be delicate and rich at the same time. I am patting myself on the back for this one!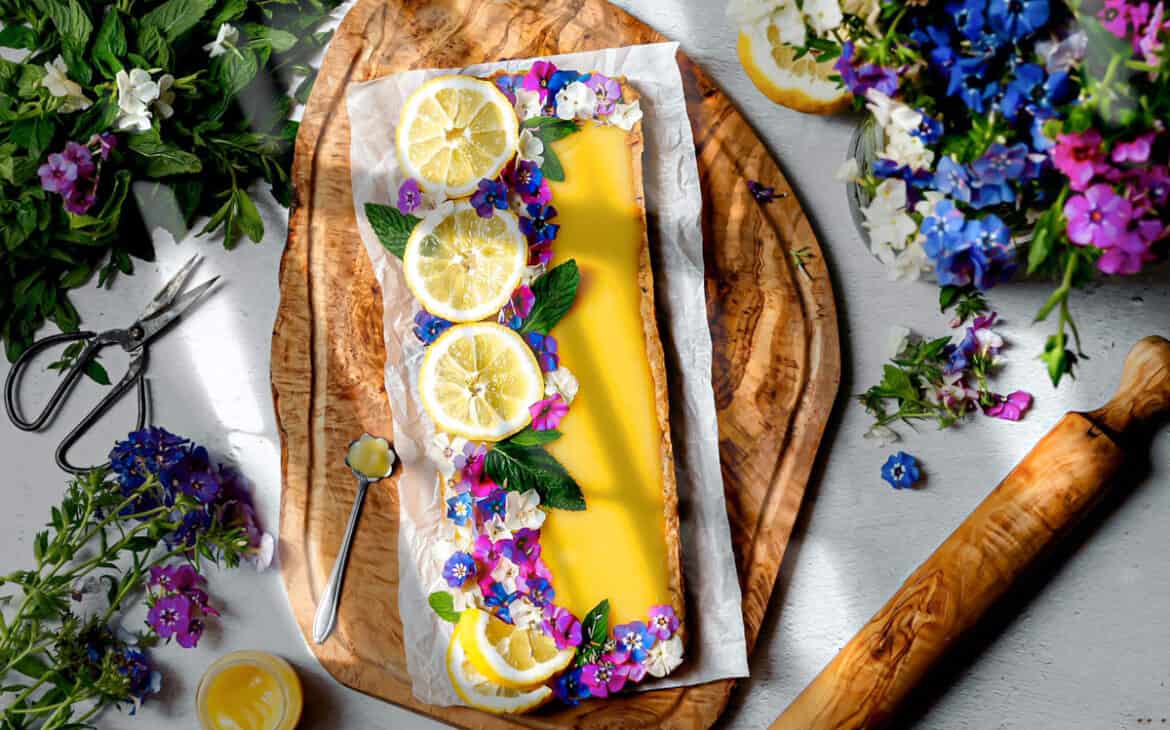 The lemon curd:
Lemon curd is made of four basic ingredients: egg, sugar, lemon, and butter, which are gently cooked together until thick and then allowed to cool, forming a soft, smooth, flavor-packed spread.
It is important to have your cookie baked, cooled, and ready at the time your lemon curd is thickened because it will start to harden, and you want it to harden over your cookie for a smooth texture.
Shortbread is a traditional Scottish biscuit and also made from simple ingredients. This cookie only requires butter, sugar, salt, flour, and culinary grade lavender. This recipe is slightly different than the one I would use to make actual shortbread cookies because I want the crust to be more firm and less crumbly than traditional shortbread, to withstand the lemon curd topping. However, the taste is unmatched and truly divine.
Let's get to baking!
What I used in this recipe:
This recipe fills a large, ornate tart pan with scalloped edges that I adore. They are difficult to see because of all of the flowers, but they add a lovely whimsical touch to this tea party worthy treat! Below the recipe, you will find some links to the tools (including the pan) used in this recipe. It's also helpful to use parchment paper when baking this tart, even though the pan comes with a removable bottom. I am always reassured I will be able to lift my tarts with ease if I use parchment paper under my cookie. And culinary food grade lavender is a must! You will never stop baking with lavender once you give it a try!
Do you love baking with lavender as much as I do? If so - be sure to pin these other lavender recipes for future inspiration!
This recipe pairs perfectly with:
I hope this recipe works beautifully for you and is enjoyed for many years to come. Thank you so much for reading. Your visit to my site helped support a small mama run business today. If you enjoyed it, I would be so honored if you would share with your loved ones.
Sending love, fresh baked cookies, and a bouquet of your favorite flowers.