Pistachio rose layer cake
Embrace the day with this gorgeous pistachio rose layer cake, with deliciously moist pistachio layers and silky rose buttercream. This is a perfect elegant birthday cake or a wonderful treat for Mother's Day, afternoon tea and bridal showers.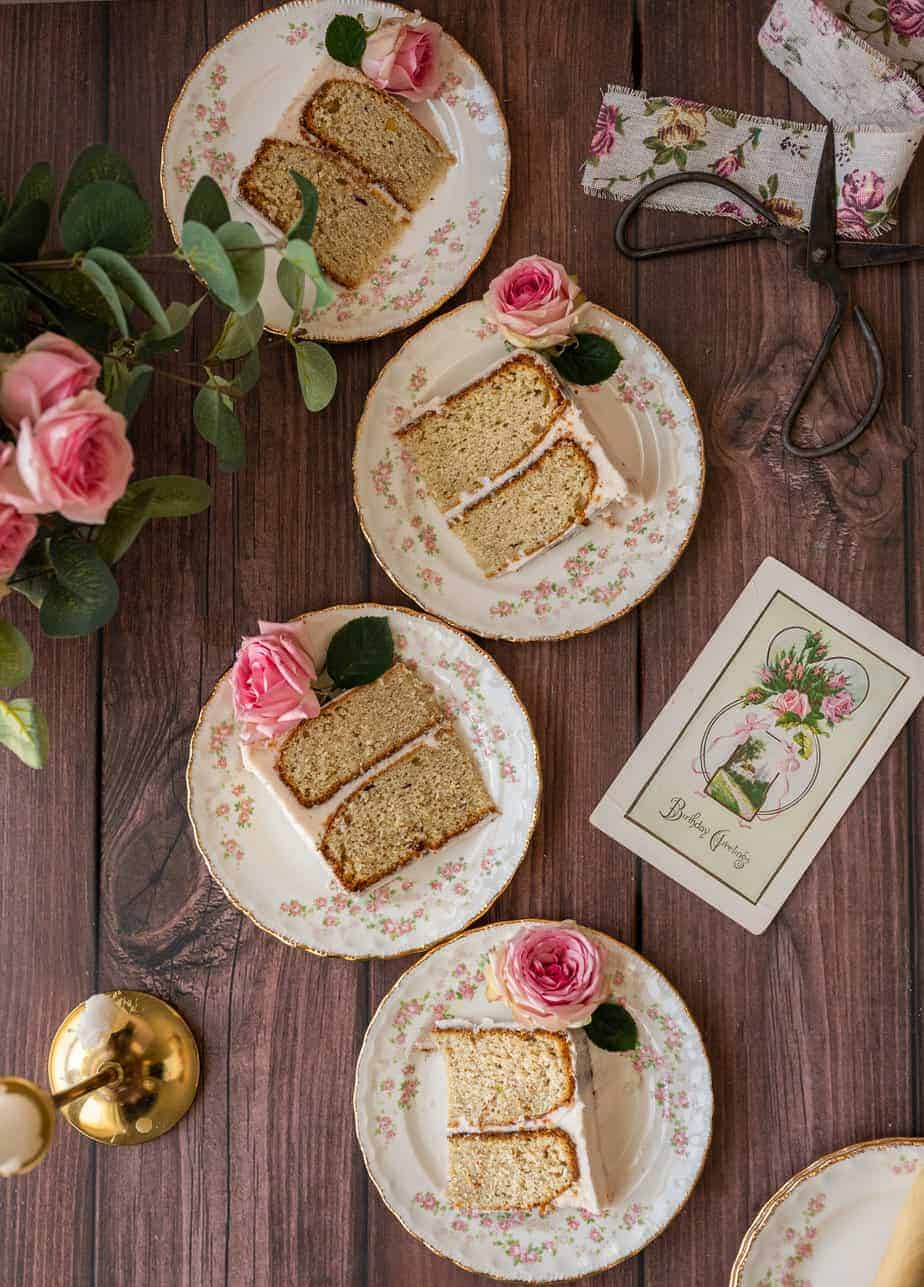 If you haven't tried pistachio + rose combination you're in for a real treat. There's a reason this duo is seen so frequently paired together. Creamy naturally spring green pistachios really compliment the soft essence you experience when you're enjoying rosewater buttercream between the cake layers. It's perfectly sweet, perfectly salty, and the light pink color is always so darling. Don't forget to add some candied rose petals on top of the cake for something extra memorable.
CAKE:
2 ¼ cups all purpose flour
2 tsp baking powder
1 cup shelled pistachio nuts
¾ tsp salt
¾ cup unsalted butter room temperature
1 ½ cup granulated sugar
3 large eggs room temperature
1 ½ tsp vanilla extract
1 cup milk room temperature
ROSEWATER BUTTERCREAM FROSTING:
3 sticks (1 and ½ cups) unsalted butter, room temperature
2 tablespoons rose water
5 cups powdered sugar (or icing sugar, caster sugar)
⅓ cup heavy cream or buttermilk at room temperature
1-2 drops light pink or blush food coloring (optional)
1 teaspoon salt
1 tablespoon vanilla extract
CAKE:
Preheat oven to 350F. Grease and flour three 6 inch cake rounds and line the bottom of the pan with a piece of round parchment paper.
Make a creamy pistachio milk by blending your milk and pistachios in a high speed blender or food processor until creamy. Strain to remove any remaining pieces, unless you want them in your cake for texture (I usually keep them, I enjoy them)
In a medium bowl, whisk flour, baking powder, and salt until well combined. Set aside.
Using a stand mixer fitted with a paddle attachment or a hand mixer, cream butter, and sugar on med-high until pale and fluffy - this usually takes 2-3 minutes. Reduce the speed of your mixer and add eggs one at a time fully incorporating after each addition. Add in your vanilla extract.
Turn off mixer and slowly add in your flour and pistachio milk to your creamed butter, fully incorporating the mixture before adding more.
Pour into your prepared cake pans.
Bake for 30 minutes or until a toothpick inserted into the center comes out mostly clean. If it's not clean, continue to bake in five minute increments, checking each time. I've never had to bake this cake longer than 35 minutes.
Place cakes on wire rack to cool for 10mins then turn out onto wire rack. Allow cakes to cool completely.
BUTTERCREAM:
Add the butter and one cup of the powdered sugar to the bowl of a standing mixer fitted with the whisk attachment. Beat on low just to blend, then beat on high for 3 minutes, stopping to scrape down the sides of the bowl a few times.
Add the heavy cream and another cup of powdered sugar. Beat on low speed to blend, then on high speed for another two minutes, stopping to scrape down the sides of the bowl a few times.
Add two more cups of powdered sugar and the salt and vanilla extract. Beat on low to combine, then on high for about 1 minute, until the buttercream is completely smooth.
Add in your rose water and mix
Use a tooth pick to dip into your liquid food coloring, and then dip it into your buttercream. Mix, and add more if desired until you have your ideal pink colour.
Check the consistency and beat in more powdered sugar if the buttercream is too thin. Add more heavy cream or buttercream if it's too thick. Taste, and add another pinch of salt if you need to take the edge off the sweetness.
ASSEMBLY:
Place one layer of cake on a cake stand or serving plate.
Add a large scoop of buttercream to the center, and use an offset spatula to smooth it out.
Place another cake layer on top of it, and repeat by adding another large scoop of buttercream, and using your spatula to smooth it out. After assembly, top the top layer of cake with approximately ⅔ cup of buttercream and spread evenly. Frost and smooth the outside with a thin crumb coat. Chill for 20 mins.
After chilling, frost the remaining buttercream and smooth until you have clean, smooth lines.
Note: Try some rose petal jam in between the layers for more floral goodness!
You may also love: