Candied rose petals are a sweet and beautiful way to garnish anything with nature's gifts. This simple homemade candy becomes a zen craft that is made from only egg whites, sugar, and a few minutes! These candied rose petals are a beautiful garnish for cookies, cake, popsicles, cocktails and more.
I already have a candied flower petal and candied herb recipes on the blog. If you've made those - you know exactly how to make these!
Yes! Yes, Roses are edible. And have a beautiful delicate floral flavor. They pair very well with strawberries, like in this wild rose petal jam or in our rose ice cream. You can turn beautiful rose petals into candy by crystallizing them with sugar. You only need a few simple ingredients and tools! Our favorite way to use these candied rose petals is on Edible flower cookies or our Pistachio rose layer cake.
Organic rose petals
Granulated Sugar
Egg whites
tools
a fresh paintbrush for painting egg whites onto petals
a cooling rack for your petals to dry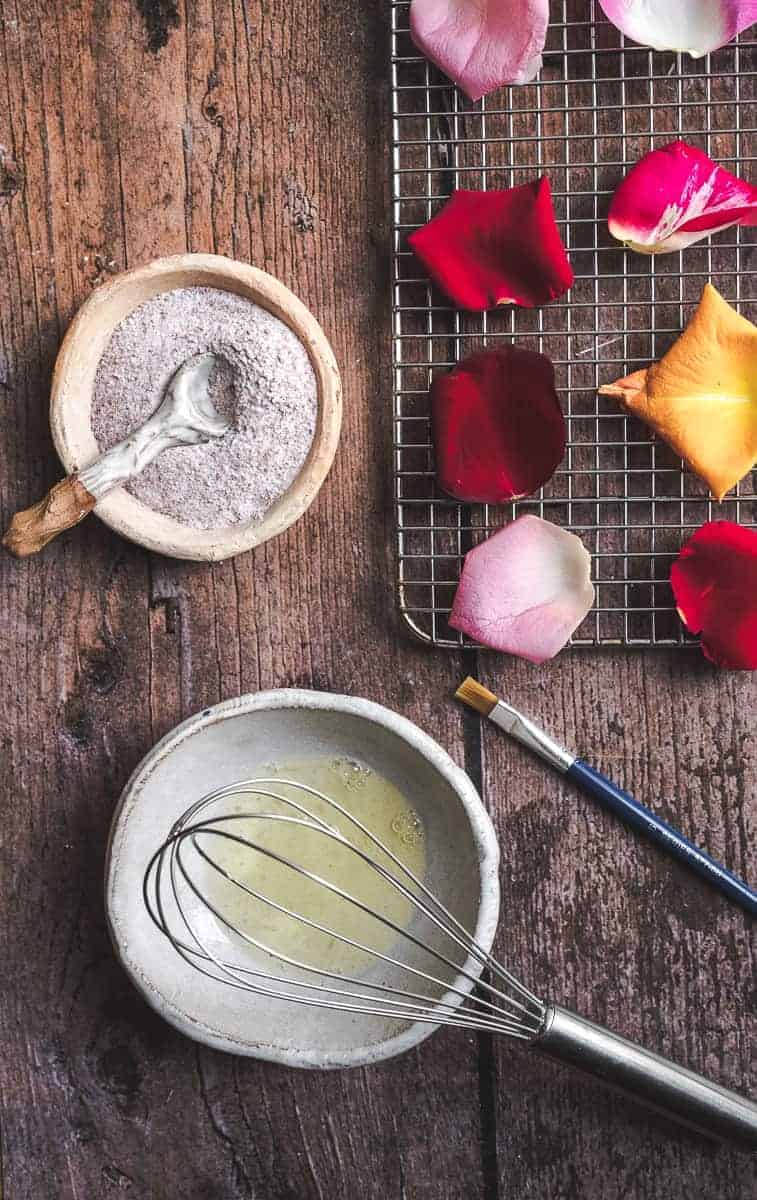 Where do I find roses to use for culinary use?
Most store bought flowers are not safe for consumption. The type of flowers you plan to use for food should never come in contact with pesticides or other chemicals. The best edible flowers are ones you grow organically in your garden. The exception is the very seasonal food grade flowers sold in your local grocery store. I have an entire post dedicated to sourcing edible flowers. I've also answered in the FAQ below.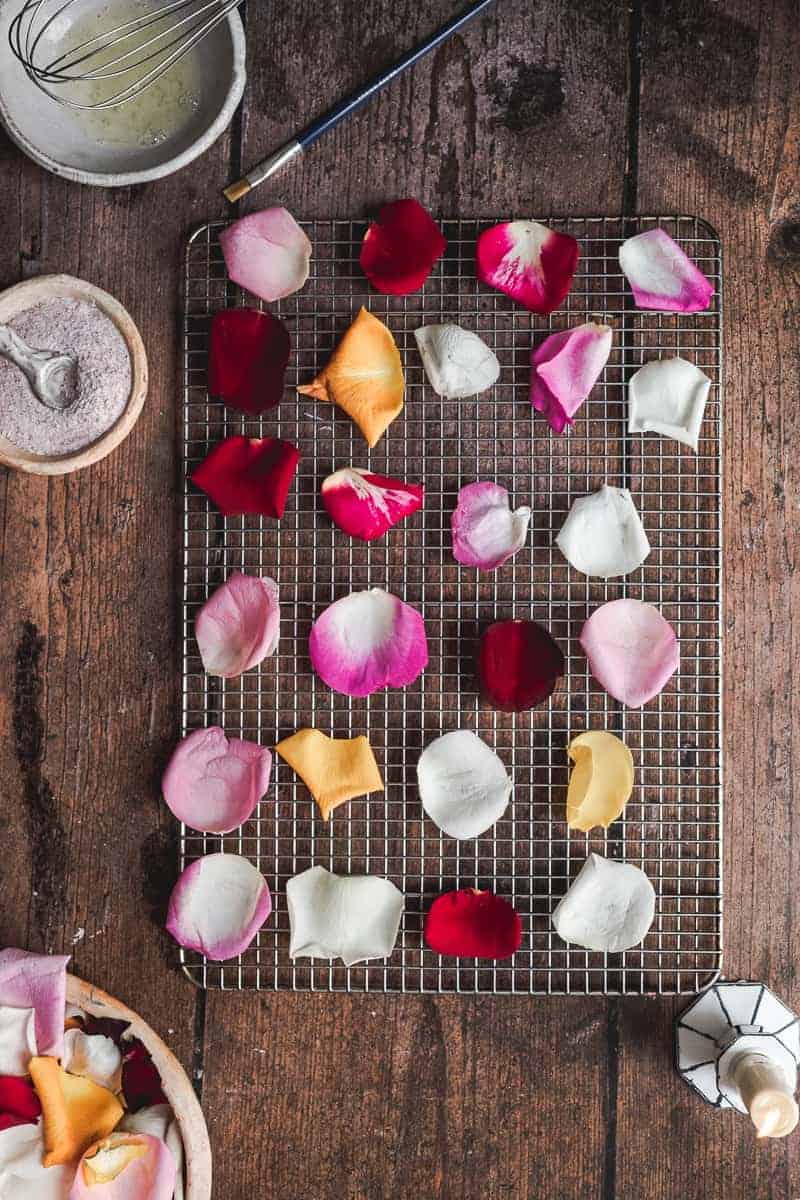 Frequently asked questions
Where can I find safe edible roses?

Your own garden: If you are serious about decorating with edible flowers, the best place to get them is from your own organic edible flower garden. Now, I know not everyone has the time and space for an outdoor or even container garden. So, you can do what I do (now that we're living in the Middle East and there is no way I can grow flowers outdoors) and use an indoor garden system. This is how I grow my own lavender, pansies, and more. So - rule of thumb, the very best place to get fresh edible flowers is from your own garden. When I haven't been able to grow my own I've found it expensive to source the amount I need. For a one time project, keep reading.
Organic farmers: The next best place is to source them from organic farmers. In every country I've lived in I've been able to find someone who grows organic flowers for consumption. They may be very seasonal, so keep reading to learn how to preserve your flowers and make them last as long as you need. But, it's very likely you can find someone who is already growing them.
Farmers market: The farmers market will often have edible flowers due to their increased popularity. Before certain crops grow, they produce flowers - like squash blossoms, or cucumber flowers. And if you don't see any, ask the vendors. Maybe they'll bring some for you next time!
Grocery stores: During spring, you will likely see them in your the produce section of your local grocery stores. What I do is buy more than I think I'll need, preserve them. The best way to do is is to and make pressed flowers to preserve them so I can still use their natural beauty when they're no long in season. Sprouts and Whole Foods market has sold edible flowers in their produce section.
A local nursery: however you'd have to look for organic plants with edible flowers, these are the ones safe for consumption.
Online sites: If you live in the United States, there are several websites dedicated to selling organic flowers.

Gourmet sweet botanicals: Gourmet Sweet Botanicals sells high quality Edible Flowers and specialty items and ships direct to your door! These products are harvested, packed and shipped the same day from the farm to ensure the utmost in color, freshness & flavor. They ship nationwide and to Canada using FedEx and UPS overnight services.
Cherry valley flowers: As a USDA certified organic farm, we take great pride in growing our edible flowers without the use of synthetic chemical pesticides, herbicides, or fungicides. This means that when you eat our edible blooms, you're only tasting nature.
Melissa's farms: Melissa's Edible flowers complement many dishes, adding glamour and pure elegance. Varieties of edible flowers may include: Carnations, Hollyhocks, Daisies, Marigolds, Nasturtiums, Chrysanthemums, Chicory, Cornflower, Lavender, Snapdragon, Violets and Pansies. Few of the edible flowers have a lot of flavor; they are primarily added for color, design and aesthetic value.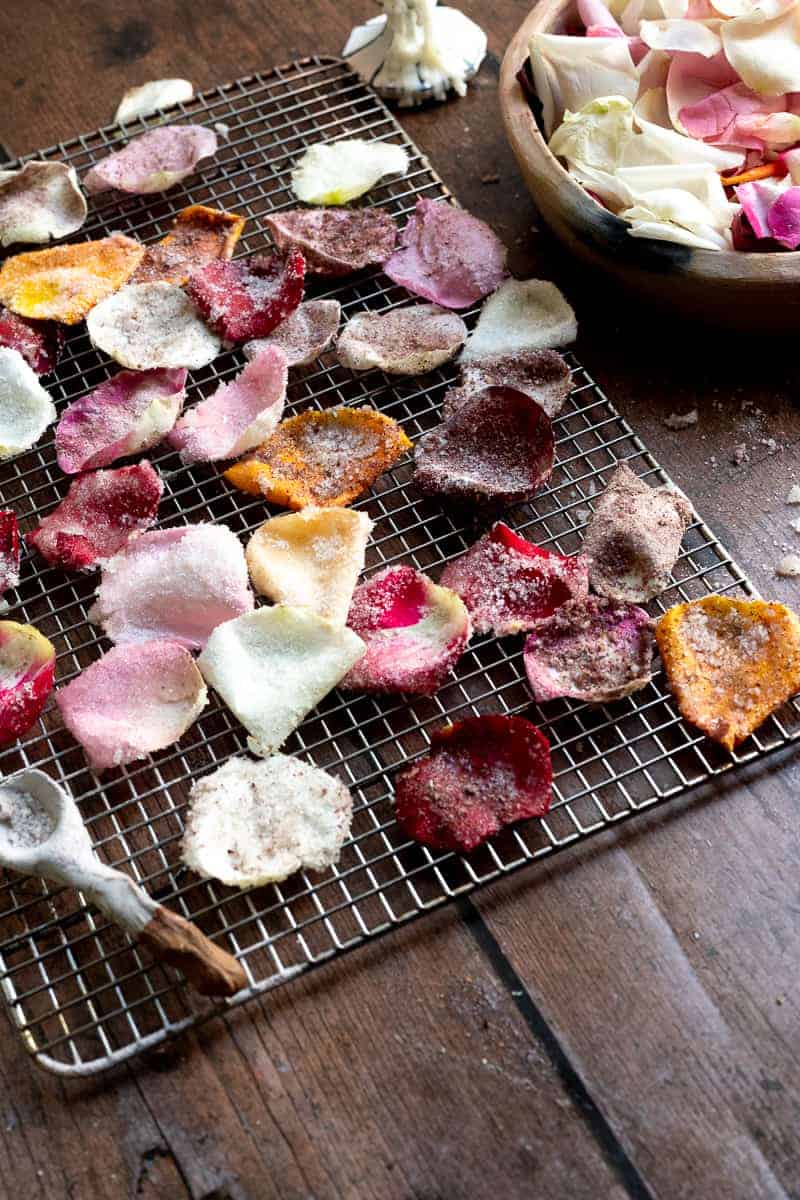 how to make homemade rose petal candy:
Carefully pluck the individual petals from the rose bloom.

VERY Gently mist your rose petals to clean them, because careful not to bruise them. I like to mist them with some water, place them on a towel, and gently place a paper towel on top of them for absorption.

Place a wire cooling rack on a baking sheet. Crack the egg white into a small bowl and whisk it with a fork. Dump the superfine sugar into a shallow bowl or onto a plate.

Gently paint a rose petal with the egg white using a new soft bristle paintbrush or instead simply dip the petal in the egg white, turning to coat both sides and allowing any extra to drop off, and then place the petal in the bowl of superfine sugar, turning to coat both sides and sprinkling on extra, if necessary, so the petals are completely coated with sugar.

Space the candied rose petals apart on a wire cooling rack and leave until dry and hardened.
Expert tips:
Use the candied rose petals quickly, within a day or two

.

Enjoy as a garnish on your favorite cakes and cupcakes.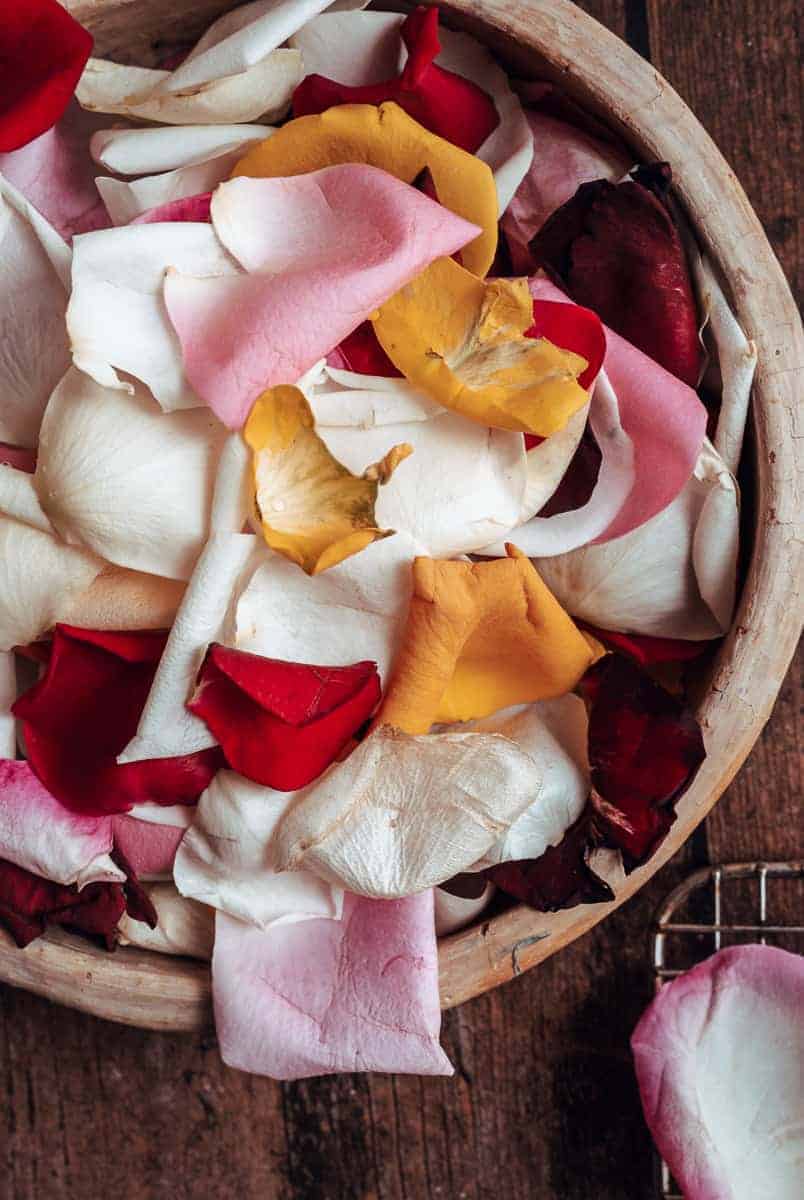 variation inspiration:
If you don't use refined sugar, you can use coconut or date sugar. And if you prefer, you can use sugar crystals like monk fruit or splenda.
This recipe contains raw egg, so please do not serve to anyone immunocompromised, pregnant, or infants.
If you are still concerned about using raw egg, use pasteurized egg white powder.
For a vegan option, use aquafaba instead of eggwhites.
If you find you love making your own homemade candy, you will likely also enjoy some other recipes from our homemade candy category!
If you love edible flowers, you may find these resources handy!
And lastly, if you love roses as much as we do - you will surely enjoy our rose recipes!
I hope this recipe works beautifully for you and is enjoyed for many years to come. Thank you so much for reading. Your visit to my site helped support a small mama run business today. If you enjoyed it, I would be so honored if you would share with your loved ones.
Sending love, fresh baked cookies, and a bouquet of your favorite flowers.