These Simple lemon thyme shortbread cookies are like no other cookie you have ever tasted before. Melt in your mouth lemon thyme shortbread cookies are sweet, zesty, buttery, and deliciously herbaceous.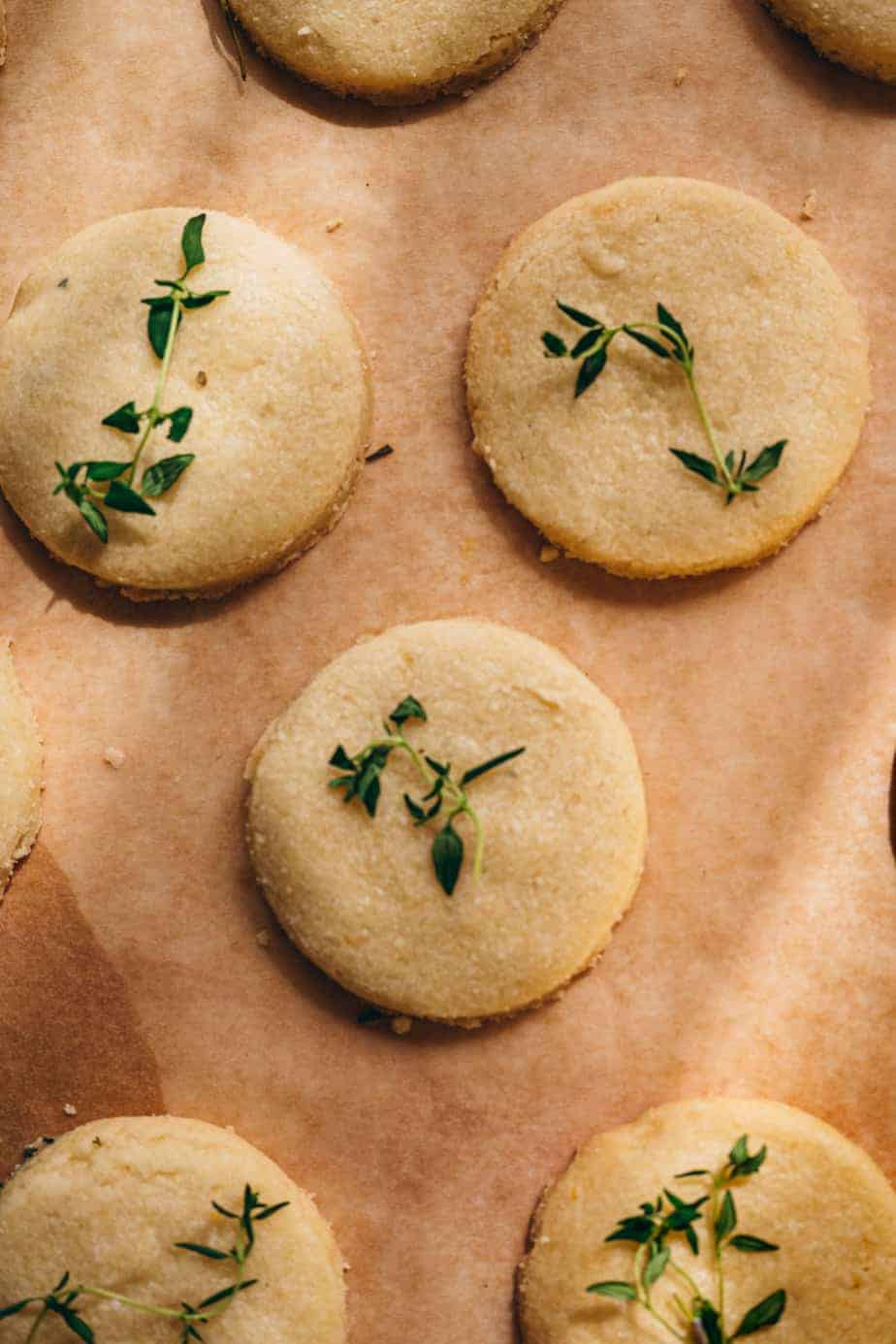 Shortbread cookies are the household favorite around here. We like them thin, crisp, golden brown, a little salty and a little variation in flavor never hurts. Shortbread is a simple recipe but I enjoy making them different ways depending on if I need them for a cookie crust, like in these Lemon lavender bars or if I'm going slice and bake - like in these pistachio shortbread or roll them out for cookie cutters, like I do in this method.
Why you'll love them:
Delicious shortbread, super fine crumb and super crispy if you like them that way!
Easy to roll out dough - perfect for cutting shapes
Delicious and adaptable flavors, go with another citrus fruit and herb if you fancy
Ingredients you'll need:
1 cup butter softened (salted) (225 grams)
½ cup icing / powdered sugar (60 grams)
2 tablespoons granulated sugar
½ cup corn starch (68 grams)
1 pinch salt
2 cups all purpose flour (260 grams)
Lemon peel zest
Dried or fresh thyme leaves
Vanilla extract or lemon extract for a more pronounced lemon flavor
How to make them:
Start by making a lemon thyme sugar, where all of your flavor will come from. Do this by grinding up granulated sugar, thyme leaves, and lemon zest together. I use a mortar and pestle, but a food processor works great too.
Cream butter with lemon thyme sugar until fluffy. Add powdered sugar and cream until well incorporated.
Sift in the flour and corn starch and gradually mix. You will need to get your hands dirty and really mix well to incorporate all of the butter into the flour. Work it with your hands until the dough becomes a ball.
Wrap in plastic wrap and move the refrigerator to chill for thirty minutes.
When ready to bake:
Preheat oven to 350 degrees F or 176 C.
On a lightly floured surface, roll your dough out about ⅓ inch thick. Cut into desired shapes.
Bake for 10-12 minutes. Let cookies cool on cookie sheets for 5 minutes, then transfer to wire rack.
If desired, top them with some fresh candied herbs or candied flower petals.
More botanical shortbread: