How to make a lavender latte
Lavender lattes are easy to make at home and learning how to make this lavender latte recipe ( hot or iced ) will make every morning's caffeine boost truly dreamy!
Skip the expensive coffee shop. Homemade lattes are probably easier than you think. And this lavender latte is easy peasy that has just espresso, optional honey lavender simple syrup, plus lavender infused frothed milk, served hot or over ice, for a relaxing morning - and the most refreshing pick me up that calms you down.
Adding culinary grade lavender to anything instantly makes it a little more fancy and gourmet. Lavender coffee drinks are popping up everywhere and if you're anything like me - you simply can not resist treating yourself to a delicious drink made my favorite way - full of floral splendor.
What is a latte?
in English, a traditional latte refers to the classic Italian drink made with espresso and frothed milk. Traditionally, the espresso is brewed in a stovetop Moka pot and poured into a cut containing warm milk. Outside of Italy, a latte is traditionally served in an 8 oz glass with a single 30 ML or double 60 ML shot of espresso, and a layer of foamed milk (approximately ½ inch thick)
Variation inspiration:
Iced lavender latte: For an iced lavender latte, you will want to add an extra shot of espresso. You can simply add your lavender milk of choice into the latte, frothed or not. For an iced latte, I like to add my espresso, syrup, and ice into a mason jar and shake it before pouring into my tall espresso glass.
Iced lattes generally come with more espresso due to being served in a tall glass, and often come sweetened. You can use lavender infused honey, lavender infused sugar cubes, or  homemade lavender honey syrup to sweeten. And of course, serve it over ice.
Tools you'll need for making lattes at home:
espresso machine or mocha pot
milk frother
Before you make your lavender latte, you'll want to make some lavender simple syrup. The syrup is where the beautiful lavender flavors comes from. You can pick some up or make some from home. This is my preferred option, as lavender syrups are often artificially colored and are so simple to make your own syrups at home.
How to make the syrup:
Gather your ingredients:
The process:
In a small saucepan over medium-low heat, heat the water, sugar, and lavender until it comes to a simmer.
Stir to dissolve the sugar and continue simmering gently for 5 minutes, reduce heat and let simmer on low for an additional 5 minutes.
Remove from heat and let the liquid cool.
Lastly, strain into a jar with a fine mesh sieve into a jar with an airtight lid.
Grab the full recipe for lavender simple syrup here!
If you don't want to make your own simple syrup, you can surely buy some. I like this brand because it isn't artificially purple colored like many others. And furthermore, if you don't want to make or buy simple syrup at all - simply add lavender infused honey for a healthier sweetened iced coffee. 
Step by step how to prepare: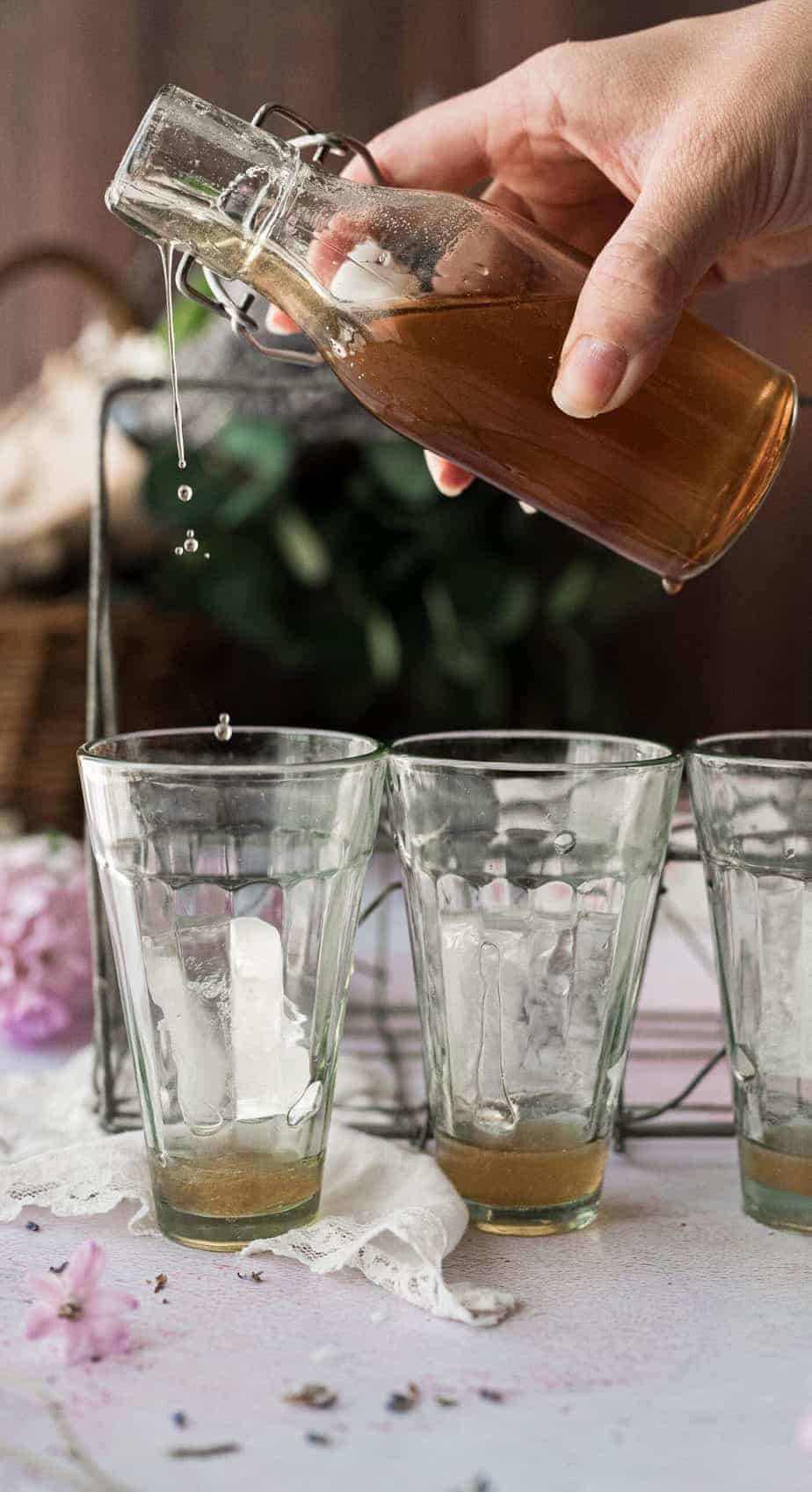 If you want your latte sweetened, add in your desired sweetener first. Whether it's honey, lavender syrup or sugar cubes. Add as much as you typically like.
Make your espresso using your espresso maker or in a mocha pot.
Add in your shot of espresso, cold or hot into your glass of choice. Add two espresso shots for an iced lattes.
Finally, add in your lavender frothed milk to the top. Use a milk frother (this is the one we use at home) or hand held milk frother to froth your milk.
Garnish with some organic lavender if you have it.
Frequently asked questions:
Can I add lavender essential oil?

As an aromatherapist, I would not recommend it. For one, even just one drop tastes far too strong in coffee, and two: you get a much better flavor from the syrup and honey.
Can I add flavored espresso?

Absolutely. Some vanilla flavored espresso is a great way to add additional flavor to your latte. You can also add a splash of vanilla extract your latte or frothed milk.
How can I serve my latte?

Add some floral iced cubes
Serve with some candied edible flower petals
Serve with some lavender marshmallows
And of course, enjoy in a beautiful glass!
What milk do I need to use:

Whole milk works best for frothed milk on hot lattes. But if whole milk isn't for you, you can use barista style almond milk or oat milk. Make sure you're buying "barista style", or else it won't froth. We infuse our milk with lavender for the beautiful flavor. See full recipe for lavender milk here.
Enjoy this latte with:
Lavender honey iced latte
This lavender honey iced latte has just espresso, honey lavender simple syrup, plus your favorite frothed milk served over ice for the most refreshing pick me up that calms you down.
Ingredients
¼

cup

ice

2

oz

espresso

¾

cup

whole milk

frothed

1

oz

lavender honey simple syrup
Instructions
Pour your simple syrup into your glass

Add in your desired amount of ice

Pour in your frershly brewed espresso

Top with your frothed milk
Notes
Enjoy immediately for best flavor
Nutrition
Serving:
1
g
Calories:
102
kcal
Protein:
4
g
Fat:
2
g
Saturated Fat:
2
g
Polyunsaturated Fat:
1
g
Sugar:
19
g
I hope this recipe works beautifully for you and is enjoyed for many years to come. Thank you so much for reading. Your visit to my site helped support a small mama run business today. If you enjoyed it, I would be so honored if you would share with your loved ones.
Sending love, fresh baked cookies, and a bouquet of your favorite flowers.