How to make flower infused honey
Once you know how to make flower infused honey you'll have an affordable way to add the health benefits and beauty of flowers into your day with ease!
This DIY floral infused honey a gorgeous edible and waste-free gift and perfect for your honey-loving friends. Honey is a liquid treasure trove of flavors and colors. It has been found that bees make honey from flowers near their hives, like orange trees or wildflowers in nature- which gives it's honey a different flavors, and that distinctive and their unique taste! In this post, I'll share all about making your own flower infused honey.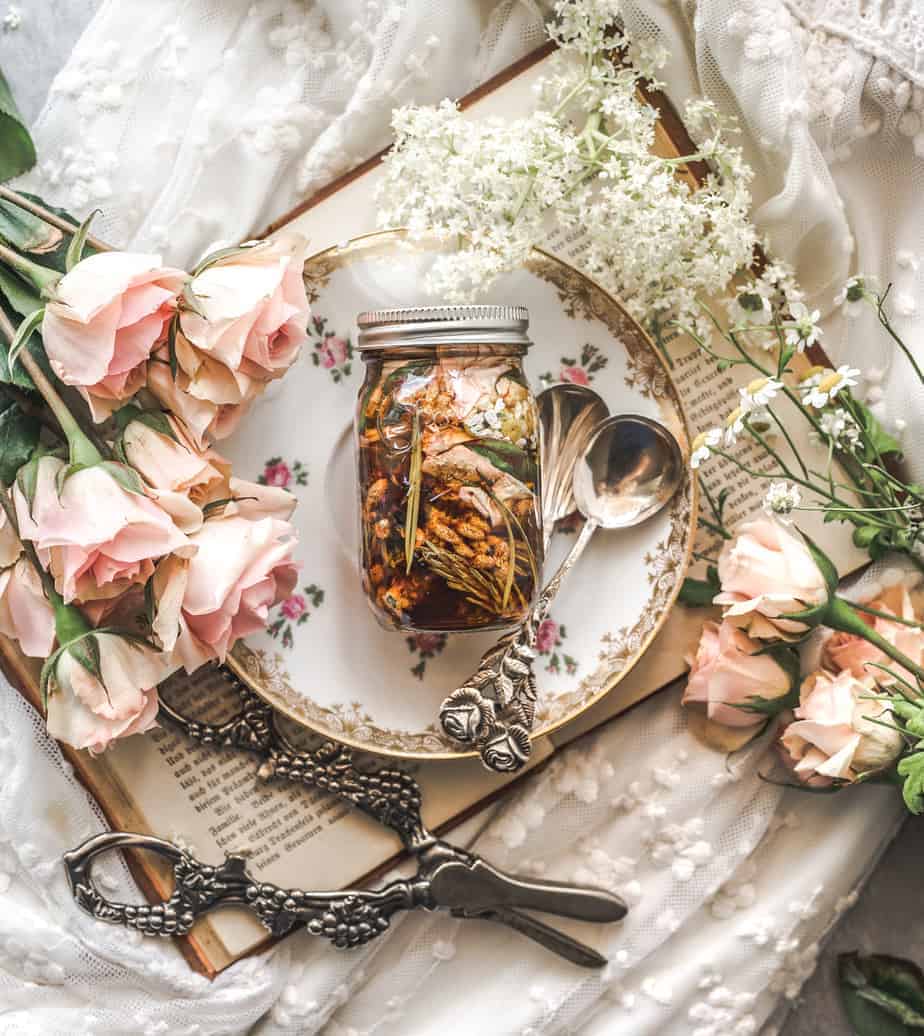 Reasons to make diy floral infused honey
Honey and seasonal flowers are loaded with health benefits
It's simple
It makes a beautiful, thoughtful gift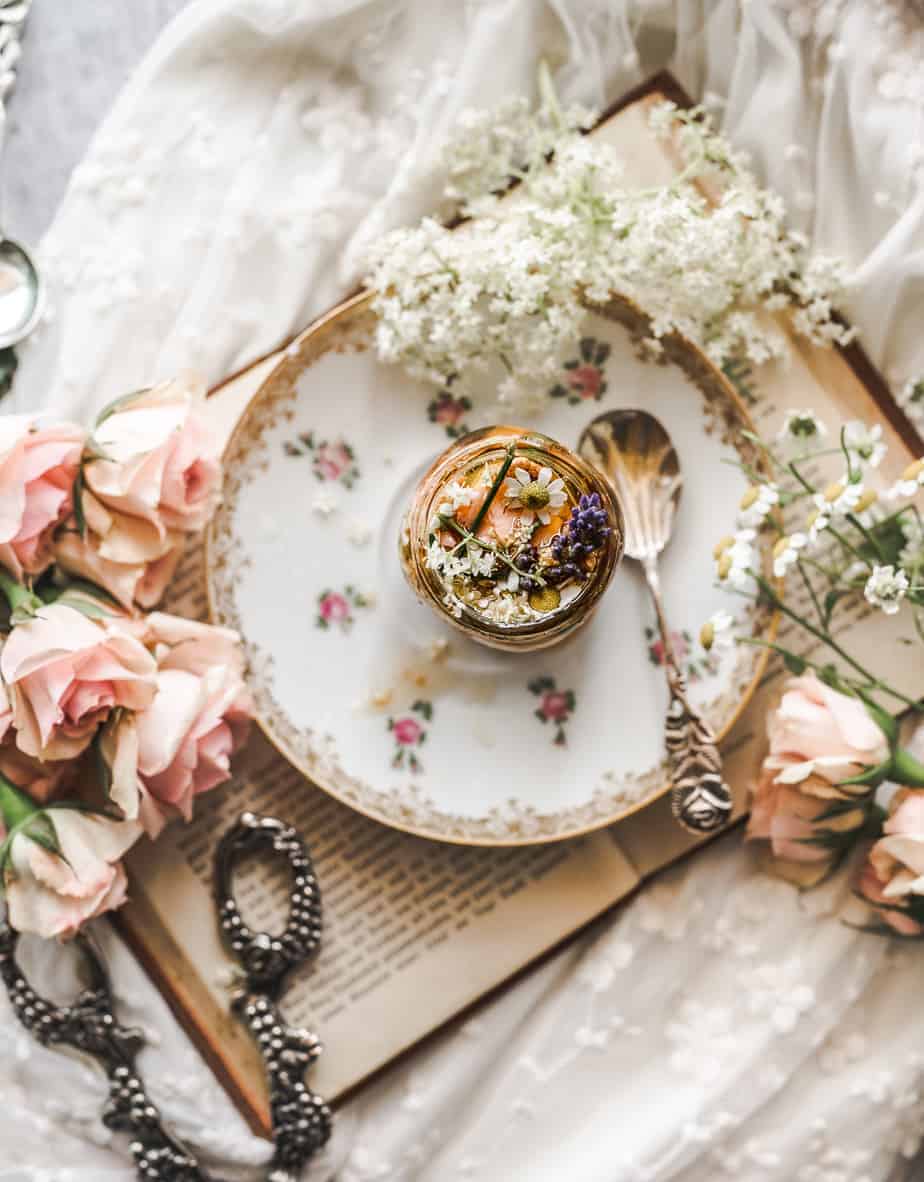 How to infuse honey
There are fast infusions, which include heating your honey and ingredients on low heat so that the honey takes on the flavor quickly. You can see an example of this in my garlic hot honey recipe. In this honey recipe, we use a slow infusion - and let the ingredients sit at room temperature for a long time. Slow methods are a great way to achieve stronger flavors and a little zen this holiday season.
Infusing honey is easy. One of the easiest recipes on the blog. And once you know how, the possibilities are endless. Simply choose your ingredients to place in a clean jar then cover it with your favorite local raw honey. It can sit and infuse from overnight - up to six weeks for more intense flavor. The honey mixture will infuse and take on new flavors, and the health benefits of the unique ingredients you choose. The flavor ideas are endless, and when gifted in a pretty jar? So thoughtful. You can also use different plants to celebrate the season. In the winter I love to make my winter spiced infused honey.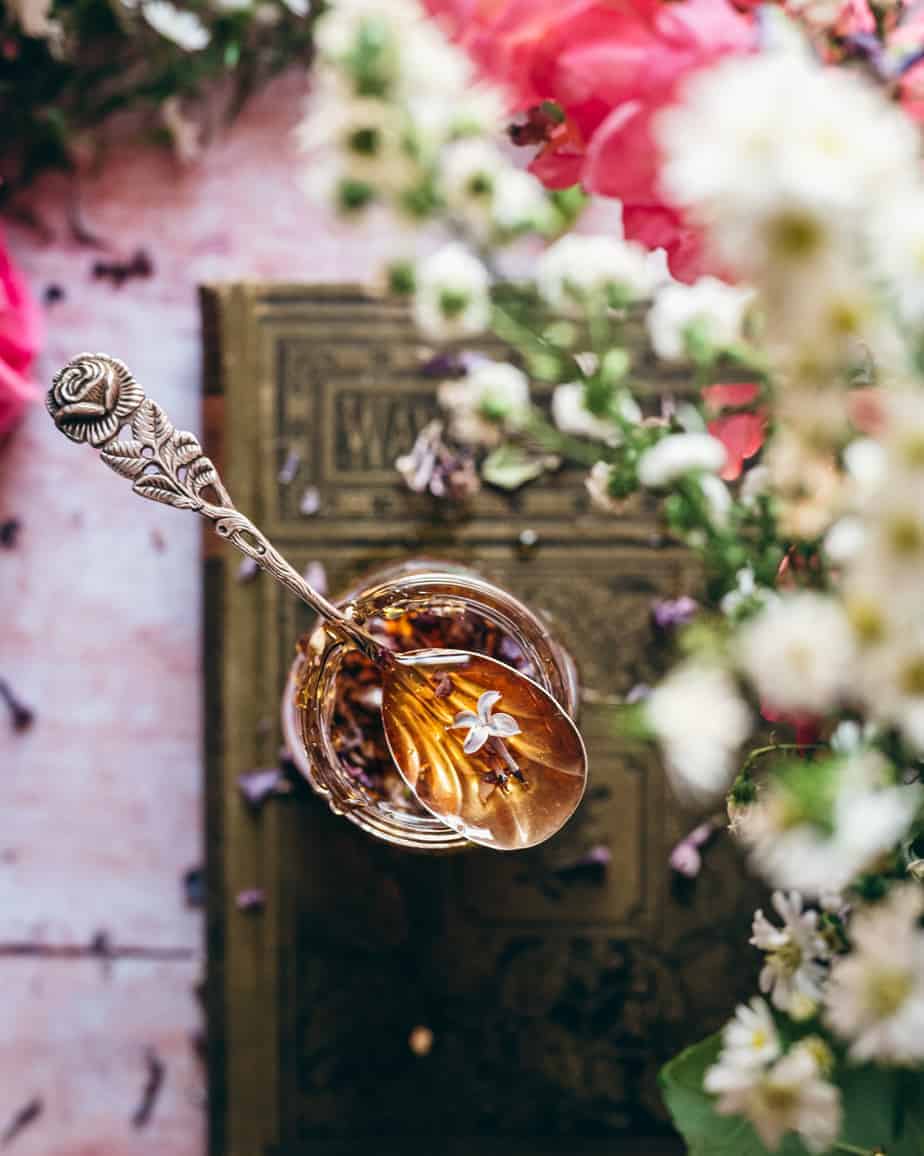 How to make this floral infused honey
The process is simple.
1) You start by selecting your ingredients. Which edible flowers will you choose? And where is the best place to find them? Having your own edible flower garden is the best place to get your edible flowers, but you can also forage wild plants safety and sustainably, or buy them organic. Read my guide on where to buy fresh edible flowers, edible wildflowers to forage, or the best dried edible flowers, which are perfect for making honey if you can't source them fresh or them in nature.
2) You clean and your plant ingredients as directed, and cover in raw, local honey. Be careful to ensure the honey is covering all of the plant material to prevent mold. To clean fresh flowers, carefully open their petals and mist with water to be sure you've removed any dirt and pests. Let them sit and dry overnight (or longer, if you wish to use dried plants) and allow any remaining bugs to exit and the drain water.
3) You let flowers and herbs sit and infuse for 4-6 weeks in an airtight container.
4) You strain your flowers and herbs from the honey and use it however you'd like!
Read my post on the best edible flowers to grow in your garden
Ways to use this infused honey
You can use floral honey any where that you would use honey. Tea, cocktails, homemade honey spoons, simple syrup, ice cream - like this lavender honey ice cream sundae, salad dressings. Even in skincare and beauty.
How do I know which flowers to choose?
Dried flowers are best for infusing in honey. The moisture will be entirely out of dried flowers or herbs, making them less susceptible to mold. You may enjoy our post on best dried edible flowers or The Best Tasting Edible Flowers to help you source and decide!
Where can I find edible flowers?
I have an entire post dedicated to where to source edible flowers.
Edible flower safety:
Not every flower is safe to eat. Many flowers are considered poisonous. Make sure you have correctly identified your flower if you have foraged them.
Don't use edible flowers from highly contaminated areas such as roadways, chemically treated lawns, or areas with animals.
If you haven't tried a particular flower in culinary uses, taste a small piece of the petal before consuming a whole petal. You can be allergic to flowers.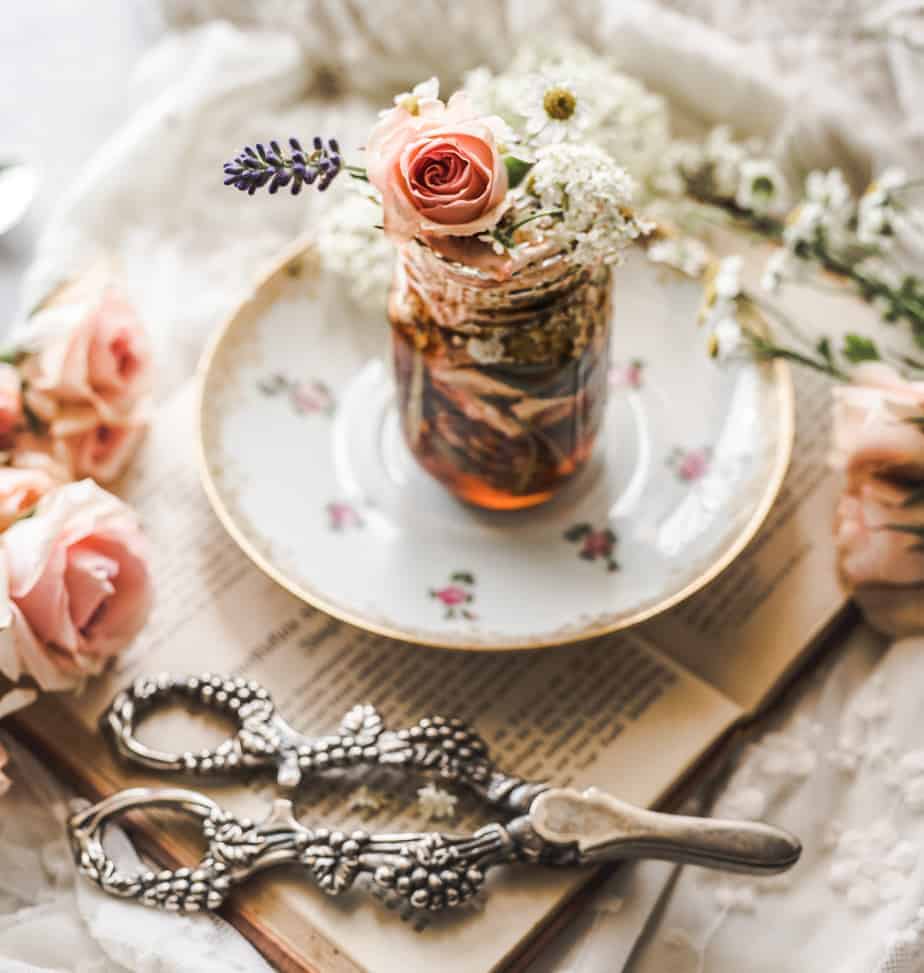 I love to use it in rose tea.
Pick your edible flower
If you aren't sure which flowers are edible, start with Most Popular Edible Flowers With Picture Chart (free download)
Some of my favorites are:
lilac
rose
elderflower
chamomile
calendula
lavender
jasmin
tiger lily
hibiscus
chives
passionflower
Pick some herbs (optional)
Some favorite floral + herb combinations of mine are:
lilac rosemary
rose +rosemary - like in this rose and rosemary Paloma
rose + mint - like in this rose mint iced green tea
elderflower + thyme
chamomile + parsley
calendula + oregano
lavender + mint
jasmin + sage
tiger lily + marjoram
hibiscus + basil
chives + mint
Pick your honey
You always want to choose raw, local honey for the best health benefits. And different honeys will have different flavors based on what the honey bee pollinated it with.
love edible flowers? these resources may be useful to you:
Frequently asked questions
Can infused honey spoil?

Honey does not spoil, but if it's infused improperly or the plant matter in your honey is exposed to air it can produce mold. If your honey becomes moldy you must throw it away.
Can bacteria grow in honey?

Most bacteria and other microbes cannot grow or reproduce in honey due to antibacterial activity of honey. However, it is not impossible for bacteria and mold to to grow on fresh plant matter that accidently exposed during infusion.
How should I store my infused honey

Treat your honey like any perishable item and store in the refrigerator for up to six months
The recipe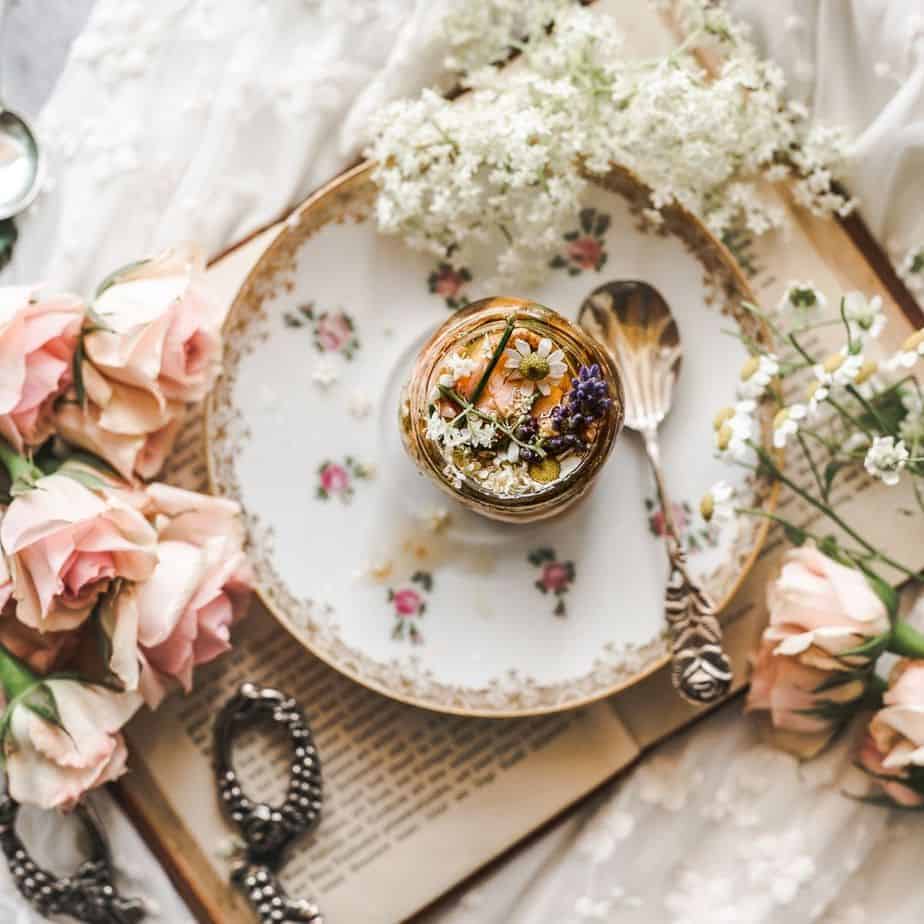 How to make flower infused honey
Once you know how to make flower infused honey you'll have an affordable way to add the health benefits and beauty of flowers into your day with ease!
Print Recipe
Ingredients
¼

cup

edible flower of choice

dried or fresh - organic

1

cup

of local raw honey

runny
Instructions
Add your dry ingredients to your jar

Cover completely with honey

Seal top

Let the honey sit and infuse for one month, longer if desired

Strain

Return strained honey to jar and gift or use as desired!
Notes
due to the risk of infant botulism, a severe but rare form of food poisoning, you should never give honey to a child younger than a year old.
Nutrition
Serving:
1
g
|
Calories:
114
kcal
|
Carbohydrates:
26
g
|
Fat:
1
g
|
Polyunsaturated Fat:
1
g
|
Sodium:
2
mg
|
Sugar:
25
g