How To Use Edible Flowers
Edible flowers have been a part of our culinary tradition for centuries, and today many want use them to add an elegant touch when garnishing dishes. Here are all the ways in which you can use these beautiful and tasty treats to add floral flair for garnish, flavor, and nutrients. And be sure to visit our edible flower category for an extensive collection of our beautiful, well tested recipes that use flowers!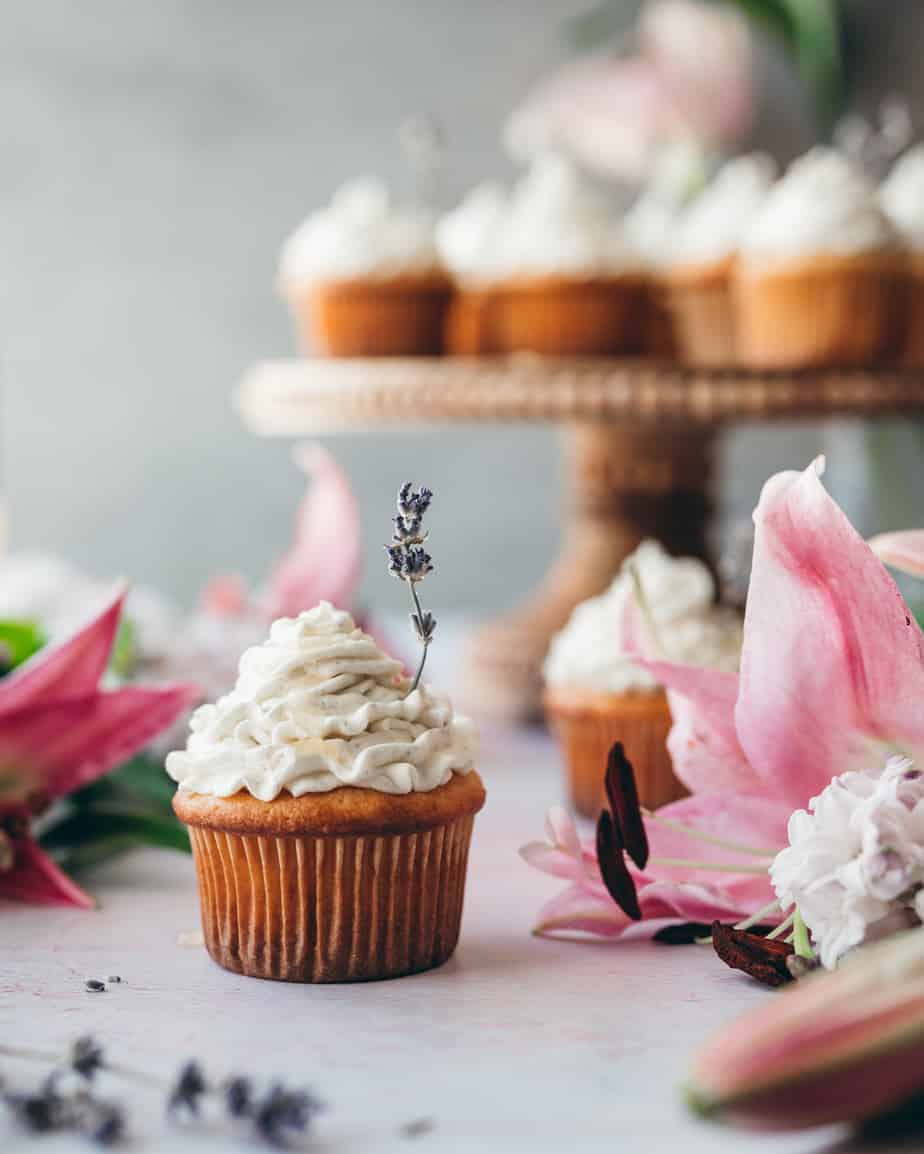 Edible flower safety:
Not all flowers are edible. Even simply garnishing a dish with a flower that is not edible can make you very ill. Be sure you have properly identified your plant before consuming. If you are foraging in nature, use a plant identification app, which helps people identify harmful vs harmless plant species so they don't get sick from trying new things while hiking through nature. Identify the flower exactly and eat only edible flowers and edible parts of those flowers.
Most store bought flowers are not safe for consumption. The type of flowers you plan to use for food should never come in contact with pesticides or other chemicals. The best edible flowers are ones you grow organically in your garden. The exception is the very seasonal food grade flowers sold in your local grocery store, usually in a clam shell container in your produce section.
Never harvest flowers growing by the roadside, chemically treated lawns, or areas with lots of animals.
If you haven't tried a particular flower in culinary uses, taste a small piece of the petal before consuming a whole petal. You can be allergic to flowers. Use flowers sparingly in your recipes due to the digestive complications that can occur with a large consumption rate.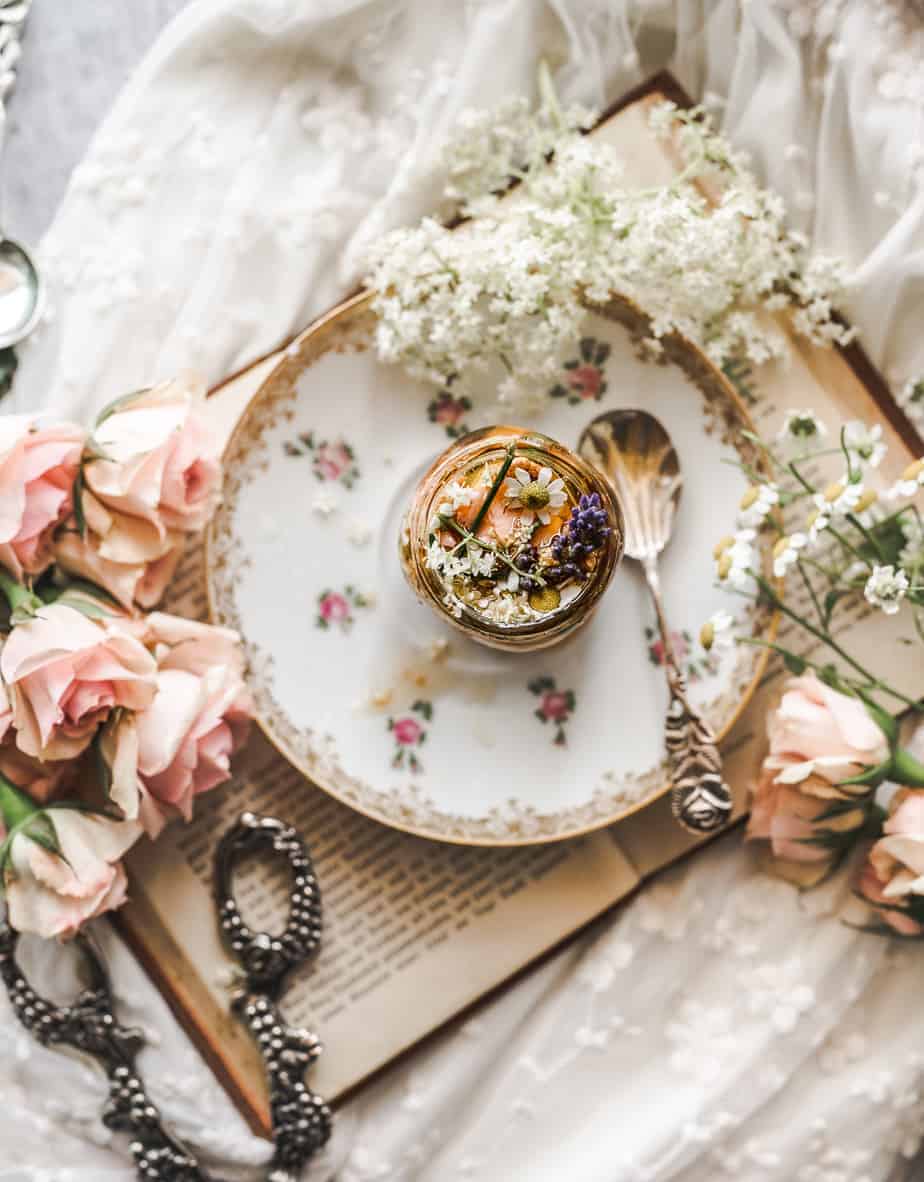 Where to source:
We have an entire post dedicated to Where to buy or find edible flowers for cookies and cakes.
Your own garden: If you are serious about decorating with edible flowers, the best place to get them is from your own organic edible flower garden. Now, I know not everyone has the time and space for an outdoor or even container garden. So, you can do what I do (now that we're living in the Middle East and there is no way I can grow flowers outdoors) and use an indoor garden system. This is how I grow my own lavender, pansies, and more. So - rule of thumb, the very best place to get fresh edible flowers is from your own garden. When I haven't been able to grow my own I've found it expensive to source the amount I need. For a one time project, keep reading.
Organic farmers: The next best place is to source them from organic farmers. In every country I've lived in I've been able to find someone who grows organic flowers for consumption. They may be very seasonal, so keep reading to learn how to preserve your flowers and make them last as long as you need. But, it's very likely you can find someone who is already growing them.
Farmers market: The farmers market will often have edible flowers due to their increased popularity. Before certain crops grow, they produce flowers - like squash blossoms, or cucumber flowers. And if you don't see any, ask the vendors. Maybe they'll bring some for you next time!
Grocery stores: During spring, you will likely see them in your the produce section of your local grocery stores. What I do is buy more than I think I'll need, preserve them. The best way to do is is to and make pressed flowers to preserve them so I can still use their natural beauty when they're no long in season. Sprouts and Whole Foods market has sold edible flowers in their produce section.
A local nursery: however you'd have to look for organic plants with edible flowers, these are the ones safe for consumption.
Online sites: If you live in the United States, there are several websites dedicated to selling organic flowers.
Gourmet sweet botanicals: Gourmet Sweet Botanicals sells high quality Edible Flowers and specialty items and ships direct to your door! These products are harvested, packed and shipped the same day from the farm to ensure the utmost in color, freshness & flavor. They ship nationwide and to Canada using FedEx and UPS overnight services.
Cherry valley flowers: As a USDA certified organic farm, we take great pride in growing our edible flowers without the use of synthetic chemical pesticides, herbicides, or fungicides. This means that when you eat our edible blooms, you're only tasting nature.
Melissa's farms: Melissa's Edible flowers complement many dishes, adding glamour and pure elegance. Varieties of edible flowers may include: Carnations, Hollyhocks, Daisies, Marigolds, Nasturtiums, Chrysanthemums, Chicory, Cornflower, Lavender, Snapdragon, Violets and Pansies. Few of the edible flowers have a lot of flavor; they are primarily added for color, design and aesthetic value.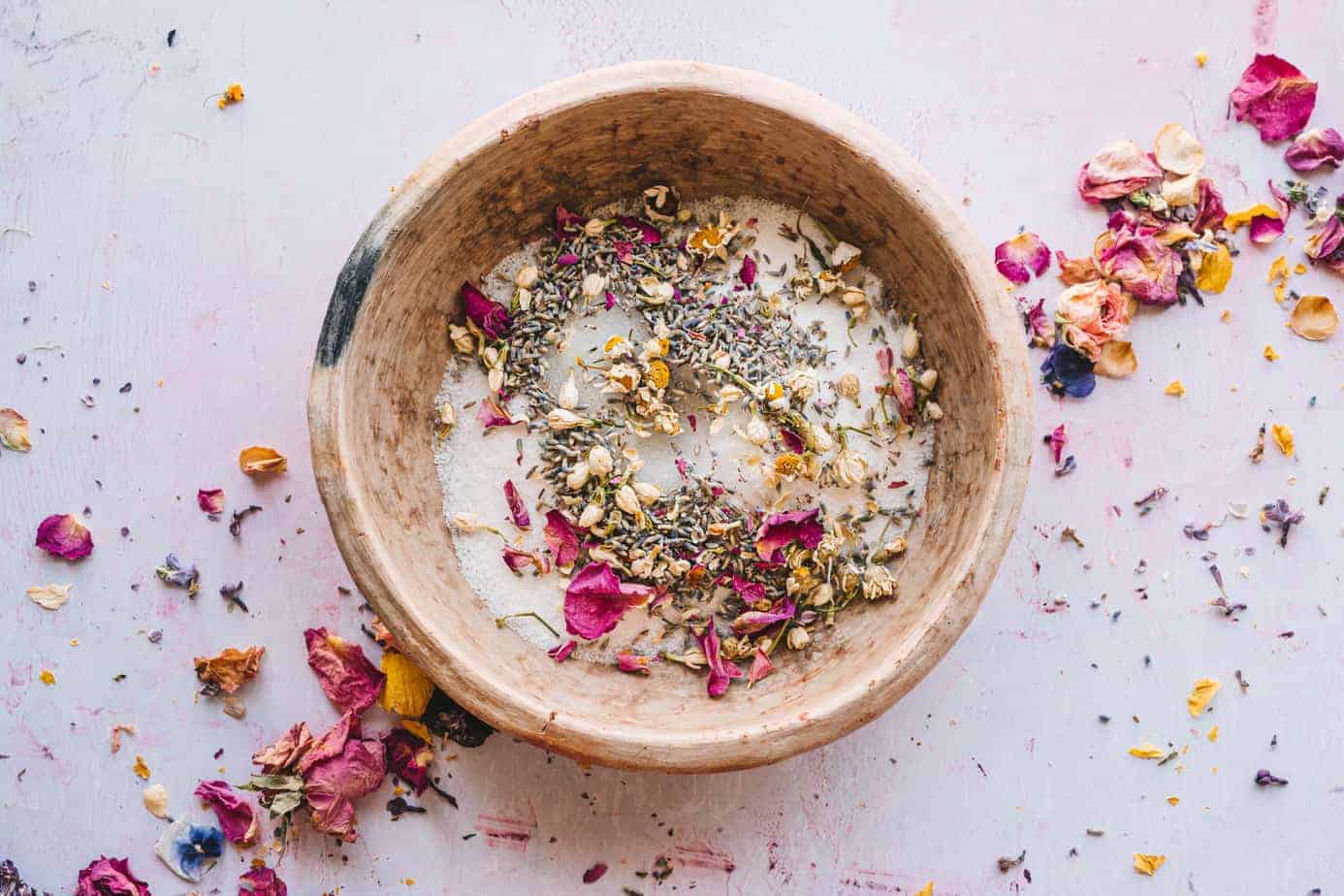 Now, on to the fun stuff - how to use them!
1) Decorate your baked goods and cake with flowers or press them into your cookies
Our favorite way to use edible flowers is to show off their beauty.
Press pansies into your cookies immediately after they bake for the most gorgeous Edible flower cookies.
Skip the intricate latticing and use them on pies and tarts for unforgettable finish, like on our peach lavender pie.
Or garnish your cakes without intricate piping. Use our guide on keeping flowers fresh to keep them looking straight from the garden as long as possible. For best results, source your edible flowers and make your buttercream (and why not try our lavender buttercream why you're at it) but assemble it right before you need to present it. Immediately after frosting your cake, trim the flowers from their stem and press them at the base to your cake, using the frosting as a glue. Try to prevent pressing the petals directly into the frosting, as they will not look quite as fresh. Store your cake in your refrigerator until it's time to serve.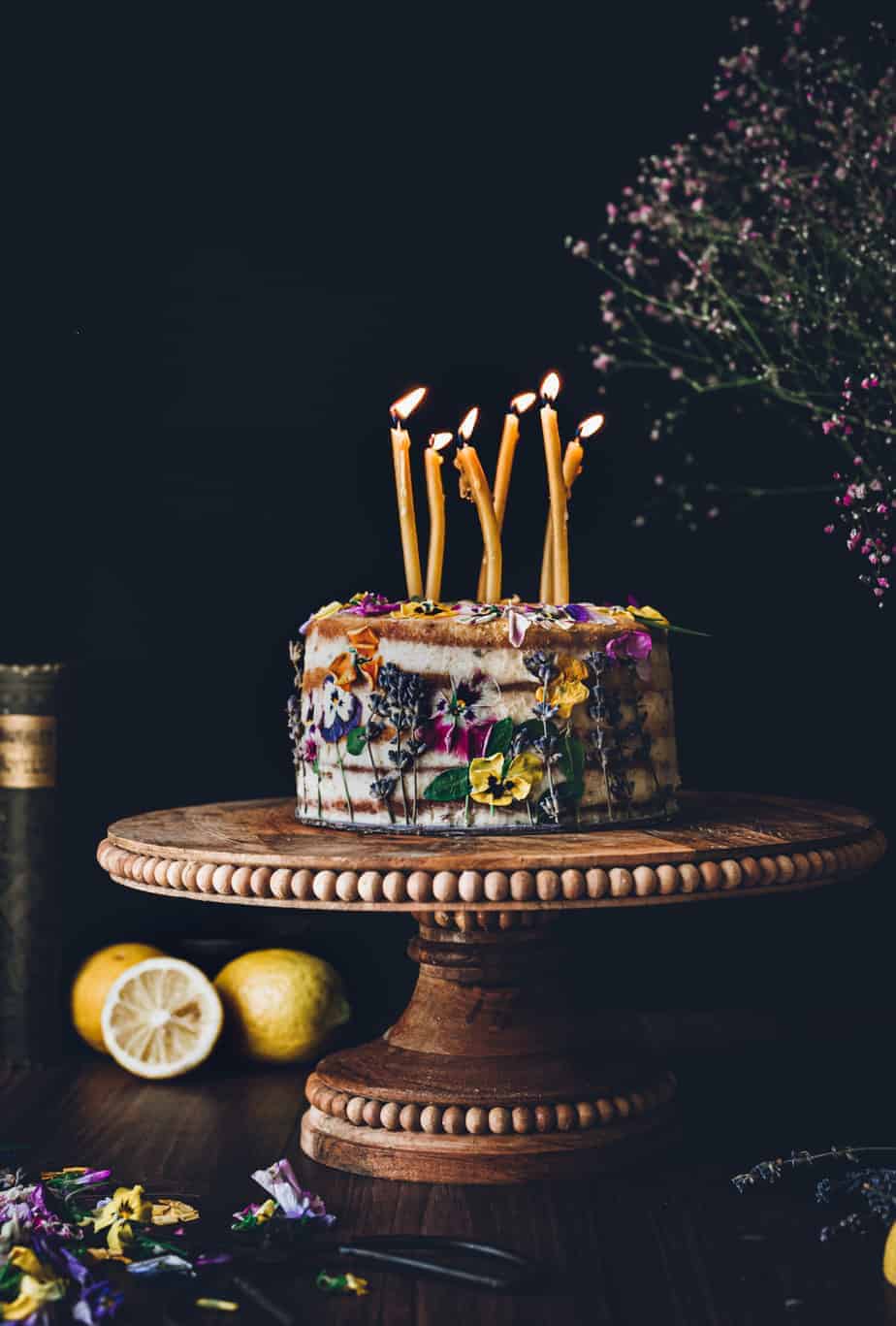 2) Infuse your floral flavor in liquids
Infuse your flowers in milk, honey, vinegar or lemonade and let the gorgeous aromatic flavors develop over time. These liquids can be used to enhance the flavor profile of anything they're used in. Use floral infused milk to make lavender honey ice cream, lilac infused honey to make the best honey lollipops /spoons imaginable. Or try basil flower infused vinegar to make dressing for a Vibrant salad with edible flowers or Tulip salad.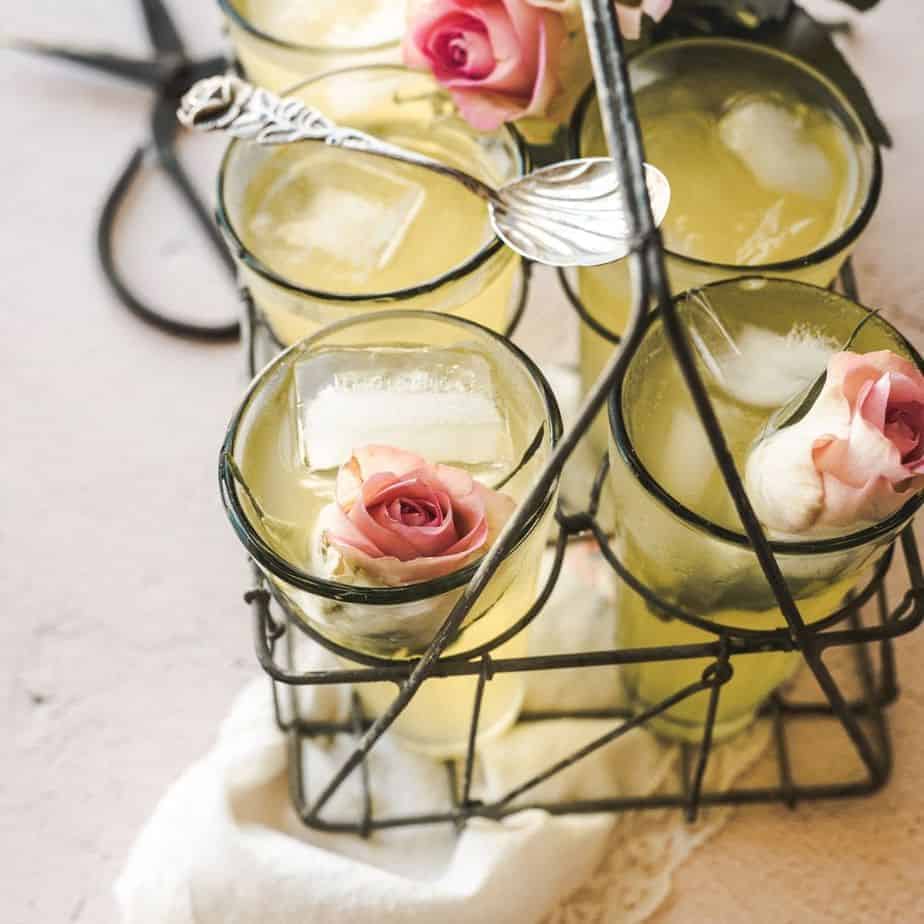 3) Use flowers directly into your recipes
Use botanicals in buttercream for complex flavors, or bake with it directly in your recipes. A great example of this is our Lavender shortbread cookie with lemon curd, where we incorporate dried lavender directly into the base of a giant shortbread cookie, and cover it with Lavender lemon curd. Press them directly into your dough for pie crust, pasta, homemade crackers, and more.
4) Turn your flowers into candy
Make candied flower petals to garnish anything or use pressed pansies in our homemade lavender lollipops. Or make lavender honey marshmallows, and rose fudge.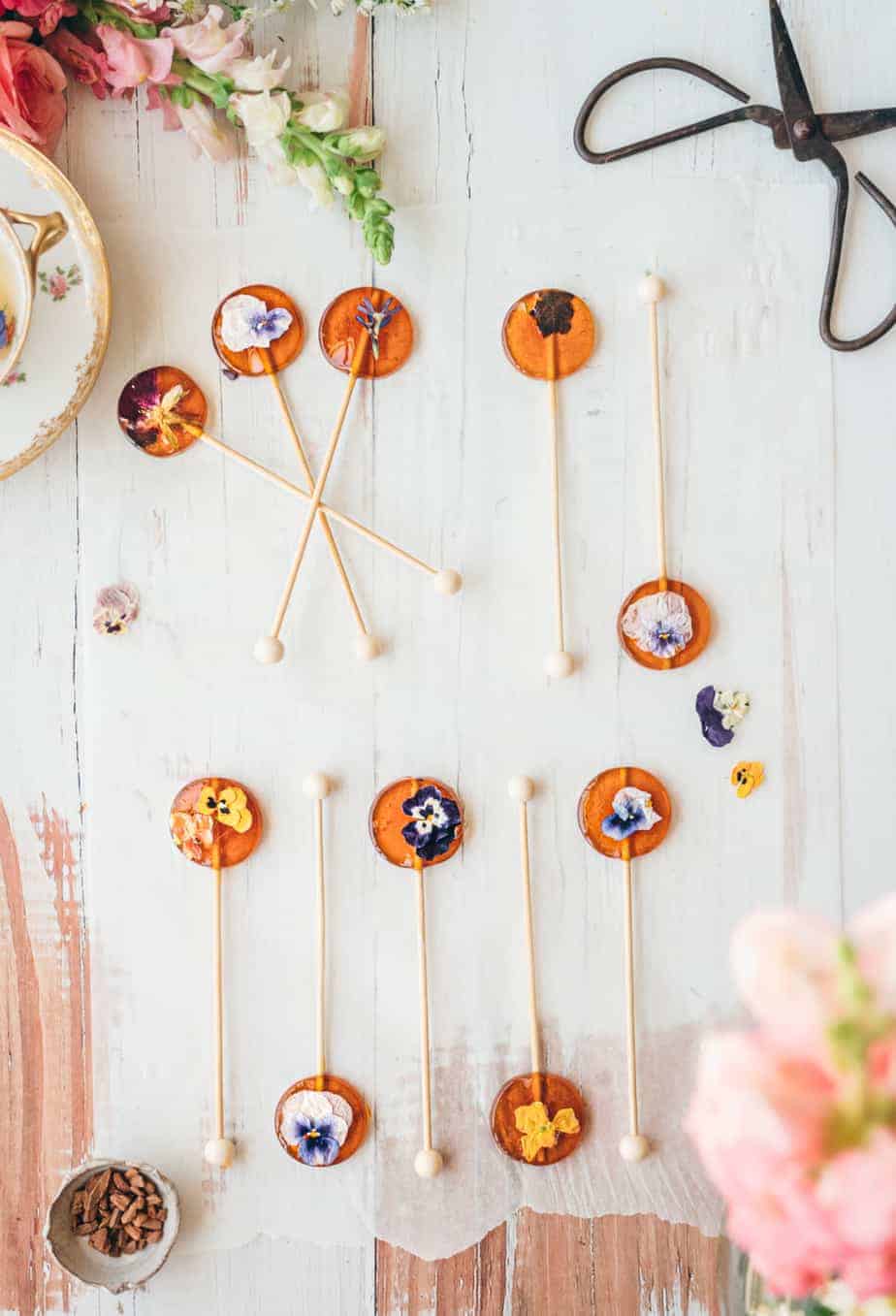 5) Make ice cubes or frozen treats
Make the prettiest popsicles you've ever seen by simply placing your favorite edible flowers in your popsicle mold or ice cube tray. Or use that floral infused milk for Homemade rose ice cream.
6) Make floral tea
Use our guide on edible flower meanings to craft the most beautiful tea blends with intention.
Edible Flowers And Their Meaning Free Chart + Poster Download
7) Make the most of their nutritious benefits by adding them into salad
Add borage in our Refreshing cucumber borage salad, garden pansy salad, vibrant salad with edible flowers, Tulip salad, Arugula and dandelion greens salad with dandelion root lemon vinaigrette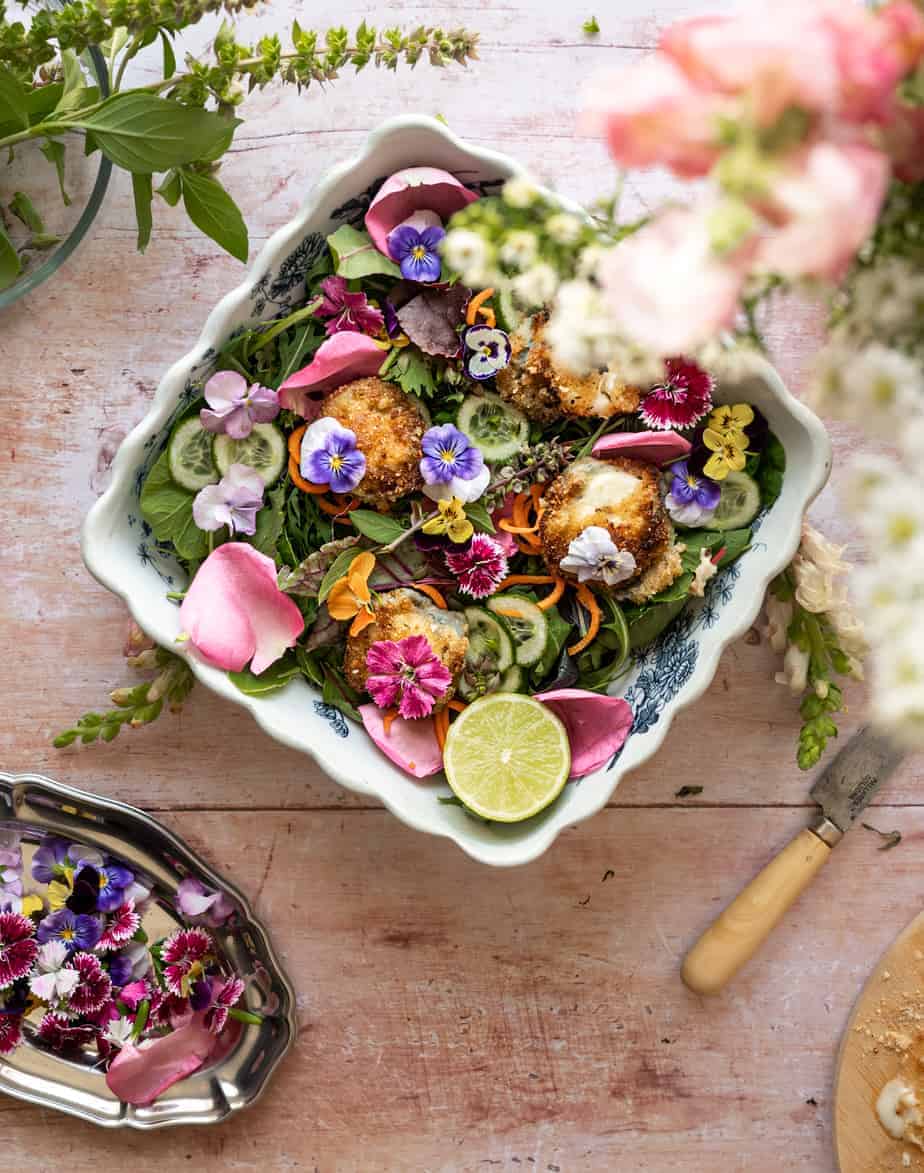 8) Make a sugar or spice
Floral sugars are a perfect for adding beautiful colors and flavor to your confections. All they require is flavorful flowers, a blender and quality sugar. We usually splurge and use an organic cane sugar so that the color of the herbs comes through. Or make the cutest floral sugar cubes.
9) Make floral water
Use our guide on making diy rose water to make any type of floral water, and enhance your lemonades, baked goods, and iced treats with edible flowers. With floral water you can also make floral teas like Rose water matcha tea recipe.
10) Make a syrup for floral cocktails:
Use aromatic flowers to enhance the flavor of simple syrups, like lavender, rose, chamomile, Jasmin. And then make flavorful lattes like Lavender honey iced latte or rose latte.
11) Make jam
Mix delicate petals of your favorite fresh edible flowers with sweet berries to make this divine floral jams, which has a sweet floral flavor that can be enjoyed with every bite. Like in our rose petal jam.