Is there anything better than a refreshing citrus treat on a hot summer day? These homemade orange blossom popsicles are delicately floral with a hint of smooth vanilla and a light yet creamy texture while bursting with the well-loved fresh and zesty orange flavor.
These orange blossom creamsicles are a match made in heaven. Upon my first taste, I thought about how I am one step closer to my little dream of having a vintage ice cream truck with pink and white stripes and 4-5 unique flavors. But we'll save that for another day.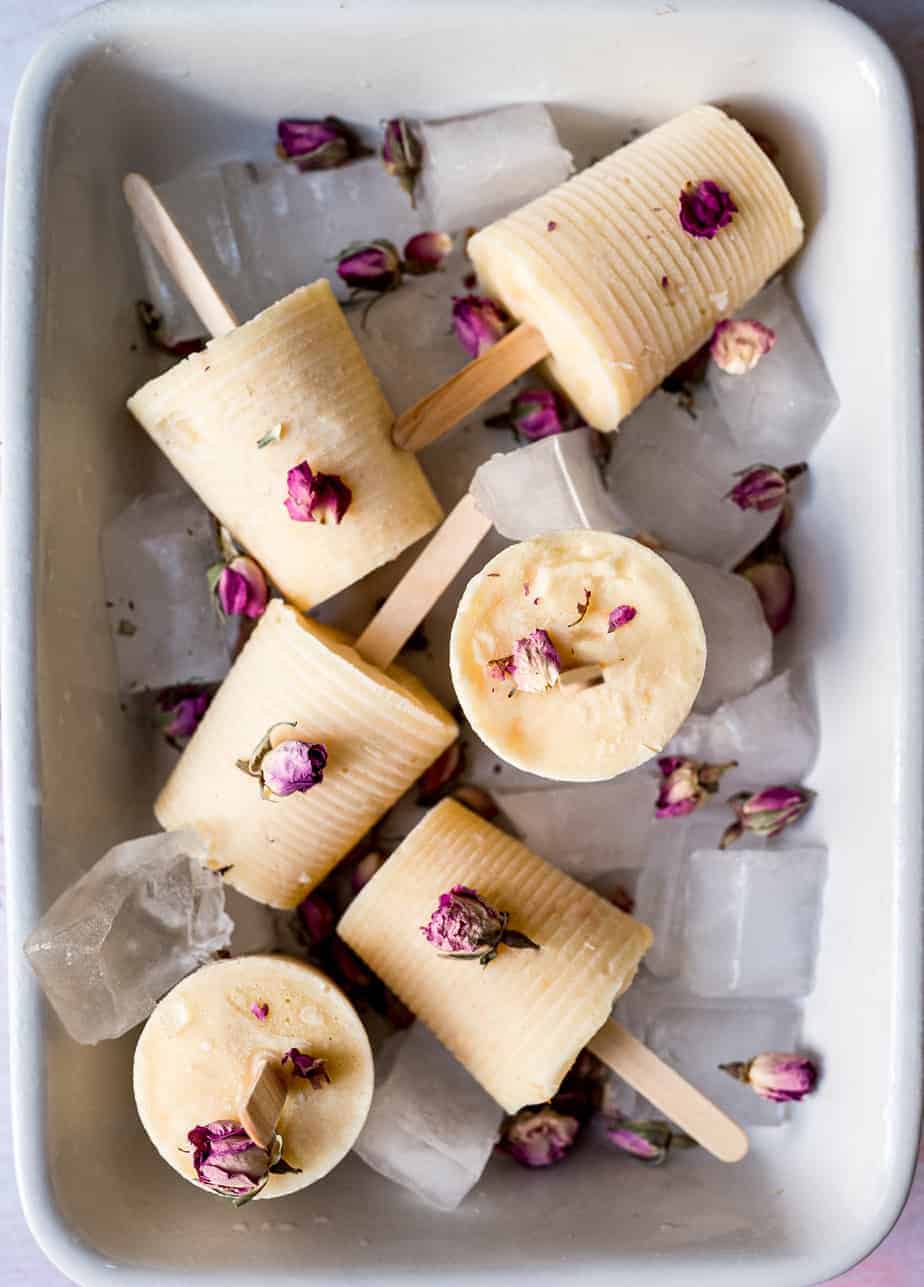 Why you'll love them!
I bet you've never tried this unique flavor, and you'll be glad you did. Orange blossoms are considered sweet, honeyed, and somewhat spiced. They pair perfectly with freshly squeezed OJ and some vanilla + creaminess in these floral popsicles.
Inspiration
This homemade creamsicle was inspired by a recent trip to Nabeul to witness floral water making and to get some pottery. In the evenings during Ramadan, the Tunisians enjoy a cup of Turkish coffee with a splash of floral water. It's so beautiful I can hardly stand it. I grabbed several bottles of orange blossom and rose water and am never less amazed at how they enhance the flavor so beautifully. We have an entire category dedicated to Orange blossom recipes if you love the flavor like I do!
How to make them:
These creamsicles are a combination of fresh orange juice and zest, quality heavy whipping cream, (optional) sugar and orange blossom water. They are made by simply mixing all of the fresh, quality ingredients together and pouring into a popsicle mold. It's simple!
Don't have orange blossom water? Replace it with rose water.
When I wanted to share this recipe on the blog, I hesitated. Orange blossom water is something I'd never seen back home in the United States. However, I found it online without a problem! You can make rose water at home or buy it from almost any grocery store.
Frequently asked questions
What is orange blossom water known as and where is it popular?

Orange blossom water is also referred to as neroli or orange flower water. Neroli is reportedly one of the ingredients in the secret Coca-Cola soft drink. This water is used in traditional Mediterranean desserts and in Moroccan coffee. The first time I tried orange blossom water was when a kind Tunisian woman gave us some for my baby boy's upset stomach, as in North African counties, it's considered a natural medicine.
Where can I buy orange blossom water?

Cortas Orange Flower Water is distilled from bitter orange blossoms. You can flavor drinks and desserts, dress salads, sprinkle it on fruit, flavor batters, and more. If you don't get results that you like or don't have time to make your own, you can buy orange flower water online. You can also look for it in pharmacies and halal or Middle Eastern markets. Be sure that it's 100 percent pure and not artificially flavored.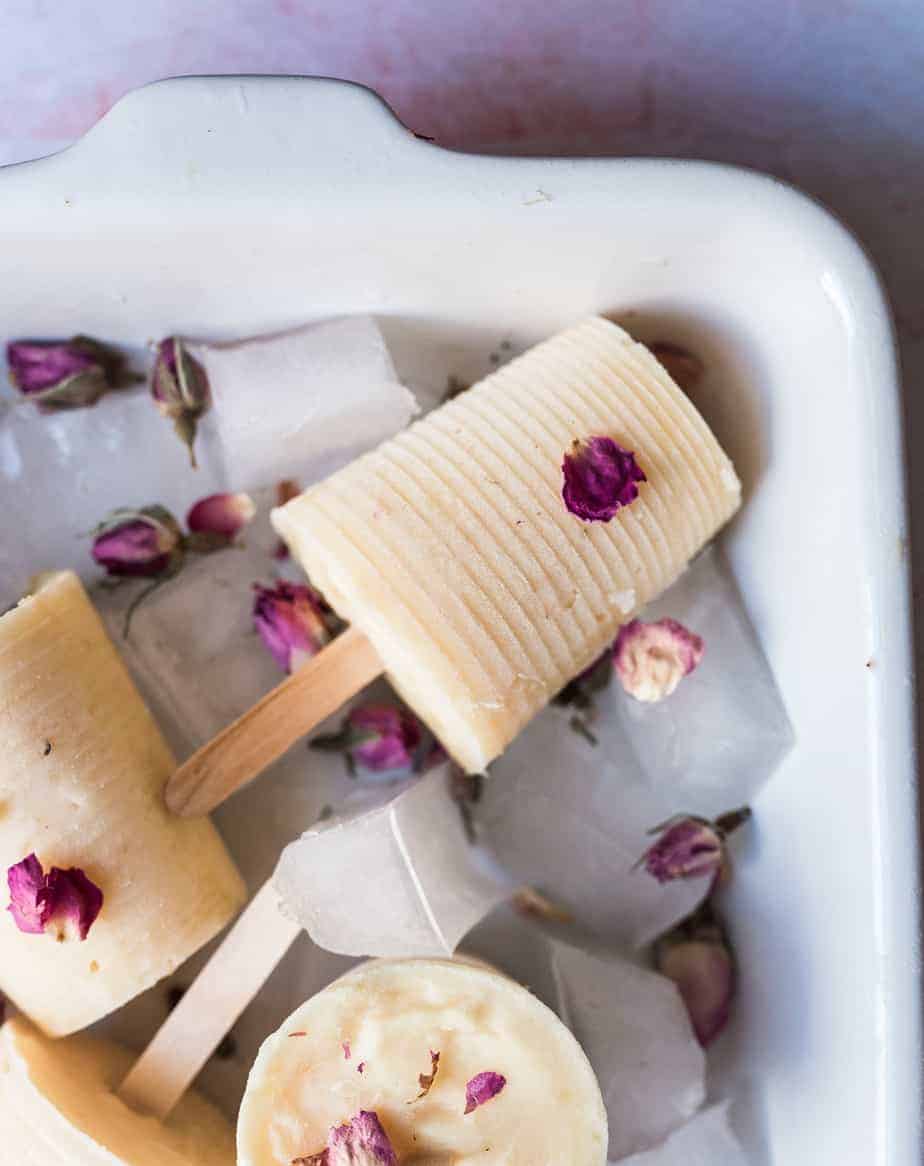 Recipes you may adore:
Orange blossom creamsicle
These orange blossom creamsicles are delicately floral with hint of smooth vanilla, and a light yet creamy texture, while bursting with the well loved fresh and zesty orange flavor.
Ingredients
one cup of freshly squeezed orange juice

zest of one orange

1 ½

tablespoons

orange blossom water

1

tablespoon

vanilla extract

one cup of heavy cream
Instructions
Mix all ingredients in a blender or in a large bowl with a whisk until completely mixed.

Transfer to popsicle mold and add popsicle stick.

Freeze for atleast two hours and enjoy!
Notes
we found these popsicles perfectly sweet thanks to the natural sugar in orange juice, however if you'd like your popsicles sweeter, you can add ¼ cup sugar or honey (or more to taste)
Nutrition
Serving:
1
g
Calories:
166
kcal
Carbohydrates:
9
g
Protein:
2
g
Fat:
14
g
Sodium:
13
mg
Fiber:
1
g
Sugar:
7
g