Once you learn how to make rose infused honey you'll have a beautiful and affordable way to add the health benefits and beauty of roses into your day with ease! And if you're going to make rose infused honey, you might as well make one of our gorgeous Homemade Rose Honey Lollipops. You may also be interested in our How to make flower infused honey post!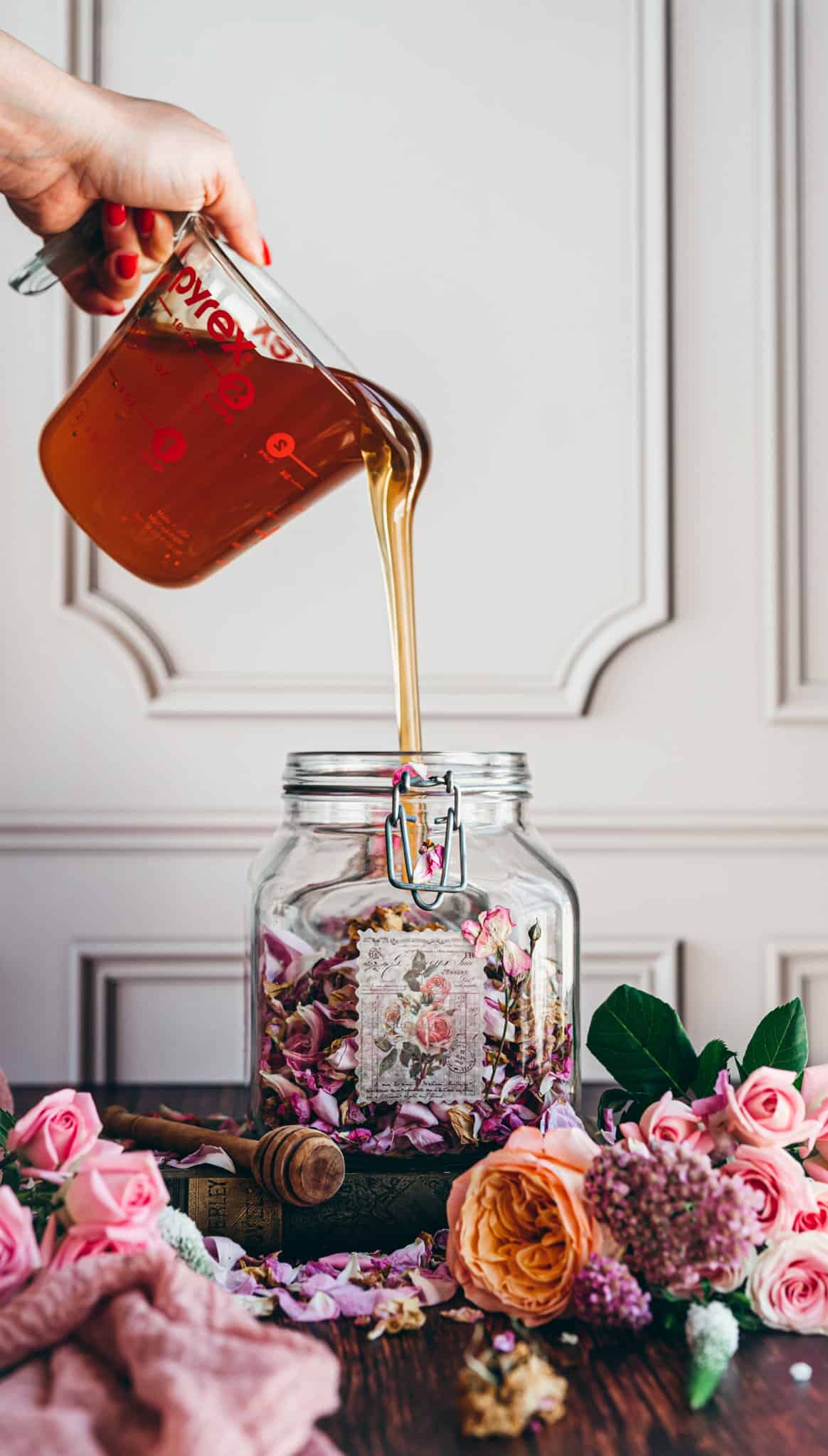 This DIY floral infused honey a gorgeous edible and waste-free gift and perfect for your flower and honey-loving friends. Honey is a liquid treasure trove of flavors and colors. It has been found that bees make honey from flowers near their hives, like orange trees or wildflowers in nature- which gives it's honey a different flavors, and that distinctive and their unique taste! In this post, I'll share all about making your own flower infused honey.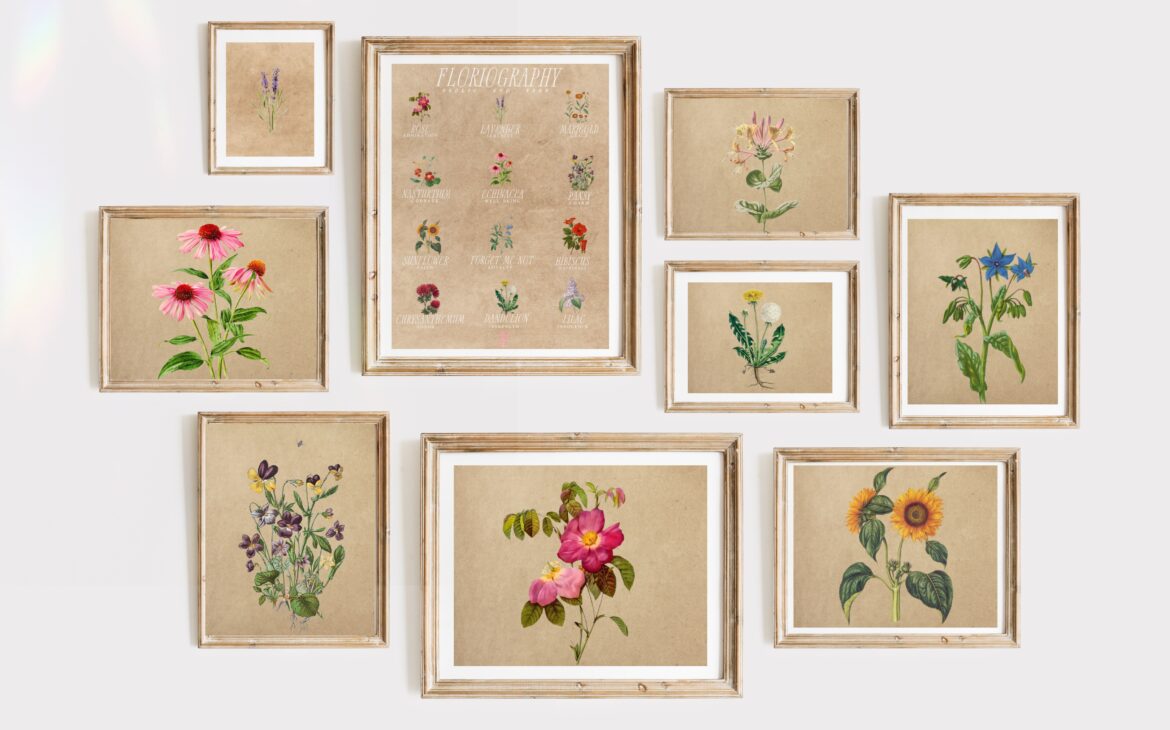 Reasons to make diy floral infused honey
Honey and roses are loaded with health benefits
It's simple, but pretty
It makes a beautiful, thoughtful gift
Roses are so beautiful that they have a built-in protection mechanism (thorns). Roses are popular for their beauty, but also their healing properties. They are a symbol of love, and authentic rose products have an extremely high vibration. Everything on earth is made of energy and therefore vibrates within a certain frequency.
How to infuse honey
There are fast infusions, which include heating your honey and ingredients on low heat so that the honey takes on the flavor quickly. You can see an example of this in my garlic hot honey recipe. In this honey recipe, we use a slow infusion - and let the ingredients sit at room temperature for a long time. Slow methods are a great way to achieve stronger flavors and a little zen this holiday season.
Infusing honey is easy. One of the easiest recipes on the blog. And once you know how, the possibilities are endless. Simply choose your ingredients to place in a clean jar then cover it with your favorite local raw honey. It can sit and infuse from overnight - up to six weeks for more intense flavor. The honey mixture will infuse and take on new flavors, and the health benefits of the unique ingredients you choose. The flavor ideas are endless, and when gifted in a pretty jar? So thoughtful. You can also use different plants to celebrate the season. In the winter I love to make my winter spiced infused honey.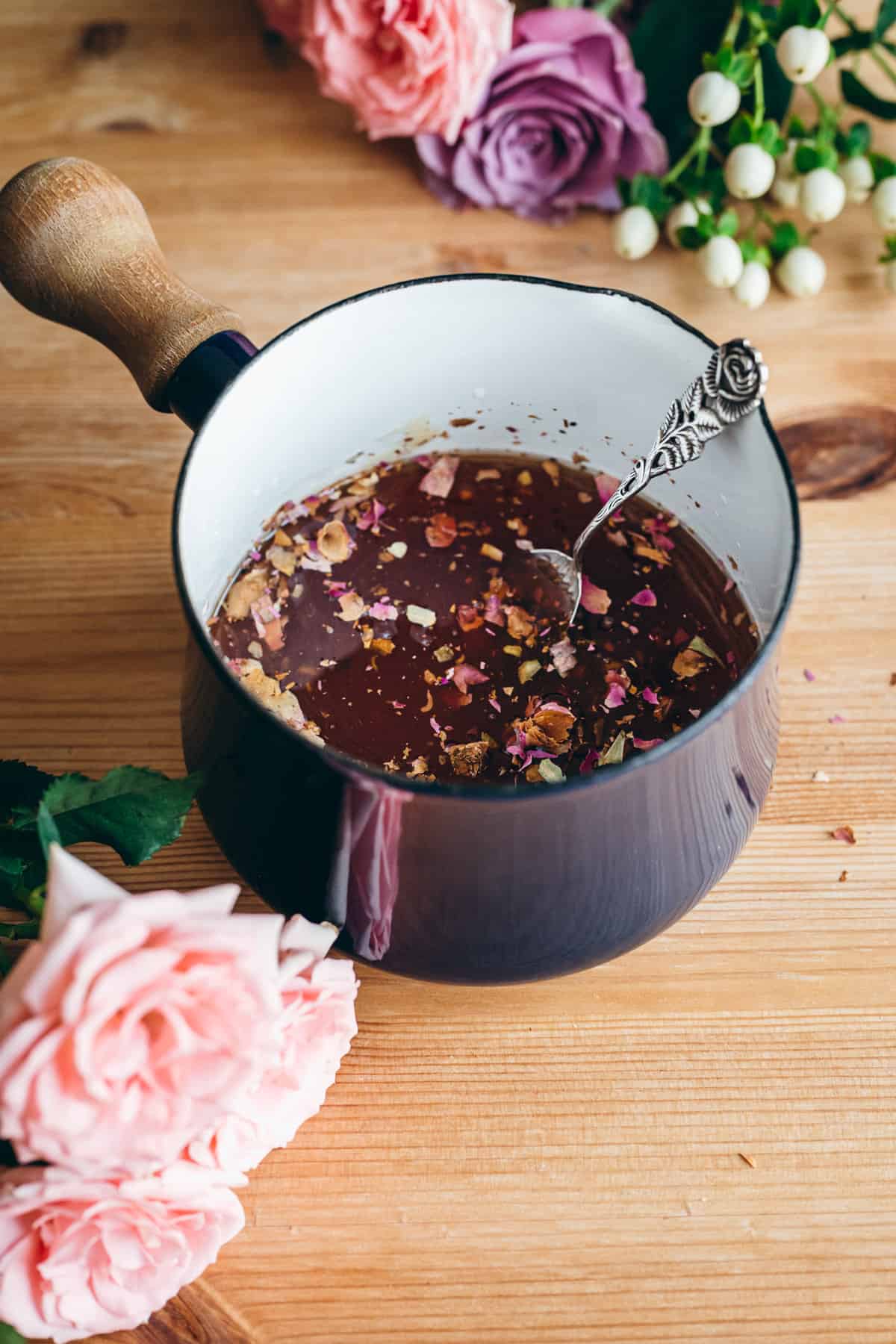 How to make this rose infused honey
The process is simple.
1) You start by selecting your roses. You can choose fresh organic, directly from your garden, or organic dried rose buds. Having your own edible flower garden is the best place to get your edible flowers, but you can also forage wild plants safety and sustainably. Over the summer there was an abundance of wood roses behind my house and I most certainly made honey with them. But usually, I just buy them dried.
2) If your roses are fresh, you clean and your plant ingredients as directed, and cover in raw, local honey. Be careful to ensure the honey is covering all of the plant material to prevent mold.
3) You let flowers and herbs sit and infuse for 4-6 weeks in an airtight container.
4) You strain your flowers and herbs from the honey and use however you'd like!
Read my post on the best edible flowers to grow in your garden
Where to find organic roses:
I had the time of my life picking organic roses at the green mountain during my stay at the Anantara, however organic roses are one of the easiest flowers to come by organically due to its popularity. I also find it easy to seek in nature.
Frolic and fare has an entire guide dedicated to sourcing edible flowers. You can find them in our guide of choosing Medicinal Flowers You Can Find Online or by foraging them in the wild, using references from our Edible Wildflowers to forage and where to find them. Basic rules:
Edible flower saftey tips:
A little common sense goes a long way towards ensuring your health and that of others, so make sure to read through these important precautions before consuming any type of edible flower.
Not all roses are edible. Even simply garnishing a dish with a flower that is not edible can make you very ill. Be sure you have properly identified your plant before consuming. If you are foraging in nature,
use a plant identification app, which helps people identify harmful vs harmless plant species so they don't get sick from trying new things while hiking through nature. Identify the flower exactly and eat only edible flowers and edible parts of those flowers. For example, here in Oman we have dessert rose which is toxic.
Most store bought flowers are not safe for consumption. The type of flowers you plan to use for food should never come in contact with pesticides or other chemicals. The best edible flowers are ones you grow organically in your garden. You can also find organic nurseries, or organic food grade plants online. But, wilted roses from your local grocery store is not suitable for making rose petal jam.
Never harvest flowers growing by the roadside, chemically treated lawns, or areas with lots of animals.
If you haven't tried a particular flower in culinary uses, taste a small piece of the petal before consuming a whole petal. You can be allergic to flowers. Use flowers sparingly in your recipes due to the digestive complications that can occur with a large consumption rate.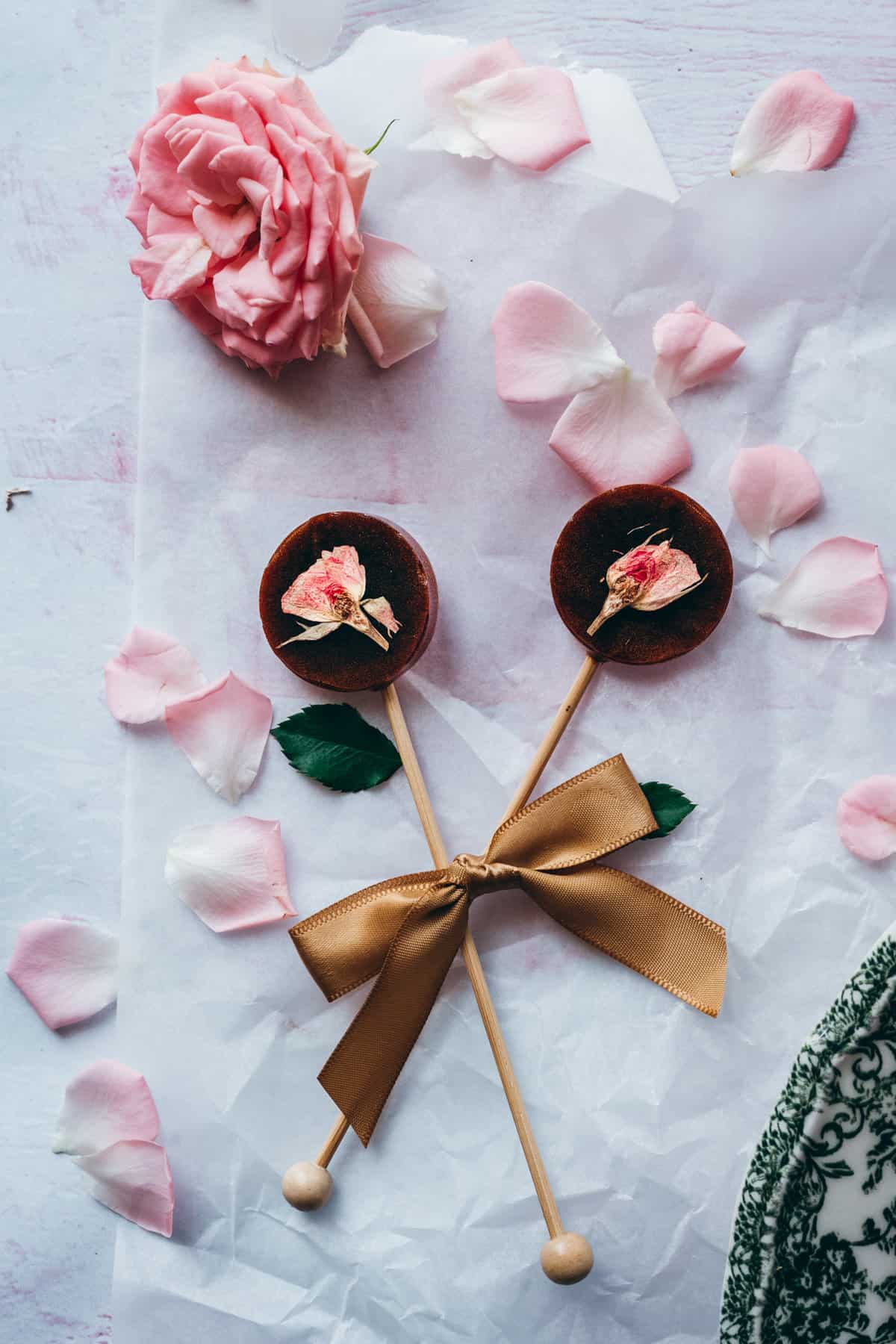 What kind of roses should I add to my honey?
Dried plants are usually best suited for infusions because the minerals and nutrients contained within them are often more easily accessed. Fresh flowers will need to infuse for less time because the have delicate petals, and less time is needed for their benefits to infuse into the water. I often use a combination of fresh, organic rose petals from our garden and dried rose petals.
I chose to infuse roses for their health and energetic benefits
According to Journal of Agricultural and Food Chemistry roses exhibit very strong radical scavenging effect and antioxidant power
Its petals are nutritionally dense, containing an abundance of vitamin A, B, C, E
In Ayurvedic medicine, roses are believed to to balance the heart chakra
Roses are calming to the central nervous system according to thel Journal of Experimental Biology
For the ultimate medicinal use, try this rose honey in our infamous rose fire cider.
What is an herbal honey infusion?
An herbal infusion occurs when you steep plant material in water or liquid. Herbal infusions are used to introduce the healing properties of specific herbs and plants to the body. Dried plants, like dried rose petals are best suited for infusions because the minerals and nutrients contained within them are often more easily accessed.
Ways to use this infused honey:
My absolute favorite way to enjoy this rose honey is simply in a cup of fresh floral tea.
You can use rose honey any where that you would use honey. We have an entire category dedicated to Rose recipes, and some reader favorites include: Rose ice cream, How to make rose water lemonade, Rose Buttercream, Rich Chocolate Rose Brownie, How to make rose syrup, How to make a rose milk tea latte, Rose Gin and Tonic, or in one of our delicious rose cocktails.
Pick your honey
You always want to choose raw, local honey for the best health benefits. And different honeys will have different flavors based on what the honey bee pollinated it with. Read our guide on Wildflower honey benefits.
Save to pinterest:
Save this recipe to your floral Pinterest board by clicking the image below! xo
The recipe
Rose Infused Honey
Once you learn how to make rose infused honey you'll have a beautiful and affordable way to add the health benefits and beauty of roses into your day with ease! And if you're going to make rose infused honey, you might as well make one of our gorgeous Homemade Rose Honey Lollipops.
Ingredients
¼

cup

edible flower of choice

dried or fresh - organic

1

cup

of local raw honey

runny
Instructions
Add your dry ingredients to your jar
Cover completely with honey - be sure not to leave any flowers exposed as they may mold if so. Keep them completely covered, and if need be, add more to top as needed.
Seal top
Let the honey sit and infuse for one month, longer if desired
Strain
Return strained honey to jar and gift or use as desired!
Notes
Can infused honey spoil?
Honey does not spoil, but if it's infused improperly or the plant matter in your honey is exposed to air it can produce mold. If your honey becomes moldy you must throw it away. Can bacteria grow in honey?
Most bacteria and other microbes cannot grow or reproduce in honey due to antibacterial activity of honey. However, it is not impossible for bacteria and mold to to grow on fresh plant matter that accidently exposed during infusion. How should I store my infused honey
Treat your honey like any perishable item and store in the refrigerator for up to six months
Nutrition
Serving:
1
g
Calories:
65
kcal
Carbohydrates:
17
g
Sodium:
1
mg
Sugar:
17
g