Homemade Rose Honey Lollipops
Perfect for dipping in tea, enjoying as candy or gifting to a special someone. These homemade rose honey lollipops are as beautiful as they are delicious with no refined or added sugars.
And if you're unleashing your inner confectioner, you may also love Candied Rose Petals or Lavender Honey Marshmallows. These would also be so beautiful as a garnish over a rose water cocktail.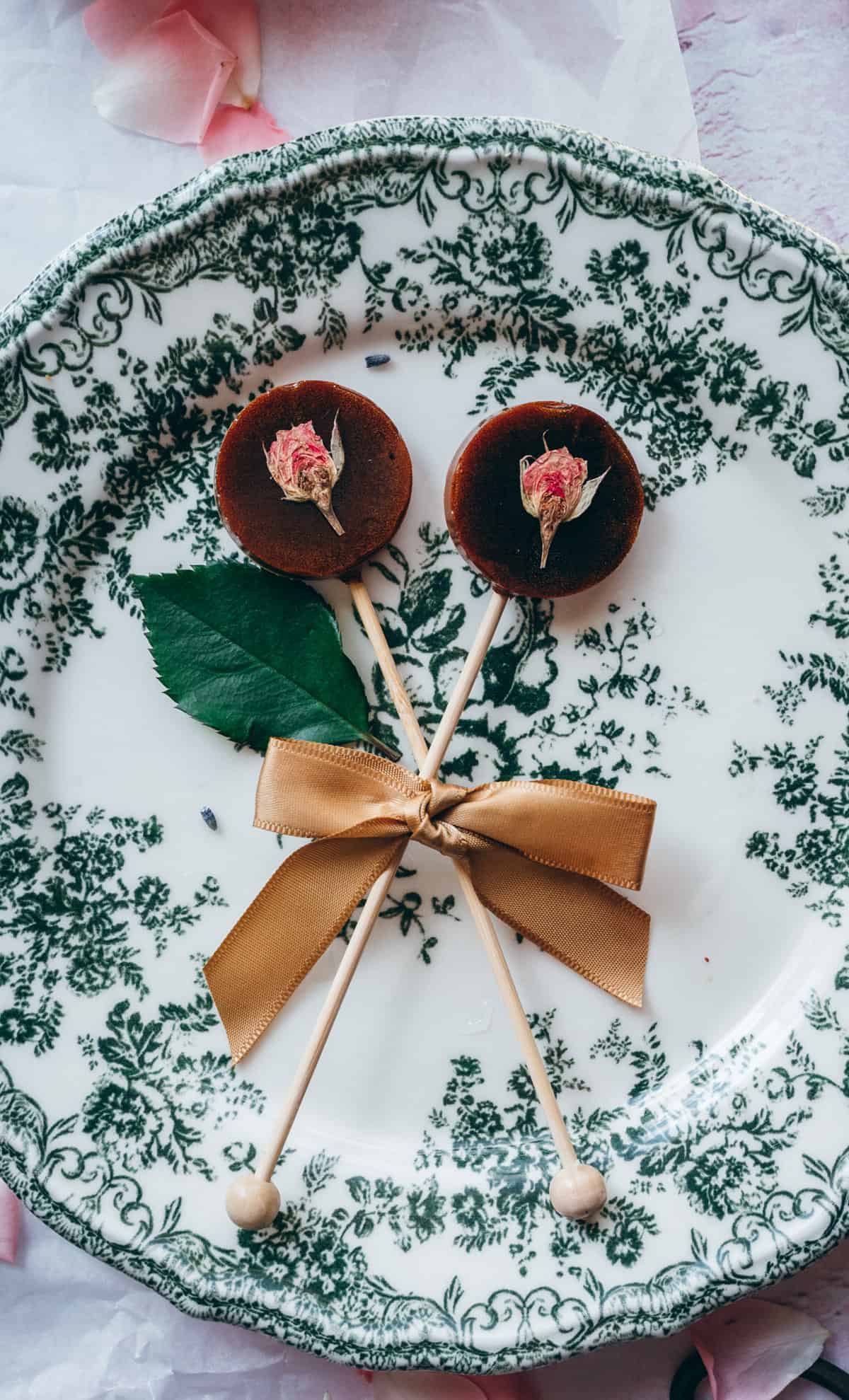 Homemade honey lollipops or tea spoons are so simple to make that you'll always have a batch on hand for a sweet tooth craving or sore throat. They are a perfect natural throat soothing remedy, and are so delicious. These are just like our popular Homemade Lavender Vanilla Honey Lollipops. But if you're looking for a fun party favor that doesn't require a candy thermometer - check out our Edible flower lollipops for party favors or our A Pressed Pansy Lollipops and add rose flavor.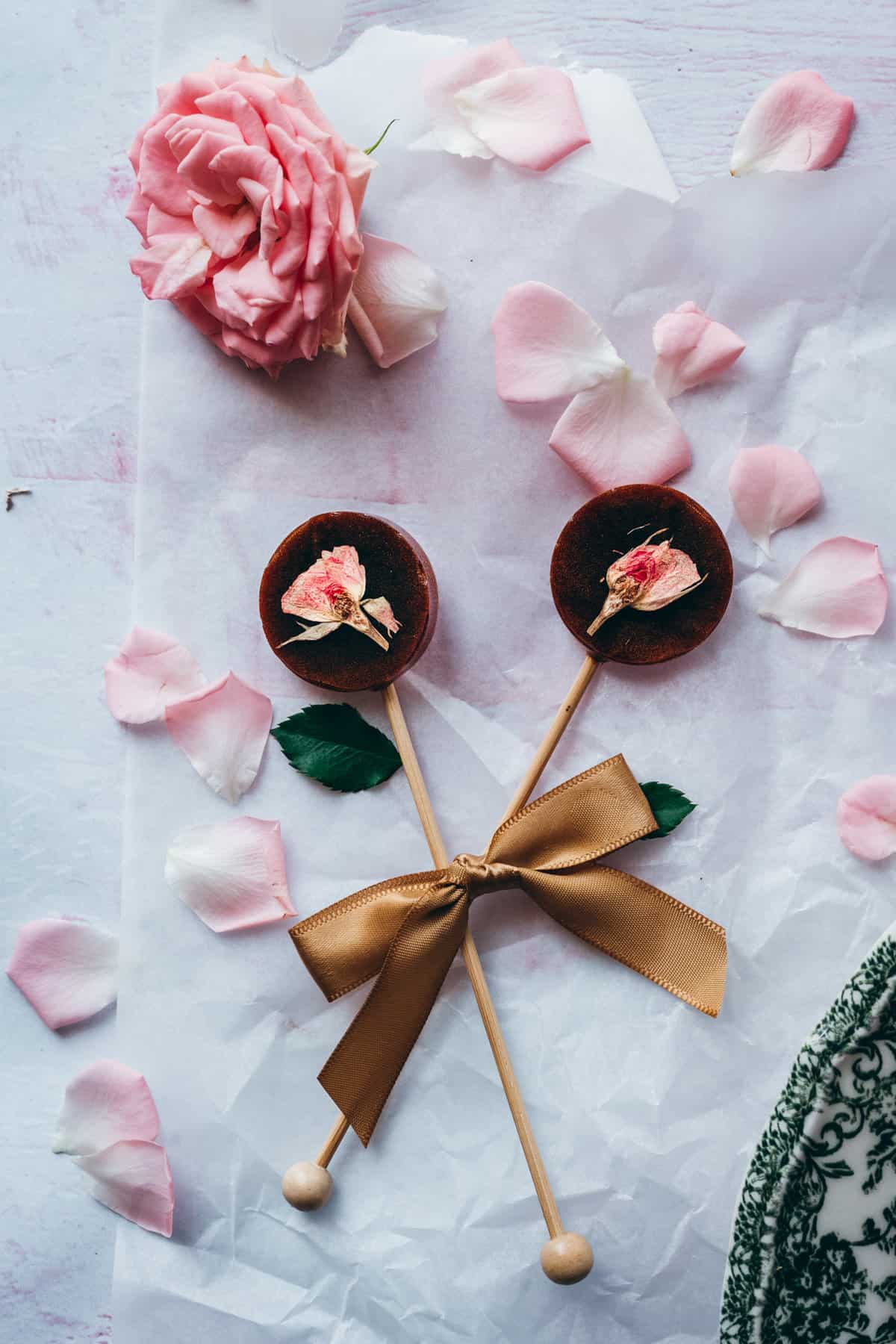 Rose and honey are a beautiful combination and these all natural hard candies are free from any unusual and questionable ingredients, something store bought candy often contain. They are also more affordable in comparison from boutique candies, if you need them for a party, bridal or wedding favor and have the will, time and patience to DIY.
How to use homemade honey lollipops:
As a honey tea spoon, just dip the candy into your tea and let it melt.
As a cough drop when you're under the weather. Just consume like you would a cough drop or lollipop.
As a party favor.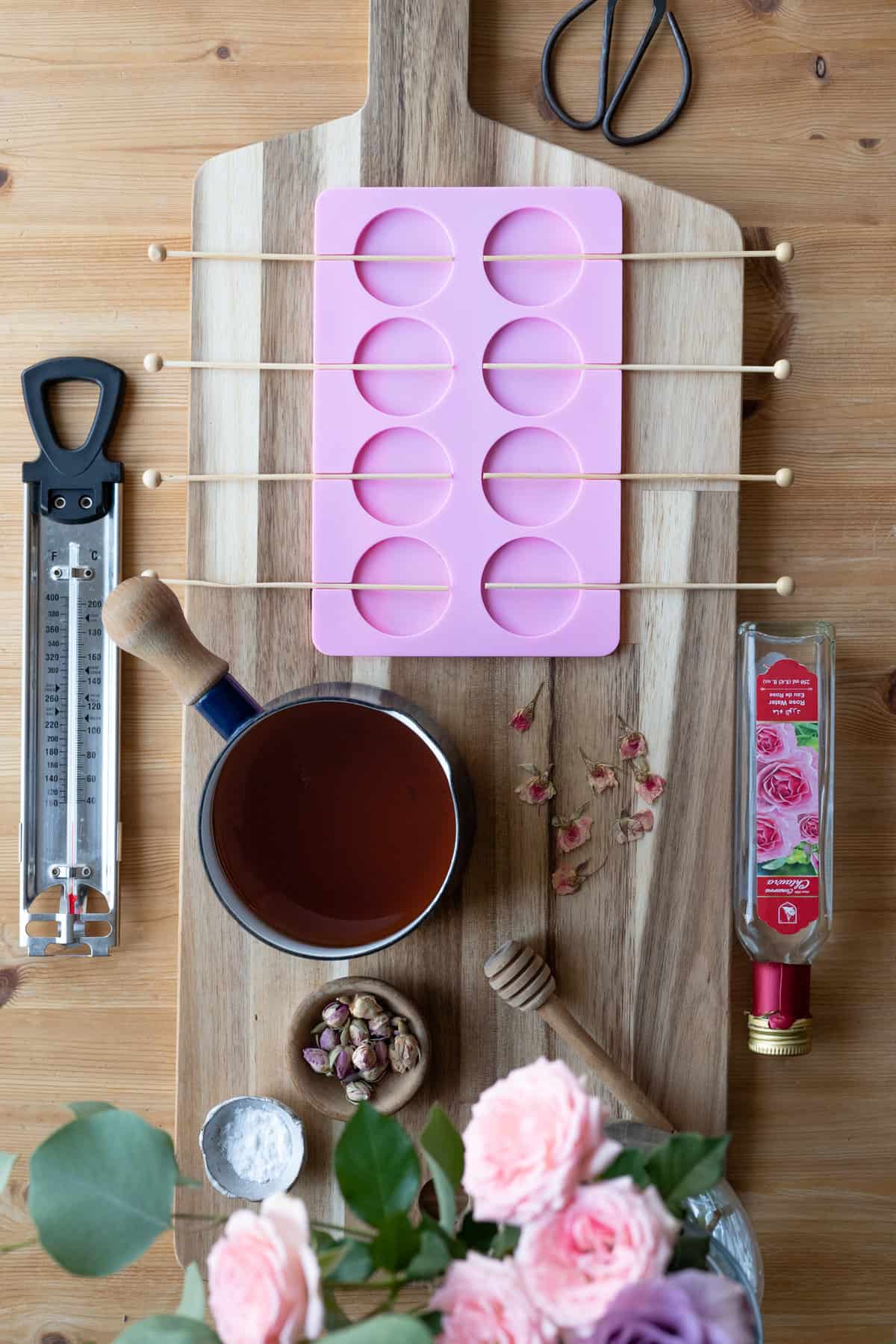 Ingredients:
Rose infused honey- if possible use Manuka honey. Manuka honey is the only type that can withstand heat and still maintain some health benefits. You can buy some or make some at home! Read our entire post on making flower infused honey, in a nutshell: You let dried organic rose petals infuse for 4-6 weeks in an airtight container. Then, you strain your flowers from the honey and use it to make lollipops. There's also a faster method which includes simply heating your roses in your honey and so that the honey takes on the flavor quickly, and straining your honey mixture before you pour it into your molds. See recipe card for specifics.
Vanilla extract or your own homemade Rose Vanilla extract - for the beautiful vanilla flavor.
Cream of tartar - to help prevent the candy from cracking. Works like a charm!
Tools you need to make honey candy:
Medium - large sauce pan
Measuring cups and spoons
Candy thermometer - absolutely imperative! Your honey must reach 300 degrees F or 148 ° C to reach the hard crack stage necessary for making hard candy.
How to make:
Prepare your lollipop mold by adding sticks into your mold before you start. I love these wooden candy sticks because they look so fancy and hold up well.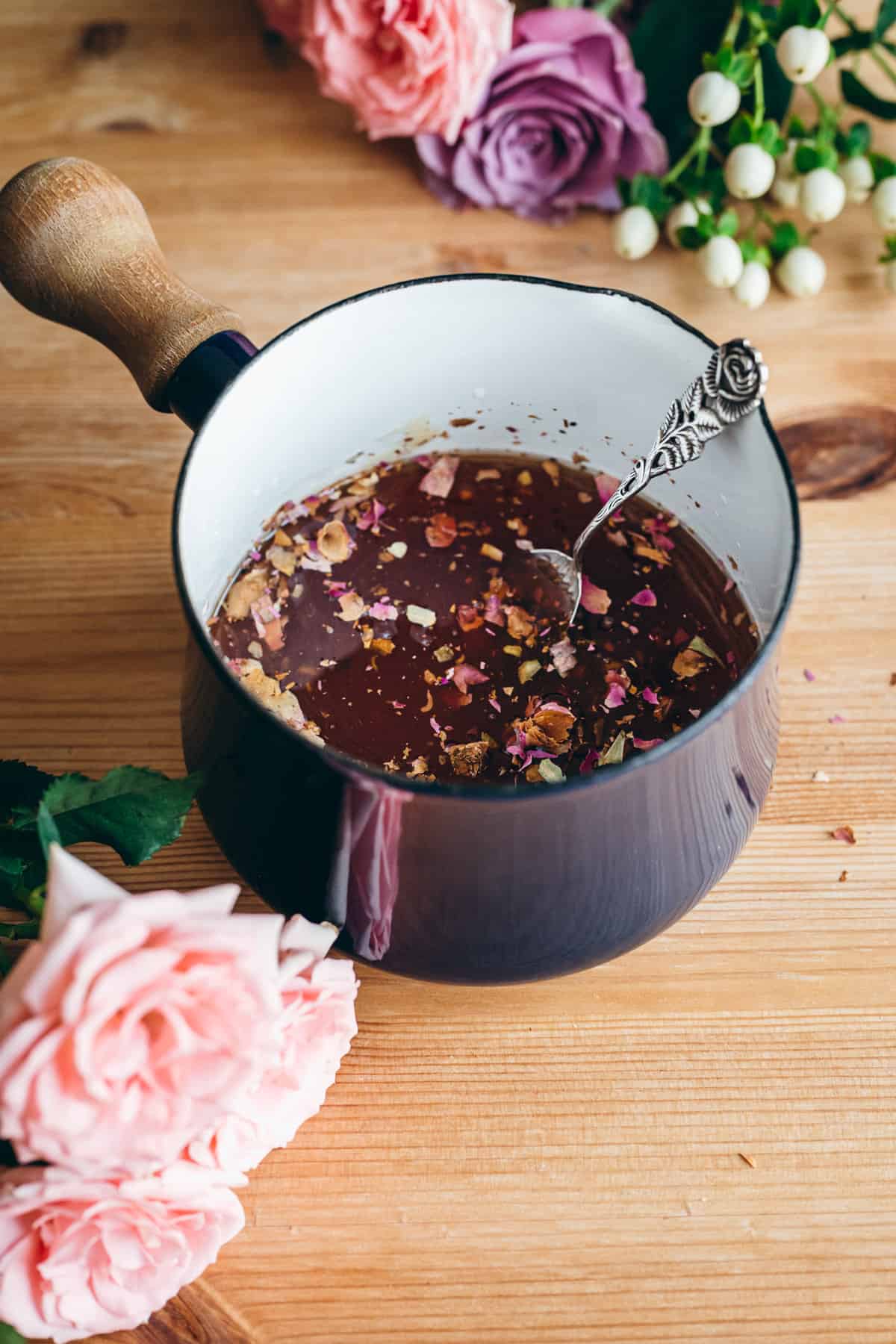 Add rose infused honey or honey + organic rose petals and cream of tar tar into a medium to - large sauce pan and mix until well combined. You need a larger sauce pan because this recipe bubbles up and you do not want it to pour over the sides (it will be a sticky mess!)
Heat your honey over low-medium heat with a candy thermometer immersed. Heat until honey reaches 300 ° F or 148 ° C. Do this very slowly, it will take some time. If you heat your honey too quickly it will taste scorched. If it seems your honey isn't increasing in temperature, increase your heat very slowly and surely. It's a labor of love. Candy making quickly goes from "done" to "burnt" so watch closely and increase very slowly, mixing continuously. It usually takes me about 10 minutes, and I usually have to slightly increase my temperature around five minutes and then am able to reduce it before my honey reaches 300 ° F. This is why a candy thermometer is necessary, if your honey doesn't reach this temperature the spoons will not harden and melt when removed from their molds.
Once your honey has reached 300 ° F turn off your heat and give your honey a good stir until the bubbles have settled. If you used rose petals you can leave them in or strain them out, but work quickly to get your honey into your molds. After your honey reaches the "hard crack" stage, it hardens quickly. Pour the honey into your prepared lollipop molds and let them sit at room temperature or in the refrigerator. Either way, they should harden nicely if your honey reached the threshold temperature necessary for hard candy.
Let them sit for at least two hours. Once your lollipops are hardened, carefully remove them from their molds and enjoy!
How to clean up:
Because the honey hardens quickly, you want to use very hot water on your cooking utensils to remove the honey residue. I usually let my pots and spoons sit in very hot water for a short while and wash it after it has cooled to prevent burning myself.
Frequently asked questions:
How do I store them when they're done?

The honey lollipops will be slightly sticky, like any hard candy would be. I personally store all of ours in a storage container in the fridge for up to three months. Their stickiness does not cause them to stick together in a way I can not easily remove them in my experience. But if you're planning to gift them, use some cellophane wrap, like these small lollipop wrappers with twist ties. I used these gold bows twist ties for the fancy!
How long do they keep for?

Store up to one month at room temperature. Or up to three months in the refrigerator. Or up to six months in the freezer.
Can I freeze these honey candies?

Yes. I would individually wrap each pop to prevent freezer burn.
Can I add or omit any flavors?

Absolutely. This recipe is completely adaptable to your liking and needs. Feel free to add some spice like cardamom or a drop of food grade peppermint essential oil ( an ingredient found in all peppermint candies ) or some lemon.
Love healthy homemade lollipops? Give these a try!