How To Make Rose Water Syrup
Knowing how to make rose water syrup is a great way to make your favorite beautiful rose cocktail with a clear or delicate pink hue. It's also useful when you don't have access to organic roses. It's preparation is essentially the same as our rose syrup, but uses organic rose water instead of fresh or dried roses.
Why you'll love this recipe:
Ingredients:
½ cup water + ½ cup rosewater
1 cup sugar
Optional: hibiscus petals for the natural pink hue
Instructions:
In a small saucepan over low heat - heat the water and sugar it comes to a simmer.
Stir while syrup gently simmers gently for 10 minutes. Add flowers if using any for color.
Remove from heat and let the liquid thicken and cool.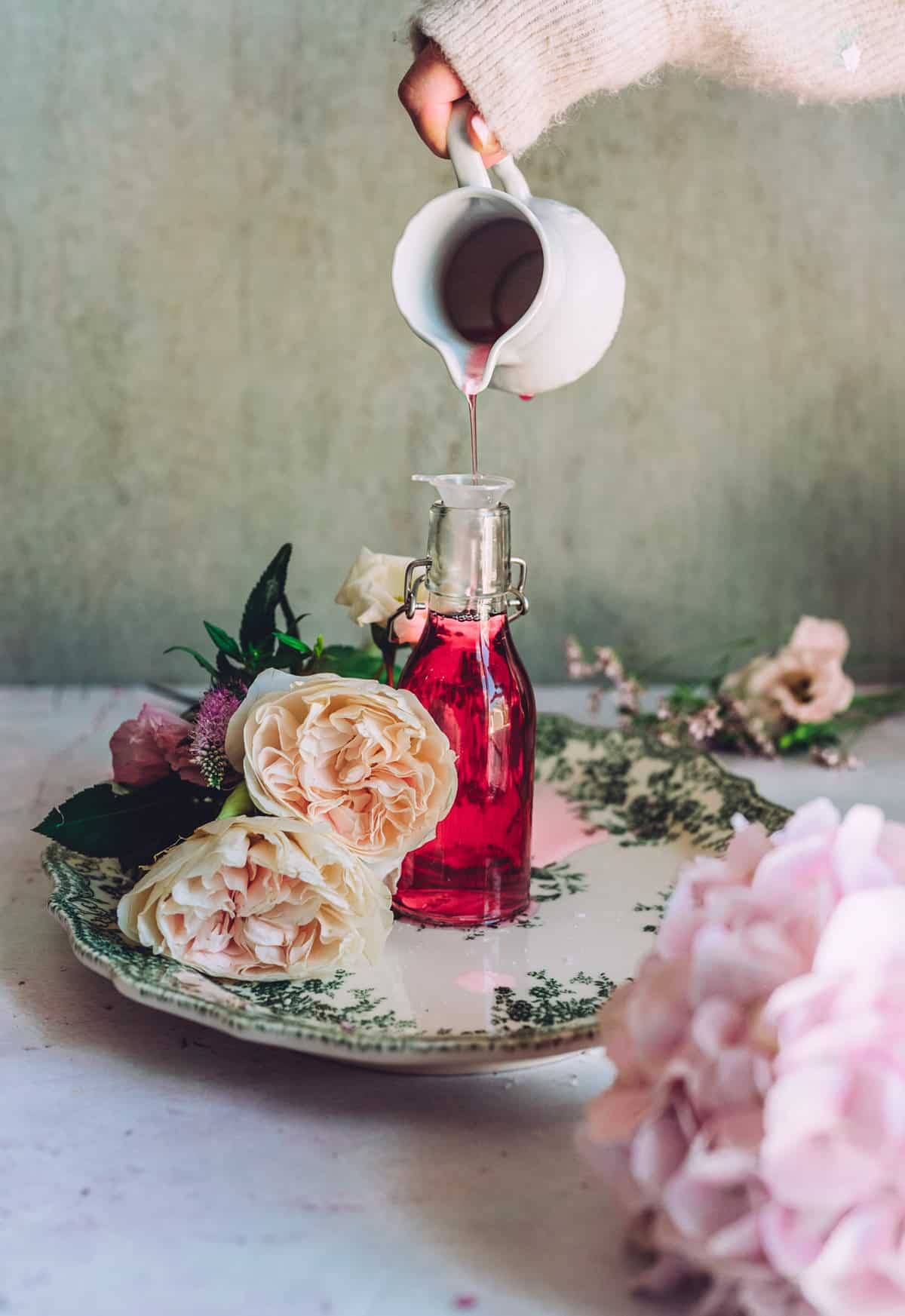 Pour into jar with an airtight lid. Strain if you used flowers for natural coloring. (Pour into a jar with an airtight lid)
Expert tips:
Frequently asked questions:
How long will this syrup last for?

Sugar is used in cooking as a preservative— think jams and jellies, which are also called preserves. So simple syrups have a decent shelf life, when prepared and stored properly: made with very hot water and stored in a sterile container in the refrigerator. A 1:1 simple syrup like this one lasts only one month when refrigerated.
How should I store the syrup?

The recommended way to store simple syrup is to use an airtight container that's been sterilized. The images in this post show the rose syrup in a simple corked bottle for the images, however I store all our syrups in airtight containers.
More lovely garden rose recipes to try
PS. If you made it this far, I truly hope this recipe works beautifully for you and is enjoyed for many years to come. I love to hear your suggestions, tweaks and wins so please comment below if you wish. Thank you so much for reading. Your visit to my site helped support my small business today. Please share this page link on your social channels if you feel inclined to help even more!
Sending you love, fresh baked cookies, and a bouquet of roses