Rose Chocolate Chip Cookies
Soft, chewy golden chocolate and fragrant rose chocolate chip cookies are truly intoxicating treat. Finished with a simple dried rose and sea salt garnish, these divine cookies will add a touch of romance to any occasion.
I did not know it was possible to lust after cookies until I created these. These perfect chocolate chip cookies with creamy milk chocolate, a very fragile floral flavor, and a hint of salt and crisp edges. They are perfection. And if you love combining florals with cookies, you will also love my Rose Cardamom Shortbread, Edible flower cookies and Lavender shortbread cookies.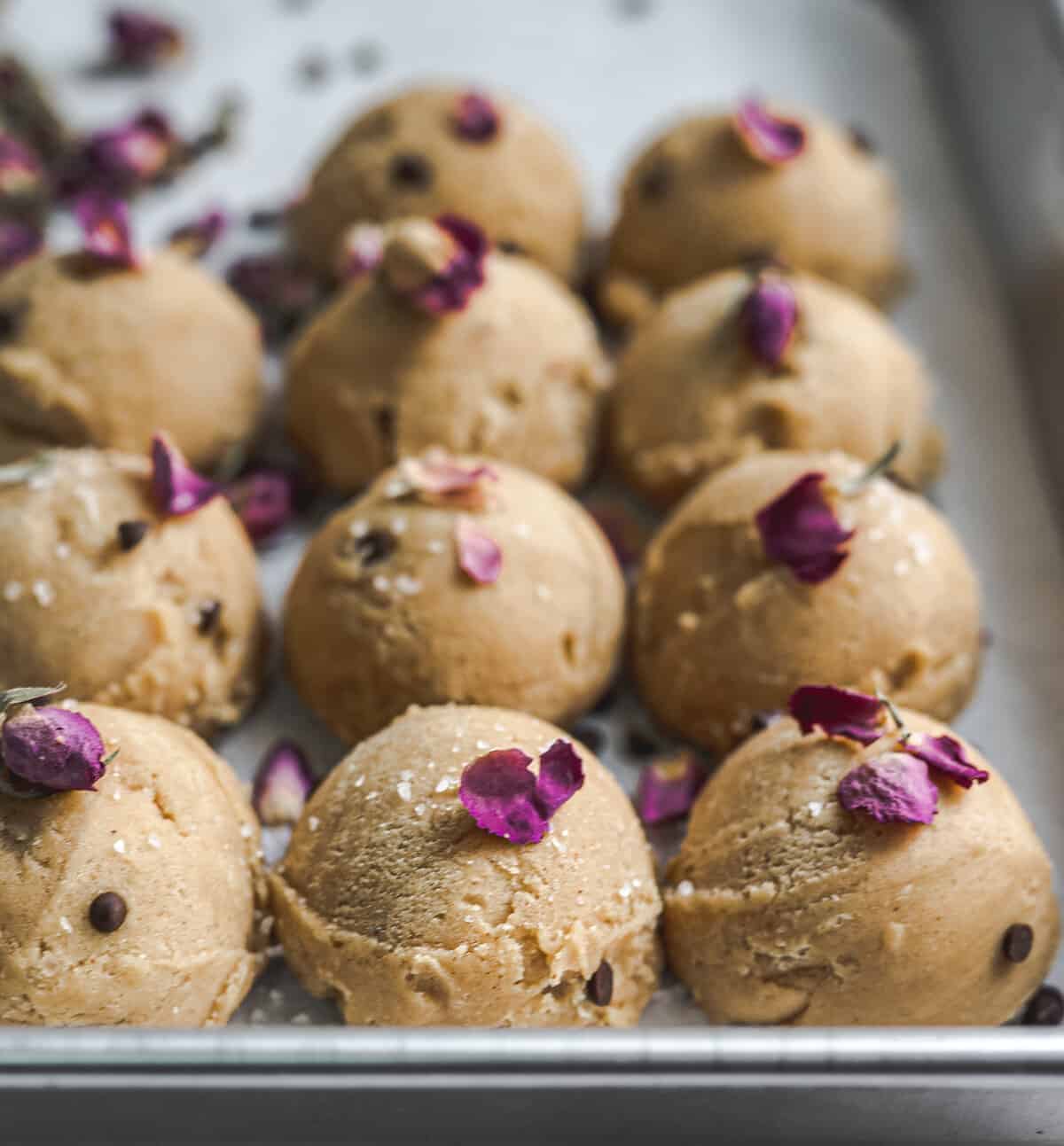 Ingredients:
All-purpose flour
Baking powder
Baking soda
Salt
Unsalted butter
Brown sugar - brown sugar yields a nice soft chocolate chip cookie. You can use light or dark brown sugar here, I personally love dark as it has more molasses flavor.
Granulated sugar - Granulated sugar helps give your cookies the shape you want to achieve. Thick and round!
Egg - room temperature
Rosewater - buy it online, from the store, or make your own with our easy diy rosewater recipe
Vanilla extract - try making our vanilla rose extract for a more pronounced flavor!
Coarsely chopped milk chocolate or chocolate chips
Optional: Dried organic rose petals for garnish
Optional: Sea salt for garnish
Perfect Cookie Tips + Tricks!
Room temperature ingredients: We use melted butter in this recipe, so you don't need to pre plan and remove the butter from the refrigerator beforehand. But you do want to leave an egg out for 30 minutes to an hour before baking. You can heat it under hot water for a minute to bring it to room temperature quickly.
Properly measure your ingredients: I know not every home baker is going to want to weigh their ingredients. I blogged for years before even considering it! But, now that I weigh my ingredients, I never make a recipe without grams because just a little too much or too little of any one ingredient can really throw off a recipe. And if I'm going through all the trouble to bake, I want to make sure it comes out just as I expected. Here is a great kitchen scale I recommend.If you don't use a kitchen scale, spoon and level your flour for increased likelihood of accuracy.
Mix the dough carefully, but don't overmix: Overmixing dough leads to gluten formation, which can make the cookies tougher than you're hoping for in a soft cookie dough. Make sure you don't have any clumps of flour in your dough and you're good to go!
Slightly underbake for that perfect soft and gooey texture: Your cookies will continue to bake several minutes after you've removed them from the oven. I always watch my cookies closely to tell if they're done. Depending on the size of your cookie scoop you used, they will usually only need to make for 8-12 minutes and not more.
The cookie twirl: Want to know how food bloggers always have perfectly round cookies? The cookie twirl! Immediately after your cookies come out of the oven, place a slightly larger cup or round cookie cutter and place it on top of your cookie dough. Use an oven mit to hold the pan with your non dominant hand so you don't burn yourself while preforming this trick. Swirl the cup or cutter around the cookie to give it perfectly round and raised edges.
How to make them:
Preheat oven to 350F. (176C)
Prepare baking sheet with parchment paper.
In a large bowl combine your dry ingredients: flour, baking powder, baking soda and salt. Set aside.
Put the butter in a medium size sauce pan and melt over medium - low heat. Heat until melted and slightly browned. Pour melted butter into a large bowl.
Pour brown and granulated sugar over the melted butter and mix until well combined. Let butter cool for several minutes. Whisk in the egg and then vanilla and rosewater.
Sift the flour into the butter/sugar (wet ingredients mixture) and mix, folding in the chocolate
Use a small cookie scoop to portion out even size cookie dough balls. Place them on your prepared baking sheet, giving at least an inch inbetween cookie - to allow for flattening.
Bake for 10 to 12 minutes, until golden, the edges crisp, but the centers still soft. Let the cookies sit on the baking sheet for five minutes, then transfer them to cooling rack to cool further, before serving.
Garnish with rose petals and a pinch of flaky sea salt, if desired!