Raspberry chamomile cake with honey buttercream
Enjoy a little bit of romanticism with this raspberry chamomile cake with honey buttercream. Delicate sweetness with summers sour raspberries, it's a little slice of heaven in cake form. This delicious cake is sure to enchant each and every person who gets to have a slice.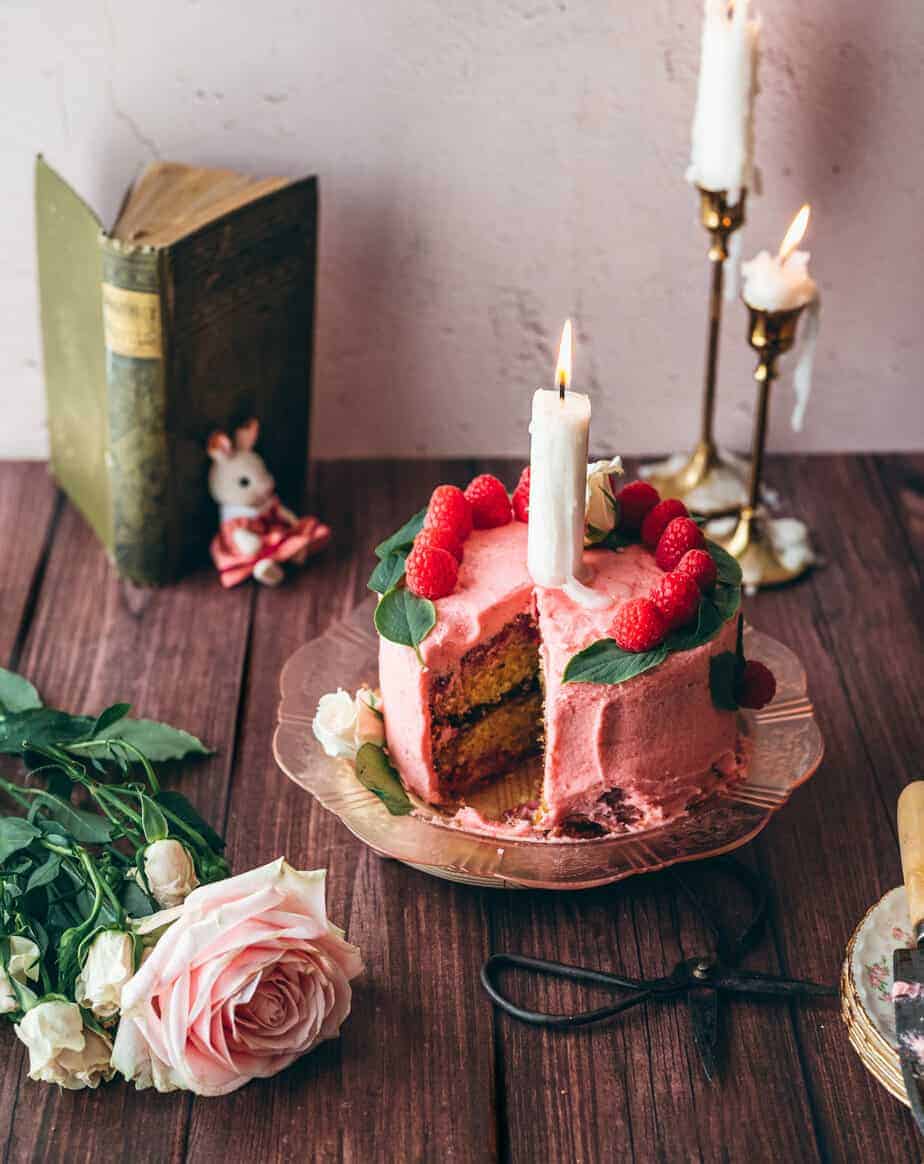 why you'll love this recipe:
This fragrant chamomile cake has beautiful floral notes that will make your taste buds sing
It's so well balanced and not too sweet thanks to the slightly sour raspberries
The cake is moist and flavorful
It's the perfect cake with a cup of tea, especially herbal tea or a rose milk tea latte
Raspberries are mixed right into the cake batter and buttercream, giving it a beautiful natural pink hue
Raspberry jam is hidden in between the cake layers, like a lovely welcoming surprise. You can try wild rose petal jam with raspberries, if you fancy.
The buttercream is made with fresh raspberries and creamy honey and compliments the chamomile flavor of the cake so well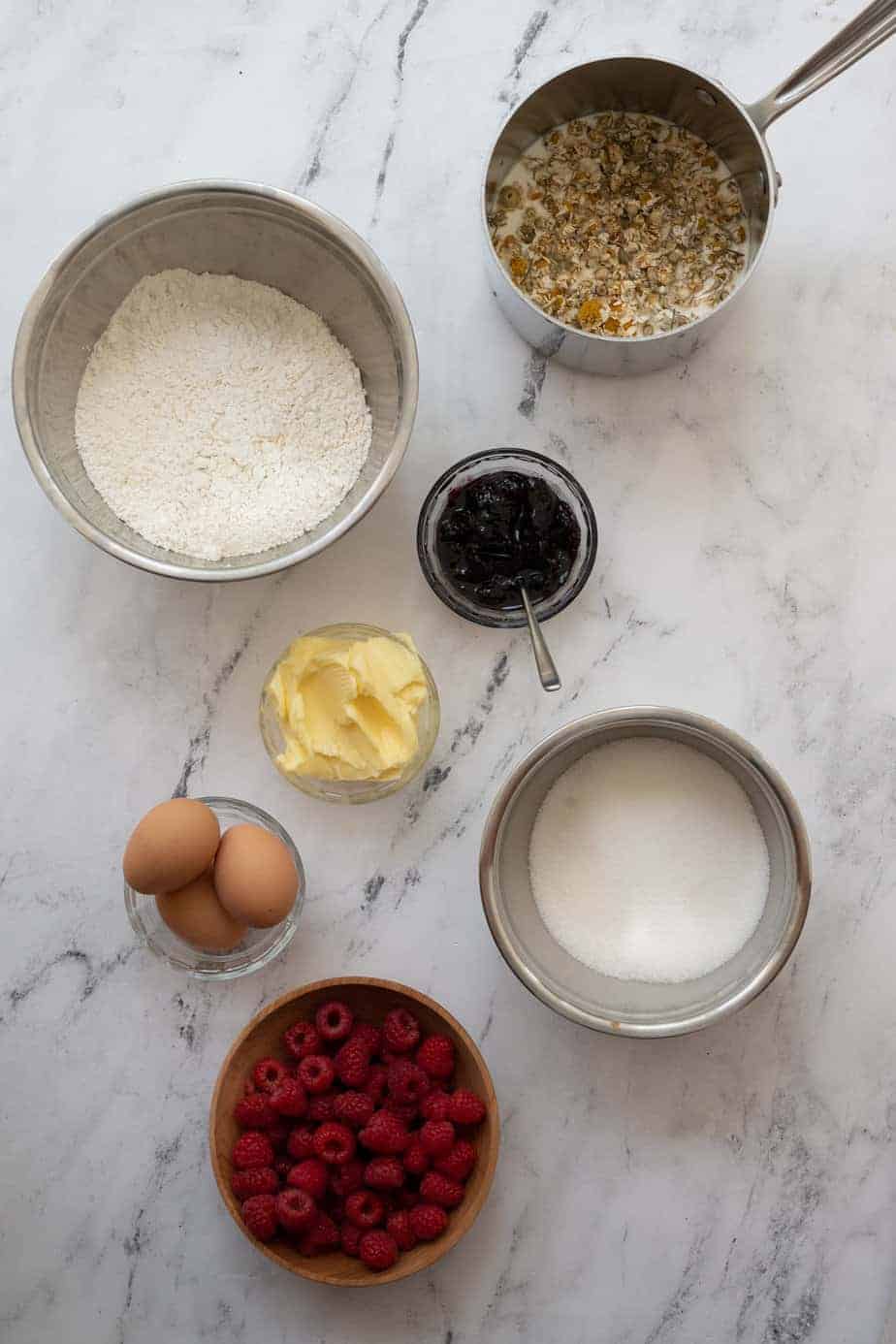 Ingredients:
CAKE:
2 ¼ cups all purpose flour
2 tsp baking powder
¾ tsp salt
¾ cup unsalted butter room temperature
1 ½ cup granulated sugar
3 large eggs room temperature
1 ½ tsp vanilla extract
1 cup chamomile cream (heavy cream infused with chamomile flowers)
½ cup raspberry jam, divided into 2 portions
½ cup fresh raspberries
½ cup dried whole chamomile flowers or 5 bags of chamomile tea
RASPBERRY HONEY BUTTERCREAM FROSTING:
3 sticks (1 and ½ cups) unsalted butter, room temperature
2 tablespoons honey
5 cups powdered sugar
⅓ cup heavy cream or buttermilk at room temperature
1 teaspoon salt
1 tablespoon vanilla extract
½ cup fresh raspberries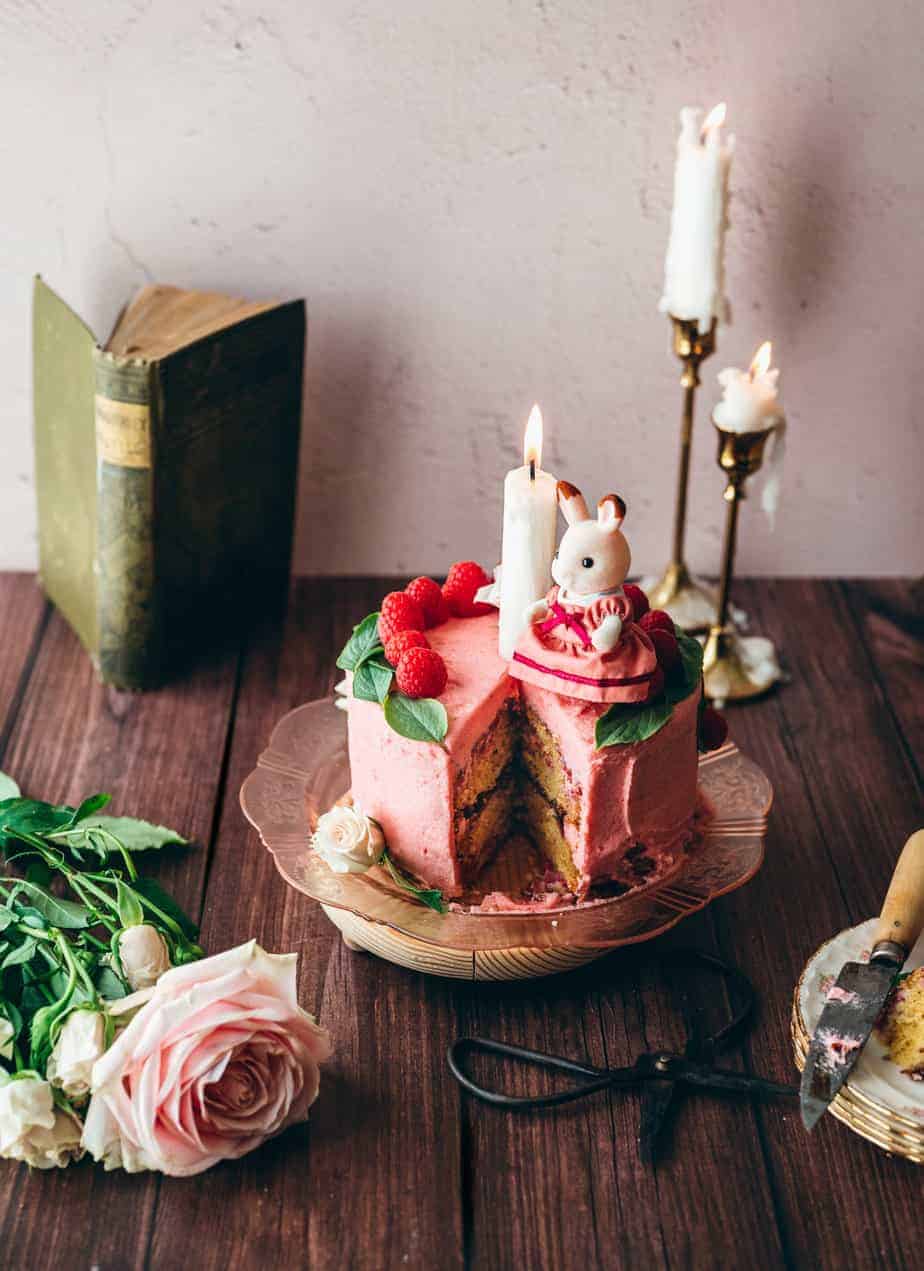 Let's bake it!
CAKE:
Preheat oven to 350F. Grease and flour three 6 inch cake rounds and line the bottom of the pan with a piece of round parchment paper.
In a medium bowl, whisk flour, baking powder, and salt until well combined. Set aside.
Make a chamomile cream by adding your 1 cup of milk into a small sauce pan, and turning the temperature up to the lowest possible setting. Add your dried chamomile flowers or bags of chamomile tea to the cream and mix well, keep on low heat for two minutes, continually mixing. Turn off heat and let mixture steep for an additional 10. Strain and set aside.
Using a stand mixer fitted with a paddle attachment or a hand mixer, cream butter, and sugar on med-high until pale and fluffy - this usually takes 2-3 minutes. Reduce the speed of your mixer and add eggs one at a time fully incorporating after each addition. Add in your vanilla.
Turn off mixer and slowly add in your flour mixture and strained chamomile cream to your creamed butter, fully incorporating the mixture before adding more.
Pour into your prepared cake pans.
Bake for 30 minutes or until a toothpick inserted into the center comes out mostly clean. If it's not clean, continue to bake in five minute increments, checking each time. I've never had to bake this cake longer than 35 minutes.
Place cakes on wire rack to cool for 10mins then turn out onto wire rack. Allow cakes to cool completely.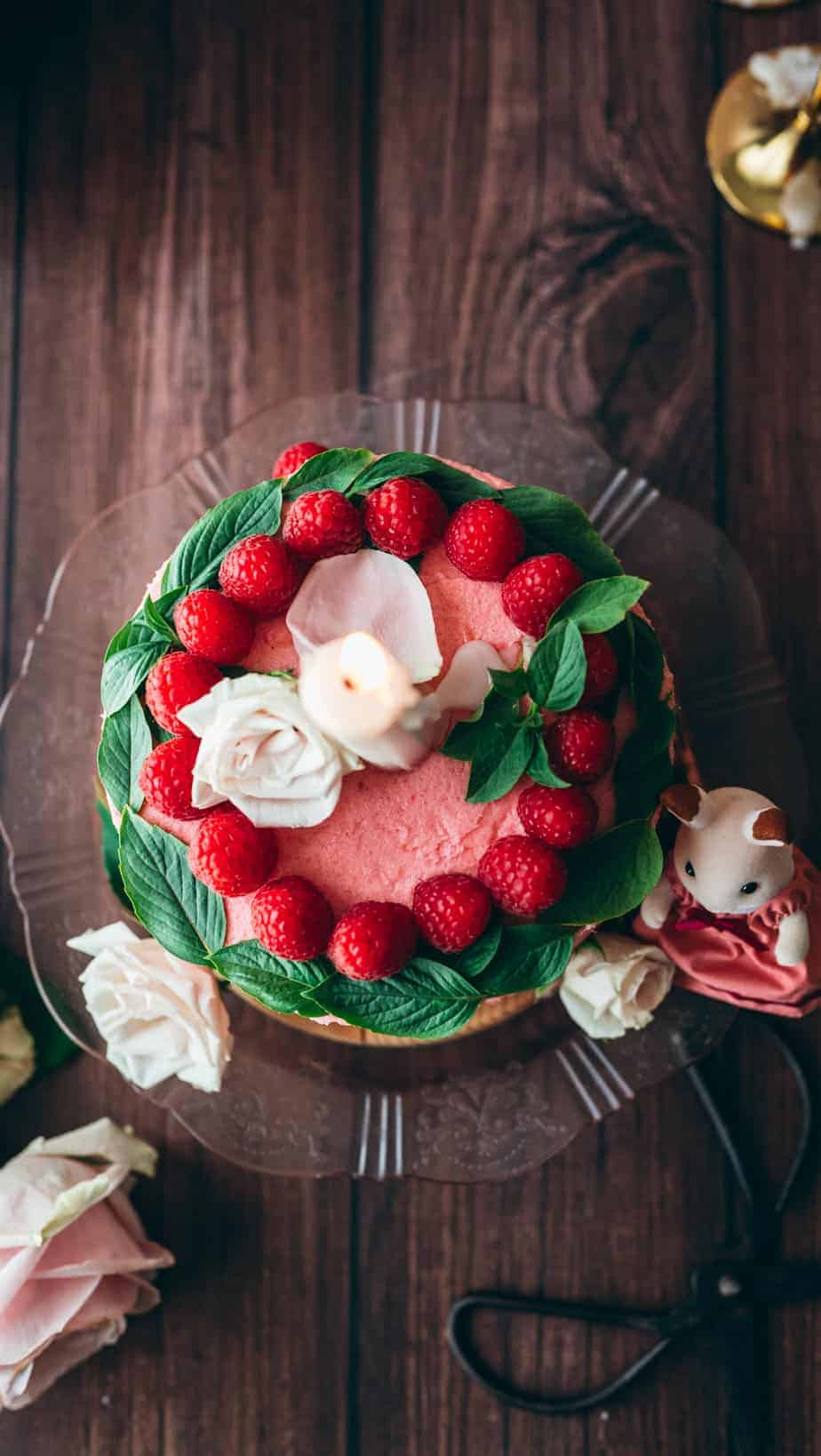 BUTTERCREAM:
Add the butter and one cup of the powdered sugar to the bowl of a standing mixer fitted with the whisk attachment. Beat on low just to blend, then beat on high for 3 minutes, stopping to scrape down the sides of the bowl a few times.
Add the heavy cream and another cup of powdered sugar. Beat on low speed to blend, then on high speed for another two minutes, stopping to scrape down the sides of the bowl a few times.
Add two more cups of powdered sugar and the salt and vanilla extract. Beat on low to combine, then on high for about 1 minute, until the buttercream is completely smooth.
Add in your honey and whole raspberries, continue to mix until rasperrbies are completely broken down into tiny pieces.
Check the consistency and beat in more powdered sugar if the buttercream is too thin. Add more heavy cream or buttercream if it's too thick. Taste, and add another pinch of salt if you need to take the edge off the sweetness.
ASSEMBLY:
Place one layer of cake on a cake stand or serving plate.
Pipe the butter edges of your cake with buttercream.
Add half of your jam in between the "walls" of the buttercream, and then place another cake layer on top of it, repeat for next layer (see photo)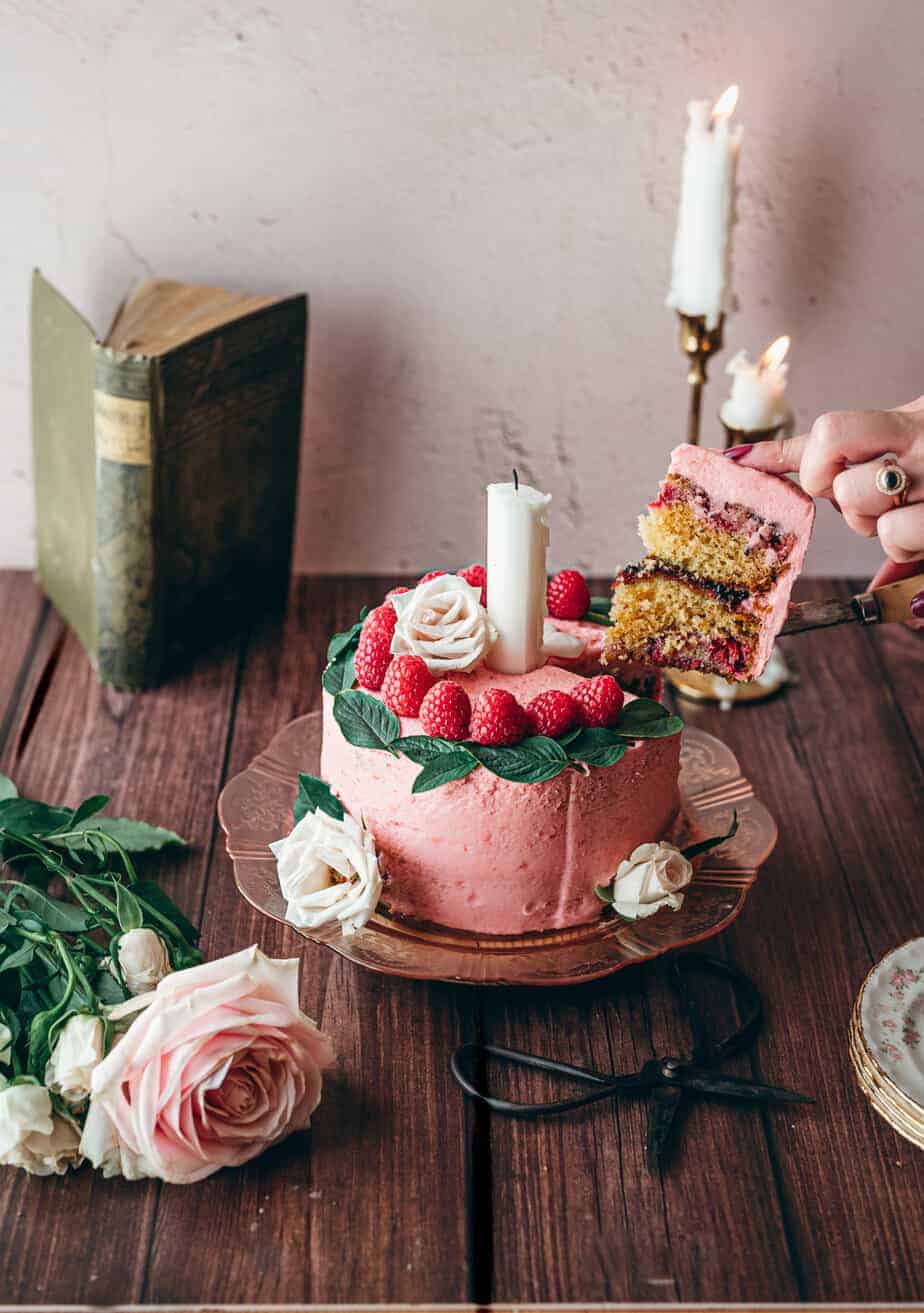 After assembly, top the top layer of cake with approximately ⅔ cup of buttercream and spread evenly. Frost and smooth the outside with a thin crumb coat. Chill for 20 mins. After chilling, frost the remaining buttercream and smooth until you have clean, smooth lines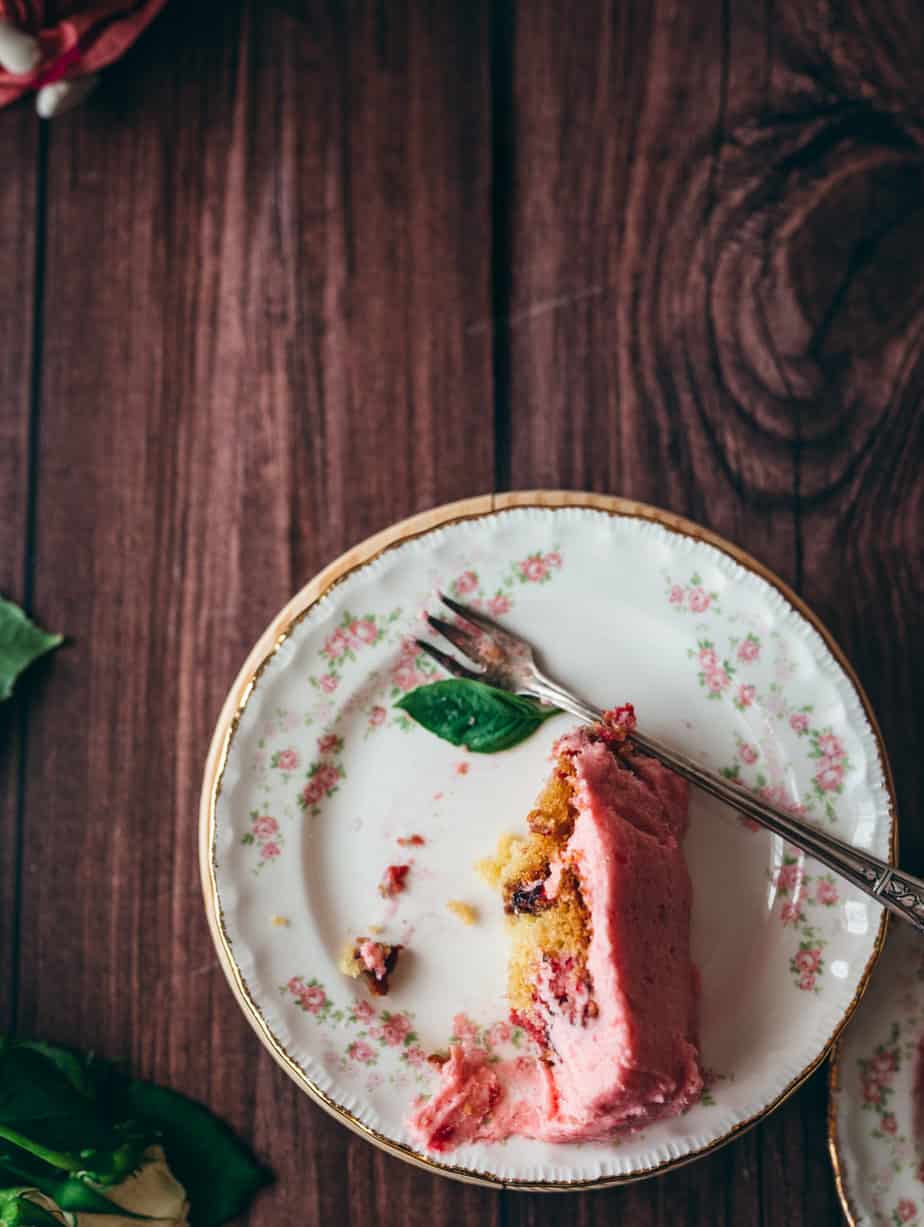 love edible flowers? these resources may be useful to you: