Fanciful Lavender Lemonade
Indulge in a delightful twist on a beloved beverage by crafting your very own fragrant and enchanting lavender lemonade. This delectable and refreshing drink is a perfect addition to any romantic rendezvous or a soothing treat after tending to your garden. Its sweet and alluring essence will captivate your senses and leave you feeling rejuvenated. Make it for a moment to cherish. And if you swoon over the combination of lavender lemon like we do, head to our post on The Best Lavender Lemon Recipes.
There is nothing quite like the sweet and floral scent of lavender to ignite the senses and transport you to a place of tranquility and calm. I have always had a deep love for this fragrant flower, and recently, I discovered the best way to truly indulge in its beauty and flavor. It all started when I created the recipe for lavender honey simple syrup.
The combination of natural honey and delicate lavender creates a syrup that is both rich and delicate, with a flavor that lingers on the palate long after the last sip. This divine syrup with the bright and zesty flavor of lemon? The result was nothing short of heavenly.
I carefully measured out the ingredients and mixed them together, creating a large pitcher of the most delicious lavender and lemonade I had ever tasted. The sweet and floral notes of the lavender blended perfectly with the tartness of the lemon, creating a flavor profile that was both complex and refreshing. Now, every time I sip on this delightful beverage, I am reminded of the beauty and simplicity of life's little pleasures. Whether I am enjoying a glass on my own or sharing it with friends and family, this lavender and lemonade is the perfect way to escape the chaos of the world and indulge in a moment of pure bliss. I hope you'll enjoy this recipe as much as I do, friend.
Ingredients in this recipe:
Quantities in recipe card below!
The honey:
There's nothing quite like sipping on a refreshing glass of lemonade with your special someone on a warm summer evening. The perfect balance of tangy and sweet is key, and we've found that adding a touch of lavender honey simple syrup really takes it to the next level. As you sip and savor, you'll feel your heart flutter.
Crafting this delightful syrup is as easy as can be with a classic 1:1 ratio of water to sugar and a luscious ½ cup fresh or ⅓ dried lavender. To perfectly balance the subtle floral notes, add a tantalizing ¼ cup of honey. Check out the full recipe and savor the exquisite flavors together. And while you're at it, why not whip up an extra batch. It makes a truly enchanting gift for any springtime occasion.
The benefits of drinking lavender:
Did you know that incorporating lavender into your daily routine can have a profoundly positive impact on your mental wellness, my friend? Recent research has shown that consuming lavender can help to alleviate symptoms of stress and anxiety, which unfortunately plague our fast-paced modern world. It's a wonderful plant for anyone seeking a natural and safe way to improve their mental health and wellbeing, and it's a testament to the power of nature in supporting our bodies and minds. Let's enjoy wonders of lavender together.
How to make the syrup:
ingredients: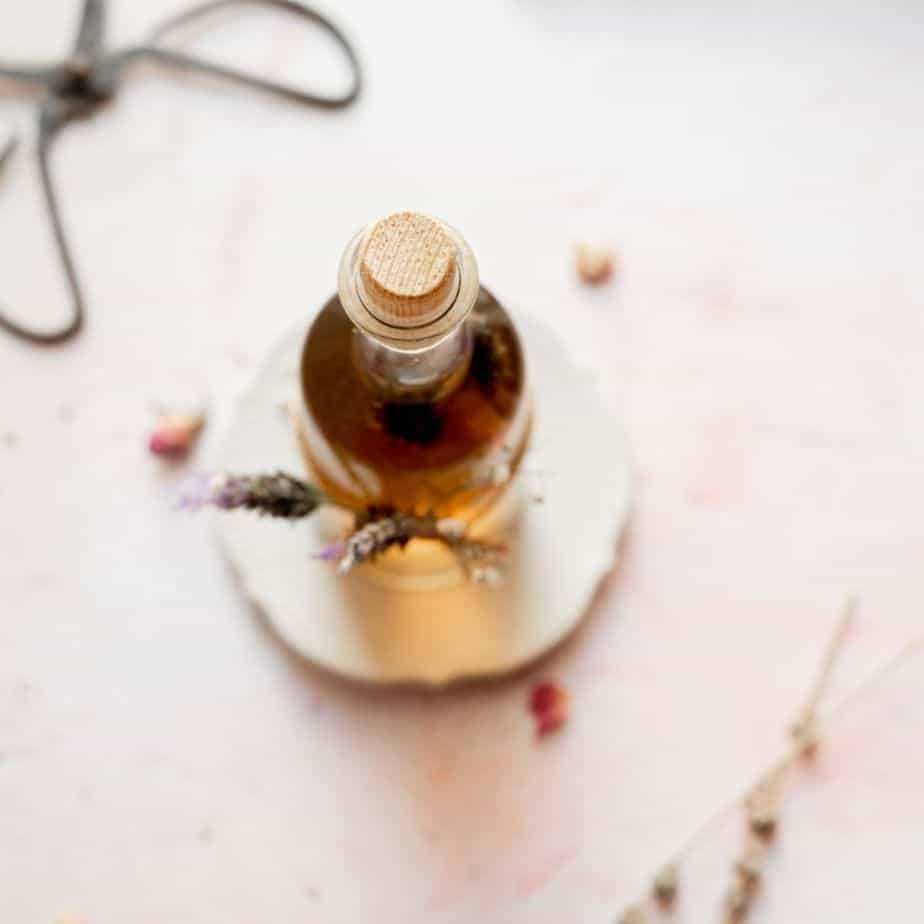 Where to find lavender for lavender lemonade:
Sourcing dried lavender is simple! Simply buy some food grade lavender. I love this brand when I don't have any in my garden. If you're curious about the best edible flowers you can grow at home, read my post on the best edible flowers to grow in your garden.
Alternative options:
If the thought of crafting your own simple syrup is daunting, fret not, my love. You can always purchase it instead. Personally, I adore this particular brand as it lacks the artificial, garish purple coloring that plagues other options. But if you prefer to bypass simple syrup altogether, might I suggest indulging in the delicate flavor of lavender-infused honey? It is divine.
how to make lavender lemonade:
Step 1: Squeeze all of your lemons into a pitcher or large jar. Strain out any pulp or seeds.
Step 2: add in your sugar and lavender simple syrup.
Step 3: Boil two of your eight cups of water. Add the hot water to your lemon and sugar mixture to allow your sugar to dissolve. Next, add in your remaining water. Test to make sure it's to your desired tartness or sweetness.
Finally, you're ready to enjoy your glass of lemonade over ice.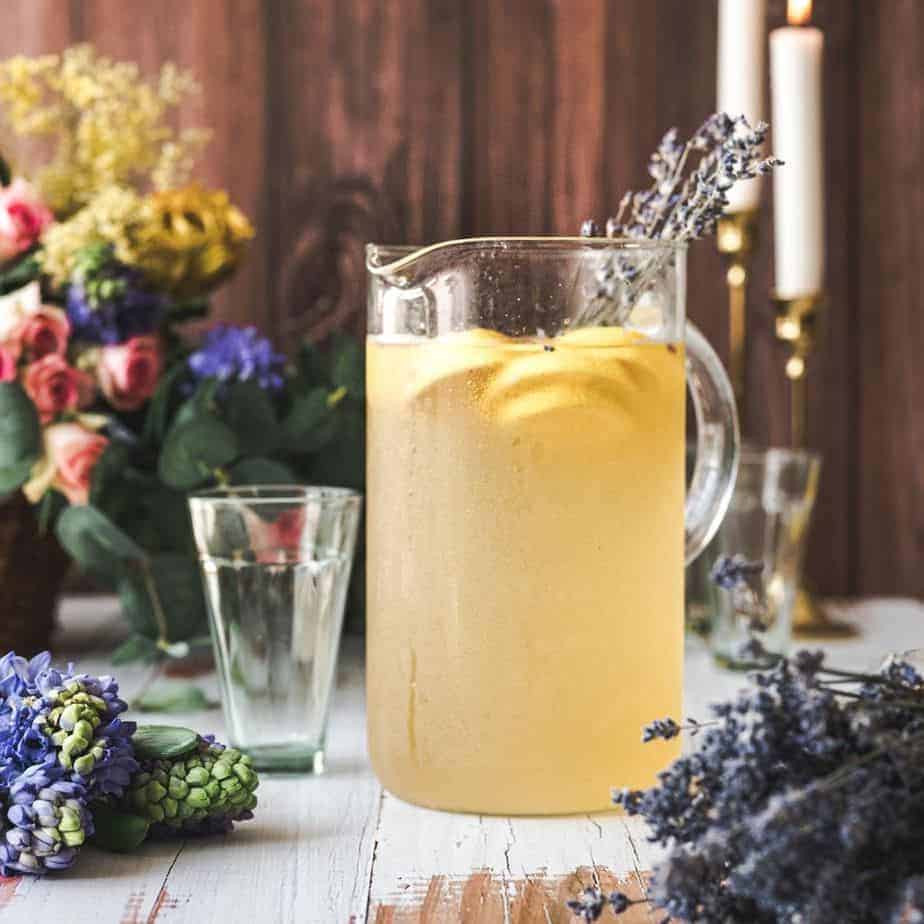 Fanciful lavender lemonade
Sweet, fragrant and refreshing lavender lemonade will be your new favorite way to enjoy this classic spring and summer drink. Not only is it delicious, making your own from scratch is super simple and perfect for entertaining, or enjoying a soothing treat after tending to your garden.
Ingredients
8

cups

water

½

cup

sugar

3

tablespoons

lavender honey simple syrup

about 8 large lemons

squeezed

Ice cubes
Instructions
Squeeze all lemons into a large jar or pitcher. Strain to remove seeds.

Add sugar and lavender syrup to your lemon juice.

Bring two of the 8 cups of water to a boil. Pour into your lemon juice and sugar and lavender syrup.

Let sugar dissolve, stir and add remaining 6 cups of cold water.

Taste to make sure sweet or tartness is to your liking.

Chill; serve over ice.
Notes
Store covered in the refrigerator for up to one week.
Nutrition
Serving:
1
g
Calories:
150
kcal
Carbohydrates:
27
g
Protein:
1
g
Sodium:
13
mg
Fiber:
2
g
Sugar:
31
g
Save it on Pinterest:
Click on the image below to save it on your pinterest board for another time!