Fresh Dandelion Greens Salad with Dandelion Dressing
This fresh dandelion greens salad with dandelion dressing is a celebrating the emergence of sunny days and the bitter greens that are about to become abundant in our gardens. When you're craving lighter fare and need a perfect side salad to balance out a rich dish, use this well balanced recipe that uses dandelions from crown to root. It's the perfect dish to impress this season.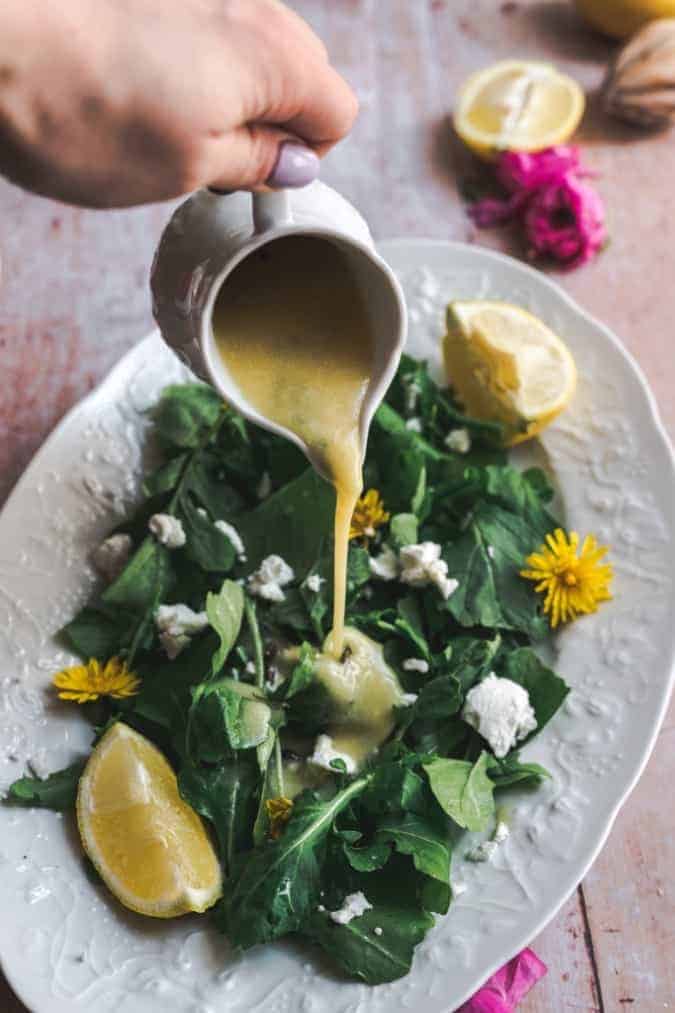 Why you'll love this recipe:
Vibrant, adding a beautiful touch to any affair.
Easy to assemble and ingredients are easily accessible, ingredients can easily be grown in a garden.
Perfect for richer dishes like quiche or meat.
Extremely nutritious.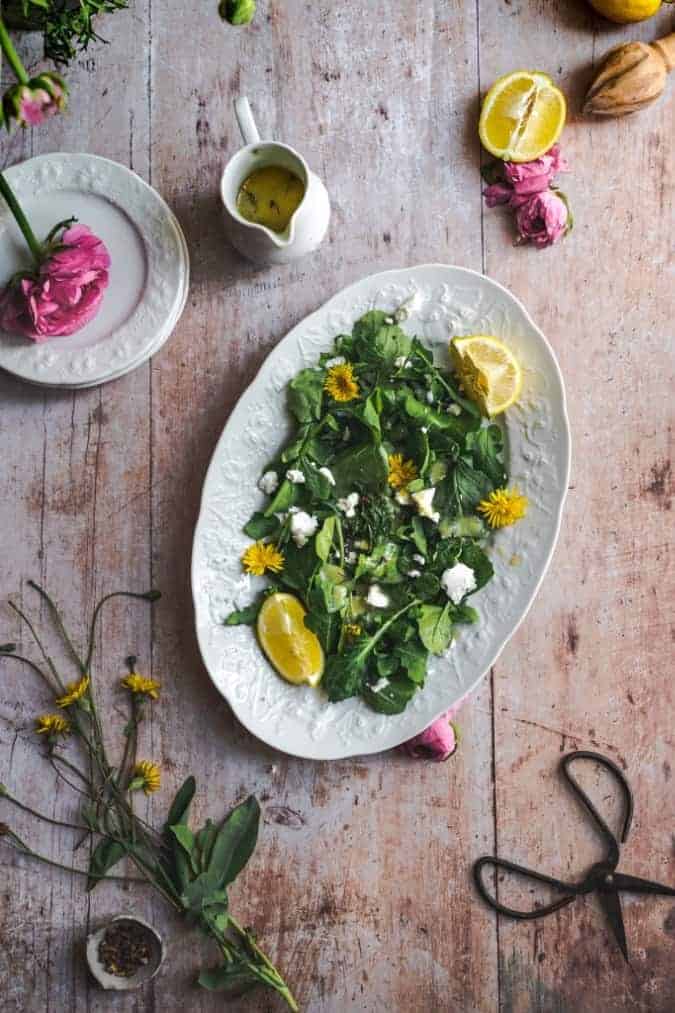 My muse:
Come March, dandelions sprinkle our lawns and spring up all over the park. This familiar plant that's commonly known as a "woe" to our lawns, is actually is filled with health benefits and packed with vitamins and fiber in each bite. Dandelion greens offer a subtle bitter flavor and crunch which contribute beautifully to this arugula and dandelion greens salad.
Arugula is slightly more bitter, and definitely distinct. The combination of the two are divine. Add in this dandelion root lemon vinaigrette and perhaps a little cheese (we love thinly shaved parmesan or goat cheese) and you have a simple dish that comes together in minutes. Enjoy it with Refreshing dandelion iced tea recipe, Fresh dandelion flower tea, How to make dandelion lemonade or drizzled with a hint of dandelion honey.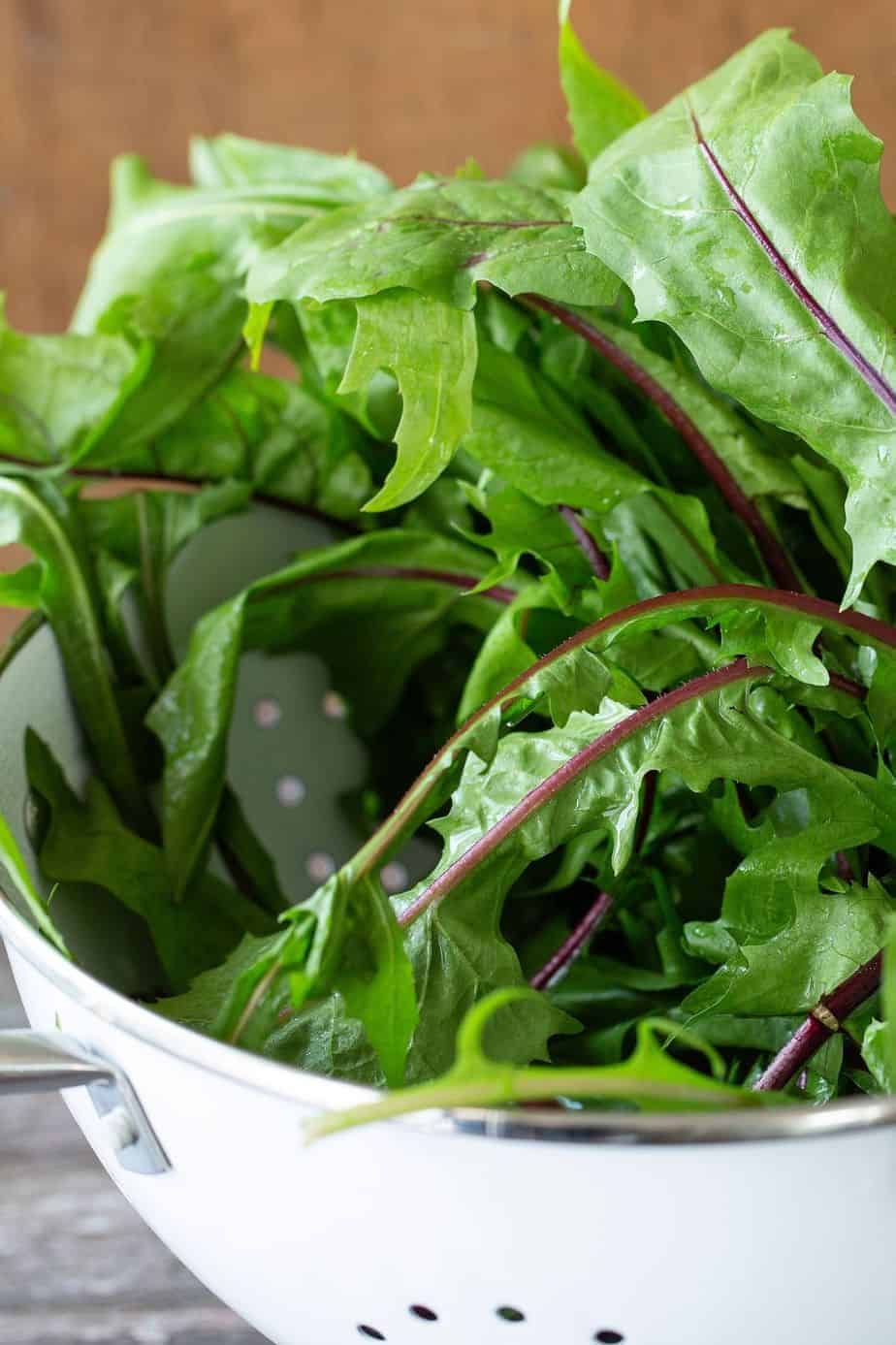 Ingredients:
This is an extremely simple salad. Feel free and inspired to add whatever additional fruits, vegetables and edible flowers that you desire.
For the salad:
arugula
foraged dandelions crown and greens
For the dressing:
apple cider vinegar
fresh lemon juice
dijon mustard
honey
dried oregano
garlic
sea salt
black pepper
olive oil
1 tablespoon dandelion root (roasted or fresh, ideally fresh so it's easier to blend)
Nutritional benefits of dandelion greens
"One cup of chopped dandelion greens (55 grams) contains approximately:
24.7 calories
5.1 grams carbohydrates
1.5 grams protein
0.4 gram fat
1.9 grams fiber
428 micrograms vitamin K (535 percent DV)
5,588 international units vitamin A (112 percent DV)
19.3 milligrams vitamin C (32 percent DV)
103 milligrams calcium (10 percent DV)
1.7 milligrams iron (9 percent DV)
1.9 milligrams vitamin E (9 percent DV)
0.2 milligram manganese (9 percent DV)
Dandelion greens also contain a small amount of thiamine, riboflavin, niacin, vitamin B6, folate, magnesium, phosphorus, potassium, zinc and copper."
Source: https://draxe.com/nutrition/dandelion-greens/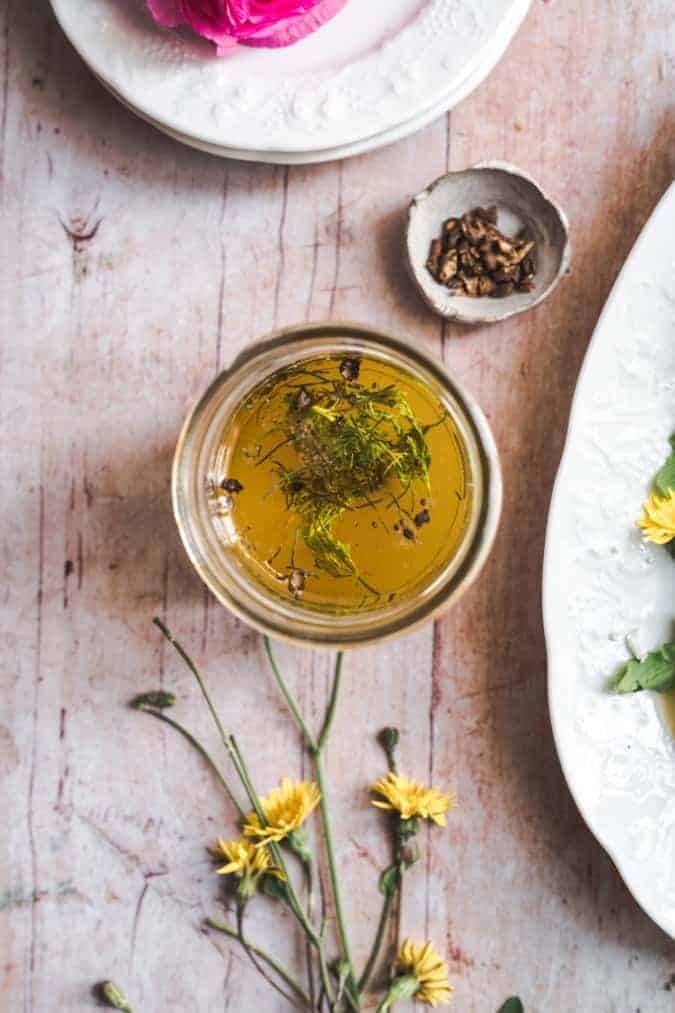 Dandelion dressing:
Roasted dandelion root contains the prebiotic inulin. Inulin is a type of prebiotic soluble fiber found in plants that supports the growth and maintenance of healthy intentional flora. They may also promote antiosteoporotic activity, which appears to improve mineral absorption and balance. Basically, this salad dressing can help feed good bacteria in our gut. And in addition to being wonderfully good for you, this dressing is tangy, well balanced and delicious!
If you plan to harvest whole dandelion and use fresh root, be sure to dig deep to prevent breaking the tip from root and clean well! More on harvesting below.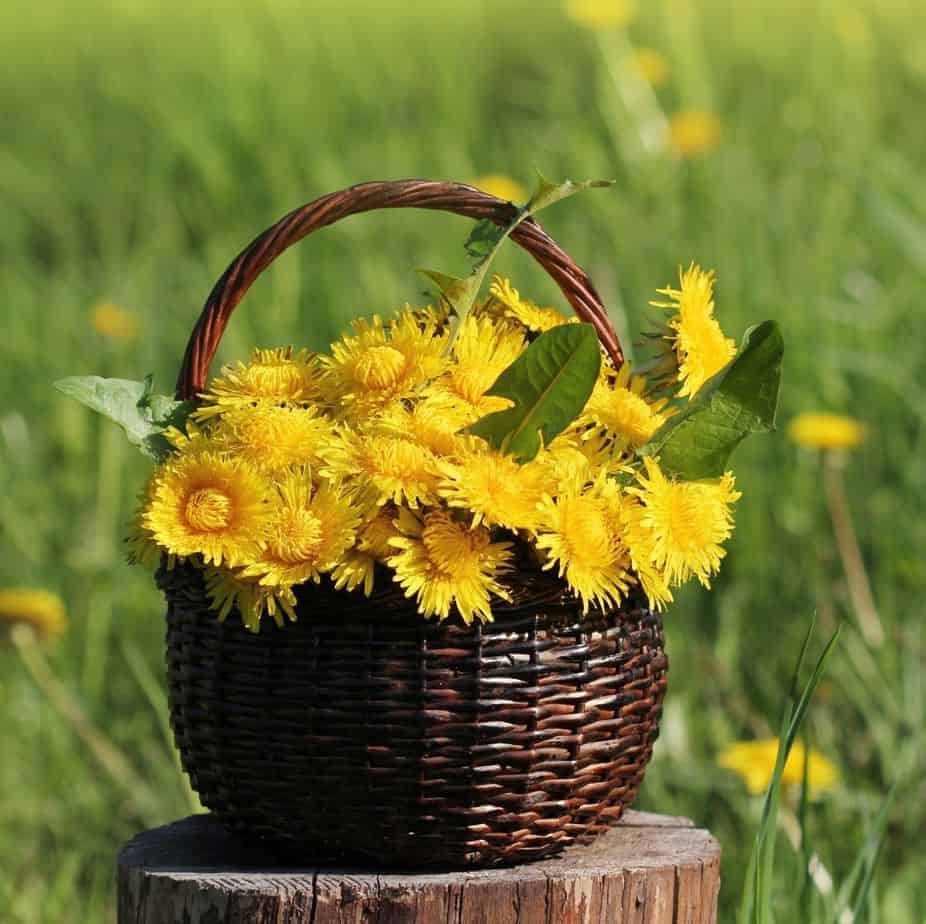 Where to find dandelion greens and how to harvest them:
Dandelions are easily identifiable and abundant. They're notoriously easy to harvest and simple to clean and use. The entire plant is edible from flowers, leaves, to root.
We're lucky to have a garden where they grow abundantly, without fertilizer, however we also don't have pets. Make sure you've located a safe space that's free of fertilizer and that is not visited by dogs.
To harvest the entire plant from root, use a weeding fork. I have and can recommend this one. Angel the fork about an inch into the soil to loosen the root, and then carefully pull the entire plant from the ground. Shake free from dirt and remove any damp or slimy leaves.
Ideally, you would harvest dandelion while it's still young, as it becomes extremely bitter after the leaves become older.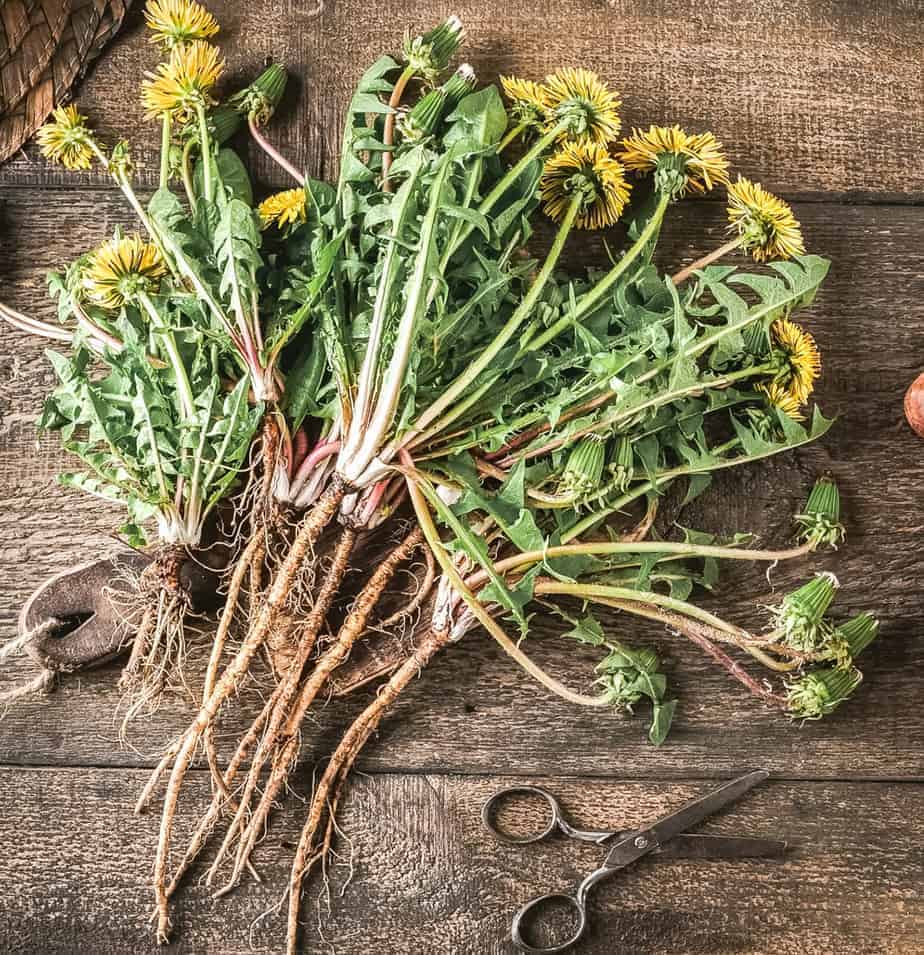 Cleaning dandelions
Run dandelion crowns and green through water, while carefully opening their crowns to be sure you've removed any dirt and pests.
If you're using fresh dandelion root, peel the "skin" as if it were a carrot, and clean it well. Then you can slice it exactly like you would a carrot. Give it a try, it's delicious!
A little history:
Dandelion salad was considered a staple during the Great Depression! In our family, they are a staple in spring.
More foraged salad ideas: