How to make dandelion lemonade
Dandelion lemonade with raw honey will be your new favorite way to enjoy this classic spring and summer drink. Not only is it delicious, learning how to make dandelion lemonade is a great way to enjoy highly nutritious dandelions and your favorite raw local honey or this vegan dandelion honey.
You can enjoy dandelions in your salad, use their flowers to make an oil for your homemade salves, turn it into refreshing iced tea or fresh flower tea, or make a new family favorite: dandelion lemonade! This recipe uses THE whole dandelion for maximum benefits.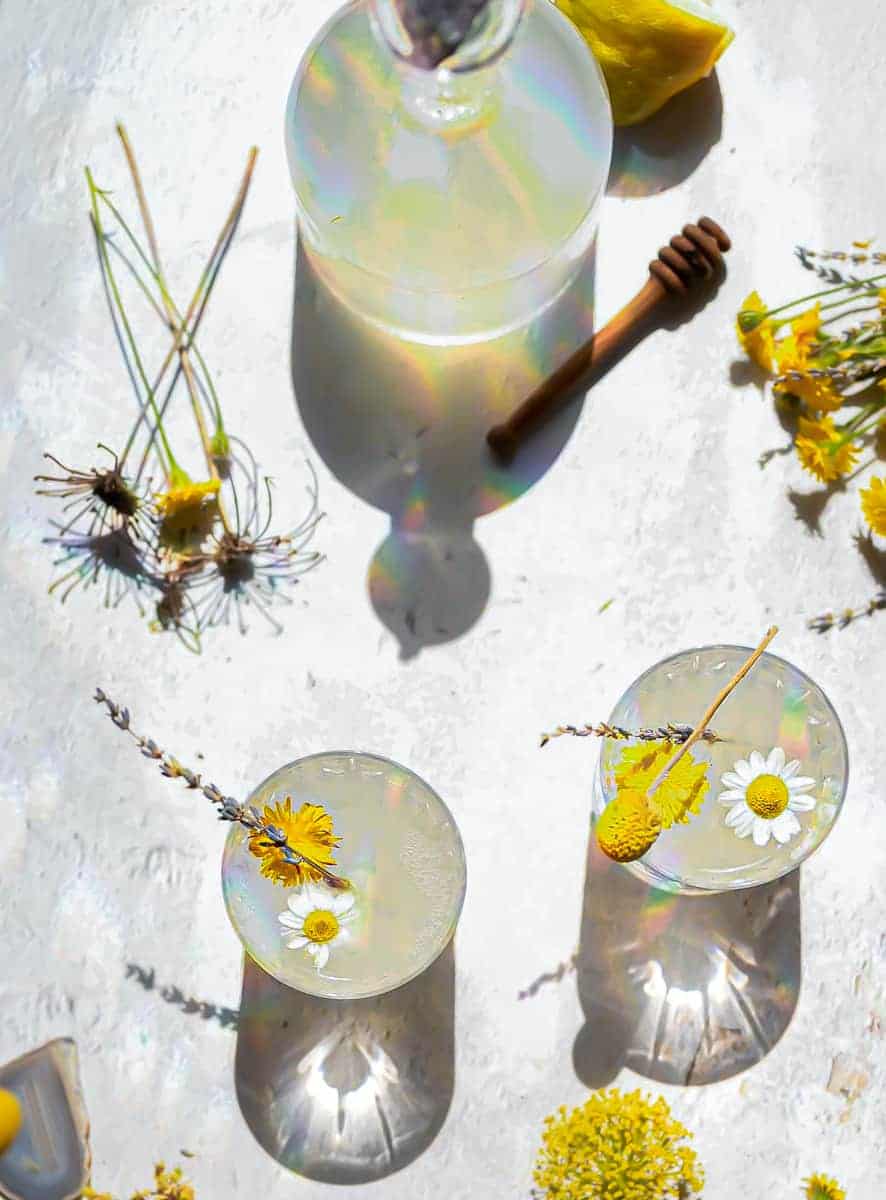 Ingredients in this recipe:
Dandelion greens
Dandelion tops
Dandelion root - fresh or dried, optional.
Water
Raw honey
Quantities in recipe card below!
What sweetener we used in this recipe:
Without a doubt - lemonade needs some sweetness ! We added this delicious raw wildflower honey into our lemonade for a beautiful flavor infusion, however you can add any type of honey you desire! I have since made dandelion lemonade with lavender-infused honey and it was what dreams are made of! You could also try out homemade sugar cubes, a botanical simple syrup, and add some additional sweet tasting flowers - like chamomile. Get creative! Add as much or as little as your heart desires.
The benefits of dandelions:
From their root to their flower, dandelions are considered to be a highly nutritious plant. Dandelions can be eaten raw or cooked (or consumed in delicious lemonade!) and are an excellent source of vitamins A, C, and K. They also contain vitamin E, folate and small amounts of other B vitamins. And dandelion greens contain several minerals, including iron, calcium, magnesium, and potassium. Dandelions are often thought to improve skin health and provide relief for cramps and aches.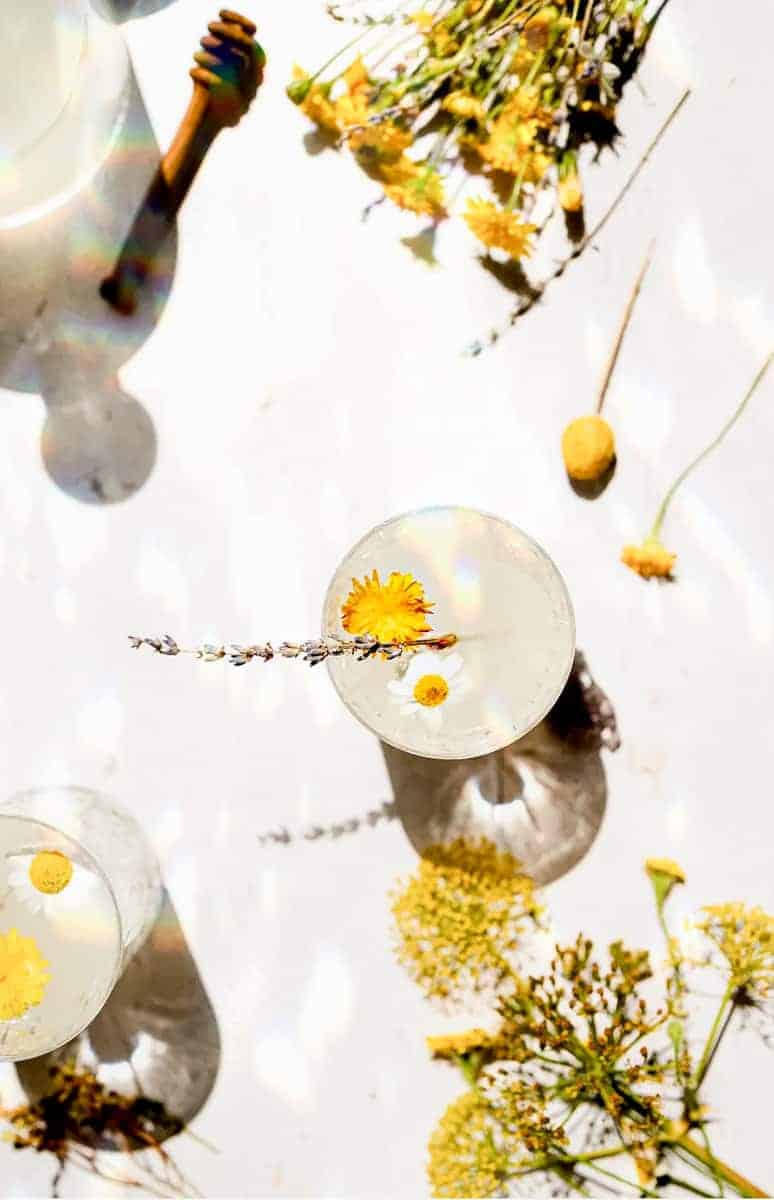 Harvesting your dandelions:
Dandelions are easily identifiable and abundant. They're notoriously easy to harvest and simple to clean and use. The entire plant is edible from flowers, leaves, to root.
I like the harvest my dandelions from my own garden. We're lucky to have a garden where they grow abundantly, without fertilizer, however we also don't have pets. Make sure you've located a safe space that's free of fertilizer and that is not visited by dogs.
To harvest the entire plant from root, use a weeding fork. I have and can recommend this one. Angel the fork about an inch into the soil to loosen the root, and then carefully pull the entire plant from the ground. Shake free from dirt and remove any damp or slimy leaves.
Ideally, you would harvest dandelion while it's still young, as it becomes extremely bitter after the leaves become older.
Cleaning dandelions for consumption:
Run dandelion crowns and green through water, while carefully opening their crowns to be sure you've removed any dirt and pests.
If you're using fresh dandelion root, peel the "skin" as if it were a carrot, and clean it well. Then you can slice it exactly like you would a carrot. Give it a try, it's delicious!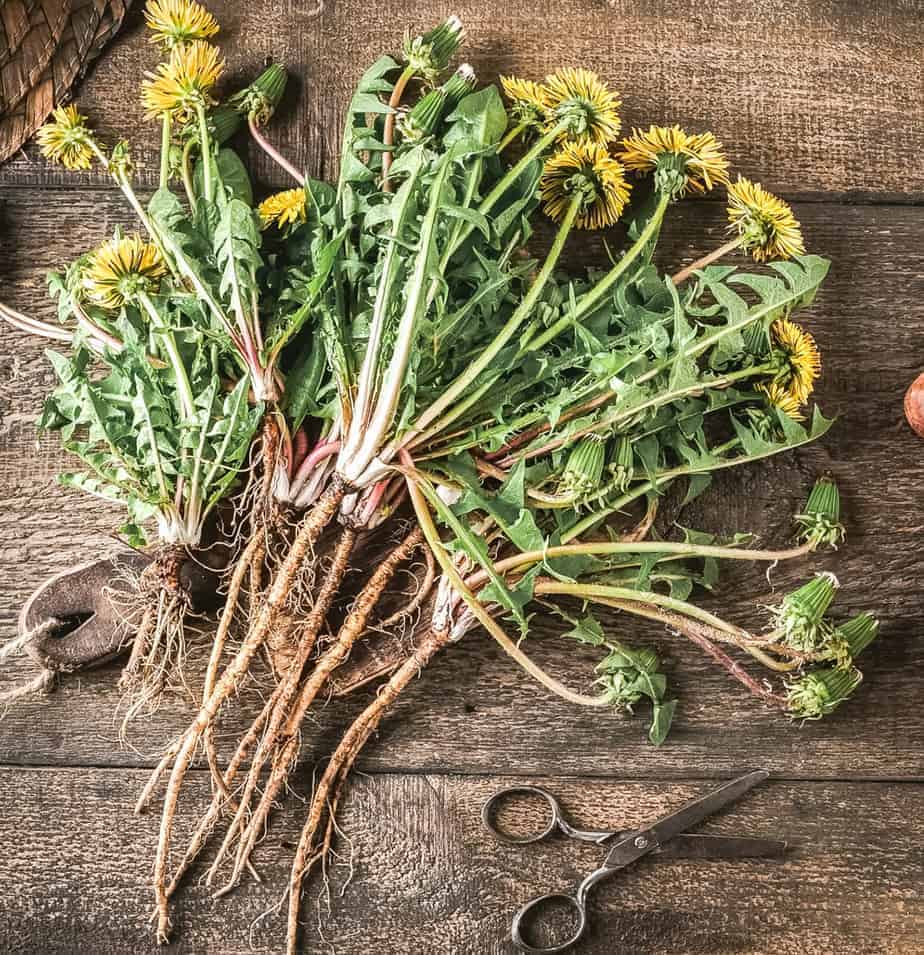 Nutritional benefits of dandelion greens:
The greens of the dandelion are highly nutritious, though the entire plant is edible!
"One cup of chopped dandelion greens (55 grams) contains approximately:
24.7 calories
5.1 grams carbohydrates
1.5 grams protein
0.4 gram fat
1.9 grams fiber
428 micrograms vitamin K (535 percent DV)
5,588 international units vitamin A (112 percent DV)
19.3 milligrams vitamin C (32 percent DV)
103 milligrams calcium (10 percent DV)
1.7 milligrams iron (9 percent DV)
1.9 milligrams vitamin E (9 percent DV)
0.2 milligram manganese (9 percent DV)
Dandelion greens also contain a small amount of thiamine, riboflavin, niacin, vitamin B6, folate, magnesium, phosphorus, potassium, zinc and copper."
Source: https://draxe.com/nutrition/dandelion-greens/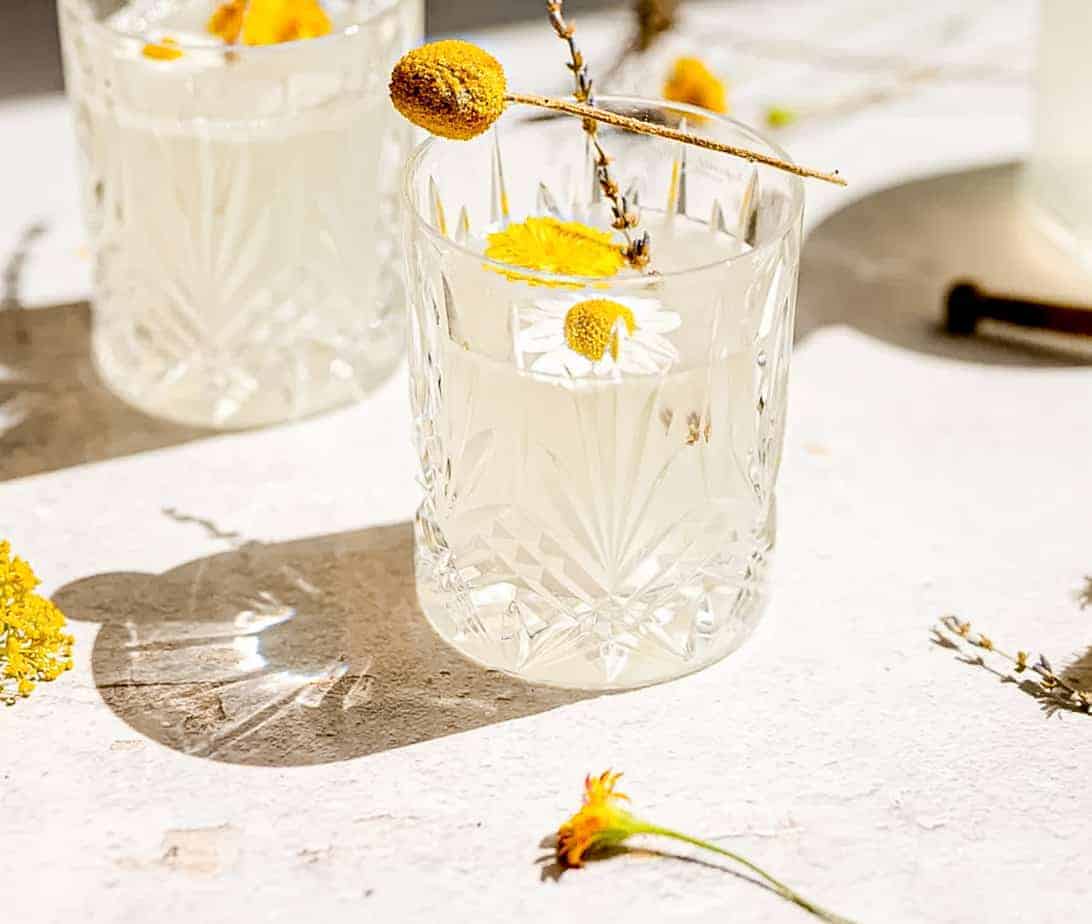 Benefits of dandelion root:
Dandelion root contains a considerable amount of inulin. Inulin is a type of prebiotic soluble fiber found in plants that supports the growth and maintenance of healthy intestinal flora. Aka everything we need right now to stay well. And since dandelion root works best when simmered or boiled to extract the inulin, I put it in my lemonade. Inulin has anti tumor, antimicrobial, hypolipidemic and hypoglycemic properties. They may also promote antiosteoporotic activity, which appears to improve mineral absorption and balance. We love dandelion root in our healing herbal broths and teas as well.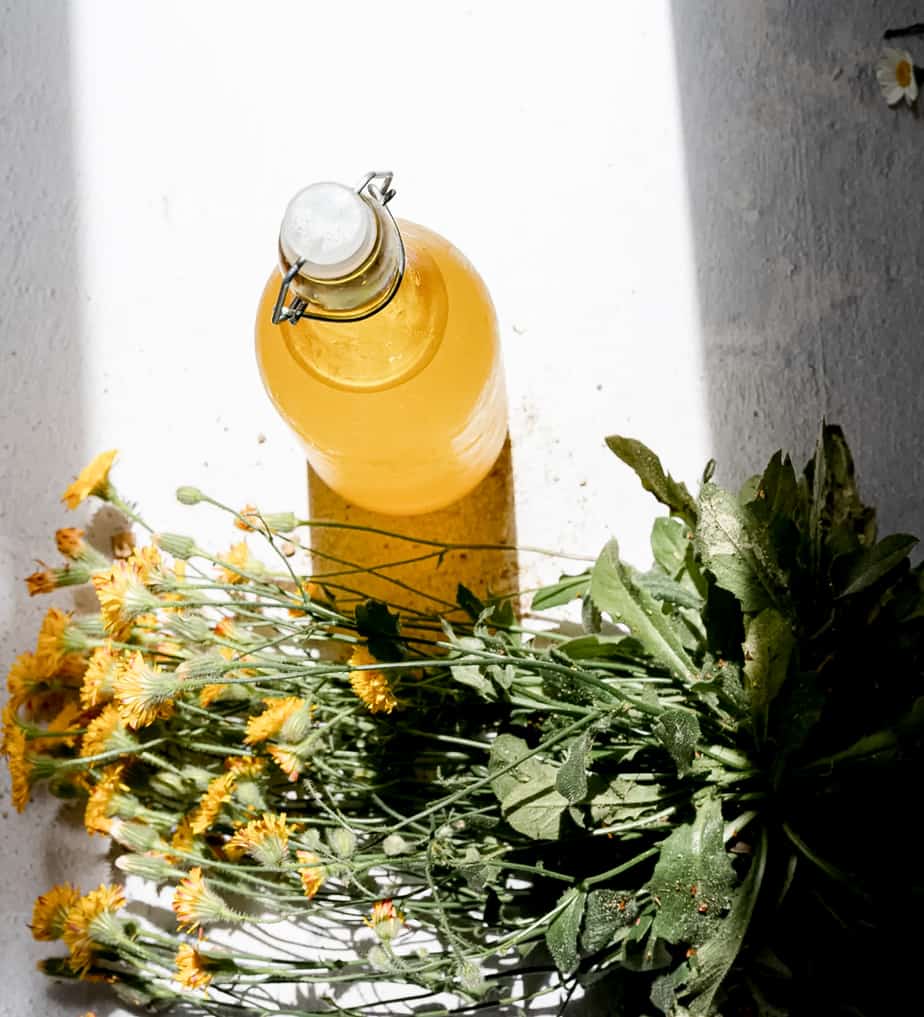 Dandelion lemonade
Dandelion lemonade will be your new favorite way to enjoy this classic spring and summer drink. Not only is it delicious, it's a great way to enjoy highly nutritious dandelions and your favorite raw local honey. 
Ingredients
One quart of fresh dandelion tops

10

whole dandelions - greens

root (raw or roasted - optional)

½

cup

raw honey - more to taste

8

lemons

8

cups

of water
Instructions
Into a large pot, juice all of your lemons by hand or with a juicer in a pitcher

Add 1 cup boiling water and ½ cup of honey to your pitcher of lemon juice.

Allow mixture to simmer until your honey is dissolved.

Turn off heat and let cool.

Add your dandelions to your pitcher

Add seven cups of water and your cooled lemon, honey, dandelion mixture.

Stir and let sit in the fridge for one - three days to let all of the ingredients infuse.

Sieve lemonade to remove dandelions.

Serve over ice and enjoy!
Notes
Feel free to include dandelion root for additional health benefits!
Store lemonade in the fridge for up to one week.
Freeze in ice cubes and store in a zip lock bag.
Nutrition
Serving:
1
g
Calories:
64
kcal
Carbohydrates:
18
g
Protein:
1
g
Sodium:
9
mg
Fiber:
1
g
Sugar:
15
g
If you're looking for more delicious summer drink recipes, find some here + be sure to pin for later inspiration!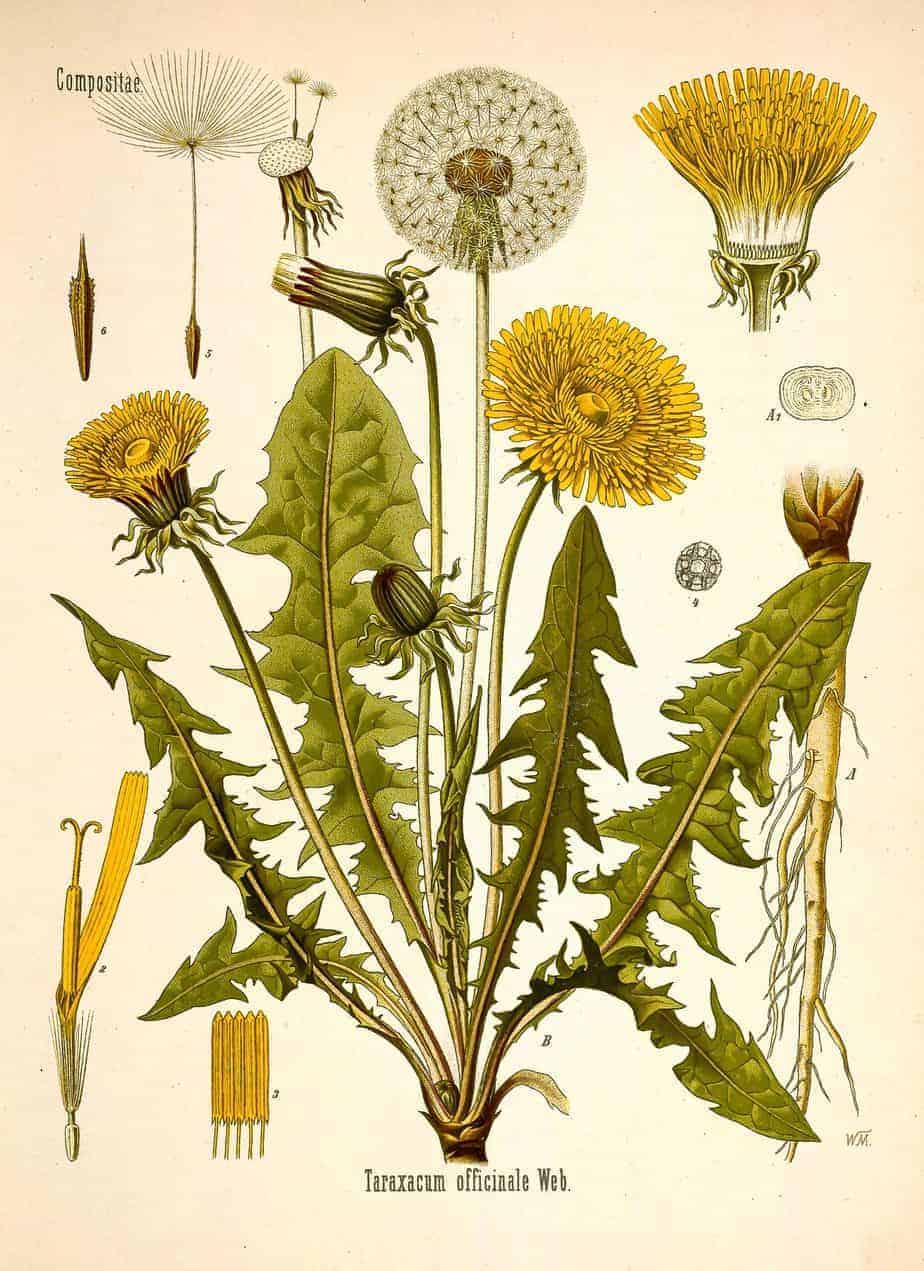 What else can I make with my dandelions?
Enjoy these other recipes on frolic and fare with dandelions.
I hope this recipe works beautifully for you and is enjoyed for many years to come. Thank you so much for reading. Your visit to my site helped support a small mama run business today. If you enjoyed it, I would be so honored if you would share with your loved ones.
Sending love, fresh baked cookies, and a bouquet of your favorite flowers.