Mini Classic Quiche Lorraine Recipe
This is a perfect mini classic Quiche Lorraine recipe for a small garden gathering. It's a simple open savory pie with a filling of creamy, caramelized onions, custard and lardons (or bacon!) It's baked to perfection in a simple homemade crust. It's the perfect individualized dish for breakfast, brunch, dinner, showers, easter, and tea parties!
This recipe is for a classic mini Quiche Lorraine, which is the perfect addition for small gatherings when you want something individualized and darling!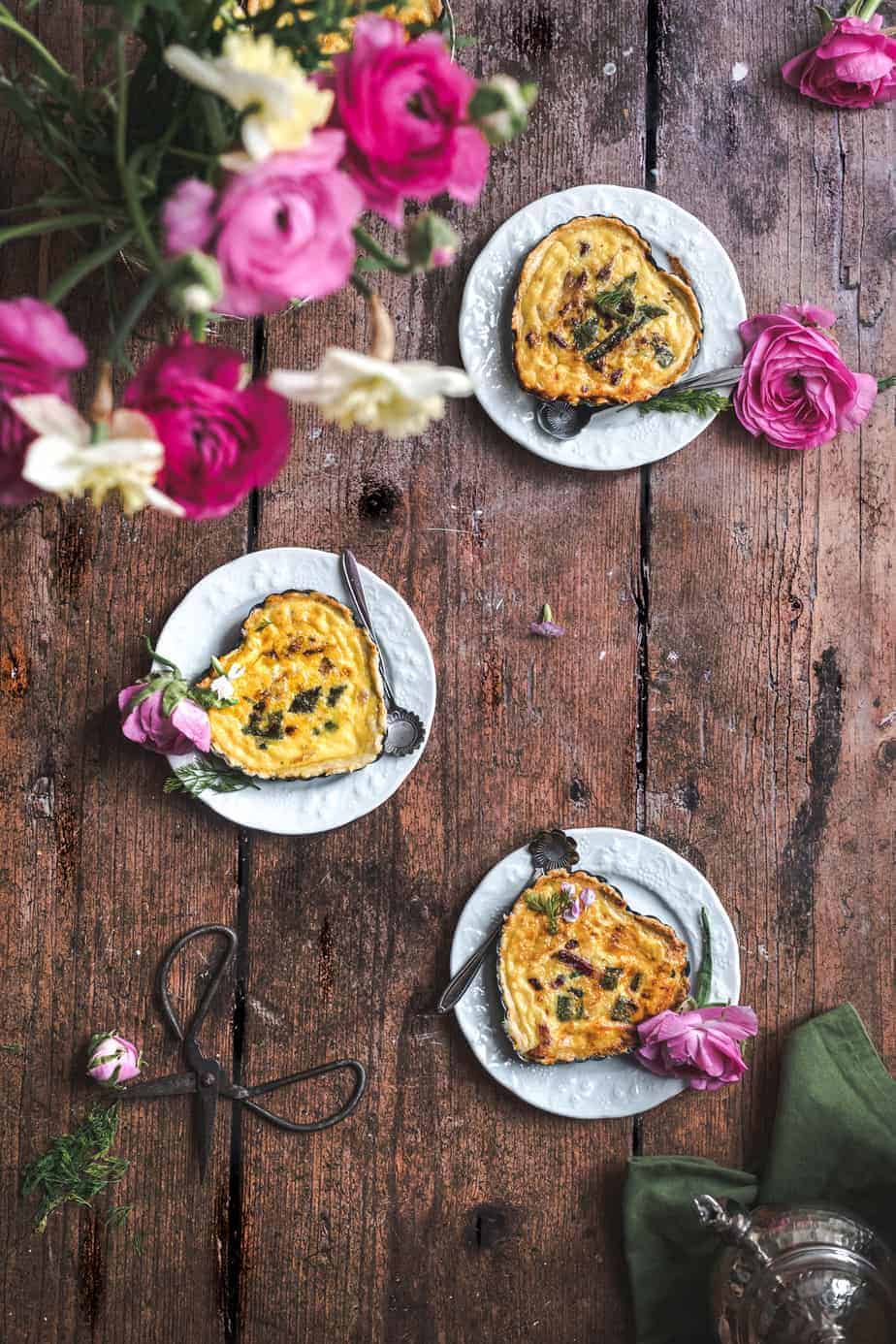 What is Quiche Lorraine?
This particular dish was popularized in America in the 1950's, and endless variations of quiche have emerged since. Quiche Lorraine is considered a classic dish of French cuisine, however the base quiche recipe originated in Lothringen Germany, and the name was adapted from Kuchen (cake in German) The original quiche was a simple pie crust with egg filled custard.
My nana was named Lorraine, and each spring I have a little tea party in the garden for her. I like to make Quiche Lorraine and the breakfast tea she always made me as a child.
Basic steps to Make a mini quiche Lorraine
It's not intimidating at all! This is the steps you'll take to bake a perfect mini Quiche Lorraine.
Bake your pie crust – Nothing fancy! No blind bakes, no pie weights. I used mini tart pans so I simply pressed my crust into my pans.
Sauté your add ins – This includes your bacon or lardons, onions, and additional vegetables of choice.
Make your custard – Beat your half & half and add in your add ins.
Bake – Pour your filling into crust and bake until set. In mini tins, it takes 30 minutes to set.
ingredients you'll need from the store:
Eggs: Eggs are used for both the crust as a binder, and for the quiche custard. We'll use 6 eggs in this recipe!
Ice water: for the quiche crust
All purpose flour
Butter
Bacon or lardons, chopped into small pieces
Yellow onion or spring onions
Gruyere cheese (classic) or any cheese of choice. I also love to use parmesan, Swiss or cheddar.
Paprika
Nutmeg
Sea salt + ground pepper
optional add ins
If you want to add additional meats, cheese or vegetables into your quiche, go ahead! I love how adaptable this quiche recipe is. You may want to add:
Additional cheese
Spinach
Garlic
Ham
Sautéed mushrooms
Freshly chopped herbs
Frequently asked questions
Can I make this recipe ahead of time?

Yes you can. Quiches are traditionally served at room temperature. If you want to keep it classic, you can bake your quiche one hour ahead of your expected serving time, and then refrigerate it for one hour.

If you prefer you quiche warm, bake at 300?F for 10 minutes, covered.

You can also premake or pre bake your crusts, prepare your custard, and sauté your ad ons ahead of time, and assemble right before baking.
Can I freeze this recipe?

Quiche Loraine can be frozen without problem! Freeze for up to three months. To thaw, move the quiche to your refrigerator overnight and then heat covered at 350?F for 30 minutes, covered.
Do I need to blind bake the crust?

I don't blind bake my mini quiche crust. I do when I'm making a large quiche for a crowd, but for this recipe, I saved time and steps by simply pressing my quiche crust into my tart pan.
Can I make it without the crust?

You bet! I love a good crustless quiche. However, you'll want to carefully line the bottom of your tart pan as the custard will likely seep through. I would use some parchment paper to help prevent this, or use a different type of pan all together.
what to serve with quiche
I love to serve something light and refreshing with quiche!
Fruit Salad
Roasted potatoes
Fresh vegetables
Save this recipe for later on pinterest:
Click the image below to pin this recipe for later!
Mini classic quiche Lorraine recipe
This is a perfect mini classic Quiche Lorraine recipe for a small garrden gathering. It's a simple open savory pie with a filling of creamy, caramelized onions, custard and lardons (or bacon!) It's baked to perfection in a simple homemade crust. It's the perfect individualized dish for breakfast, brunch, dinner, showers, easter, and tea parties!
Ingredients
For the crust:

1

large egg

2

+ ½ tablespoons ice water

1

+ ½ cups all-purpose flour

½

teaspoon

sea salt

10

tablespoons

unsalted butter

cubed into small pieces

For the custard:

½

lb

thin strips of bacon chopped into ½ inch pieces

½

yellow onion diced

or 3 spring onions diced

½

cup

shredded cheese

1 ½

cups

half & half

4

eggs large

½

teaspoon

kosher salt

¼

teaspoon

black pepper finely ground

¼

teaspoon

smoked paprika

⅛

teaspoon

ground nutmeg
Instructions
Prepare the crust

In a small mixing bowl, whisk together the egg and ice water. Set aside.

In a food processor, add the salt and flour. Pulse until combined. Add in the the cubed butter pieces and pulse until soft. Add in the egg and ice-water.. Pulse until a soft dough is formed.

Carefully remov dough from food processor and transfer to a lightly floured surface. Roll out your quiche crust. I like to use my mini tart pans to stencil around the crust, for reference. I cut about ½ inch larger than the stencil. Gently move cut dough into tart pan and press down firmly with fingers. If there is extra hanging over, simply trim.

Move dough in pans to freezer for 20 minutes. Your dough will be nice and flaky if it's baked cold.
Prepare the add ons:
Preheat oven to 350 F

Preheat a large skillet over medium heat and add chopped bacon. Cook, stirring often until the fat is rendered and the bacon is crisp. Remove bacon with a slotted spoon to a separate dish.

Add the diced onions to the bacon fat and cook stirring often until the onions are golden. Remove with a slotted spoon to the dish with the bacon.

Add in any other vegetables you'd like to add. I used peppers.
Prepare the custard:

In a large bowl whisk 4 eggs, then add 1 ½ cups half and half, ½ teaspoon salt, ¼ teaspoon pepper, ¼ teaspoon paprika and ⅛ teaspoon of nutmeg and whisk together for about a minute to incorporate a little bit of air into the custard. Stir in the cheese, prepared bacon and onion then pour the filling into the prebaked crust.


Bake the Quiche Lorraine:

Bake the quiche Lorraine in a preheated 350 F oven for about 30 minutes, or until a knife inserted into the middle comes out clean and the center jiggles slightly. The quiche will continue cooking after it is removed from the oven. Cool slightly before serving and garnish with fresh herbs if desired.
Notes
Quiche lorraine is traditionally served at room temperature. Wait for quiche to cool for at least 10 minutes before removing it from the mini tart pan.
Nutrition
Serving:
1
g
Calories:
340
kcal
Carbohydrates:
16
g
Protein:
26
g
I hope this recipe works beautifully for you and is enjoyed for many years to come. Thank you so much for reading. Your visit to my site helped support a small mama run business today. If you enjoyed it, I would be so honored if you would share with your loved ones.
Sending love, fresh baked cookies, and a bouquet of your favorite flowers.