Blackberry jam cake with basil mint buttercream
Embrace the season with this gorgeous blackberry jam cake with mint basil buttercream. With deliciously moist layers of decadent cake and blackberry jam, covered in silk herbal buttercream. This is our favorite cake for summer and garden themed celebrations, but really - you can't go wrong with this beauty any time of year.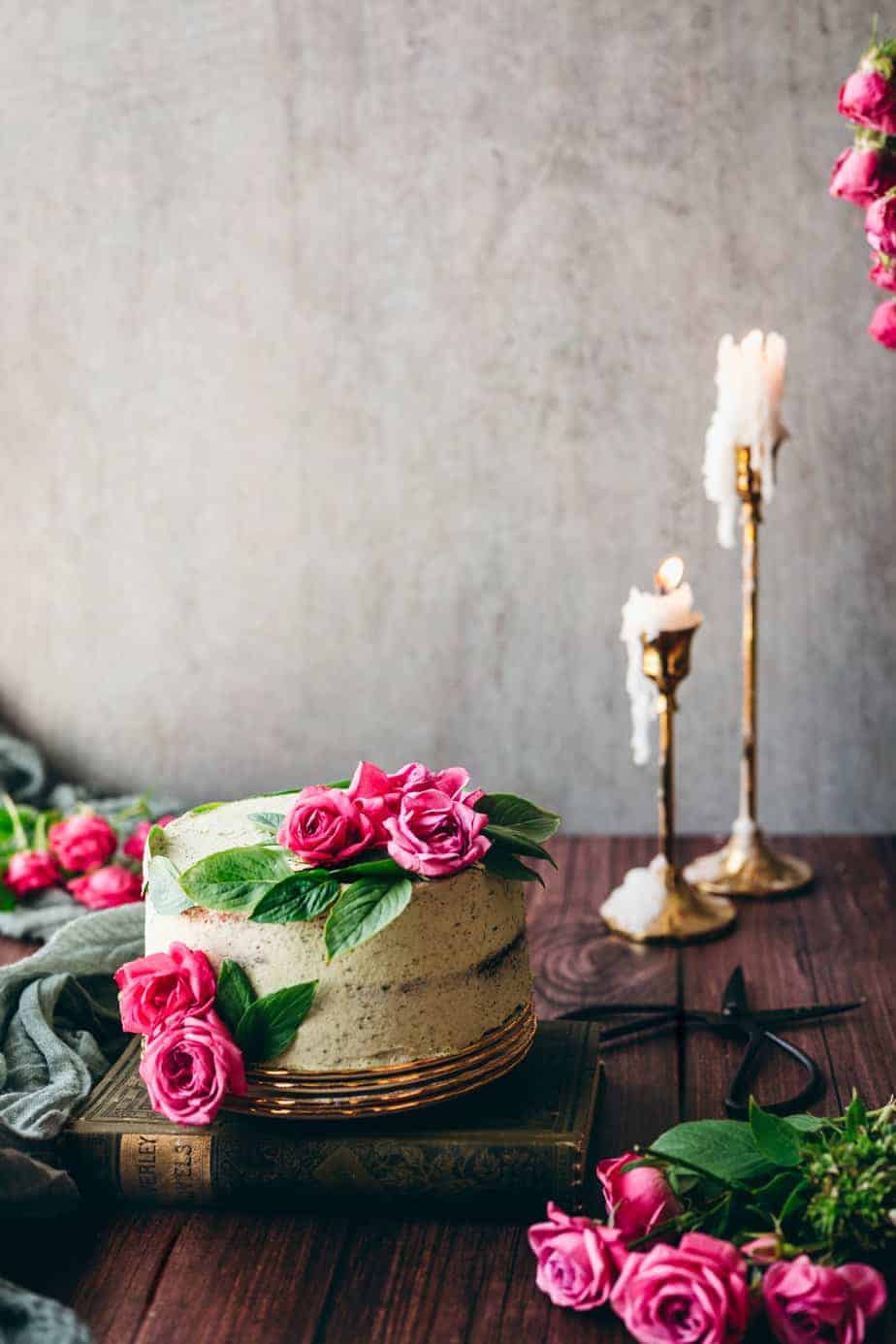 About the flavor:
This cake is oh so special. Delicately enhanced with warm spices, and combined white sugar and brown sugar, as this sugar mixture yields rich caramel notes as it bakes. The cake batter is has fresh blackberries whipped inside, because a cake is so luxurious and becomes even more moist when you add fresh seasonal fruit. And you can't forget the delicious blackberry in between the layers, store bought or homemade jam will do just fine. The garden fresh buttercream will surprise and delight you as you experience how amazing these bright herbs pair with sweet sugar and butter, whipped into an unforgettable icing.
About the garnish:
I just used some fresh basil and roses from the garden. Some candied basil, candied blackberries or candied rose petals would also be a really nice touch.
cake:
2 ¼ cups all purpose flour
2 tsp baking powder
1 teaspoon cinnamon
¾ tsp salt
¾ cup unsalted butter room temperature
1 cup granulated sugar
½ cup brown sugar
3 large eggs room temperature
1 ½ tsp vanilla extract
1 cup milk or buttermilk, room temperature
½ cup seedless blackberry jam, preferably a delicious homemade blackberry jam
½ cup blackberries
BASIL MINT FROSTING:
3 sticks (1 and ½ cups) unsalted butter, room temperature
5 cups granulated sugar (we will process it to turn it into caster sugar, granulated sugar or icing sugar)*
½ cup fresh mint leaves
⅓ cup fresh basil leaves
⅓ cup heavy cream or buttermilk at room temperature
1 teaspoon salt
1 tablespoon vanilla extract
CAKE:
Preheat oven to 350F. Grease and flour three 6 inch cake rounds and line the bottom of the pan with a piece of round parchment paper.
In a medium bowl, whisk flour, baking powder, and salt until well combined. Set aside.
Using a stand mixer fitted with a paddle attachment or a hand mixer, cream butter, and sugar on med-high until pale and fluffy - this usually takes 2-3 minutes. Reduce the speed of your mixer and add eggs one at a time fully incorporating after each addition. Add in your vanilla extract.
Turn off mixer and slowly add in your flour and milk or buttermilk to your creamed butter and sugar mixture, fully incorporating the mixture before adding more.
Gently fold in your blackberries
Pour cake batter into your prepared cake pans.
Bake for 30 minutes or until a toothpick inserted into the center comes out mostly clean. If it's not clean, continue to bake in five minute increments, checking each time. I've never had to bake this cake longer than 35 minutes.
Place cakes on wire rack to cool for 10mins then turn out onto wire rack. Allow cakes to cool completely.
BUTTERCREAM:
Make a basil and mint sugar by combining your fresh herbs with 3 cups of granulated sugar in a high speed blender or food processor. By blending for a minute or two, you will get ultra fine powdered sugar, combined with fresh herbs. Remove from blender and process your other two cups of granulated sugar to a fine powder. Mix well. Set aside in a large mixing bowl.
Add the butter and one cup of the basil mint powdered sugar to the bowl of a standing mixer fitted with the whisk attachment. Beat on low just to blend, then beat on high for 3 minutes, stopping to scrape down the sides of the bowl a few times.
Add the heavy cream and another cup of powdered sugar. Beat on low speed to blend, then on high speed for another two minutes, stopping to scrape down the sides of the bowl a few times.
Add two more cups of powdered sugar and the salt and vanilla extract. Beat on low to combine, then on high for about 1 minute, until the buttercream is completely smooth.
Check the consistency and beat in more powdered sugar if the buttercream is too thin. Add more heavy cream or buttercream if it's too thick. Taste, and add another pinch of salt if you need to take the edge off the sweetness.
ASSEMBLY:
Place one layer of cake on a cake stand or serving plate.
Pipe the butter edges of your cake with buttercream.
Add half of your jam in between the "walls" of the buttercream, and then place another cake layer on top of it, repeat for next layer (see photo)
After assembly, top the top layer of cake with approximately ⅔ cup of buttercream and spread evenly. Frost and smooth the outside with a thin crumb coat. Chill for 20 mins.
After chilling, frost the remaining buttercream and smooth until you have clean, smooth lines.