What to do and where to stay in Nizwa
Nizwa is such a beautiful place with so much to see and do. From exploring the ancient forts to shopping at the Friday morning souq, there's something for everyone in Nizwa. But let's face it - finding the perfect place to stay can be tricky. That's why I'm here to help! I wrote this post and created an itinerary to help you enjoy a leisurely weekend in Nizwa, especially if you're traveling with kids.
The Intercity Hotel is a fantastic option with its affordable, cozy rooms, delicious food, and prime location. It's simply perfect for families and couples alike. The hotel staff is amiable and accommodating, and they'll go out of their way to make your stay as comfortable as possible. If you're looking for things to do during your stay in Nizwa, there are a few must-see attractions that you should take notice of. The Friday morning souq, for example, is a bustling marketplace filled with local crafts and goods. You'll find everything from spices to pottery to textiles here, and it's a great place to get a feel for the local culture. With some planning and suitable accommodations, you'll have a fantastic Nizwa weekend that you'll always cherish! The famous goat market starts so early that it makes sense to stay over and wake up refreshed.
I enjoyed how comfortable and affordable the Intercity Hotel was. Its location made it the perfect spot for families to explore, rest, and be surrounded by anything they may need. This itinerary is suitable for those on vacation or staycation and can easily be adapted.
Where to stay in Nizwa:
Looking for suitable accommodation for a family weekend in Nizwa can be challenging, especially when you want to balance comfort and affordability. While traditional inns can offer a cozy experience, they may not be suitable for families with specific requirements. On the other hand, luxury resorts may be a little too expensive and far from the city center. However, the Intercity Hotel is a great option that ticks all the boxes. This hotel offers affordable rates without compromising comfort, and the food is mouth-watering. It's perfect for families who want to enjoy a fun-filled weekend in Nizwa.
The hotel is conveniently located next to an exciting water park and across from the Nizwa grand mall, where you can indulge in some shopping, arcade games, movies, and bowling. Take a trip to the famous Friday morning souq, visit Oman Across the Ages museum, and spend a few hours at the water park. You'll love the comfortable rooms, delicious cuisine, and affordability of the Intercity Hotel.
Weekend Itinerary
Here is some inspiration on what you can do over a weekend in Nizwa:
Thursday:
Arrival: Check in to Inter City Hotel, and enjoy a nice lunch at the hotel if you're hungry. The hotel has an excellent, well-rounded menu from which even picky eaters can find something. I personally enjoyed the beetroot salad and lentil soup.
Activity: Discover Harat Al Siybani by taking a stroll, and don't forget to drop by the coffee shop, bait al Sabah. I tried their saffron cake and iced pistachio latte; they're delightful. You'll be amazed by the photo opportunities and beautiful sights that await you. Visiting the coffee shop alone is worth the trip. Staying until the evening was beautiful, as the twinkling lights outside of the cafe turned on.
Activity: Relax at the pool and enjoy a refreshing drink from the rooftop bar. Get to bed early for an early morning start.
Friday:
Breakfast: The breakfast buffet at the hotel is conveniently open at 6 AM, so you can eat and immediately leave to reach the market.
Activity: Every Friday morning, the Nizwa Souq is bustling with activity as locals gather for the goat auction, market, and fort. It's a must-visit destination to experience the local culture and purchase fresh produce and authentic Omani goods. Despite the ample parking space, arriving early to secure a spot is recommended. I woke up at 5:30, quickly got dressed, had breakfast at 6, and left to explore the souq.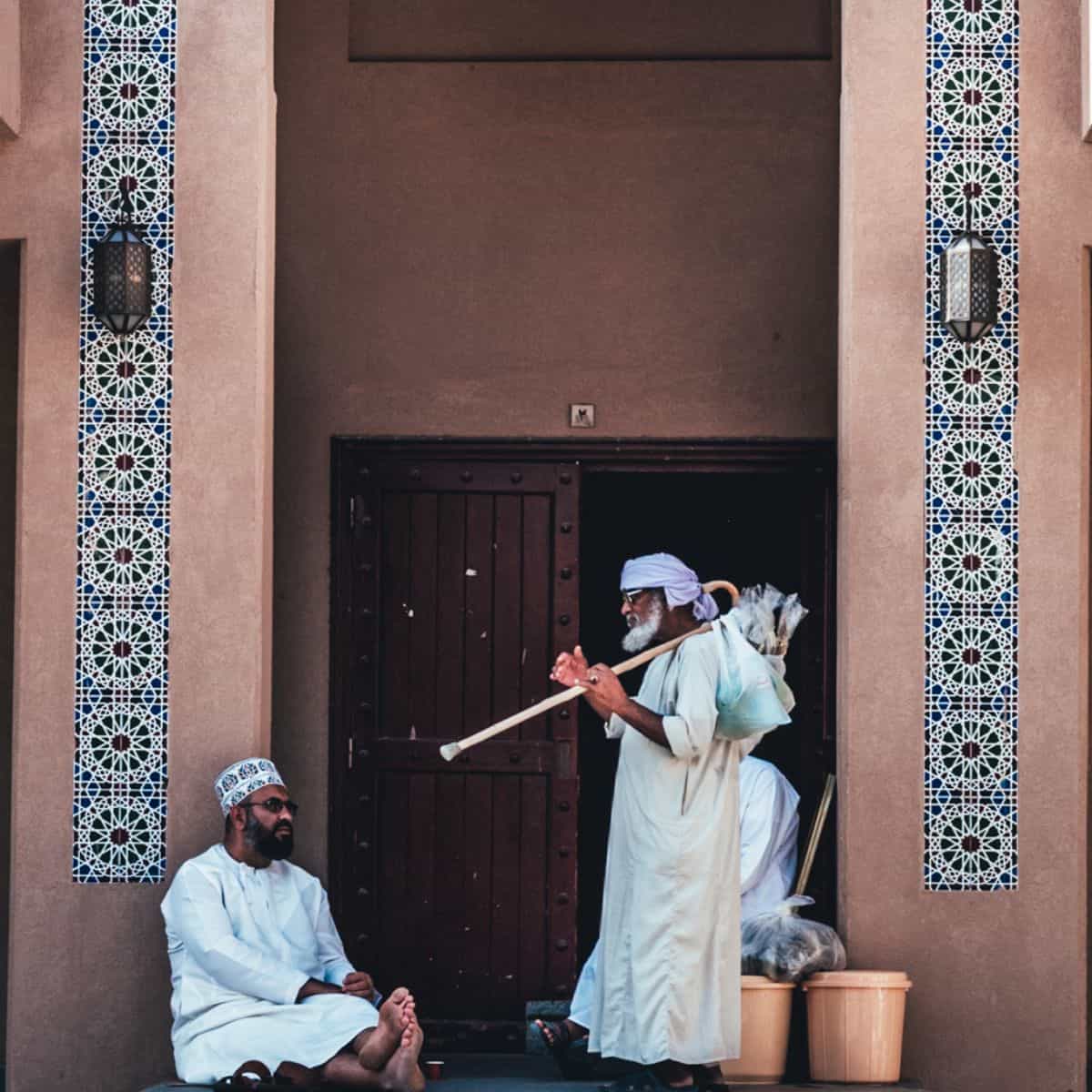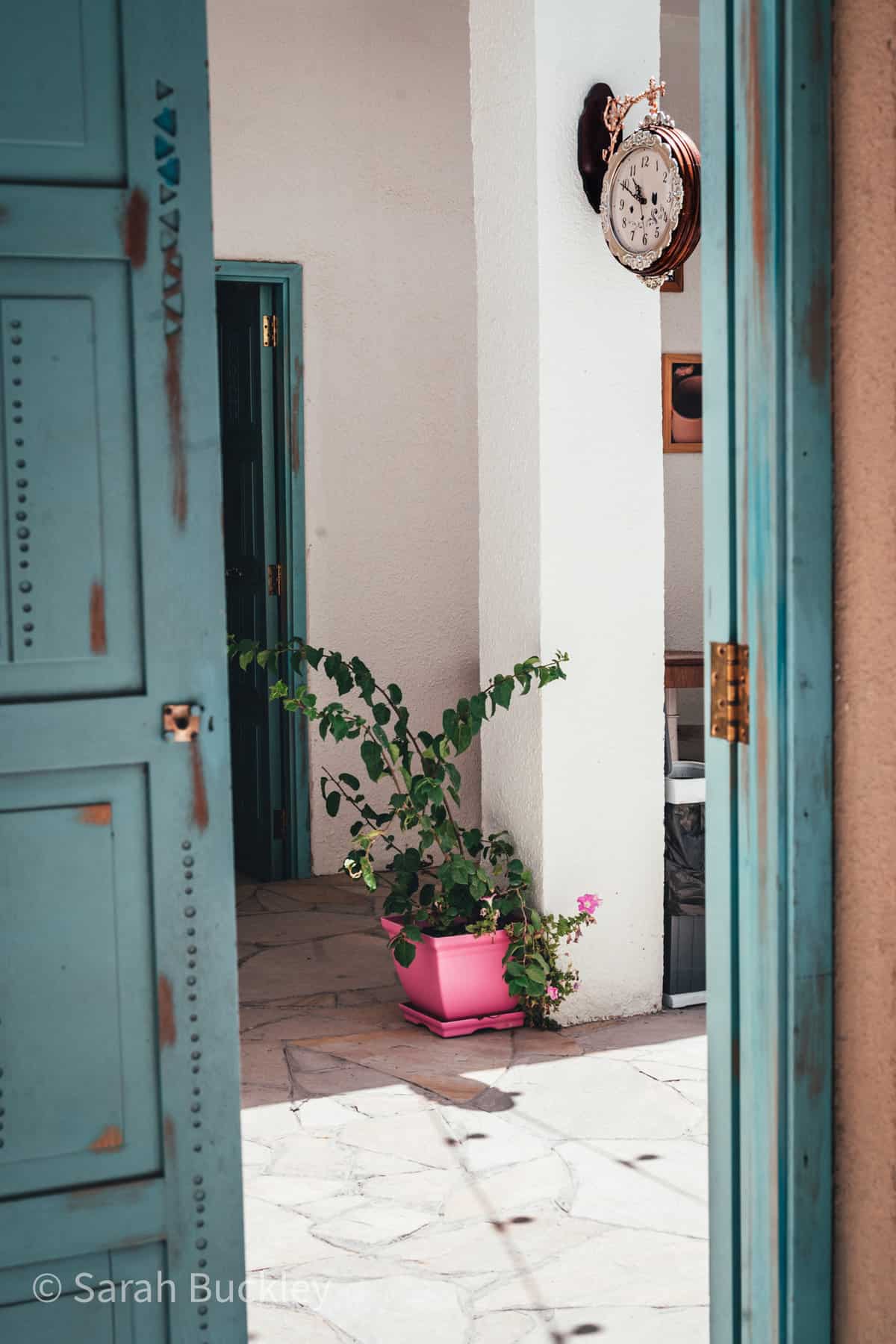 We visited the Fort after exploring the Souk. The Fort is a symbol of the town's importance in Oman's history. It served as a strong defense against invaders who aimed to take control of Nizwa's valuable resources and strategic position at the intersection of important routes. It's a beautiful place to enjoy learning about Oman's diverse history, which includes trade, religion, education, and art.
Lunch: After shopping at the souk, we decided to visit the Nizwa Fort. Inside there is delicious freshly made bread. We enjoyed this for lunch. My kids loved theirs with egg and cheese, while I enjoyed mine with honey.
Evening: After the fort, we were ready to escape the sun. We decided to head over to Oman Across the Ages museum. Note that it opens at one on Fridays. You could easily spend hours here. We spent the remainder of the day at the museum. The museum has a lovely and affordable cafe + a restaurant to enjoy dinner at.
Saturday:
Breakfast: Sleep in and enjoy the breakfast buffet at the hotel; check out early and head to the water park!
Activity: Spend a few hours at the water park before heading home or to your next destination. Note: Culturally appropriate swimwear is required, and the water park does not provide towels, so it's best to pack a few of your own!
After the water park, you'll likely be tired and ready to head home. It's departure time! See you soon Nizwa.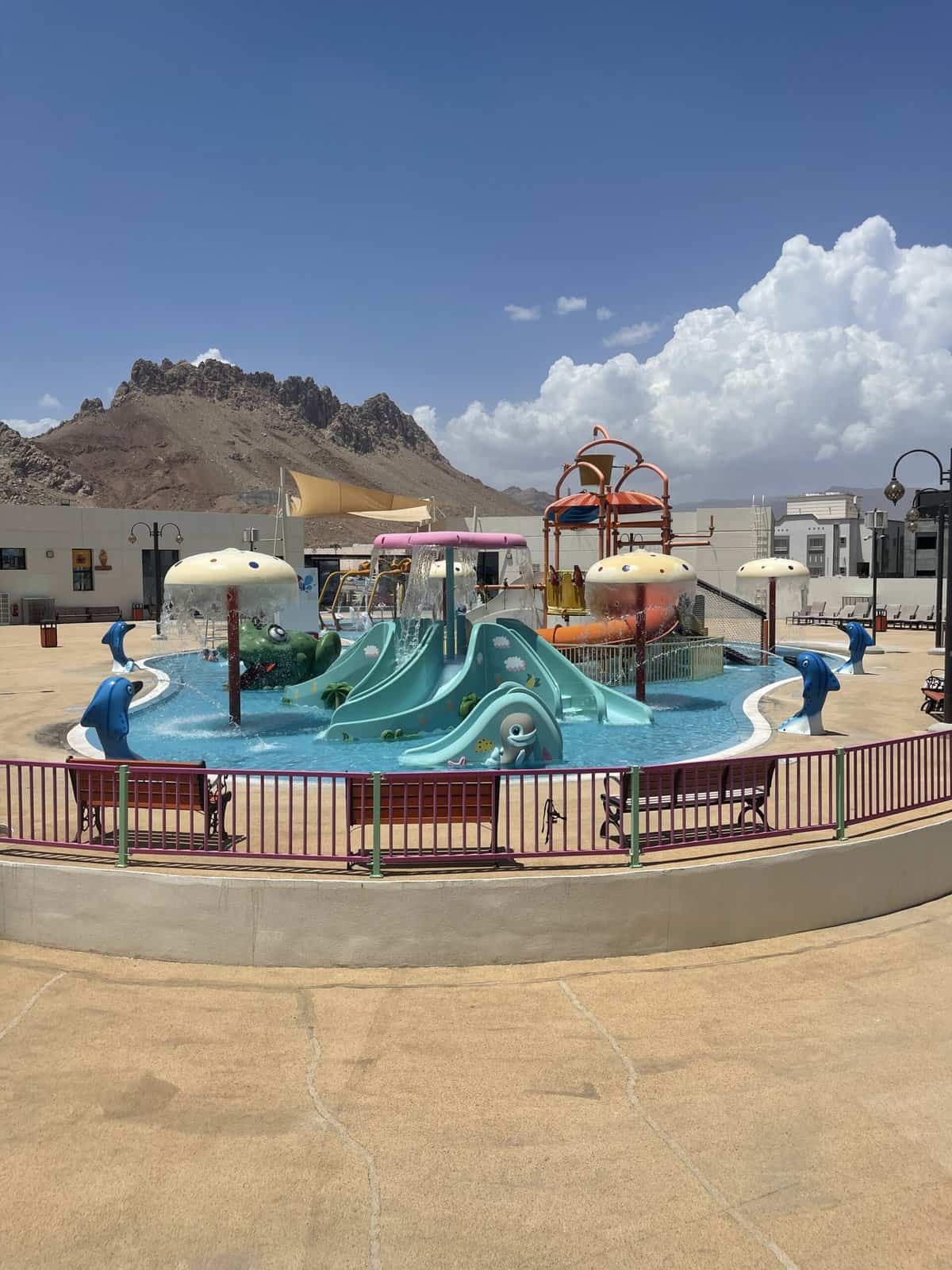 The Itinerary: