Lavender Lemon Shortbread
These perfectly crispy lavender lemon shortbread cookies have a light lavender flavor, are buttery with a crisp crumb and zesty lemon bite. They are the newest in our ever growing collection of perfected lemon lavender recipes.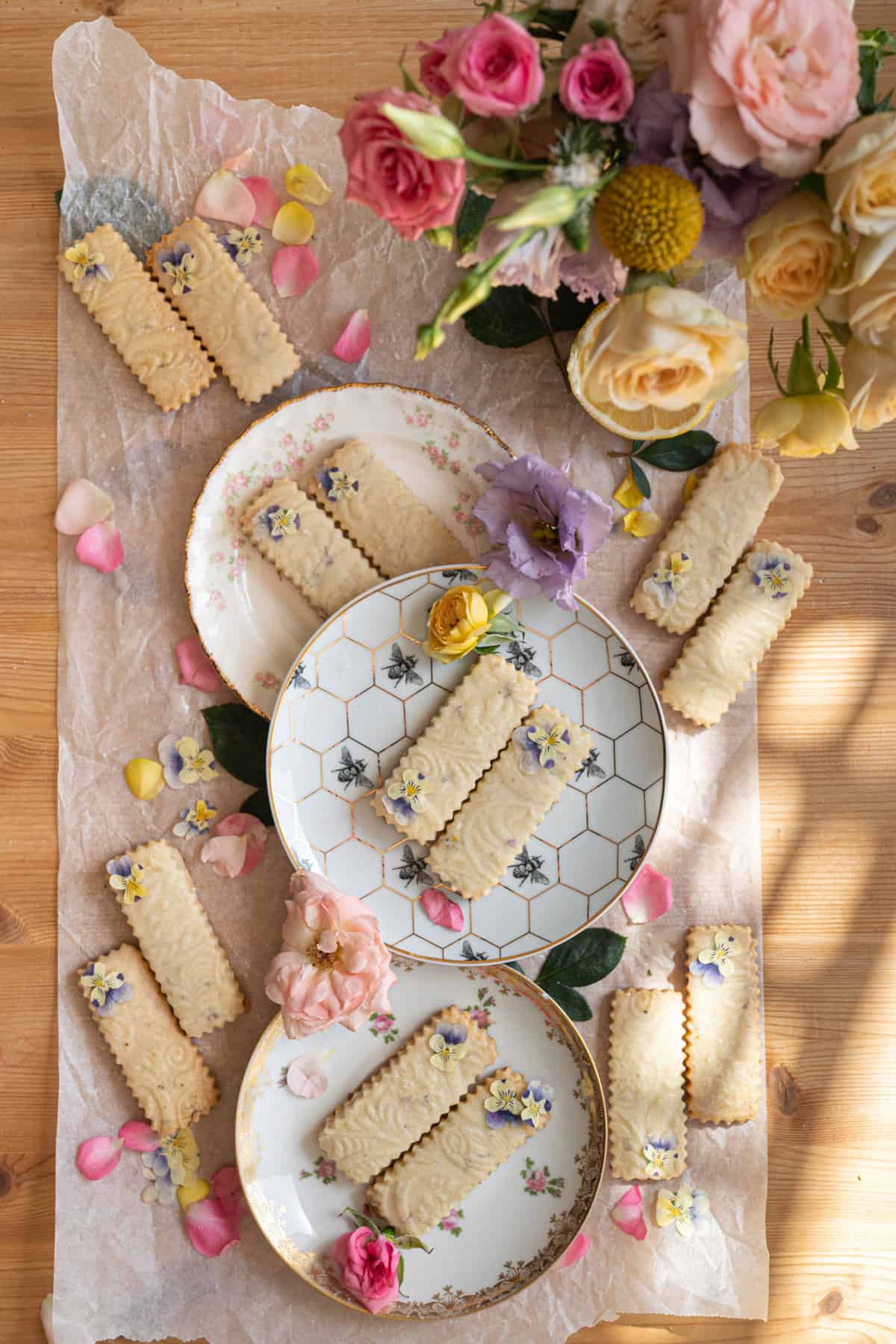 We already have Lavender Lemon Honey Bars, Lavender Lemon Curd, Lavender Bee's Knees, Lavender Lemonade, and our favorite Lavender Lemon Tart. And I'm certain you'll find a few more additions very soon. It's just a combination I'll never stop enjoying.
Why you'll love our recipe:
Our shortbread recipe is tried and true, perfect for rolling out and cutting shapes.
The flavor is light, bright and sweet, impress your loved ones with something new and special.
It's perfect for someone who isn't familiar with lavender or floral flavors who is curious to try. Combined with the lemon zest and buttery shortbread, they will be instantly swooning!
It's elegant enough for your special moments, such as bridal showers, birthday parties, baby showers, spring holidays such as Easter or Mother's Day, or a garden or tea party.
They have a nice, simple and optional lemon glaze, which is perfect for pressing on pressed pansies from the garden.
The ingredients:
butter, softened
icing / powdered sugar
granulated sugar
corn starch
all purpose flour
dried organic rose buds
2 large lemons, zest and juice
vanilla extract or Lavender Vanilla Extract
HOW TO MAKE THEM:
COOKIES:
Preheat oven to 350 degrees F or 176 C.
Start by making your lavender lemon sugar where all of your flavor will come from. Do this by grinding up your granulated sugar, the juice and zest of one of your lemons, and lavender. I use a mortar and pestle, but a food processor or blender works great too. Add your powdered sugar and mix.
Cream butter with your lavender lemon sugar until well incorporated and fluffy.
Sift in the flour and corn starch and gradually mix.
You will need to get your hands dirty and really mix well to incorporate all of the butter into the flour. Work it with your hands until the dough becomes a ball. At this point, you can chill the dough if you're not ready to bake, but it's usually not necessary with this dough. If it's easy to handle, go ahead and continue to next step. If it's too soft, refrigerate for 20 minutes.
On a lightly floured surface, roll out dough about ⅓ inch thick. Cut into desired shapes. I used an embossed rolling pin for the texture and a shortbread cookie cutter for the shape.
Bake for 12 minutes. Longer if you want them golden brown and more crisp (my personal preference) But they should be done and have a nice crumb, and still be pale at 12 minutes if your oven temperature is correct. Let cookies cool on cookie sheets for 5 minutes, then transfer to wire rack.
Let them cool completely and make your icing.
To make your icing, combine your icing sugar, lemon juice and vanilla extract in a medium bowl until it has a smooth and runny consistency. If it needs to be thinned more, add a few drops of water or more lemon juice.
Dip your cookies into the icing when they're completely cooled so they're hard and cool enough to handle.
Let them dry for up to one hour and enjoy!
Frequently asked questions
Should you sift flour when making shortbread?

We recommend sifting flour for all baked goods to break up any clumps. It's especially a good idea in this in a recipe like this that has such few ingredients. However, if you don't have a sifter, you can skip this step.
Why is my shortbread too soft?

Shortbread contains a high amount of butter, so if you find your shortbread too soft, make sure you've chilled your dough before baking. This will allow the butter to harden up a bit. It's also always a good idea to measure ingredients by weight to ensure you have the correct amount of flour to butter ratio. Occasionally shortbread will get soft if it's been handled too long so just stick it in the fridge for a bit and it will become easier to work with.
Do I need to poke holes in my shortbread with a fork?

Forking shortbread is not necessary, but it prevents the butter from bubbling. This shortbread recipe does not require forking.
How should I store shortbread cookies?

Because shortbreads have a high fat content, they must be handled carefully to prevent crumbling. To store, arrange your cookies in a single layer, adding a piece of parchment or waxed paper between layers.
How long will shortbread last?

Shortbread cookies keep longer than most other cookies, making them perfect for edible gifts or when you need to make something ahead. They even taste better the next day or two after you bake them! They will keep in an airtight container at room temperature for up to 3 weeks or in the freezer for up to three months.
Where can I find organic lavender for this recipe?

Frolic and fare has an entire post dedicated to sourcing edible flowers, however since lavender is so popular it's often easy to come by right in the spice section of your large grocery store, and readily available online.
Our tips for perfect shortbread:
We really love our shortbread here. You might have noticed our large collection of botanical shortbreads, like Rose Petal Cardamom Shortbread, Lemon Thyme Shortbread, Pine Needle Syrup or Orange Rosemary Herbal Shortbread. Here are our top tips for a prefect result.
Choose high quality butter: with so few ingredients, choosing quality butter is important.
Measure ingredients properly: I know not every home baker is going to want to weigh their ingredients. I blogged for years before even considering it! But, now that I weigh my ingredients, I never make a recipe without grams because just a little too much or too little of any one ingredient can really throw off a recipe. And if I'm going through all the trouble to bake, I want to make sure it comes out just as I expected. Here is a great kitchen scale I recommend.If you don't use a kitchen scale, spoon and level your flour for increased likelihood of accuracy.
Chill before baking...sometimes: This recipe has very specific ratios with less butter so that it doesn't bubble and spread, in my experience the dough usually doesn't have to be chilled before baking. However, if I've over handled it or kept it out too long, it still will become very soft and difficult to manage while rolling or cutting shapes. If your shortbread feels too soft, no need to worry. Just pop in the fridge for 20 minutes or so, or until you're ready to bake.
Bake until golden: Despite the recommended baking time, it's best to let the shortbread get slightly golden before removing it from the oven. This ensures they are fully crisp and will continue to harden as they chill for easy handling.