Lavender Lemon Rice Krispy Treats
Crispy, floral, zesty lavender lemon rice krispy treats will delight all of your senses. Super light with fluffy marshmallow and the crunch we all love, paired with lavender + lemon, I think we created the perfect spring treat.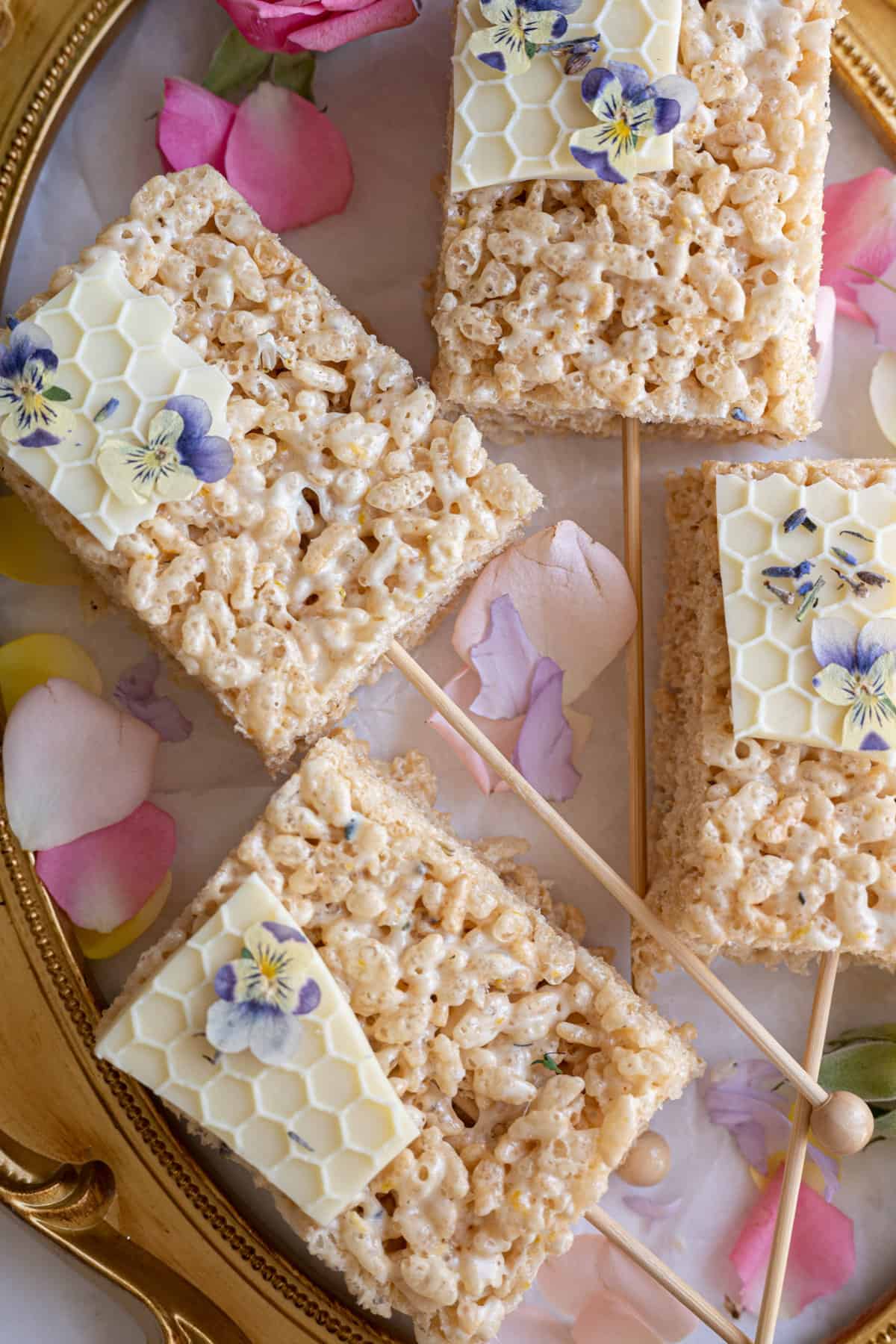 Rice krispy treats are one of those things I didn't know I was a huge fan of until I started making them from scratch at home. Like buttercream, once you taste them made fresh, and realize it's so simple to make, you'll never be able to get them from the store again. Plus, I had some leftover Lavender Honey Marshmallows and wanted to do something creative with them!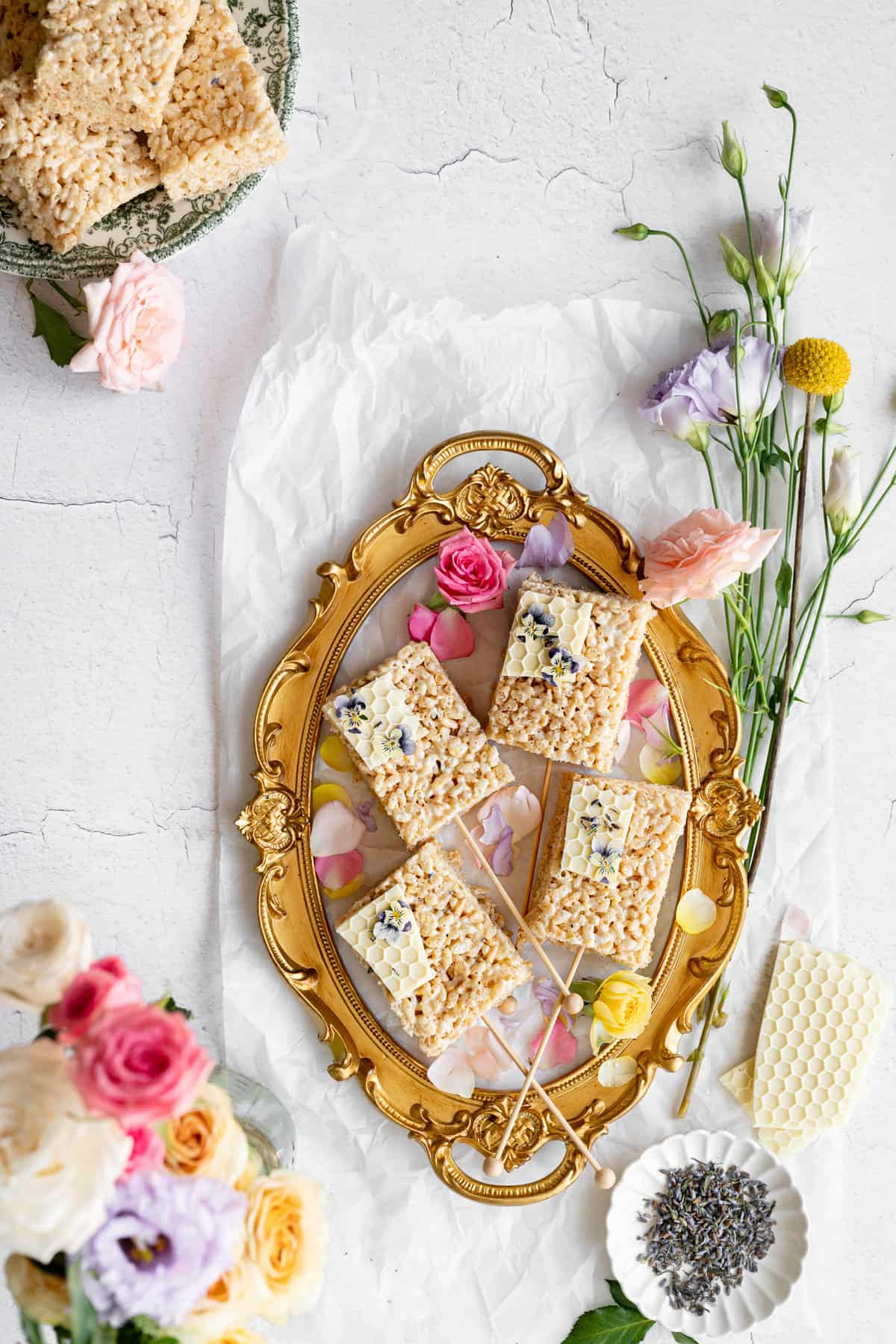 These treats are part of our growing lavender lemon recipe collection. You may also enjoy: Lavender Lemon Shortbread, Lavender Lemon Honey Pound Cake, Lavender Lemon Curd, Lavender Lemonade, Lavender Lemon Honey Bars, Lavender Lemon Tart or a Lavender Lemon Gin And Tonic or Lavender Bee's Knees.
Why you'll love this recipe:
It's no bake and pretty much fool proof
Perfect for letting little ones help, the sticky marshmallow is just so fun
It's got bright and vibrant flavors, perfect for your spring brunch or Easter table
Tools:
Large saucepan or large microwave save bowl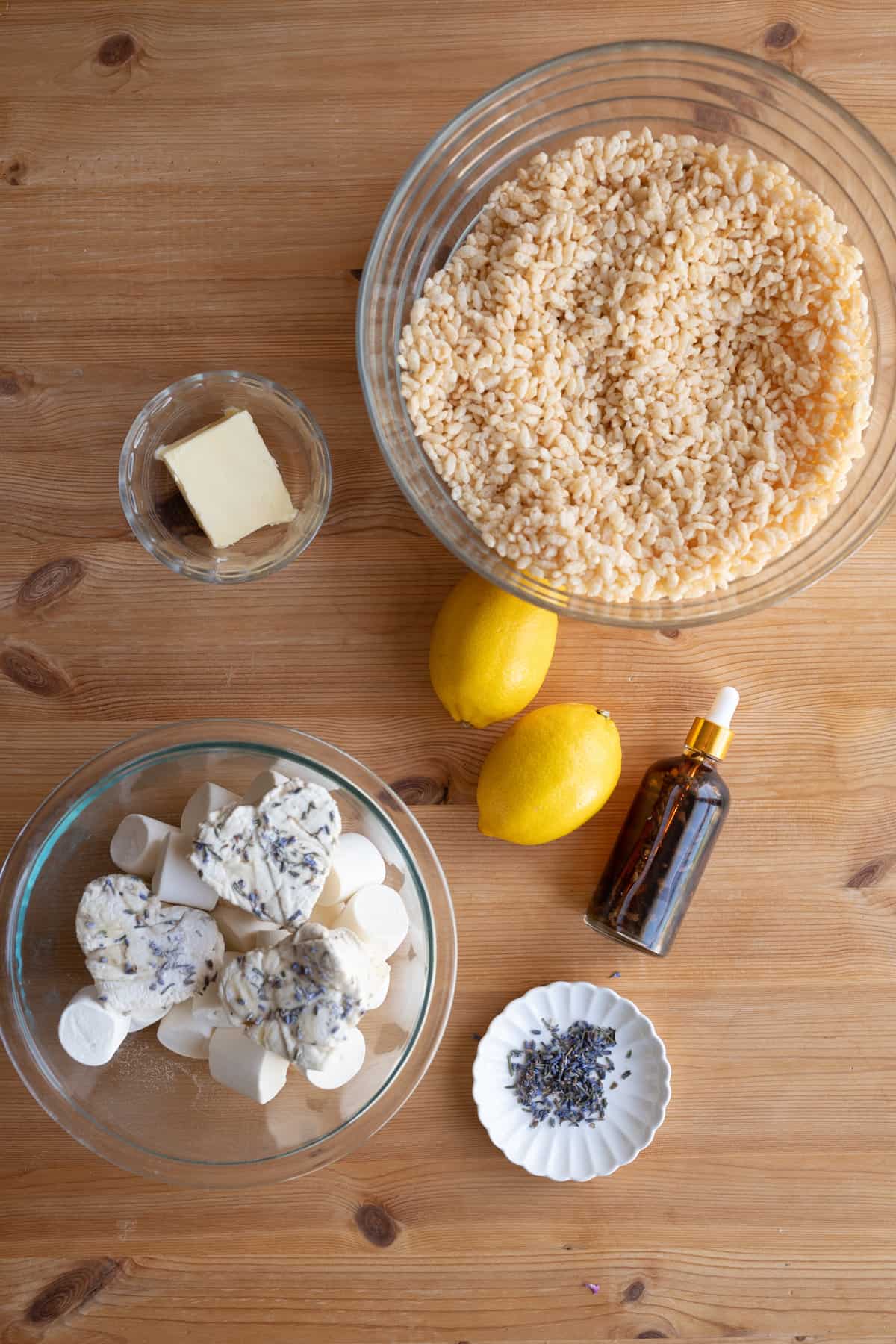 Ingredients:
How to make them:
Prepare a 13 x 9 x 2-inch pan by placing parchment paper inside and allowing the sides to hang over the top for easy removal.
In large saucepan melt butter over low heat. Add marshmallows, vanilla extract, lemon zest and lavender and stir until completely melted. Remove from heat.
Add rice krispies cereal. Stir until well incorporated.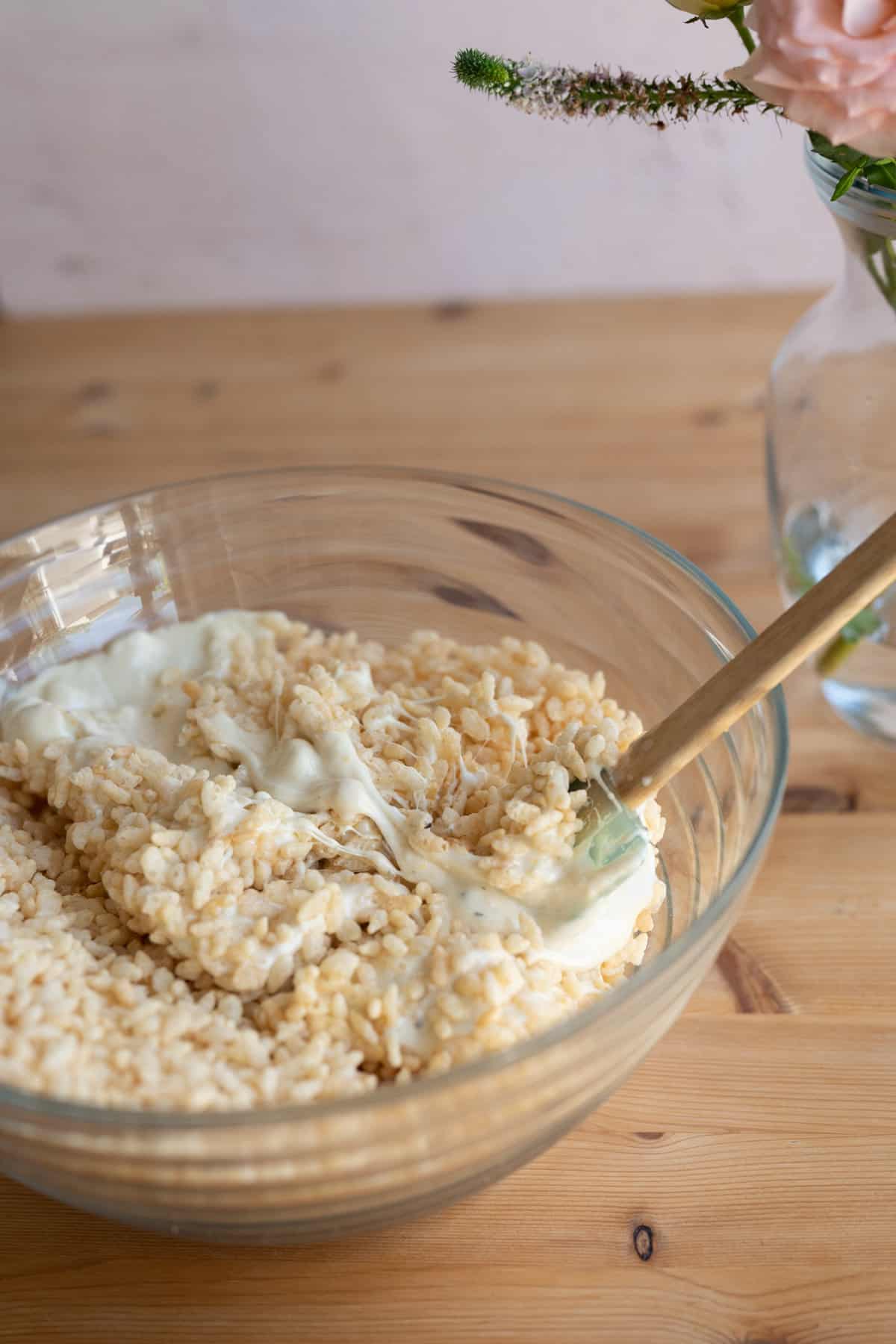 Using a spatula or wax paper evenly press mixture into your baking pan.
Allow rice krispy treats to cool for at least an hour in their pan before removing. Cut into rectangles.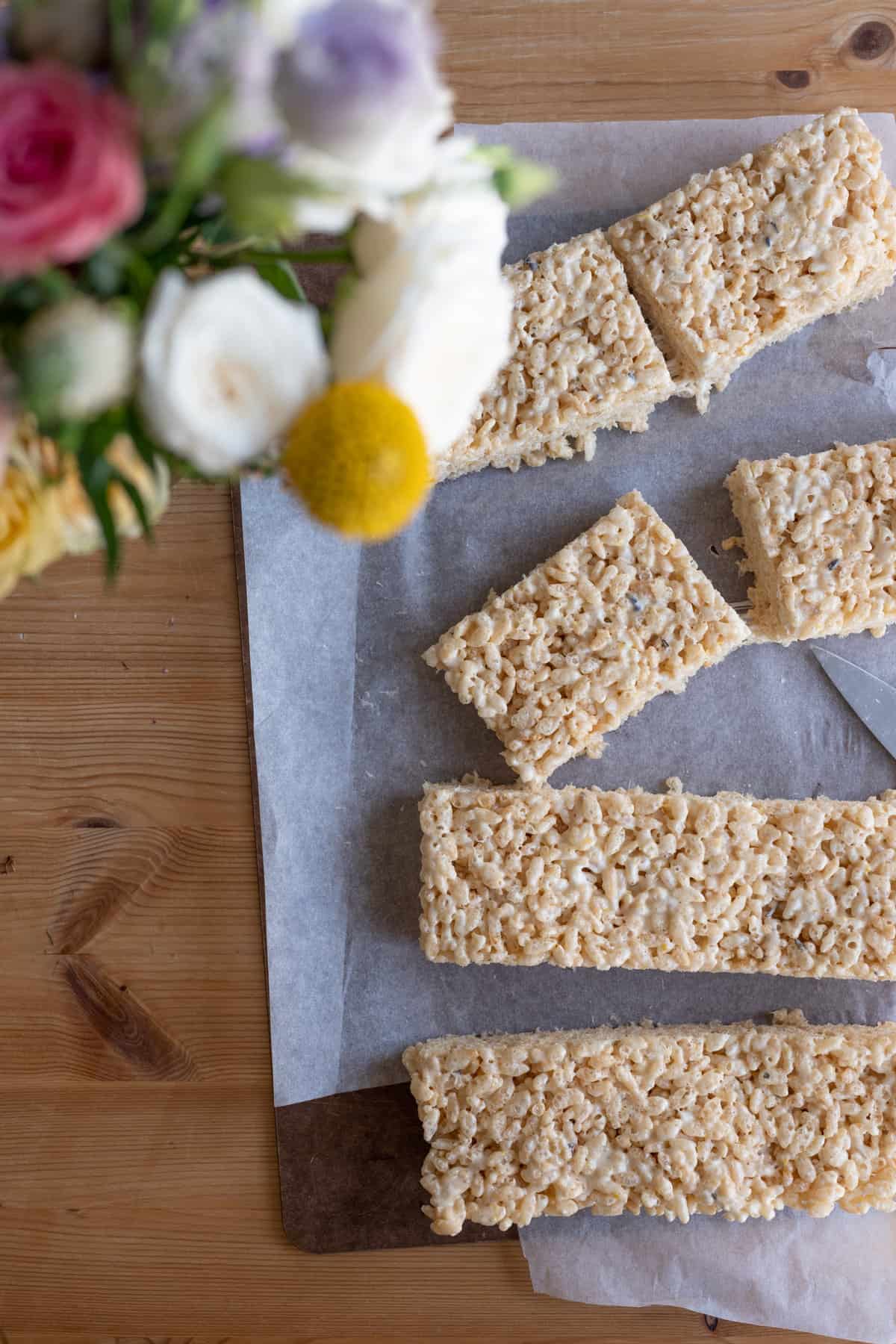 Microwave instructions:
In microwave-safe bowl heat butter and marshmallows, vanilla extract, lemon zest and lavender on high for 3 minutes, stirring after 2 minutes. Stir until smooth. Follow steps 2 and 3 above.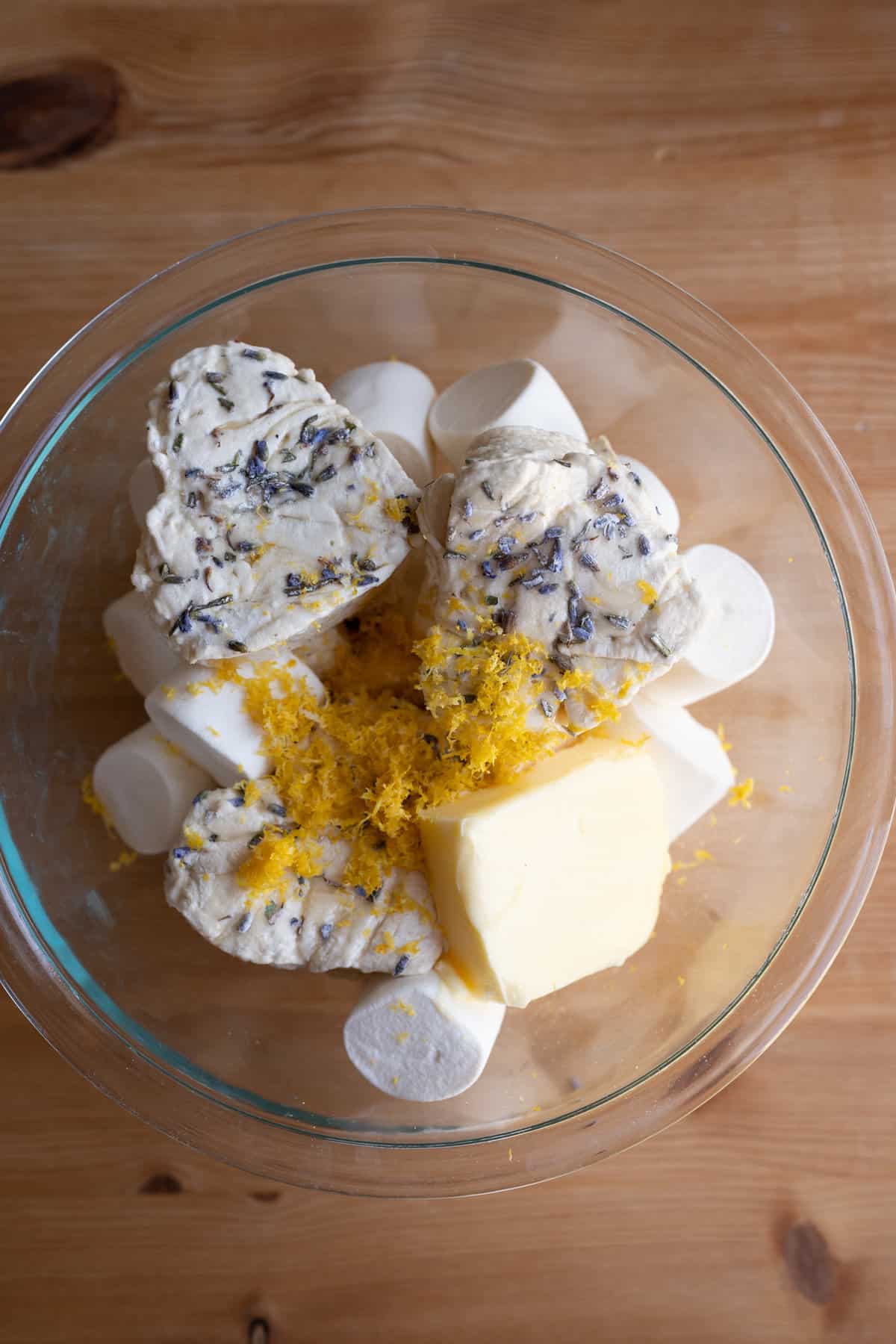 How To Garnish:
I simply melted some white chocolate into a honey comb mold, and broke it into pieces after it cooled to place on top of the rice krispy treats for a fancy feel. I also added a few pressed pansies! Finally, I added in some wooden candy sticks to make them look like whimsical wands!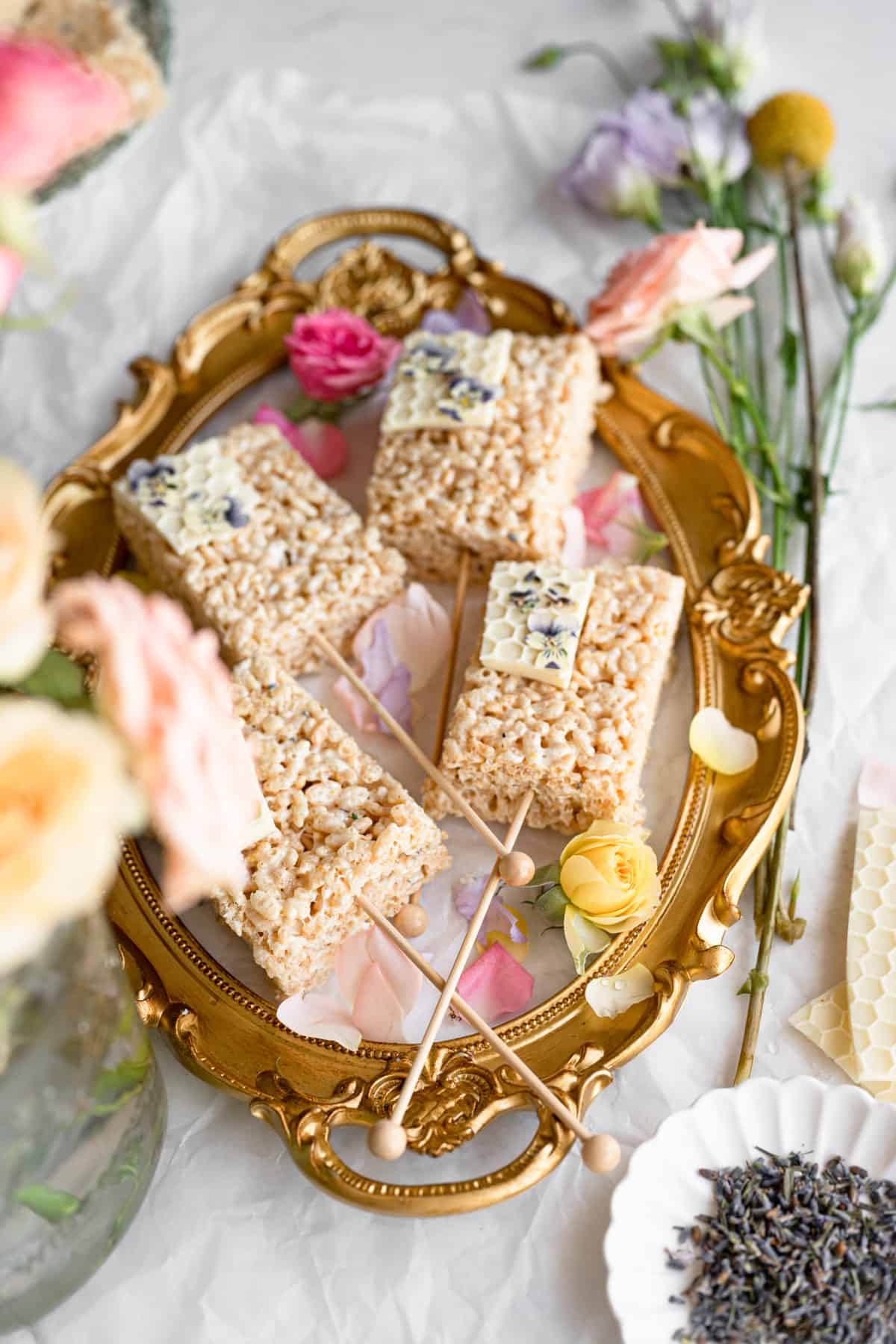 Want to save this recipe for later? click the image below to Pin it on pinterest!
How to store:
Store no more than two days at room temperature in airtight container.
To freeze, place in layers separated by wax paper in airtight container. Freeze for up to 6 weeks. To thaw, let them sit at room temperature for 15 minutes before serving.