Lavender Lemon Honey Pound Cake
This lavender lemon honey pound cake is a moist and delicious sweet loaf, perfect for afternoon tea or simply to celebrate the seasons of bloom. Delightfully rich with an irresistible pure organic honey glaze, which seamlessly plays into fresh flavor or lavender blooms and zesty lemon sprinkled through each bite. Sip it while you enjoy some lavender lemonade or a lavender latte.
Why you'll love this pound cake:
It's versatile! Bake it in a 9x5 loaf pan or bundt pan or 12" bundt pan* (see notes in pro tips below!)
The flavors are evident but not overpowering, just beautifully balanced, drizzle it with some floral infused honey.
No special skills required to make this delicious cake, no layering, piping, or decorating involved. Yet it's such a classic cake with delicious flavor, it will be highly impressive!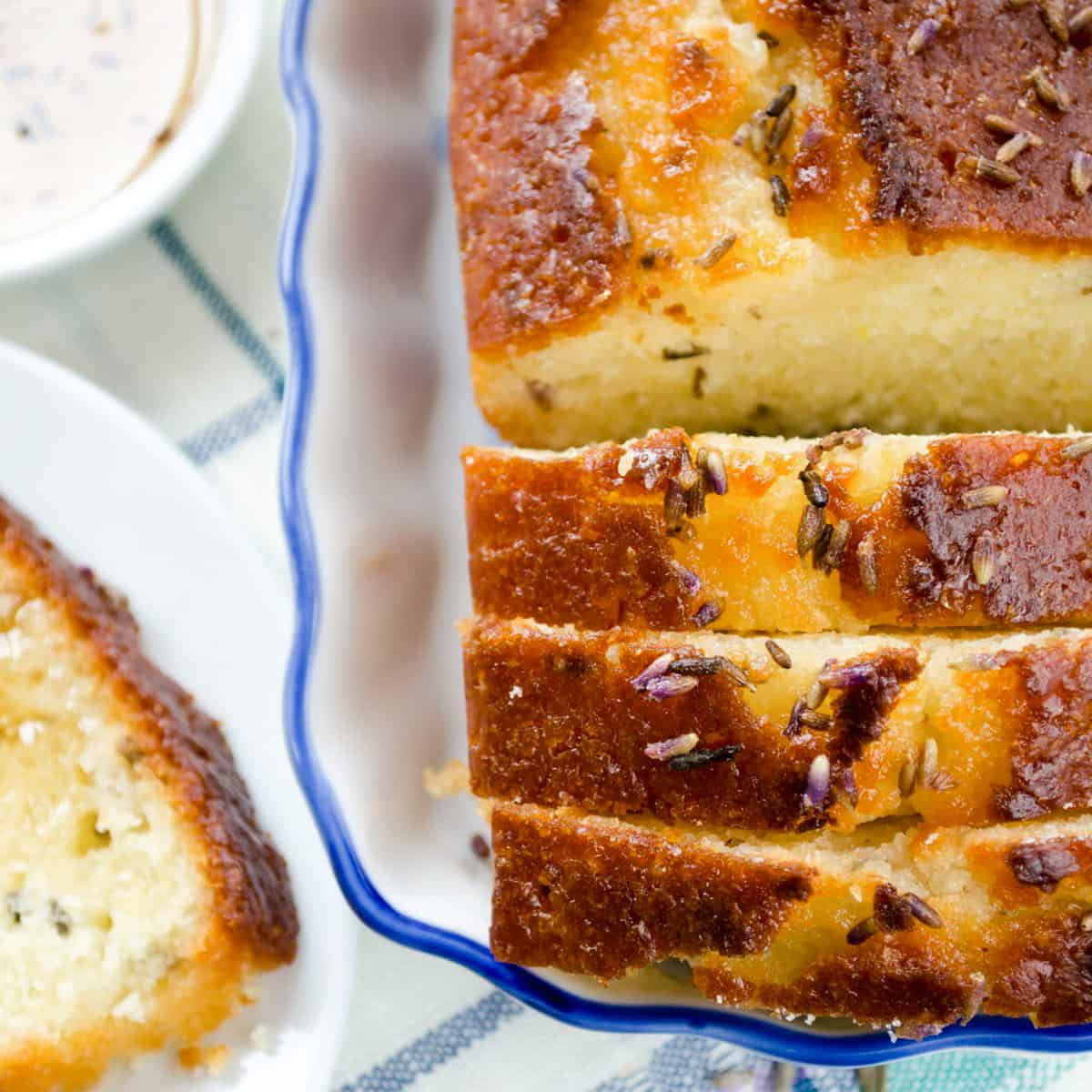 Curious about culinary lavender?
You may be surprised to learn that lavender is not only edible but also has a long history of being used in cooking and baking and teas. The flower's fragrance is delicate and pairs well with both sweet and savory dishes. Here are some tips and best practices on how to incorporate lavender into your culinary creations! We find lavender so delicious we included it in our top 10 Best Tasting Edible Flowers list.
Ingredients:
Pound cake:
buttermilk or heavy cream
butter, softened to room temperature
eggs
vanilla extract, or homemade lavender vanilla extract
all-purpose flour
granulated sugar
dried organic lavender
baking powder
lemons
salt
Lemon honey glaze: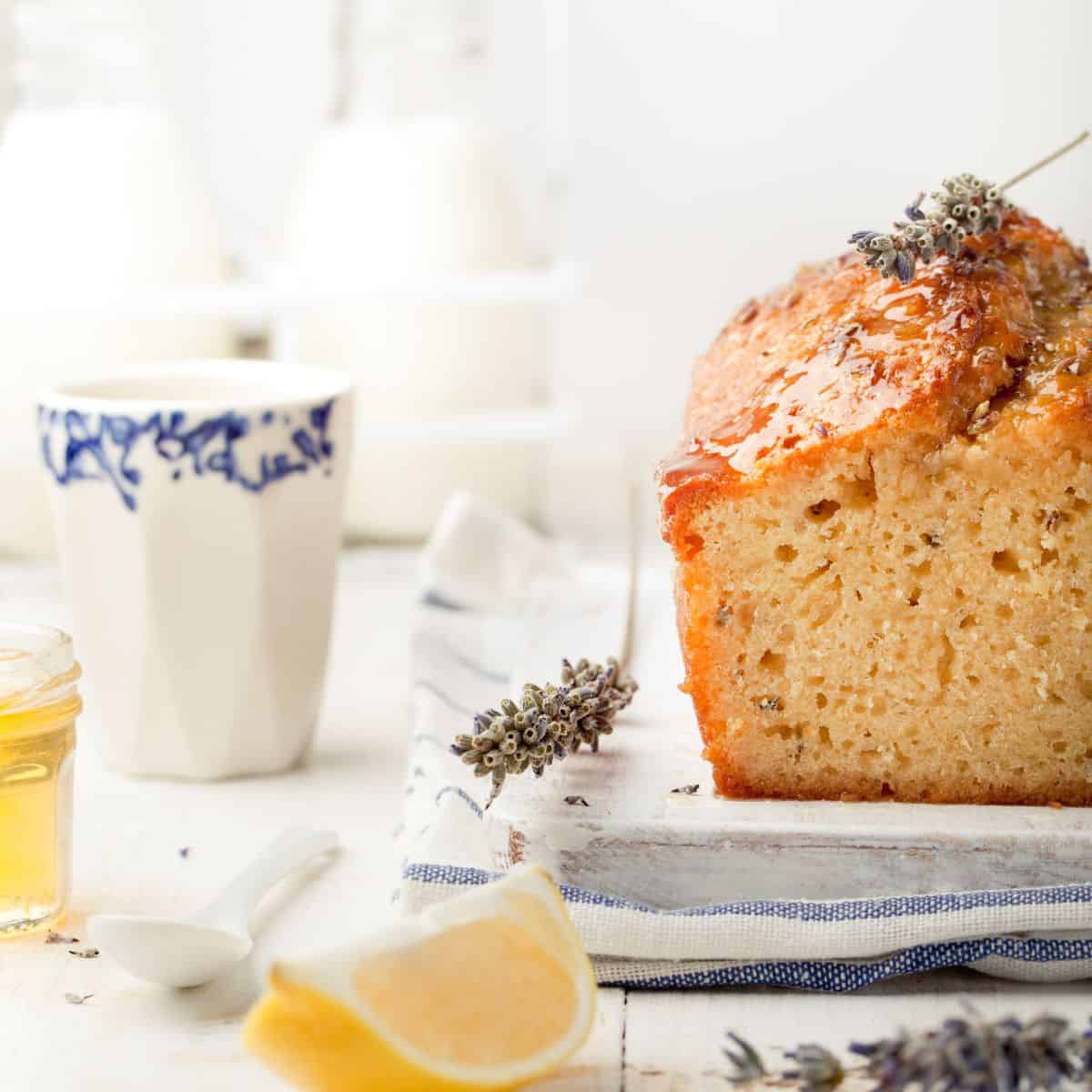 Step by step, how to bake it:
Preheat the oven to 350 degrees F or 176 F. Spray with cooking spray or butter and flour a 9×5 inch loaf pan and add parchment paper, leaving some on each side for easy removal of your cake.
Make lavender infused milk by combining your buttermilk or heavy cream with your lavender in a small saucepan over low heat for ten minutes. Turn off heat and let it cool as you continue on with next steps. 
Cream the butter and sugar together with an electric mixer or stand mixer. Beat in the eggs, one at a time, until the batter is light and fluffy; stir in the lemon zest, juice, and vanilla extract.
In a separate bowl, combine the flour, baking powder, and salt. Add to the creamed butter sugar mixture alternately with the lavender cream until well blended; pour into the prepared pan.
Bake for 45-50 minutes or until a tester inserted in the middle comes out mostly clean. Let cool in the pan a few minutes before transferring to a rack to cool.
Make the glaze: Combine the honey and lemon in a small sauce pan. Turn heat to medium - low, just until it gently simmers. Turn off heat and let it cool and thicken for five minutes. Drizzle or pour over cake while it's still in the pan.
Once fully cooled, remove cake from pan and enjoy!
Frequently asked questions:
How do I store the pound cake after it's baked?

Wrap the pound cake with plastic wrap or beeswax wrap tightly to prevent any air coming in. This will keep it nice and moist for days. You can also store in in an airtight container, ideally also after wrapping it with wax or plastic wrap. Store it at room temperature for up to five days.
Can I freeze this cake?

Yes, freeze the cake without the glaze, and make the glaze and glaze the cake after you thaw it. To thaw, remove it from the freezer and leave it at room temperature for one day.
Pro tips & notes for baking with bundt pan:
You may enjoy our lavender lemon bundt cake recipe!
You may need to increase the baking time 10 minutes if you bake this recipe in a bundt pan.
If you have a smaller bundt pan, only fill your bundt pan ⅔ full of batter. This will ensure that even with the batter rising while baking, it will not overflow the baking pan.
Because the baking time may differ when using a bundt pan, your best bet is to keep a close eye on the cake while baking, and once it starts to appear done, test it with a toothpick. When the toothpick emerges with just a few moist crumbs attached to it, the cake is finished.
Prepare your pans by using a pastry brush with butter or solid shortening. Then, lightly dust flour or powdered sugar.
Serve this with: