No Churn Lavender Ice Cream (egg free)
Honey + lavender + icecream just blend together like a dream. This no churn lavender ice cream is the perfect summer treat for those who want to enjoy the gourmet flavor and don't have an ice cream machine. You may also enjoy my: rosemary ice cream, basil ice cream, &fresh rose ice cream. Garden fresh, perfect for a hot summer day.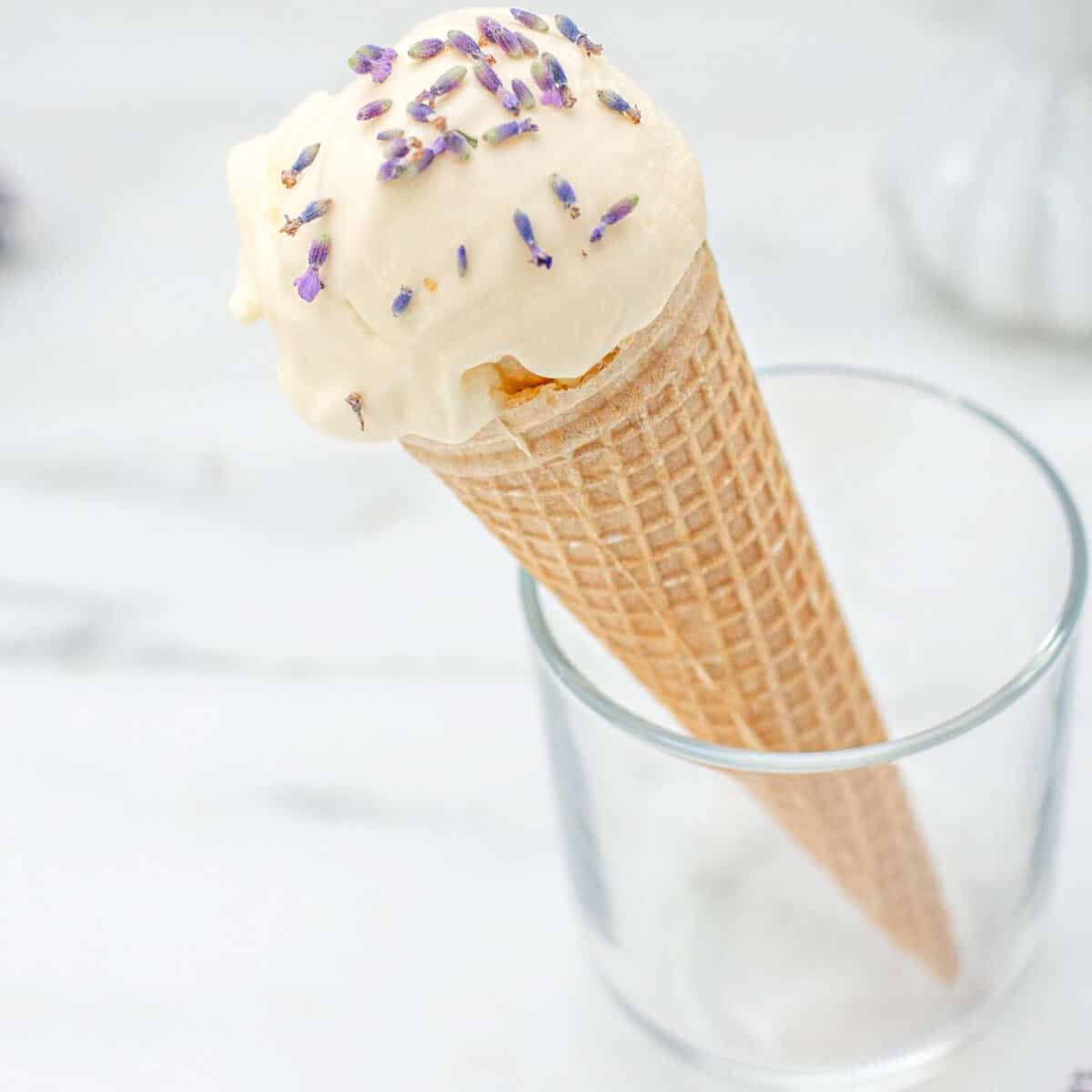 Whenever someone finds out I have a blog filled with lavender recipes, they almost always say "I love getting lavender ice cream at fancy restaurants". I say, why not enjoy this simple pleasure more often? While lavender ice cream is the type of dessert you see on the menu of an upscale restaurant, but it's really simple to make at home.
This no churn ice cream with sweetened condensed milk, cream, honey with it's lavender infusion requires no special equipment. Once you see how easy it is to make your own ice cream you'll be trying so many flavors.
Curious about culinary lavender?
You may be surprised to learn that lavender is not only edible but also has a long history of being used in cooking and baking and teas. The flower's fragrance is delicate and pairs well with both sweet and savory dishes. Here are some tips and best practices on how to incorporate lavender into your culinary creations!
Ingredients:
Heavy whipping cream - this is what will give you that delicious creamy texture you want in ice cream!
Milk - our base for making lavender tea, which will give this ice cream most of it's flavor
Sweetened condensed milk - gives this no churn a super creamy and scoopable consistency replacing the egg yolks in traditional ice cream recipes. Also contributes to the sweetness of the ice cream.
¼ cup honey - optional, great for balancing the floral flavor and just tasty!
2 tablespoons dried culinary lavender - for our lavender infusion and flavor
1 teaspoon sea salt
2 tablespoons vanilla extract
One lemon, lemon juice and lemon zest
Recipe instructions:
Place an empty 6-cup freezer-safe container with a lid into the freezer to chill.
In a small - medium saucepan over the lowest heat setting, pour in your milk and dried lavender. Let it warm uncovered for 10 minutes, being careful not to let the cream ever bubble or get too warm. Stir regularly while you proceed with the next steps.
In another large mixing bowl, use a hand mixer to whip the cream to stiff peaks, taking care not to over-whip the cream. Set aside.
Strain your lavender buds from your milk over a fine-mesh sieve and pour your lavender milk into a large bowl.
Add in your sweetened condensed milk, vanilla extract, salt, and the juice and zest of one lemon and your honey into your large bowl with lavender milk.
Gently fold the whipped cream mixture into the bowl with the other ingredients. Mix until well incorporated, being careful not to over-whip.
Get the container from the freezer and quickly transfer the ice cream mixture to the container. Add the lid. Freeze for 6 hours, until firm. Then scoop, serve, and enjoy!
Frequently asked questions:
What does lavender ice cream taste like?

Lavender is a unique flavor in ice cream but very popular in the culinary sweets world because it has a subtle herbaceous and delicate floral flavor that pairs beautifully with sugar and cream.
Do I need to use dried lavender buds? Can I use fresh instead?

Lavender flavour will slightly differ depending on if it's fresh or dry. Dry lavender has a more pronounced flavor and will be more bitter. With fresh lavender you'll want to use 4 tablespoons of buds instead of two, and you may wish to omit the honey.
Can I make this ice cream vegan?

Yes, you can make your own milk mixture with vegan condensed milk, and steep your lavender milk into creamy coconut milk. I'd also replace the heavy cream with creamy full fat coconut milk.
Can I make my ice cream purple?

Absolutely. Simply drop a single drop of purple food coloring into your liquid ingredients before combining them with the whipped whipping cream. Add more afterwards if you feel you need a darker color.
Looking for a classic lavender honey ice cream?
This lavender honey ice cream uses an old fashioned custard base, made with egg yolks and can be made with or without an ice cream maker.
Recommendations for serving:
Storing homemade ice cream:
Homemade ice cream should be stored in a sealed, air tight container that's easy to scoop from. Because homemade ice creams often aren't prepared with any preservatives or stabilizers, we like to enjoy ours within two weeks. Otherwise, we find they become difficult to scoop or the surface of the ice cream may form ice crystals. The ice cream will not spoil in the freezer in that time frame though.
You'll love this ice cream with: