Lavender Lemon Bundt Cake
Wonderful, moist lavender lemon bundt cake is a sweet, dense, buttery soft, golden brown dream with zesty lemon icing and pretty fluted edges. It' the the perfect way to welcome spring.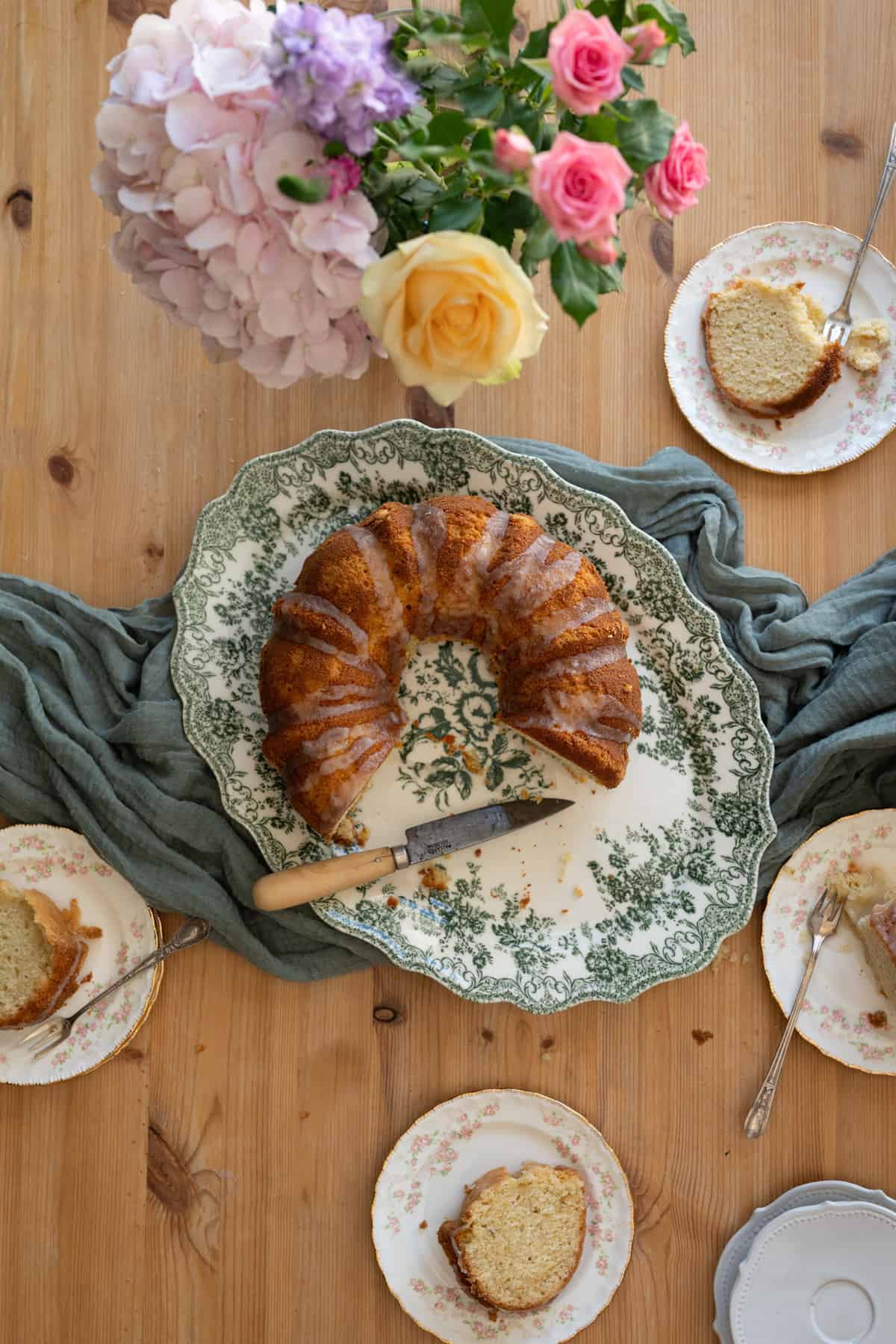 Spring is in the air and I'm taking full advantage. Every morning is spent in the garden, looking over sprouts making their appearance to my delight. My son now is asking to play outside and dig and help water, which has my heart full of joy. We had a long weekend and our home was filled with friends, laughter and the delicious aroma of this lavender lemon bundt cake. You may also be interested in our Lavender Lemon Honey Pound Cake, and our ever growing list of lavender lemon recipes.
Why you'll love this recipe:
The sturdy by tender texture of this cake makes it perfect for a bundt, even for intricate pan designs.
It's simple yet elegant, serve it as it is or spruced up with some candied edible flower petals or fresh blueberries.
The lavender lemon combination is always a dream
It's gorgeous for any spring time soire. Serve it at a garden party, Easter or Mother's Day brunch
Ingredients:
For the bundt:
3 lemons, juice and zest
3 cups (384 grams) all purpose flour
1 teaspoon baking powder
2 tablespoons dried organic lavender buds
½ teaspoon baking soda
1 teaspoon salt
1 tablespoon vanilla or homemade lavender vanilla extract
¾ cup ( 6 fl oz or 177 ml) buttermilk, room temperature
3 large eggs
2 ¼ sticks (1 ¼ cup or 256 grams) salted butter
2 cups (400 grams) granulated sugar
For the glaze:
2 cups (250 grams) confectionary sugar
2 lemons, juice only
¼ cup (59 ml) buttermilk
INSTRUCTIONS
Preheat oven to 350 F or 176 C
Whisk flour, baking powder, baking soda, and salt in large bowl. Set aside.
Make a lavender lemon sugar by combining lemon zest, dried lavender buds and sugar in a high speed blender, food processor, or in a mortar and pestle.
Cream butter and lavender lemon sugar at medium-high speed until pale and fluffy, about 3 minutes; scrape down sides of bowl with rubber spatula. Add in lemon juice, vanilla, milk, and eggs.
Combine your dry ingredients (flour, baking powder, soda, salt) with your wet and continue to mix to create your batter. Batter will be very thick.
Scrape into prepared bundt pan.
Bake until top is golden brown and wooden skewer or toothpick inserted into center comes out with no crumbs attached, 45 to 50 minutes.
WHICH PAN SHOULD I BAKE THIS CAKE In?
This recipe will yield one 9 inch cake pan, two 8½ x 4½-inch loaf pans or standard sized (9 x 3 inches- 9 cup) bundt pan. Using a loaf pan is fool proof, as you can prepare them with parchment paper. The bake time for two loaf pans will be approximately 50 minutes. However if you choose to use a bundt like I do, be sure to properly grease the bundt with butter, baking spray, coconut oil, or vegetable shortening, and then sprinkle on some powdered sugar. You can also use a springform pan if desired. You may need to adjust bake time according to pan used. Begin checking for donenes at 35 minutes by enusuring the top and edges are golden brown and a toothpick comes out clean during the poke test.
Save It On Pinterest:
Click the image below to pin this recipe on pinterest for another time! xo