Chocolate Oreo Dirt Cupcakes
Spring has sprung with the absolute cutest dirt cupcakes, and they're just as tasty as they are adorable. With a moist chocolate cupcake baked in a terracotta pot, topped with chocolate buttercream, crumbled Oreos and Edible Moss, these are a *must* for Earth day, garden parties, and more.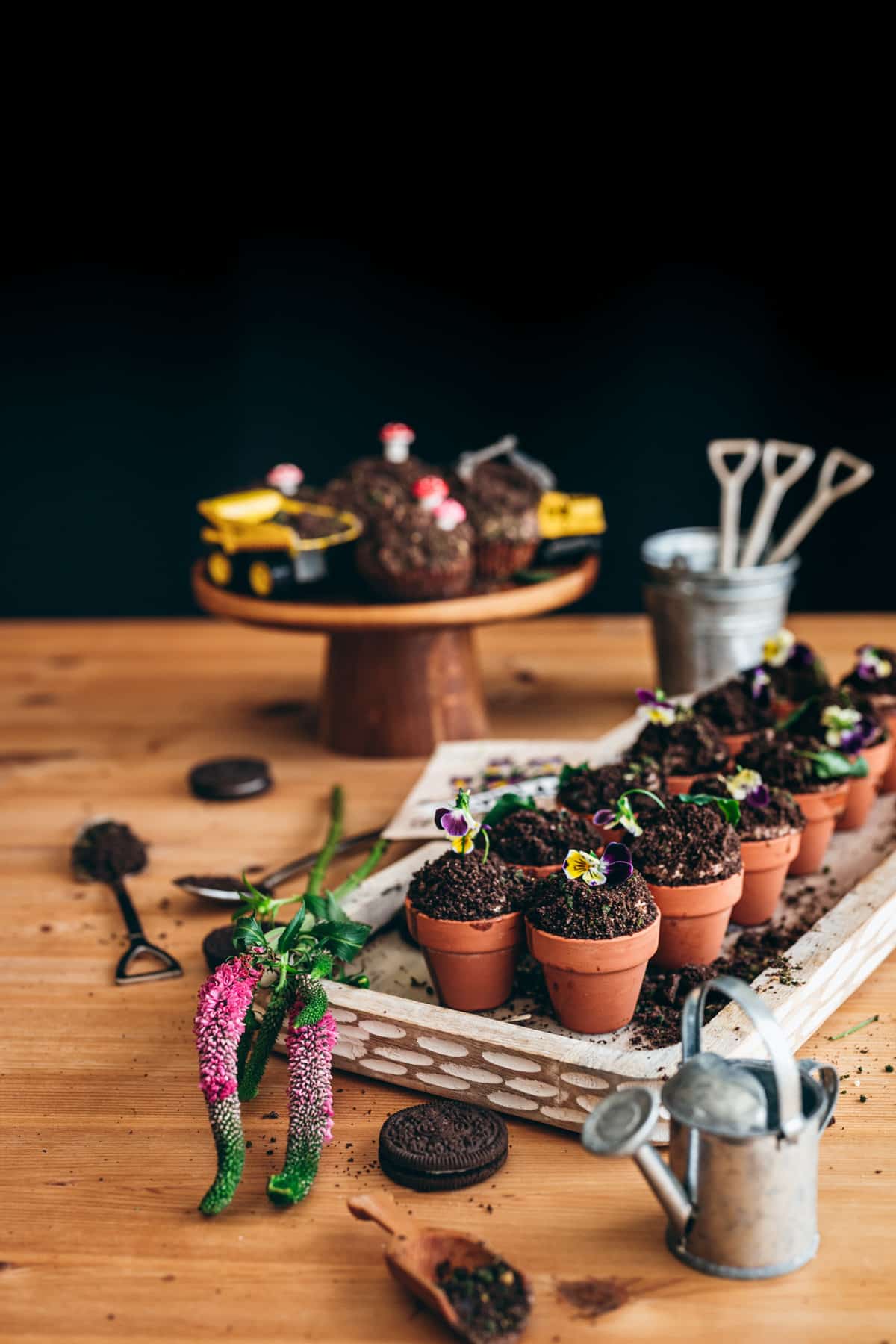 These super moist chocolate cupcakes are packed with flavor and are the perfect blend of fun and play. We enjoyed these adorable cupcakes at a neighborhood henna party and I couldn't wait to share them on the blog for your celebrations as well!
Ingredients:
Cupcakes:
¾ cup (94g) all-purpose flour
½ cup (41g) unsweetened natural cocoa powder
¾ teaspoon baking powder
½ teaspoon baking soda
¼ teaspoon salt
2 large eggs, at room temperature
½ cup (100g) granulated sugar
½ cup (100g) packed light brown sugar
⅓ cup (80ml) cooking oil of choice (olive oil, canola oil, avocado oil, coconut oil, etc...)
2 teaspoons pure vanilla extract
½ cup (120ml) milk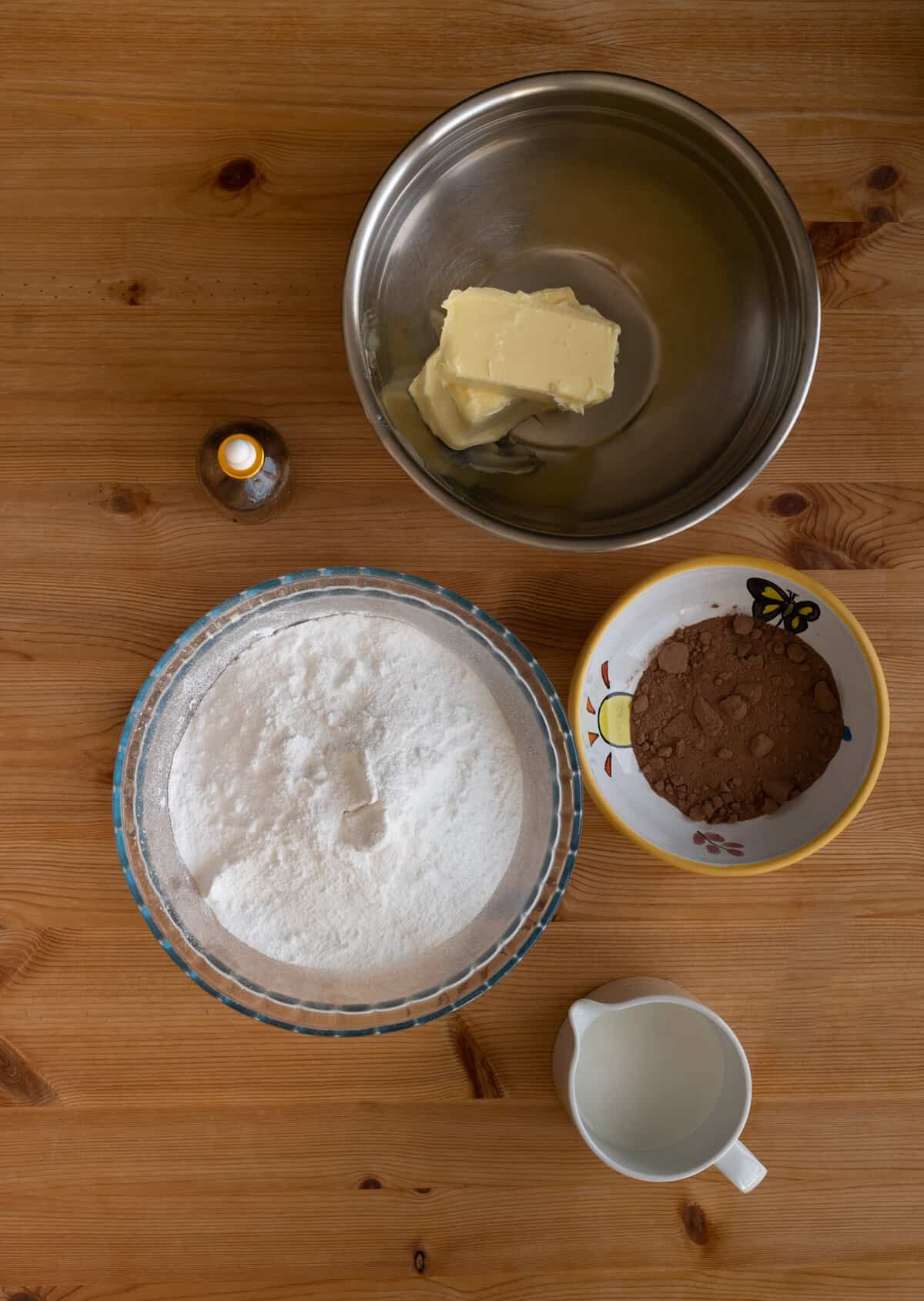 Buttercream:
1 cup (230g) unsalted butter, softened to room temperature
3 and ½ cups (420g) confectioners' sugar
½ cup (41g) unsweetened natural cocoa powder
3 Tablespoons (45ml) heavy cream or milk
⅛ teaspoon salt
2 teaspoons pure vanilla extract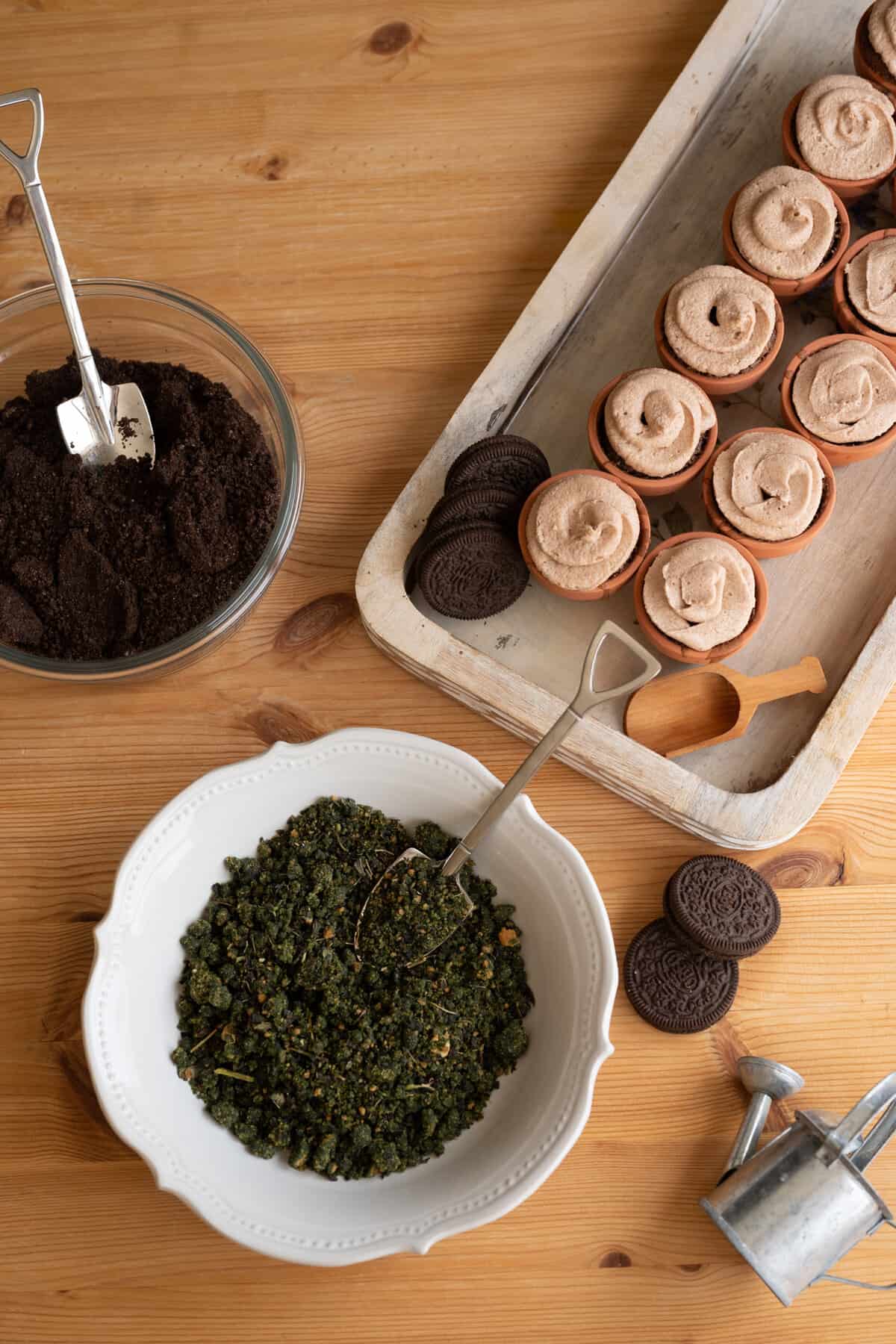 "Dirt Topping":
One sleeve of standard size Oreos, ground to be finely processed
Baking in terracotta pots:
Terracotta planters are the perfect tool for baking our cupcakes in. Terracotta distributes heat evenly and has a porous texture that will make your cupcakes super moist and delicious!
Tools:
You can bake this recipe in any muffin tin you'd like. It does not need to baked in a terracotta pot if you prefer to use what you have on hand at home. See notes in recipe card for bake time suggestions. If you'd like to use what we did:
How to make them:
Cupcakes:
Preheat the oven to 350°F (177°C). Line your mini terracotta pots of a 12-cup muffin pan with cupcake liners. Set aside.
Whisk the flour, cocoa powder, baking powder, baking soda, granulated sugar, brown sugar, and salt together in a large bowl until thoroughly combined. Set aside.
In a medium bowl, whisk the eggs, oil, milk and vanilla together until combined. Pour the wet ingredients into the dry ingredients. The batter will be thin.
Pour or spoon the batter into the liners, filling only halfway to give room for them to rise.
Bake for 15 minutes if using the mini terracotta pots, or until a toothpick inserted in the center comes out clean. Bake for 18-20 if using a regular size muffin pan. Allow to cool completely before frosting in the pan.
Chocolate Buttercream:
With a handheld or stand mixer fitted with a paddle or whisk attachment, beat the butter on medium speed until creamy, about 2 minutes. Add confectioners' sugar, cocoa powder, heavy cream, salt, and vanilla extract. Beat on low speed for 30 seconds, then increase to high speed and beat for 1 full minute. Add ¼ cup more confectioners' sugar or cocoa powder if frosting is too thin or another Tablespoon of cream if frosting is too thick. Taste. Beat in another pinch of salt if desired.
Dirt Topping:
Grind oreos in a blender until it's finely processed to look like dirt.
Assembly:
Frost cooled cupcakes with chocolate buttercream and sprinkle on crushed oreos, and optionally, edible moss and edible flowers. We used these Johnny jump up viola flowers.
save to pinterest:
Click the image below to save it to your Pinterest account