Healthy Homemade Fruit Roll Ups With Applesauce
These healthy homemade fruit roll ups with applesauce are a delicious a zero-waste craft activity. They are made in the oven, no dehydrator or special tools needed.
Growing up, we had no shortage of fruit roll-ups or gushers in our house. My sister and I loved that type of sweet "fruit" snack. Now, my own children love gummy-type fruit snacks, too.  I mean, who doesn't? Fruit roll ups aka fruit leathers and snacks aren't available where we are currently living, so I did what I always do - make our own.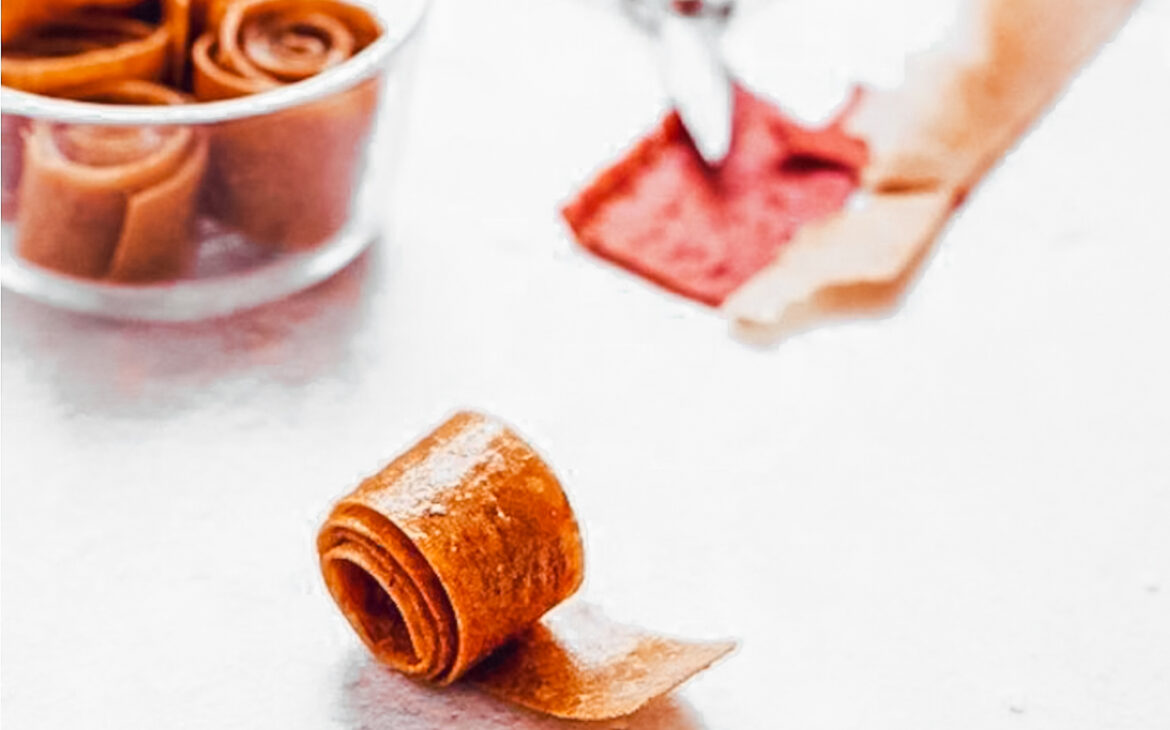 Why you 

will love making these homemade fruit leathers:
Not only are they delicious, but they can also easily become a zero-waste craft activity since your kids can help cut and roll them, which makes them even more enjoyable.

Making these fruit leathers are a great ways to nourish bodies and find enjoyable crafts to do together. Once you make these, they will become a staple in your home. And what's better than creating something that is zero waste and earth-friendly? We love making and baking our own snacks, because single use plastic is bad for our planet.
These are a great gluten free and vegan snack for kids. If you're hosting a playdate, make some the day before so you have something just in case anyone needs something gluten free or vegan!
How to make homemade fruit roll ups:
To make fruit leathers, you can puree other types of fruit that you have on hand, but I have found that they turn out best when I use some applesauce. Therefore, I always use at least ½ homemade applesauce. The only ingredient you need for this recipe is pureed fruit (fresh or frozen is fine). Optionally, you can also add spices like cinnamon, honey or any sweetener of choice. We love a good, adaptable recipe!
Tip: 
If you want to make applesauce at home, give this simple recipe a try:
How to make homemade apple sauce
AND if you make your applesauce from scratch, don't forget to save your apple peels for my 
Homemade cinnamon apple peel pancake syrup.
Fruit roll-up recipe ideas:
Applesauce + mixed berry
Applesauce + cinnamon
Applesauce + mango
Applesauce + sweet potato
Applesauce + pear
Admittedly, I have tried to sneak carrots and beets into this recipe, and the kiddos didn't enjoy them as much. But if you want to give it a go - kudos to you, and let me know if they like it!
Simple steps + tips for making Healthy homemade fruit roll ups with applesauce
Preparing your fruit roll up, fruit leather
Purree your fruit. If you're using fruit-like berries that will blend very easily without steaming, just add them into your blender raw. If you're using sweet potato or pear, you will want to steam them first to make them soft for blending. You will need two cups of puree. If you want to make thicker fruit leathers, you can use three cups. You will need to bake them for an additional hour. Pour your two cups of pureed fruit onto a
baking sheet
over
parchment paper
or what I always use -
silicone baking sheets.
These work great, and really come in handy!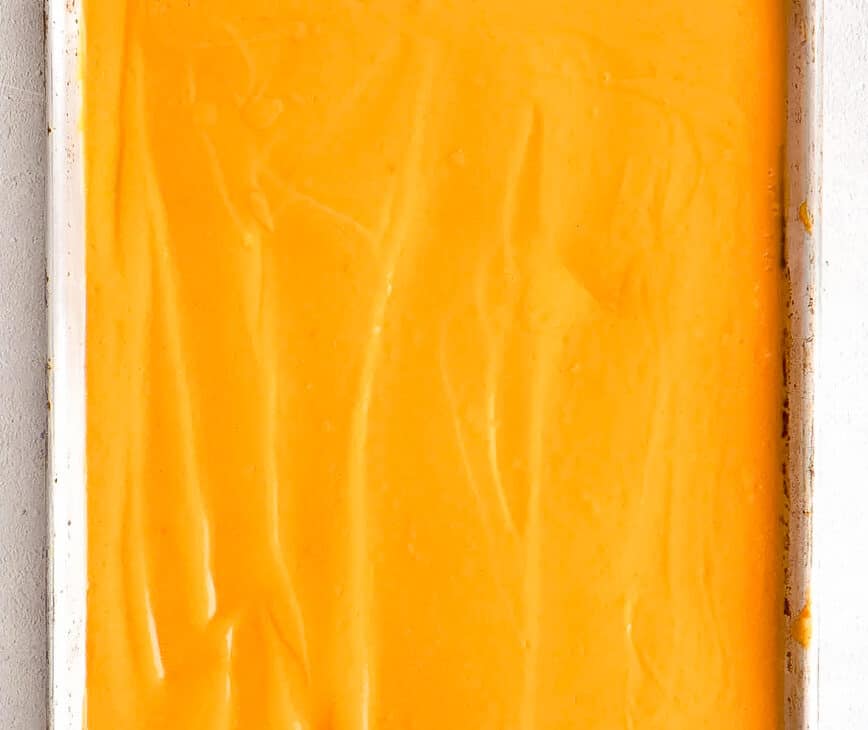 Baking your fruit roll up, fruit leather, no dehydrator needed!
Bake for five hours at 150 degrees F. Our oven does not bake evenly, so I turn ours at 2.5 hours. After my five hour timer goes off, I check on our leathers and see if they are fully dehydrated. You may want to have an
oven thermometer
if you plan to dehydrate in your oven. A temperature too high can result in burnt fruit leathers. They should have no moisture and be able to peel from your silicon mat or parchment paper very easily. Just test your corner, but do not peel yet. They should cool first. If they are still wet and won't peel easily, continue to bake them, and check on them every half hour.
Cooling your fruit roll up
Remove from the oven and let them cool for at least an hour.
Peeling your fruit roll up
Peel fruit leather from your silicone baking sheet or parchment paper. If done carefully, you should be able to peel it off into one large strip.
Cutting your fruit roll up
Cut into 1" strips. I let my little ones help me with this!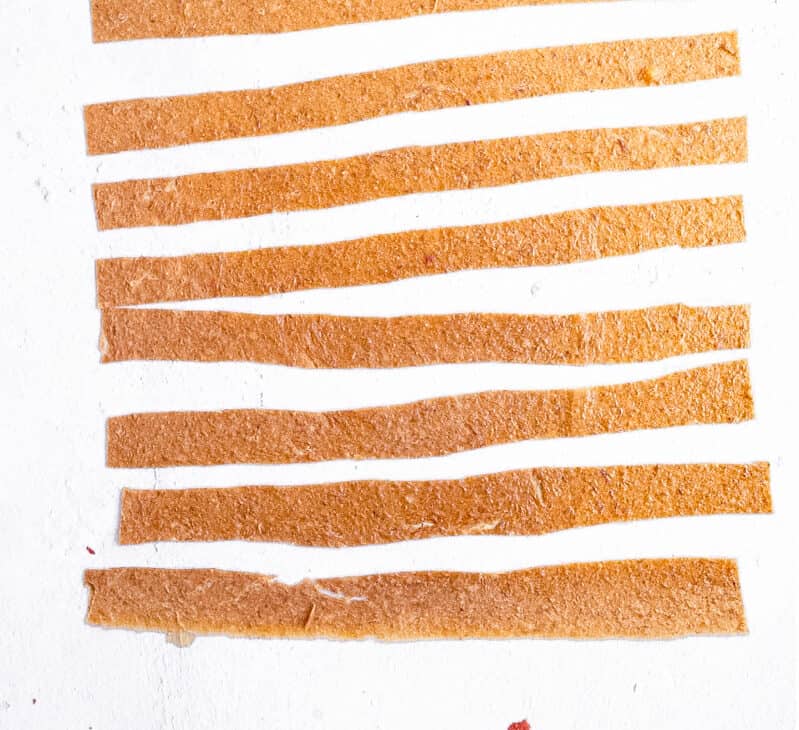 Rolling your fruit roll up
Roll upwards into fruit roll-ups. I also let my little ones do this part.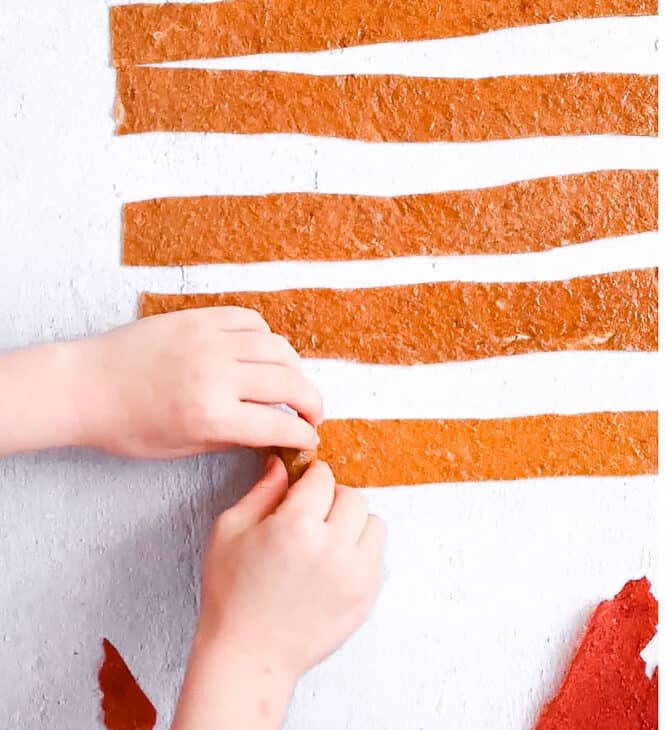 How to store your fruit leather
Place and store into an airtight container. I do not know how long these will last, because my children always eat all of them in a day! 🙂 However, because they are dehydrated - they should last at least two weeks. I am certain that they wont, though. 😉
The recipe:
Homemade fruit roll ups
Healthy homemade fruit roll ups with applesauce are a delicious a zero-waste craft activity since your kids can help cut and roll them, which makes them even more enjoyable!
Ingredients
Two cups of fruit puree of your choice. Applesauce is recommended for at least one cup.

OPTIONAL: sweetener of choice

such as honey.
Instructions
Blend your fruit in blender or food processor until completely combined.

Pour onto baking sheet, over parchment paper or silicone bake mat.

Dehydrate by baking at 150 degrees F for five hours.

After five hours, check to see if leathers are fully dehydrated. If not, continue to let them bake and check every 30 minutes.

Once dehydrated, let cool for an hour.

Peel from baking sheet or parchment paper.

Slice into 1 inch slice.

Roll into fruit leathers.
Notes
Store in an airtight container. Enjoy within two weeks!
Nutrition
Serving:
1
g
Calories:
21
kcal
Carbohydrates:
5
g
Sodium:
1
mg
Sugar:
4
g
Additional notes:
We usually make plain apple fruit leathers, but I love to make apple pumpkin if I'm lucky enough to have pumpkin puree lying around. The nutrition facts in this recipe are based on apple pumpkin fruit leathers.
More oven dried recipes to try:
More popular homemade candy recipes on the blog:
Sending love, freshly baked cookies, and a bouquet of your favorite flowers.