Fresh, zesty orange rosemary cupcakes are ultra moist and aromatic and beautiful. With fresh rosemary and orange zest infused right into the sugar and buttercream, they're simply irresistible.
Why you'll love this recipe:
If you've never tried fresh herbs in your baking, this is a perfect place to start. Combined with fresh orange zest and vanilla bean, they are truly special in these soft and fluffy cupcakes. Garnish them with our candied rosemary for a gorgeous snowy look!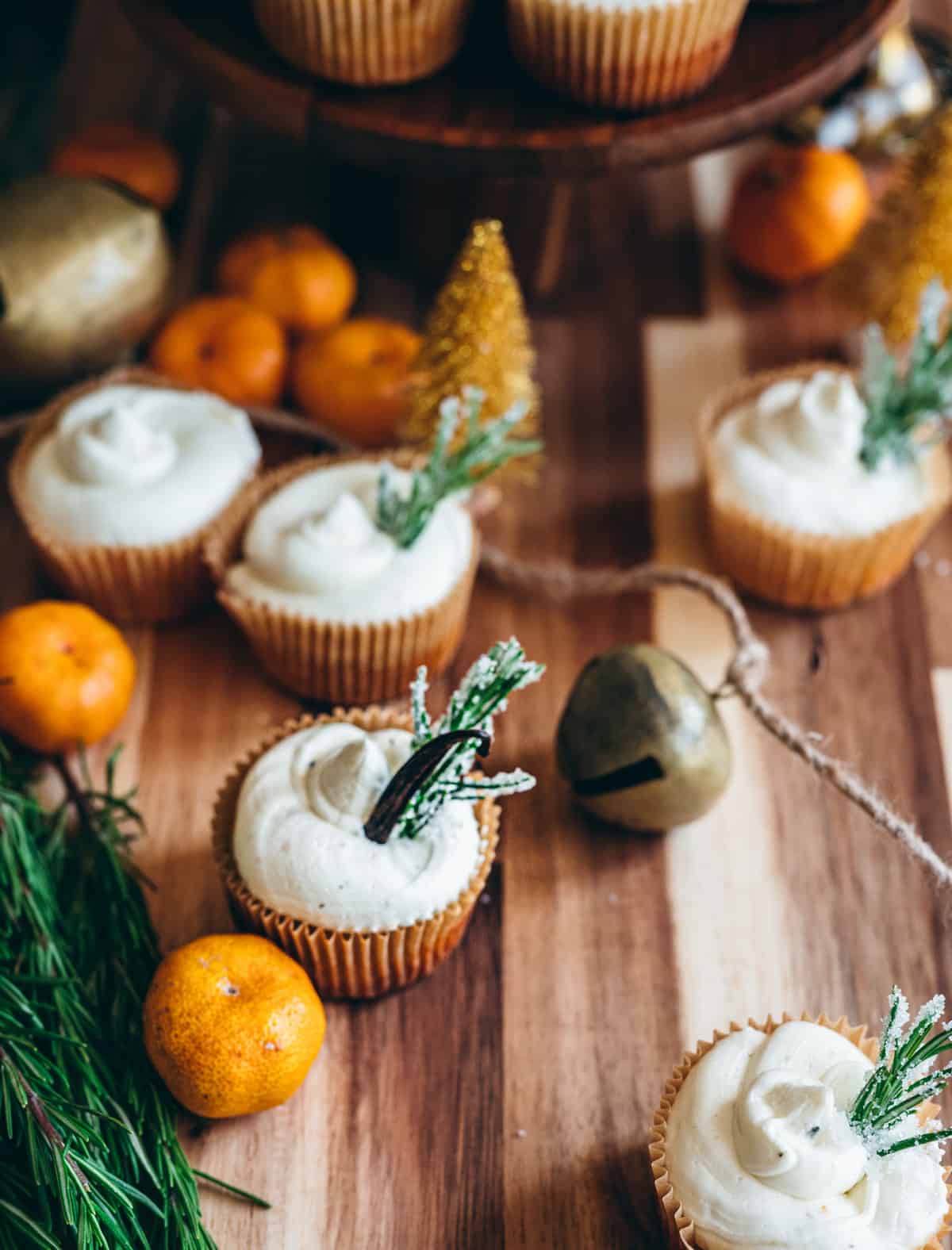 The subtle hints of rosemary, orange and vanilla bean in each bite will take your baking game to a new level. The buttercream is silky smooth and simple to make.
Basic tools to help make perfect cupcakes:
Muffin tin or cupcake tin
Cupcake liner
Piping bag and tip
Ice cream scoop
Hand mixer or stand mixer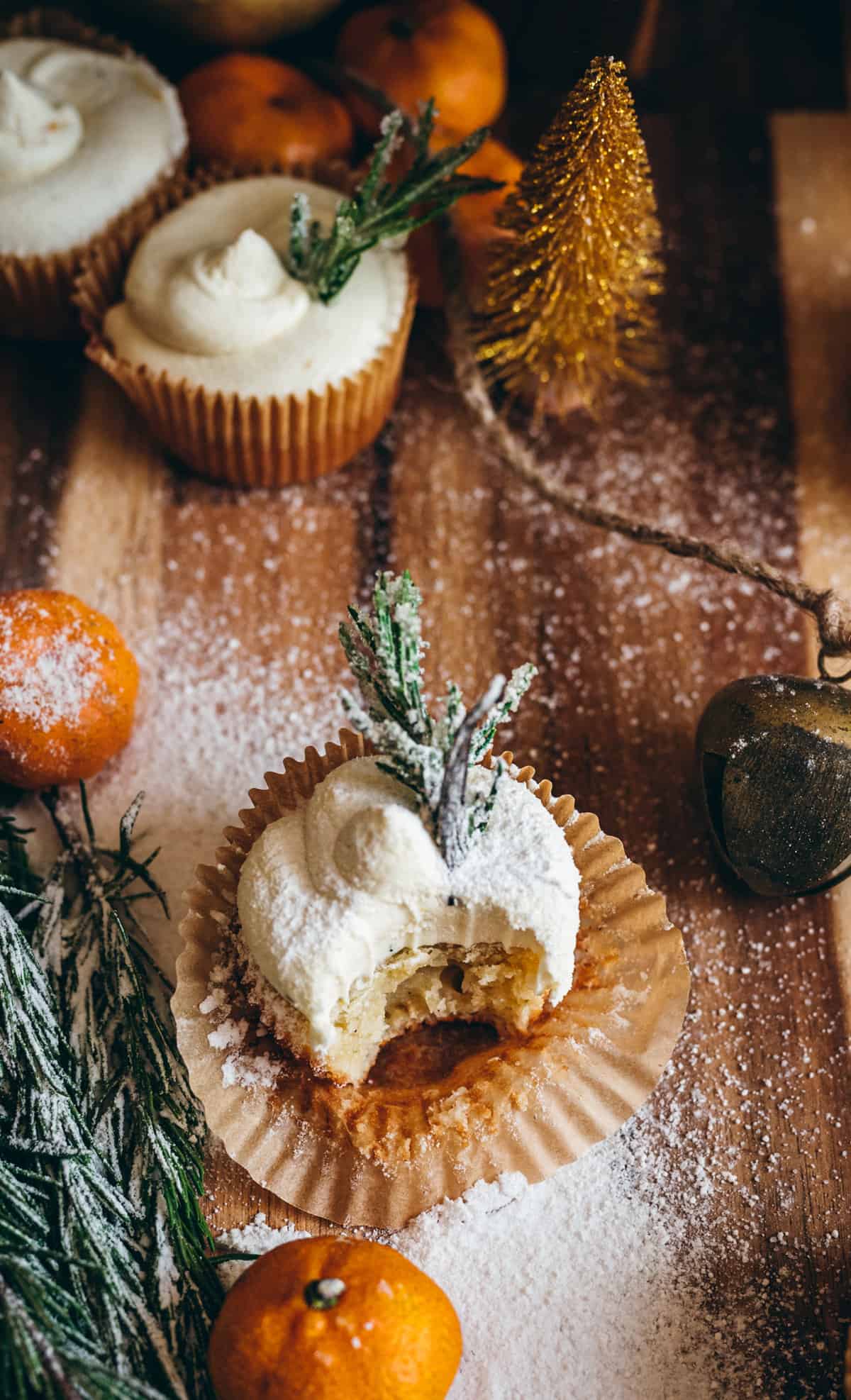 Ingredients to gather:
For the orange rosemary cupcakes:
½ cup butter, unsalted - room temperature
¾ cup sugar
2 eggs
1 ½ cups all-purpose flour
1 teaspoon baking powder
½ teaspoon salt
½ cup buttermilk or ½ cup whole milk (any milk of choice will do)
1 tablespoon culinary rosemary (dried)
zest of two oranges
juice from one medium sized orange
½ vanilla bean pod
Orange, rosemary, vanilla buttercream
1 cup (230g) unsalted butter, room temperature
4 – 5 cups (480-600g) confectioners sugar
¼ cup (60ml) heavy cream at room temperature
½ vanilla bean pod
1 teaspoon rosemary, dried
zest of one orange
How to make the cupcakes:
These lavender honey cupcakes are perfectly sweet, moist and soft - they really are a dream!
Preheat oven to 350 degrees and line a 12 cup muffin pan with cupcake liners.
Process sugar, rosemary, orange zest and vanilla bean to turn it into a fine consistency in a blender or food processor, spice grinder or mortar and pestle. You can do this in a food processor, in a spice grinder, or with your mortar and pestle.
In medium bowl combine flour, baking powder and salt. Set aside.
In a large bowl beat butter, and orange, rosemary, vanilla and zest of one orange into your sugar on medium - high speed until combined. You can use a hand mixer or make in the bowl of an electric mixer / stand mixer fitted with the paddle attachment.
Add eggs, one at a time, beating well after each addition and scraping down sides of bowl as needed
Gradually add the dry ingredients until well incorporated
Using ice cream scoop fill cupcake liners about ? full. Simply spoon batter if you don't have an ice cream scoop.
Bake for 18-20 minutes, until toothpick inserted into cupcake comes out clean. Make your buttercream while they bake.
Let cupcakes cool in pans for 5 minutes, then remove cool cupcakes to wire rack to finish cooling.
Let cupcakes cool completely before adding buttercream.
How to make the buttercream:
This orange rosemary vanilla buttercream flavor is a variation of our favorite American buttercream. It's easy, versatile, and delicious!
Finely grind your rosemary, orange zest with your powdered sugar the same way as you did for your cupcakes.
Add the butter and one cup of the powdered sugar to the bowl of a standing mixer fitted with the whisk attachment. Beat on low just to blend, then beat on high for 3 minutes, stopping to scrape down the sides of the bowl a few times.
Add the heavy cream, salt and remaining powdered sugar until well combined, until the buttercream is completely smooth.
Check the consistency and beat in more powdered sugar if the buttercream is too thin. Taste, and add more salt, vanilla if desired.
Move to a piping bag and pipe onto cooled cupcakes.