Blueberry Steel Cut Oat Muffins
Wholesome blueberry steel-cut oat banana breakfast muffins are simple to bake, healthy and easily gluten free, naturally sweetened and totally adaptable!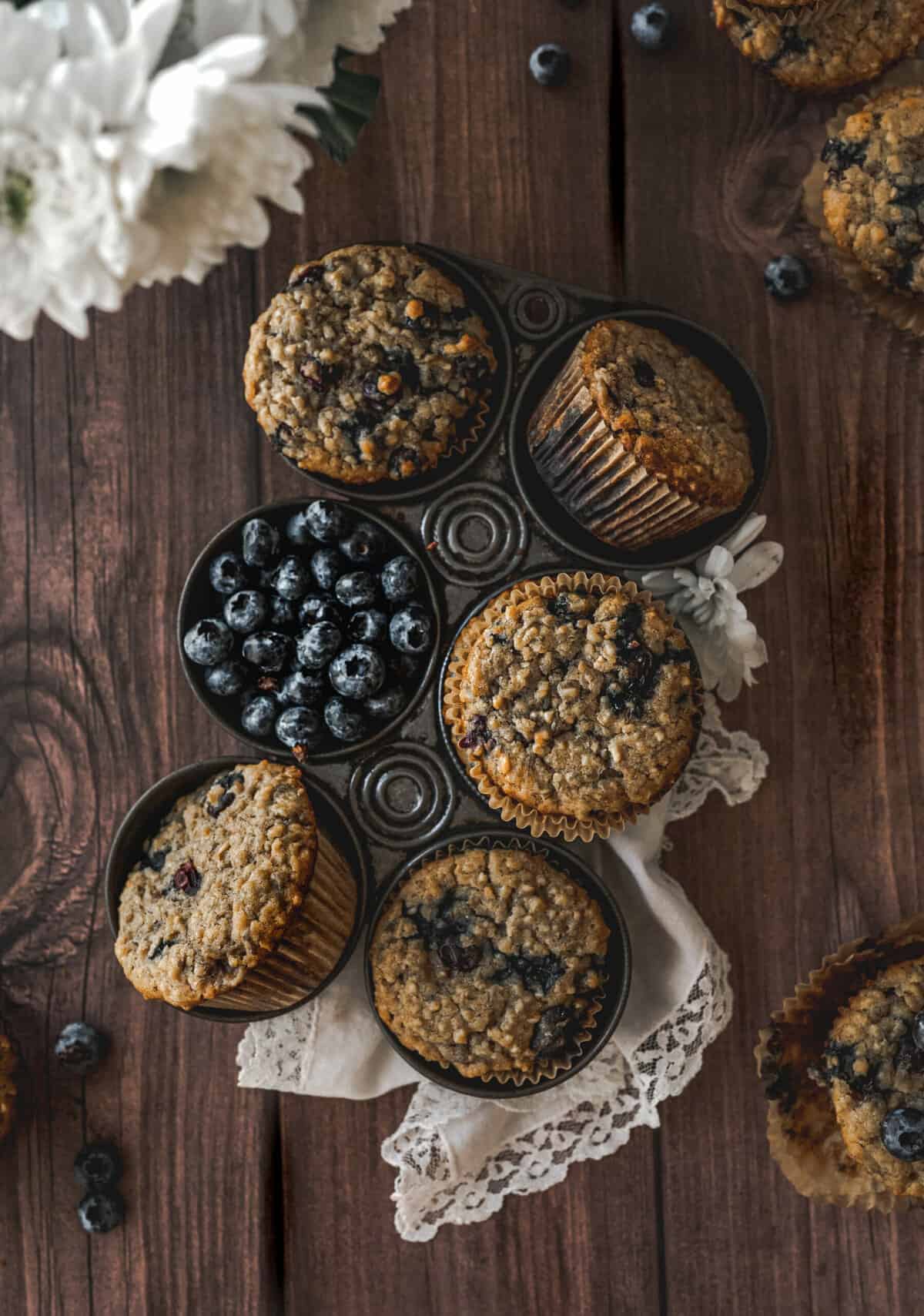 I whipped up these absolutely delicious and healthy bakery-style muffins that will be sure to impress your taste buds while making you feel satisfied at the same time. The secret ingredient is steel cut oats, soaked overnight in milk (or water) which helps give this high fiber treat an extra dose of filling nutrients like protein, calcium, magnesium & iron. After just one serving, our bodies can immediately start reaping all their benefits.
Why you'll love them:
simple to make
healthy and baked with gluten-free steel-cut oats
sweetened with honey, bananas, and blueberries only
easily adaptable to remove dairy or add additional fruit
This muffin is naturally sugar-free, sweetened with honey and extra ripe bananas. They come together thanks to the pre-soaked steel cut oats making them moist and filling. This has been a favorite in my household! It wasn't long at all before they were gone, so I already have another batch in the oven as I create this blog post. We also love variations of this recipe like my Peach apricot steel cut oat breakfast muffins, Maple Pumpkin steel cut oat breakfast muffins or classic Gluten free steel-cut oat banana breakfast muffins
Tips:
Soak your steel cut oats overnight in water or milk. This will create a super thick batter, allowing your muffins to rise into bakery-style muffins. No dry muffins here! This adds such a good, hearty texture. This step is necessary, as you want the oats to absorb the liquid. I've tried to simply skip this step and heat the oats before, but it results in a less than desirable texture in the muffin. Don't skip this step!
How to make blueberry steel cut oat muffins:
Blueberry steel cut oat muffins
Ingredients
115

g

- ½ cup unsalted butter

3

ripened bananas

mashed

1

cup

fresh blueberries

240

ml

-1 cup milk or water

1

large egg

at room temperature

1

teaspoon

pure vanilla extract

120

ml

½ cup honey

80

g

- 1 cup steel cut oats

156

g

- 1 and ¼ cups gluten-free flour

1

teaspoon

baking powder

½

teaspoon

baking soda

1

teaspoon

ground cinnamon

½

teaspoon

salt
Instructions
1. Cover your steel-cut oats with water or milk and let them soak overnight in your refrigerator.

2. Preheat oven to 218°C / 425°F

3. Prepare your muffin pan by setting cupcake liners.

4. Mash your bananas and set aside.

4. Melt your honey and butter on low in a small saucepan.

3. While your honey is melting, combine your dry ingredients (flour, baking powder, baking soda, cinnamon and salt) in a large bowl.

4. Pour your melted butter + honey combo, egg, vanilla, mashed banana, and soaked oats in with your dry ingredients. Your oats should have absorbed your milk or water. If not, strain the soaked oats from the milk or water it was soaked in and add it only your oats. Combine all ingredients until well combined. Fold in your blueberries gently.

6. Using an ice cream scoop, scoop your muffin batter into your lined muffin pan. The batter should reach the top of the liner. If desired, add old fashioned oats on top for garnish. for more texture.

7. Bake for 8 minutes at 218°C / 425°F then, keeping the muffins in the oven, reduce the oven temperature to 177°C 350°F . Bake for an additional 15 minutes or until a toothpick inserted in the center comes out clean.

8. Let muffins cool for at least 10 minutes.


Notes
Be sure to melt your butter and honey together like directed in recipe. It makes the flavor really delectable!
Muffins stay fresh covered at room temperature for 2-3 days, or up to one week in the fridge.
These muffins freeze well!
I hope this recipe works beautifully for you and is enjoyed for many years to come. Thank you so much for reading. Your visit to my site helped support a small mama run business today. If you enjoyed it, I would be so honored if you would share with your loved ones.
Sending love, fresh baked cookies, and a bouquet of your favorite flowers.