DIY Rosemary Herb Wreaths
Give your home a fresh, natural air by making one of these DIY Rosemary wreaths. They're not only chic but also provide aromatherapy and can be used in so many ways!
Recently someone called me looking to hire me as a florist. After they came across my floral rich instagram feed, they were certain I must be a florist. Sadly, I am not - and therefore I don't usually have special florist tools, like wire, to make wreaths.
I had some extra rosemary that I harvested and I wanted to use it in a new and unique way. I decided to make some mini rosemary wreaths and the ideas of ways to use them started flowing in. I thought about how pretty it would be gifted on a bottle of fresh homemade rosemary simple syrup.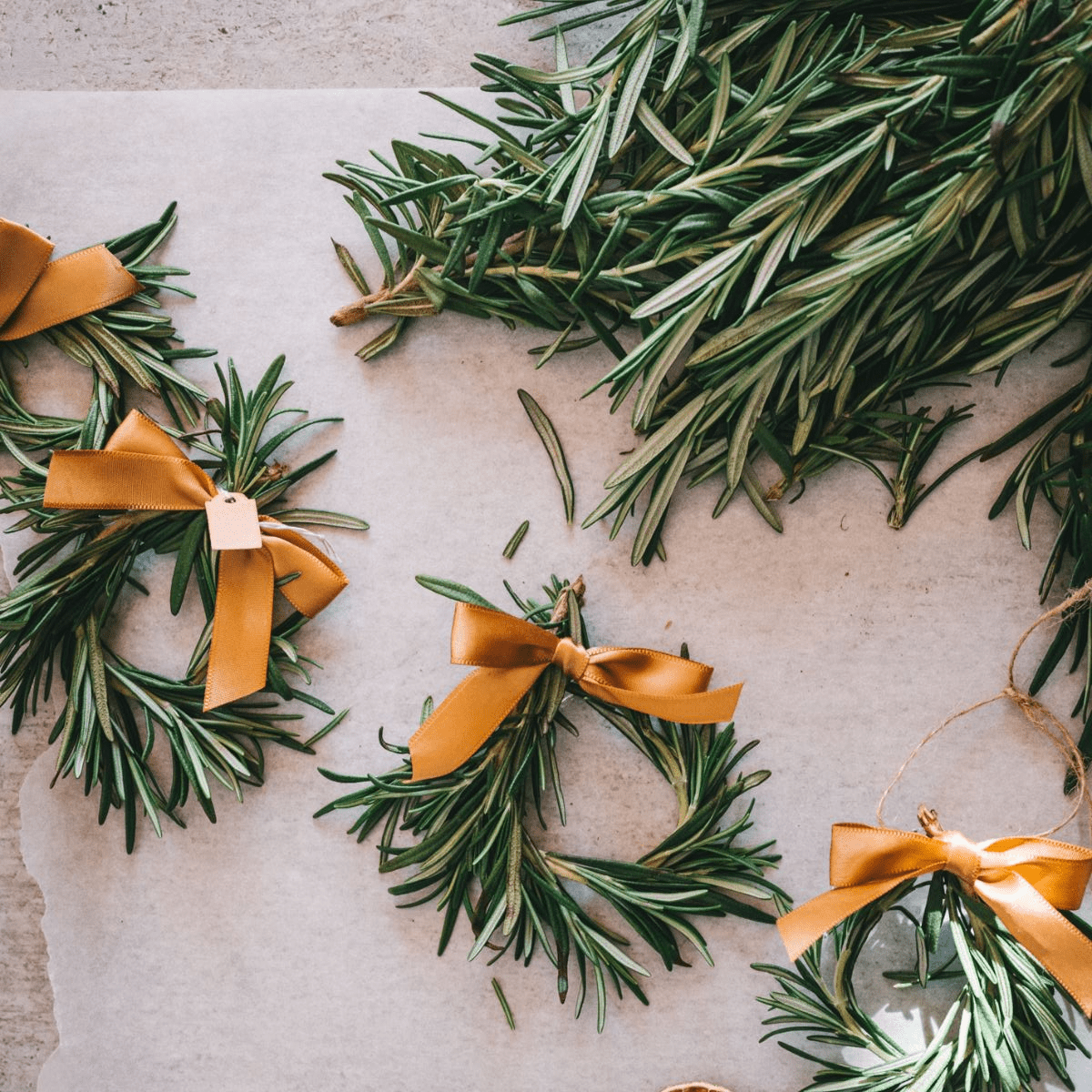 Why you'll love it:
A rosemary wreath is a beautiful way to add some greenery to your home, and it's also incredibly easy to make! All you need is some fresh rosemary, and something to secure the wreath in place. In just a few minutes, you can have a beautiful wreath for a pacesetting or for stunning gift wrap. Plus, they're edible so they would be super cute just placed into a bowl of cozy soup or in a rosemary gin and tonic.
Herbs are a great way to add color, texture, and scent to your home décor. Rosemary is an evergreen herb that is perfect for this project because it lasts a long time without losing its color or shape. Plus, the scent of rosemary is incredibly refreshing and welcoming.
What you'll need:
In this recipe, I kept is SUPER basic and simple.
Medium - long fresh rosemary sprigs, that are still green and fragrant.
A small clip or clothes pin to keep the wreath closed while you secure it.
String, twist tie, bow, or other tool of choice to close wreath.
How to make it:
Simply gently bend the rosemary sprig to form the shape of a circle (or wreath). Use a small clip to keep the rosemary round while you secure it with string or a twist tie. That's it! Let it dry out of direct sunlight.
Watch this video to see how simple it is to make your own rosemary wreath.
Pro tips:
If you plan to use these as a place setting, I highly recommend making them the morning of. They only take a few minutes and will look so beautiful in their fresh glory.
Frequently asked questions:
What supplies are needed to make a rosemary wreath?

A clip to hold the wreath and string of choice to secure it s
How much rosemary will I need?

Each wreath = one sprig of rosemary, so as many as you
How do I shape the wreath?

Simply bend it to create a circle.
You may love: