How To Host A Perfect Cookie Exchange Party, Free Printables!
It's time for you organize an unforgettable party with friends or family members. Host a sweet and sophisticated cookie swap party to kick off the most wonderful time of year! With these free printables, you'll be able to easily share your recipes with friends Celebrate with cookies and splendor and grab the free printables to host in style.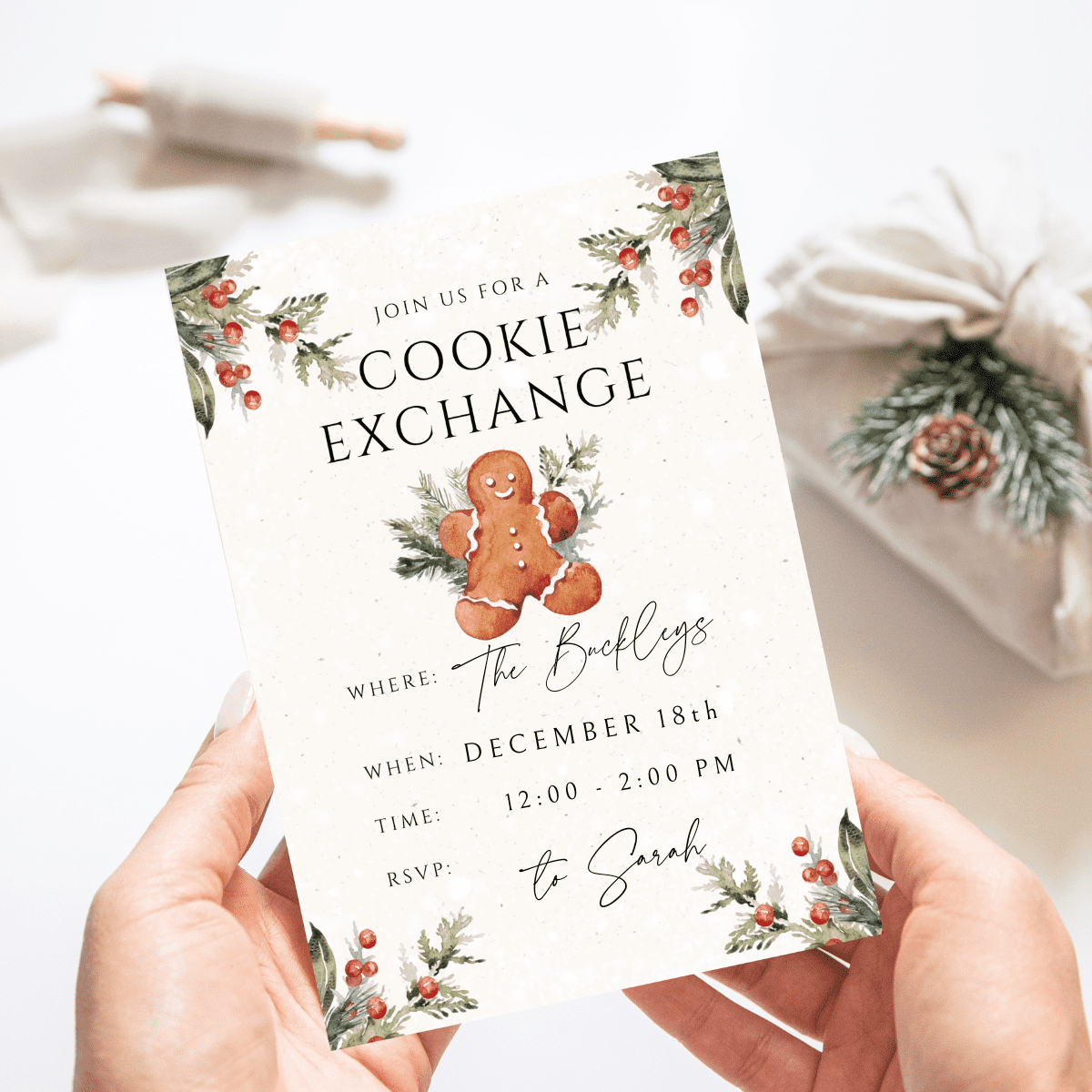 I've hosted several cookie exchanges in my day, and last year I had the privilege of planning and hosting for 150 people at our embassy!
In this post I'll include everything you'll want and need, and even some free printables for cookie exchanging and voting in case you decide to go full competitive and make it a bake off. While it's fun have a standard cookie exchange, I find people really show up and give it their all when it's a friendly competition.
What is a cookie party / exchange swap?
A cookie exchange is a holiday themed party where each guest brings their favorite cookies to share with friends. You only make one recipe, but get the chance to enjoy lots different types! It's an enjoyable way spend time or evening, and is a "must" when it came to hosting a holiday party. Sometimes it can be fun trying out recipes that we don't usually make at home because they may turn into favorites after sampling them themselves.
How to successfully host a cookie swap:
Make a plan:
It seems so simple, but a good host has a plan. Last minute miscommunications or misunderstandings about your event will stress you and your guests out. Make sure you know everyone knows exactly what is expected of them, simple things are easy to miss like: where to park, or that they were expected to bring cookies only instead of cheesecake.
Create an invitation list:
Who do you plan to invite? Your office, neighborhood? Adults only? Make your list first. Be realistic about how many people you actually want to accomodate, and keep in mind many people feel busy and overwhelmed during the holidays and may decline.
Create a group:
Create a group on your platform of choice. WhatsApp and Facebook are popular options. I love WhatsApp for inviting friends to events because we can all converse easily and get excited when we see what other people are contributing. Keep the event open until after the party is over so you can share photos and recipes.
Ask your invitees to determine their contribution + ask them to bring their recipe for sharing.
Create a sign up sheet - one of the most important parts of a cookie party it making sure everyone gets to bake and try different, create a first come first serve list and ask your guests to stick to it.
Be inclusive:
Not everyone likes to bake, but they may still want to participate. If a friend really doesn't want to bake, ask them to bring a store bought savory dish to snack on while you exchange cookies. Unfortunately, too many friends who won't bake will mean there aren't enough cookies to go around. So encourage your friends to step out of their comfort zone and try something new!
Be clear on expectations:
Be sure to ask guests to bring cookies only. Cakes and cupcake are harder to transport and I like this boundary because it really allows everyone to try a new cookie.
Some fun suggestions for your planning!
Family friendly party on a weekend afternoon. Leave out some cookie decorating supplies for little ones to decorate their own cookies.
Invite Santa to make an unexpected appearance.
Host during the evening for adults only alongside some festive cocktails or gourmet hot cocoa.
Make it a pajama party and show your favorite Christmas movie on your projector after!
Make it an ugly sweater party
Say thanks!
Don't forget to say thanks to your guests for showing up and participating!
The Printables:
I made these so you could host elegantly and even included a sign for hot cocoa!
Cookie Exchange Printables
Tools for a successful host:
Boxes for taking home cookies. I love these whimsical boxes. Adorable gingerbread homes?! Yes please. You can also just asks friends to go green and bring their own tuppawear!
Mini tongs for serving: The type of thing you never realize you need until you're in the thick of your party. This pack of mini tongs will come in handy for years to come.
Make it a bake off:
If you choose to make your party a bake off, print and use these adorable cookie voting ballot.
You will need a few dedicated cookie testers for voting, unless you want the entire party to vote.
Prizes ideas:
Its not a competition without some prizes! Here are some first, second, and third place prize ideas.
Any baker will swoon over this French tart kit at a cookie bake off!
Sweet and simple kitchen utensils like this or embossed rolling pins are warmly welcomed by expert bakers and newbies a like!
Don't forget to try our amazing cookie recipes so you can wi first prize!