How To Host A Large Thanksgiving Gathering with Elegance & Ease!
How To Host A Large Thanksgiving Gathering with Elegance & Ease! As we gather around the Thanksgiving table, let us not only savor the delectable bounty before us but also cherish the enduring spirit of this beloved holiday. Amid shared laughter, heartwarming stories, and the simple act of giving thanks, we discover the true essence of Thanksgiving, a celebration of abundance, gratitude, and the enduring bonds of family and friendship.
Last year, our family hosted Thanksgiving for 30+ people. It was a major milestone, and now I feel confident enough to invite everyone who needs a seat at the table warmly. With the right prep, a perfectly planned menu, and plenty of help and apple cider mimosas, we can do hard things.
More Thanksgiving resources:
Over in this post, we share our Buckley home Thanksgiving menu! With a little planning and preparation, you can host a Thanksgiving that is equal parts frolic and fare. Your family and guests will appreciate your thoughtfulness and effort in making their Thanksgiving special.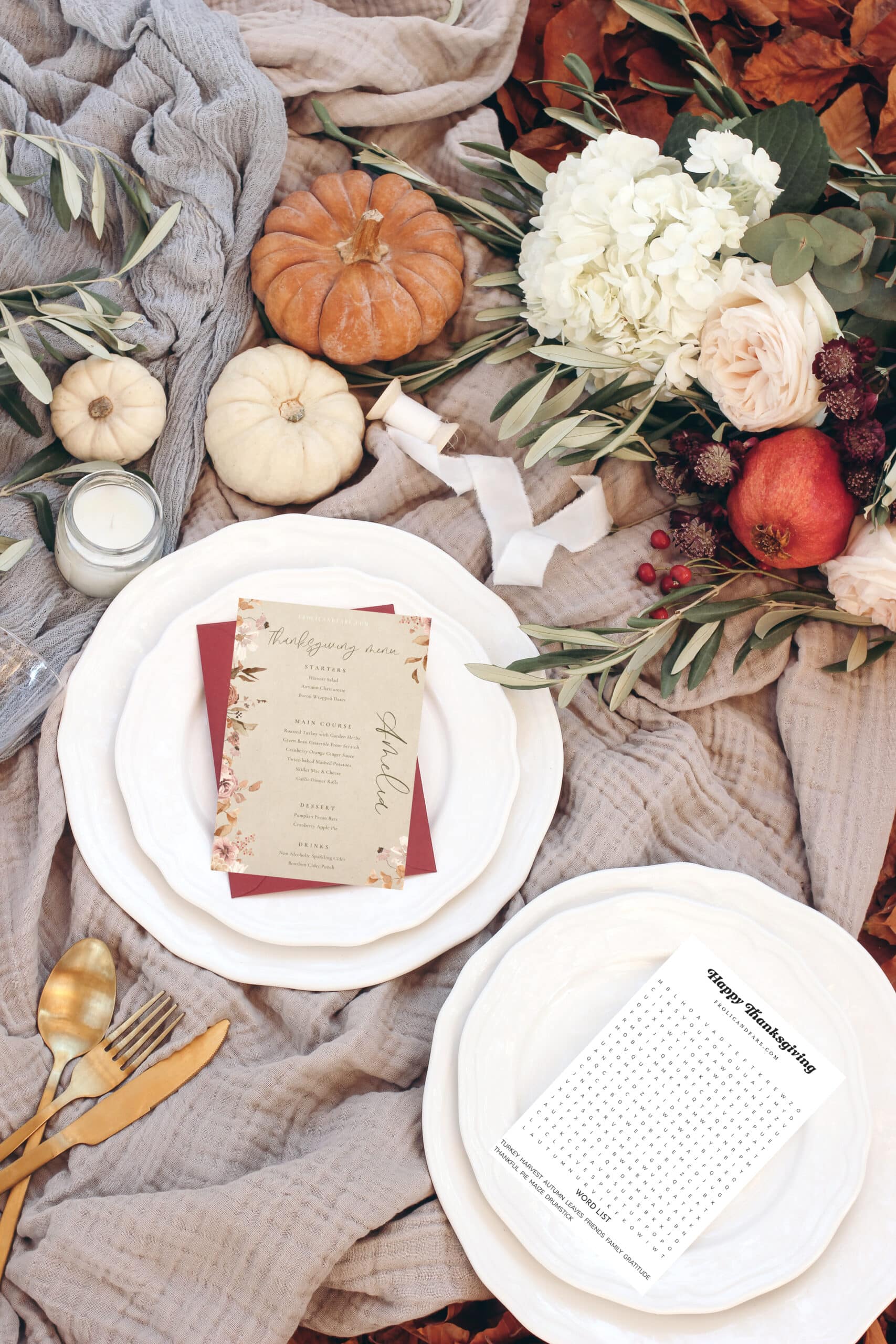 Thanksgiving Hosting Guide
Cast a vision:
Before planning your Thanksgiving celebration, take a moment to decide what kind of experience you want to create. Will it be a cherished family reunion or an intimate gathering with only your closest loved ones? Or will it be a chance to open up your home and invite those who may not have family nearby? Once you have a clear vision of your ideal gathering, list those you'd like to share it with. Remember, this is a special time to come together and give thanks, so take the time to create a memorable experience for your guests.
Once you have a clear picture of the type of experience you want to create, list the people you'd like to invite. Write down the names and tally the total number to help you plan for the food you'll need, the venue, seating arrangements, and more. Ensure that you have enough space and seating to accommodate your guests. If necessary, rent or borrow chairs or consider an alternate location to make your vision a reality.
Extend the invitation:
Send out invitations at least two weeks before your guests can RSVP and make travel arrangements if needed.
Create A Cooking Schedule
Now that you know what you are cooking, buying, or having others cook, it's time to get organized with a plan. Identify what you're going to cook in advance of Thanksgiving. For the remaining items, make a schedule.
The oven is the biggest constraint for cooking several dishes at the same time. Where possible, use other cooking appliances. A slow cooker can be used for side dishes like a green bean casserole. An instant pot works great for mashed potatoes. Next, write out the temperature and bake time for the items that need to be cooked in the oven. Identify which dishes need to be the hottest and which ones can be cooled a bit e.g. rolls and turkey.
Now make your schedule.  List the time for each dish to go into the oven, how long it needs to stay, and what (if any) dishes will be in at the same time.
Plan your menu:
Decide on your menu and start shopping for ingredients early. This will help you avoid the stress of last-minute shopping and cooking.
If you have any dietary restrictions among your guests, plan accordingly.
Plan activities for your guests:
This will help to keep them entertained and engaged throughout the day. Some activities that you may want to consider include watching football, playing games, or going for a walk.
Outsource:
If you're short on time but set on cooking the meal, consider outsourcing some of the small parts, or even delegate entertainment ideas and the centerpiece. A little extra support can go a long way. Think about the things you enjoy cooking the least or that are the most difficult for you. Consider buying those from a local restaurant that has a home-cooking style.
We always organize our Thanksgiving as a potluck. This is a great way to reduce stress and manage workload and expectations. You can be as specific or loose as you want regarding the assignment. For example, you could ask one person to bring a salad, another a casserole, and another a dessert. 
Prepare your home:
The week before:
Deep clean your home. This means dusting, vacuuming, mopping, and wiping down surfaces.
Prepare guest rooms. If you are having guests stay overnight, make sure that their rooms are clean and comfortable. This means changing the sheets, putting out fresh towels, and providing toiletries.
The night before:
Set the table. This will help to make your dining room look festive and inviting. You may want to use a tablecloth, centerpiece, and candles.
Ensure you have a children's table if you're hosting little ones. Make sure you have non-glassware for them.
Create ambiance by getting some lightly scented candles, or diffuse some Autumn essential oil blends.
Create an elegant dinner playlist to create a warm and inviting atmosphere.
Prepare the food and drinks:
Embrace the French culinary concept of Mise en Place to streamline your Thanksgiving meal prep and ensure a stress-free cooking experience. The key is to have all your ingredients meticulously organized, washed, and prepped before you even begin. This is the essence of Mise en Place.
To achieve this culinary finesse in your own kitchen, follow these simple steps:
Gather Your Ingredients: Ensure you have all the necessary ingredients on hand before your big day.
Accessibility Matters: Arrange your ingredients in a way that makes them easily accessible during the cooking process.
Preparation is Key: Prepare vegetables in advance by washing, slicing, or dicing them two to three days before Thanksgiving. This frees up valuable time on the actual day.
By implementing these Mise en Place principles, you'll transform your Thanksgiving meal prep into a seamless and enjoyable culinary adventure.
Start cooking early in the day so you have plenty of time to get everything ready.
If you're making multiple dishes, try to cook some of them ahead of time and freeze them. This will make the day of Thanksgiving much less stressful.
Don't forget to set aside some time to prepare the appetizers and desserts.
Stock up on beverages. This includes non-alcoholic beverages for designated drivers as well as alcoholic beverages for those who choose to drink. You may also want to make a batch of punch or sangria.
Serve up the fun:
Greet your guests with warm smiles and welcome them to your home.
Encourage guests to mingle and get to know each other.
Be sure to thank your guests for coming and making your Thanksgiving special.
Here are some additional tips for a frolic and fare Thanksgiving:
Set up a photo booth with fun props for guests to capture memories.
Create a signature cocktail or mocktail for guests to enjoy.
Set up a games table with classic board games and card games.
Designate a space for guests to relax and chat, such as a living room or den with comfortable seating.
The Schedule 
Early November
If you're ordering a fresh turkey, do so now. You will need 1 ½ to 2 pounds of turkey per person.
Make pie dough, and freeze.
Polish flatware and iron table linens.
Plan your Thanksgiving menu.
Make a grocery list.
Shop for non-perishable groceries and beverages.
One Week Before
Clean refrigerator, clearing as much space as possible.
Deep clean house, declutter living room, dining room and kitchen.
Clean guest room, if applicable
Wash and iron tablecloth and linen napkinns
4 to 5 Days Before
If using a frozen turkey, begin to thaw in the refrigerator, allotting about 5 hours for each pound of turkey. Place bird on a rimmed baking sheet to catch any drips.
2 Days Before
Prepare bread for stuffing: Cut loaves of good white bread into chunks; let dry on a baking sheet. Cook and peel chestnuts.
Prepare cranberry sauce.
Buy any remaining ingredients.
1 Day Before
Pick up fresh turkey; begin brining turkey in a saltwater bath.
Combine stuffing ingredients.
Thaw pie dough; assemble and bake pies.
Assemble everything you will need for table settings, including linens, serving pieces, and centerpiece; set table.
Prepare bar.
Thanksgiving Day Turkey Timeline
9:00 a.m. Remove turkey from brine, and let stand at room temperature for 2 hours.
11:00 a.m. Preheat the oven to 425 degrees. Stuff, truss, and season turkey.
11:30 a.m. Roast turkey, covered with soaked cheesecloth.
12:00 p.m. Reduce oven temperature to 350 degrees. Brush turkey with butter mixture every 30 minutes; tent with foil if skin gets too dark.
1:30 p.m. Add giblets and neck to roasting pan.
2:00 p.m. Remove giblets and neck; make stock for gravy.
2:30 p.m. Remove cheesecloth, rotate the pan, and baste turkey.
3:00 p.m. Rotate roasting pan.
3:30 p.m. Insert an instant-read thermometer into thickest part of one turkey thigh. When thermometer registers 180 degrees, remove turkey from oven. Before carving, let turkey stand at room temperature for about 30 minutes. Make gravy.
4:00 p.m. Begin seating your guests.