Classic Elegant Thanksgiving Menu with Printable Menu
Sharing our Buckley Home Classic Elegant Thanksgiving Menu with Printable Menu Template. It serves as a perfect place setting and activity all in one. This heartwarming holiday, rooted in gratitude and the spirit of togetherness, finds its culinary expression in a symphony of flavors that have stood the test of time.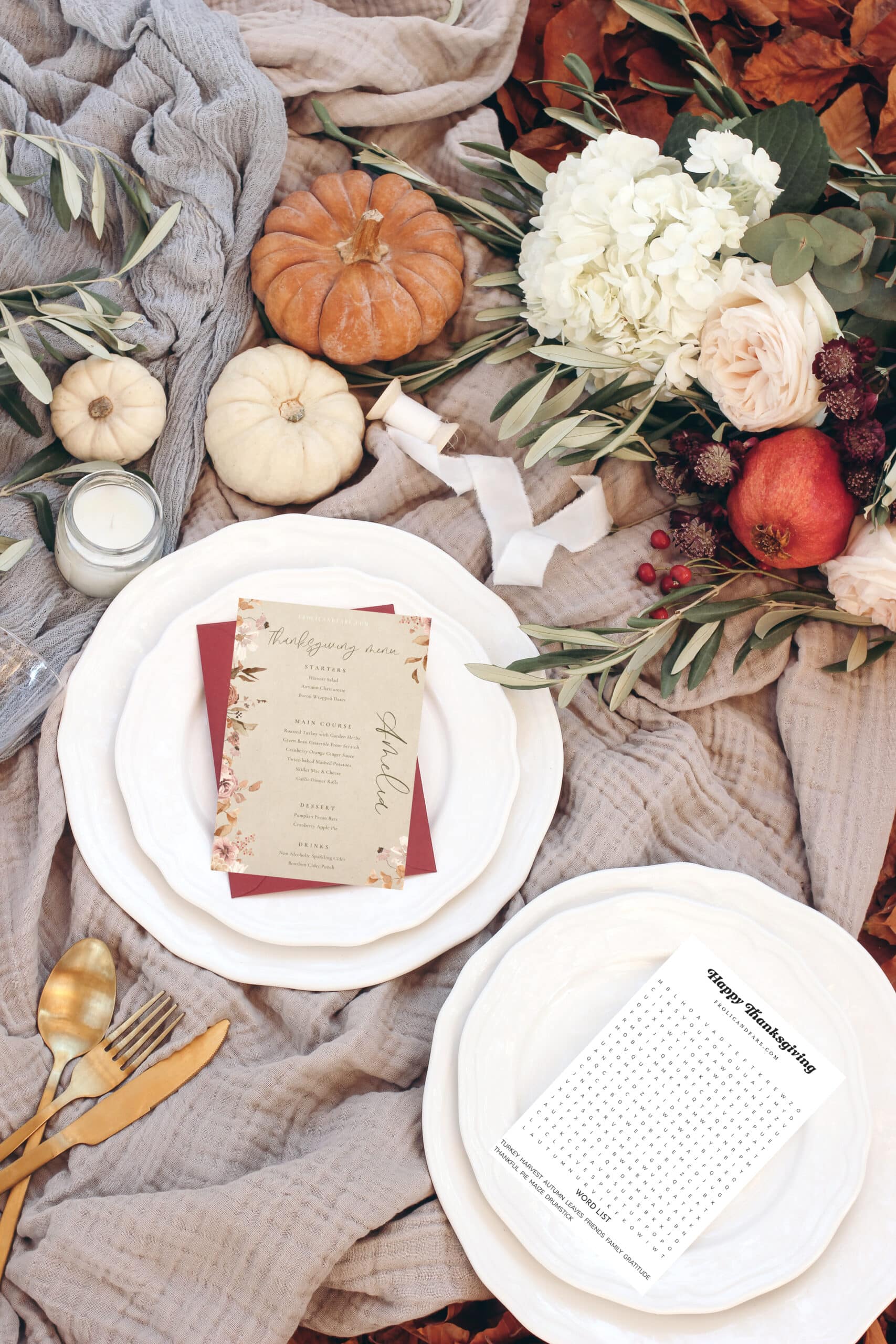 What is a classic Thanksgiving menu?
At the heart of every Thanksgiving feast lies the majestic turkey, a symbol of abundance and prosperity. Its succulent flesh, basted in a rich, savory gravy, promises to tantalize the taste buds of even the most discerning palates. Alongside this culinary centerpiece, a medley of side dishes takes center stage, each contributing its unique harmony to the Thanksgiving orchestra.
Mashed potatoes, creamy and smooth, offer a comforting contrast to the richness of the turkey.
Vibrant green bean casserole, topped with a crispy, golden-brown onion layer, adds a touch of rich indulgence in vegetable form. Once a symbol of convenience, has transformed into a culinary masterpiece.
Stuffing, once a humble mixture of bread and herbs, has evolved into a culinary canvas, welcoming various ingredients, from the earthy crunch of mushrooms to the sweetness of dried fruits.
For a touch of tangy sweetness, cranberry relish, a symphony of tart berries and aromatic spices, complements the savory dishes perfectly.
No Thanksgiving table is complete without the iconic pumpkin pie, its silky smooth filling encased in a buttery, flaky crust, a symphony of autumnal flavors that lingers long after the last bite.
While the essence of Thanksgiving cuisine remains steadfast, culinary trends have gently nudged these time-honored dishes towards new heights of sophistication. As you can see from the menu I have selected below, there are variations of these dishes and you are free to make your feast truly your own.
Free editable menu:
Not only am I sharing the exact menu we are serving up, I am also sharing a gorgeous editable menu template so you can print it and use it for your own event. It has two sides: one with a fun Thanksgiving word search! They serve as a drool-worthy teaser for your guests and a perfect place setting for your Thanksgiving, and are functional as they give guests and kids a chance to search for words. You can even print them as a poster.
How to edit:
How to print:
Print them right at home if you have a printer!
For professional printing, I recommend Prints of Love. They offer high-quality prints and fantastic customer service! When you use my special link below, you'll receive FREE shipping Use code FROLICANDFARE at Prints of Love for 10% off your order of $49 or more!"
Print in any size, from 5x7" card to 16x20" poster!
More Thanksgiving resources:
Main dishes:
It's not Thanksgiving without the turkey! As Tiegan says, "The turkey has to be classic. Herbs and butter. Nothing fancy, nothing overdone. Just classic, simple and delicious flavors."
RECIPE
Appetizers:
The perfect sweet and savory appetizer for your guests to go gaga over. They are so simple to put together, but just the right amount of elegant to add flair to your Thanksgiving feast.
RECIPE
A charcuterie board should be well balanced with sweet, savory and salty flavors and plenty of texture. I always try to play on seasonal flavors and use seasonal produce when possible. In Autumn I make a point to use some dried fruits and nuts. In this helpful post I share exactly how to put together your board, and include a great shopping list that will come in handy for all future charcuterie adventures!
RECIPE
Sides:
This deliciously creamy green bean casserole is made completely from scratch with fresh green beans. It may put all of the other Thanksgiving veggie dishes to shame!
RECIPE
A deliciously unique stuffing made with big fluffy slices of brioche and savory sausage and cheese. Because we love a decadent, rich Thanksgiving menu full of flavor everywhere.
RECIPE
Loaded with sour cream, butter, cream cheese, Parmesan, and fresh herbs, they're rich, creamy and packed with flavor.
RECIPE
These easy dinner rolls brushed with herb and garlic butter fresh out of the oven are what you want to serve with your perfect Thanksgiving spread.
RECIPE
This spiced cranberry sauce with orange and ginger is super simple to make, tastes fantastic, and is sweetened with honey or maple syrup! Sorry, we don't do canned cranberry sauce in this house!
RECIPE
Desert:
Layers of ooey-gooey goodness from a cookie crust to pumpkin, butterscotch, toffee bits, pecans and more. This combination of ingredients makes an amazing bar that screams fall fun!
RECIPE
Cranberries, apples, cinnamon spice, and a buttery homemade pie crust make this apple cranberry pie a beautiful unique twist on traditional Thanksgiving pies.
RECIPE
Drinks:
This apple cider, prosecco, and bourbon punch is full of Fall and Holiday flavors! It's apple cider, bourbon, and sparkling wine!
RECIPE
The perfect cocktail for thanksgiving morning or your friendsgiving brunch. The apple cider mimosa!
RECIPE
As we gather around the Thanksgiving table, let us not only savor the delectable bounty before us but also cherish the enduring spirit of this beloved holiday. Amid shared laughter, heartwarming stories, and the simple act of giving thanks, we discover the true essence of Thanksgiving, a celebration of abundance, gratitude, and the enduring bonds of family and friendship.
Other recipes to try:
Some other elegant recipes you may wish to add to your spread:
White pumpkin lasagna
Butternut squash and marigold soup
Butternut squash hand pies