Immunity supporting thieves herbal honey tea spoons
Immunity supporting thieves herbal honey tea spoons are perfect as a cough suppressant and sore throat relief all wrapped up in a treat!
Sore throats are caused by bacterial or viral infections that cause inflammation of the membranes in our throat tonsils. They're very common and often uncomfortable with symptoms of dryness, itchiness, difficulty swallowing, and pain. And is there anything worse than when these symptoms accompany an uncontrollable cough? I think not! These are essentially delicious homemade cough drops.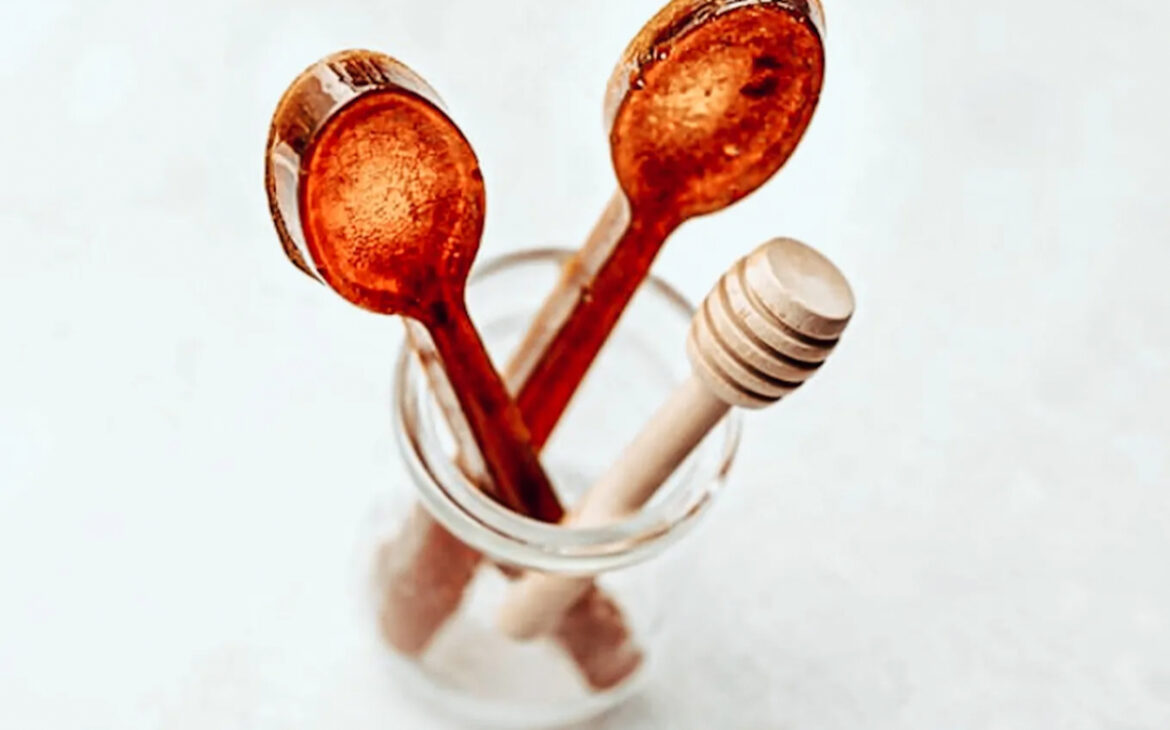 Why you should make these herbal honey spoons:
One of the best treatments for a deep cough + sore throat is right in your kitchen cabinet. But you probably already knew that! Many families use honey to ward off colds and sore throats because it's use is proven to help these symptoms. In clinical studies, honey was as effective as a commonly used cough suppressant ingredient, dextromethorphan, which is found in typical over-the-counter cough medicine. Source. Honey is usually readily available and delicious, so why not give it a shot?
I don't know about you, but when I'm under the weather, I always boil some water and sip on tea all throughout the day. And although honey is sweet and delicious, I don't enjoy eating it by the spoonful. So I pop one of these spoons in my tea, let it dissolve while my tea steeps. And my kids like to eat them like lollies. Please note: due to the risk of infant botulism, a severe but rare form of food poisoning, you should never give honey to a child younger than a year old.
If you're interested in honey lollipops but are looking for other flavors, or no flavor at all: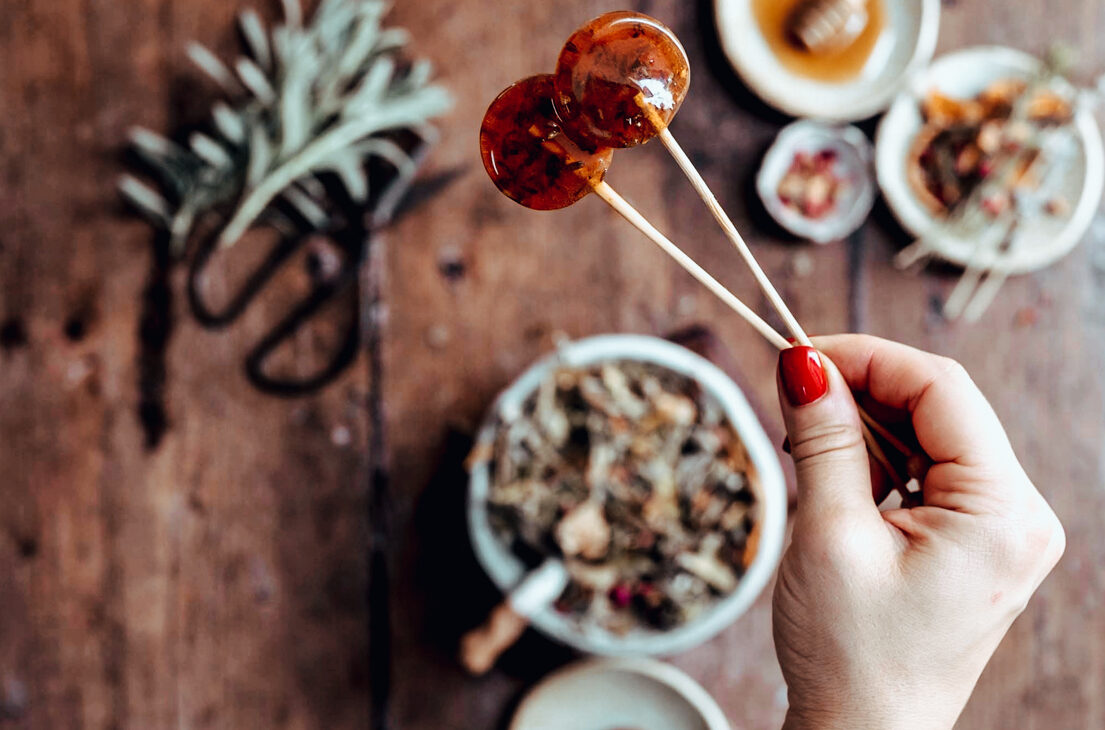 What is thieves herbal blend?
Thieves blend is a medieval herbal blend composition that is said to have been used during the black plague. Historically, it was used in a vinegar solution. While I love to make thieves vinegar, I thought I would infuse some the herbs into my manuka honey and keep some in the fridge.
What type of honey should you use in honey spoons:
½ cup raw honey, Manuka Honey is best! Manuka honey can handle being heated without losing all of it's benefits. You can use any honey you have, though! Manuka is costly.
Ingredients in infused thieves honey:
rosemary
cinnamon
clove
lemon peel
nutmeg
ginger
These are not all traditional, but many variations exist, so it's difficult to know which one to replicate, and this one works well for us.
You can use whole fresh or dried or ground spices. The beauty of a recipe like this is that it's fool proof and you are able to let your inner herbalist play with ratios and use what you have on hand. I typically use fresh rosemary, lemon peel and ginger. I also tend to use whole spices, with the exception of nutmeg - which I use ground. Herbal recipes like my rose fire cider are easily adaptable based on your taste preferences and convenience.
This recipe uses a homemade blend of thieves infused honey to make all the magic happen!
How to infuse honey
There are fast infusions, which include heating your honey and ingredients on low heat so that the honey takes on the flavor quickly. You can see an example of this in my garlic hot honey recipe.
In this thieves honey recipe, we use a slow infusion - and let the ingredients sit at room temperature for a long time. Slow methods are a great way to achieve stronger flavors and a little zen.
Infusing honey is easy. One of the easiest recipes on the blog. And once you know how, the possibilities are endless. Simply choose your ingredients to place in a clean jar then cover it with your favorite local raw honey. It can sit and infuse from overnight - up to six weeks for more intense flavor. The honey mixture will infuse and take on new flavors, and the health benefits of the unique ingredients you choose. The flavor ideas are endless, and when gifted in a pretty jar? So thoughtful.
Other infused honey ideas:
Tools needed to make this recipe:
Favorite tools linked below !
A candy thermometer. This is crucial. You need to make sure you honey has reached 300 degrees so that it will harden. You want to get it to this temperature low and slow to avoid burning the honey. If you get a candy thermometer, there is all kind of wonderful new homemade candy recipes you can try. Marshmallows, caramels, and so much more.
A sauce pan for heating the honey.
A mold of some sort - we use either a lollipop mold with sticks or spoon mold. The lollipop mold is a bit more practical and we find it easy to remove without it breaking. Occasionally, the spoon mold will break, which can be disappointing.
How to make honey spoons / lollies:
Place all ingredients in raw honey several days before making the lollies to allow them to infuse.
Prepare popsicle sticks or lolly pop sticks over parchment paper or on a spoon mold (I use spoon mold)
Put your thieves honey in a double boiler place over boiling water in a small saucepan
Stir constantly until temperature reaches 300 degrees F (use a candy thermometer)
Remove from heat and stir
Quickly pour into the top of your spoon mold, or gently drop in a circle shape over the top of your lollipop or popsicle stick, to encompass the top of the stick.
Let solidify at room temperature, or move to the fridge for at least one hour.
Gently remove from parchment paper, or easily "pop" out from your mold.
Lollies will dissolve easily in hot water.
I hope this recipe works beautifully for you and is enjoyed for many years to come. Thank you so much for reading. Your visit to my site helped support a small mama run business today. If you enjoyed it, I would be so honored if you would share with your loved ones.
Sending love, fresh baked cookies, and a bouquet of your favorite flowers.