These mini tea cakes are light, airy, exquisite, and the perfect accompaniment to afternoon tea. They have a soft crumb and are the sweetest little cake for any occasion!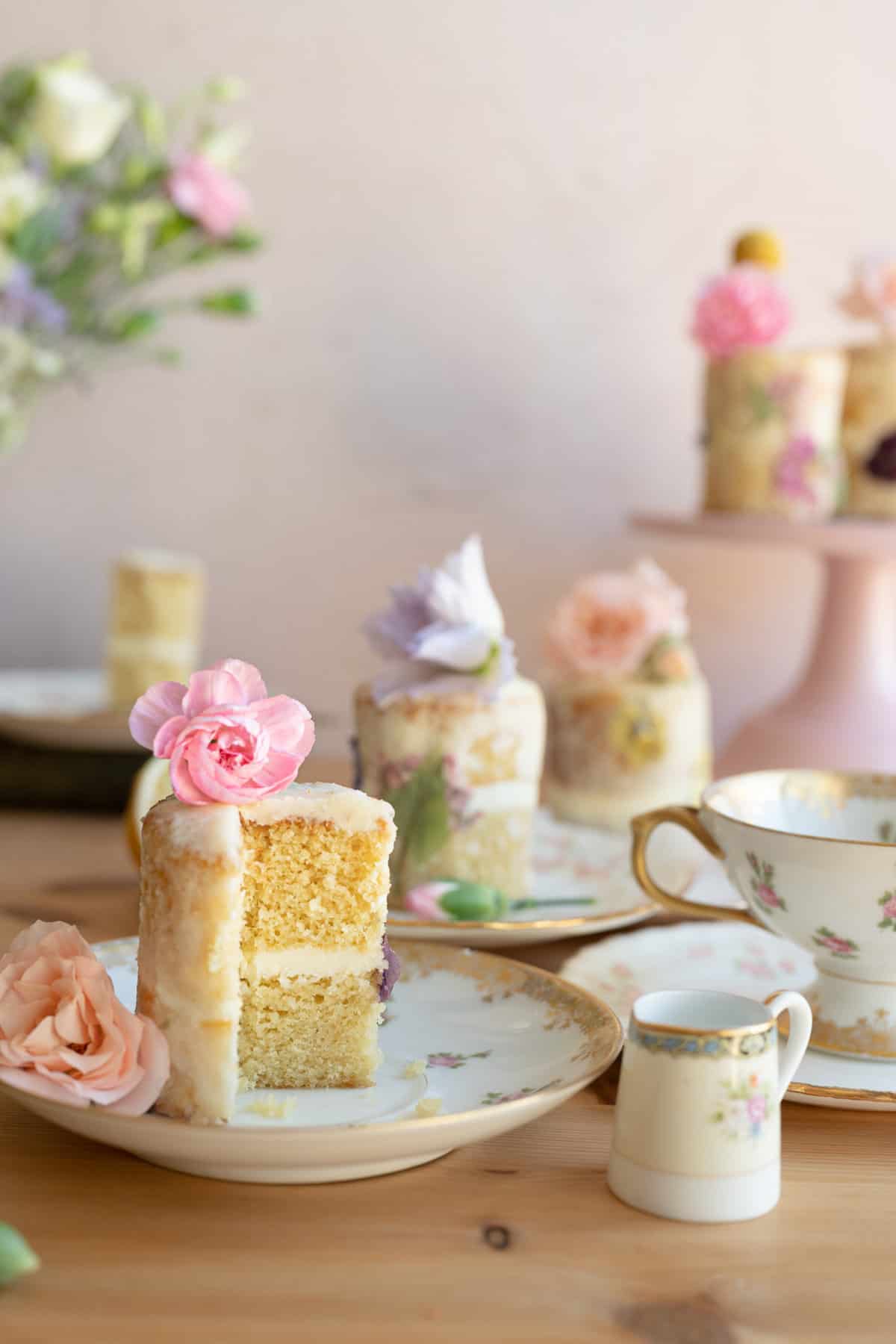 Oh I just love these little cakes. They are simple vanilla cakes with vanilla buttercream. I wanted them to delicious, soft and tender with delicate naked buttercream for pressing little flowers into. I didn't want to do any intricate frosting or piping as they would simply be topped with silky edible petals.
Why you'll love this recipe:
The cake is so soft and moist
It's got a simple flavor profile, easily adaptable
It's easy to assemble, I mean tea cakes are meant to be shabby chic and imperfect. 😉
Tools:
Ingredients:
Mini cakes:
butter, unsalted - room temperature
sugar
eggs
all-purpose flour
baking powder
salt
buttermilk or whole milk
honey
vanilla extract
Buttercream:
unsalted butter, room temperature
confectioners sugar
heavy cream at room temperature
pure vanilla extract
How to make these mini cakes:
Preheat oven to 350 degrees F or 176 C
In medium bowl combine dry ingredients (flour, baking powder and salt) Set aside.
In a large bowl, cream sugar and butter on medium - high speed until well combined. You can use a hand mixer or make in the bowl of an electric mixer / stand mixer fitted with the paddle attachment.
Add eggs, one at a time, beating well after each addition and scraping down sides of bowl as needed.
Gradually sift in the dry ingredients, mixing until it's well combined.
Using ice cream scoop fill your cake molds about ⅓ full. Simply spoon batter if you don't have an ice cream scoop.
Bake for 18-20 minutes, until toothpick inserted into cupcake comes out clean. Make your buttercream while they bake.
Let mini cool in their mold for at least one hour before removing them. While they're still in the mold, use a serrated knife to cut the tops off of any cakes that baked over the edge to make them flat and even.
Let cakes cool for at least one hour before removing them from their molds.
Buttercream:
Add butter to large mixing bowl. Slowly sift in your powdered sugar, mixing with your mixer, adding in a little bit of your cream as needed to help mix it and smooth it. Add vanilla extract and and beat on low speed until the ingredients are all well incorporated, then bump up the mixer to medium-high speed. At this point, check the frosting consistency, you can add more confectioners' sugar if the frosting is too thin or a splash of heavy cream if it's too thick. Taste and salt. Add a pinch of salt to offset the sweetness.
These mini cakes are perfect with one of our fancy drinks too, of course! How about some Lavender Lemonade, or a Rose milk tea latte?
Best edible flowers for cake:
We used two types of flowers for our mini tea cakes. First, fresh flowers for the tops, and dried pressed flowers for the outside of the cakes. The best type of flowers for pressing onto a cake are ones that are easily pressed. For this, we used: pansies and dianthus. You may also want to consider the taste of the flower. Here is a list of The Best Tasting Edible Flowers. To garnish the tops, we used what we could find organic. If you're looking for edible flowers, we have an entire post dedicated to sourcing them.