Edible Flower Summer Rolls
These edible flower summer rolls are bursting with color and flavor thanks to fresh, natural delicious ingredients, like fresh garden grown flowers. They're perfect for any occasion-- or just because you want something refreshing.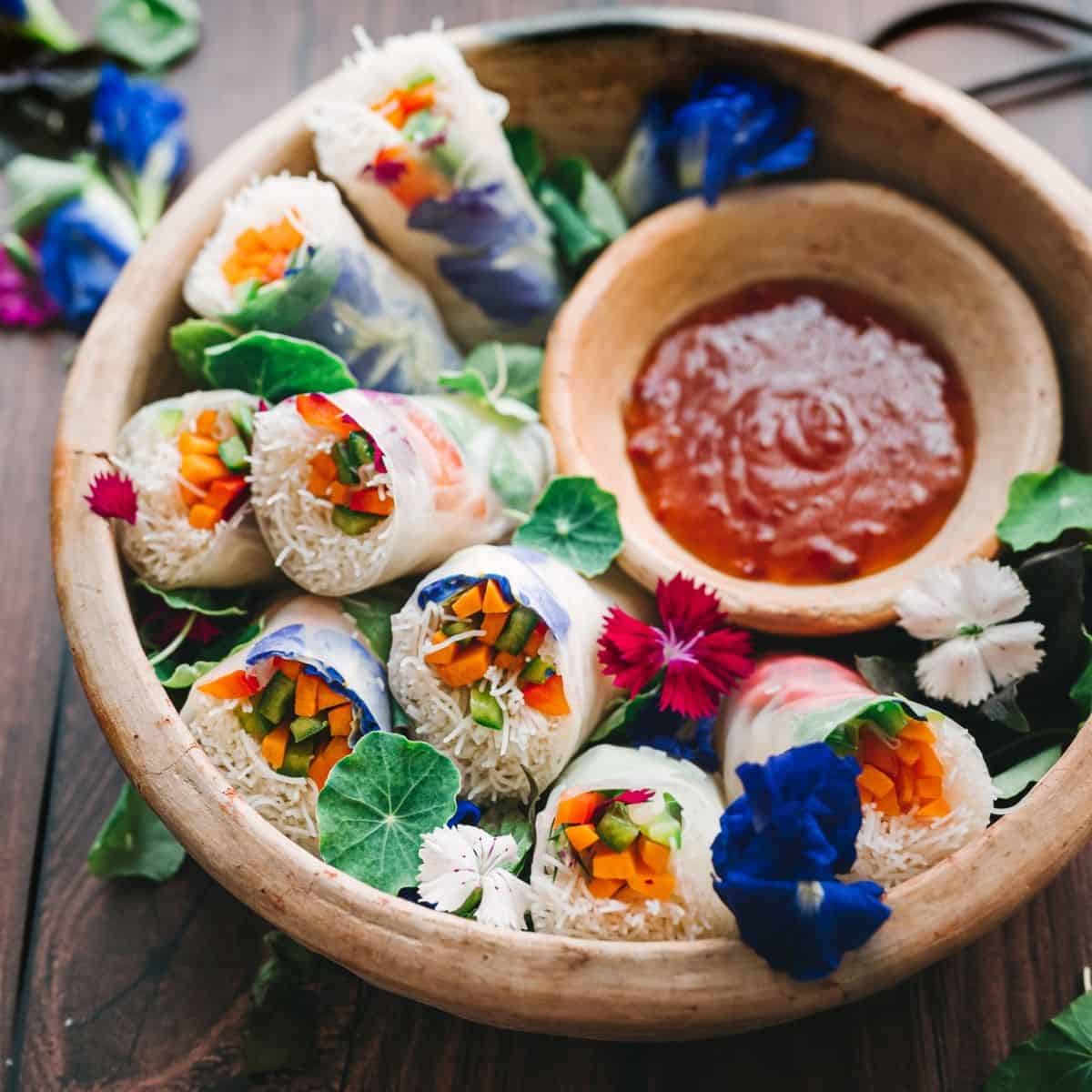 This beautiful vibrant dish is often referred to as "spring rolls", however they are actually "summer rolls". Summer rolls are native to Vietnam, and differ from spring rolls (which are believed to be originated from China) because they are wrapped in rice paper.
Traditional summer rolls may consist of pork, shrimp, vegetables and rice vermicelli. This recipe plays upon the traditional recipe, however can not be considered authentic. I am not Vietnamese, skipped adding any meat in them to keep them vegan, and am sharing an adaptation using one of our favorite ingredients - edible flowers!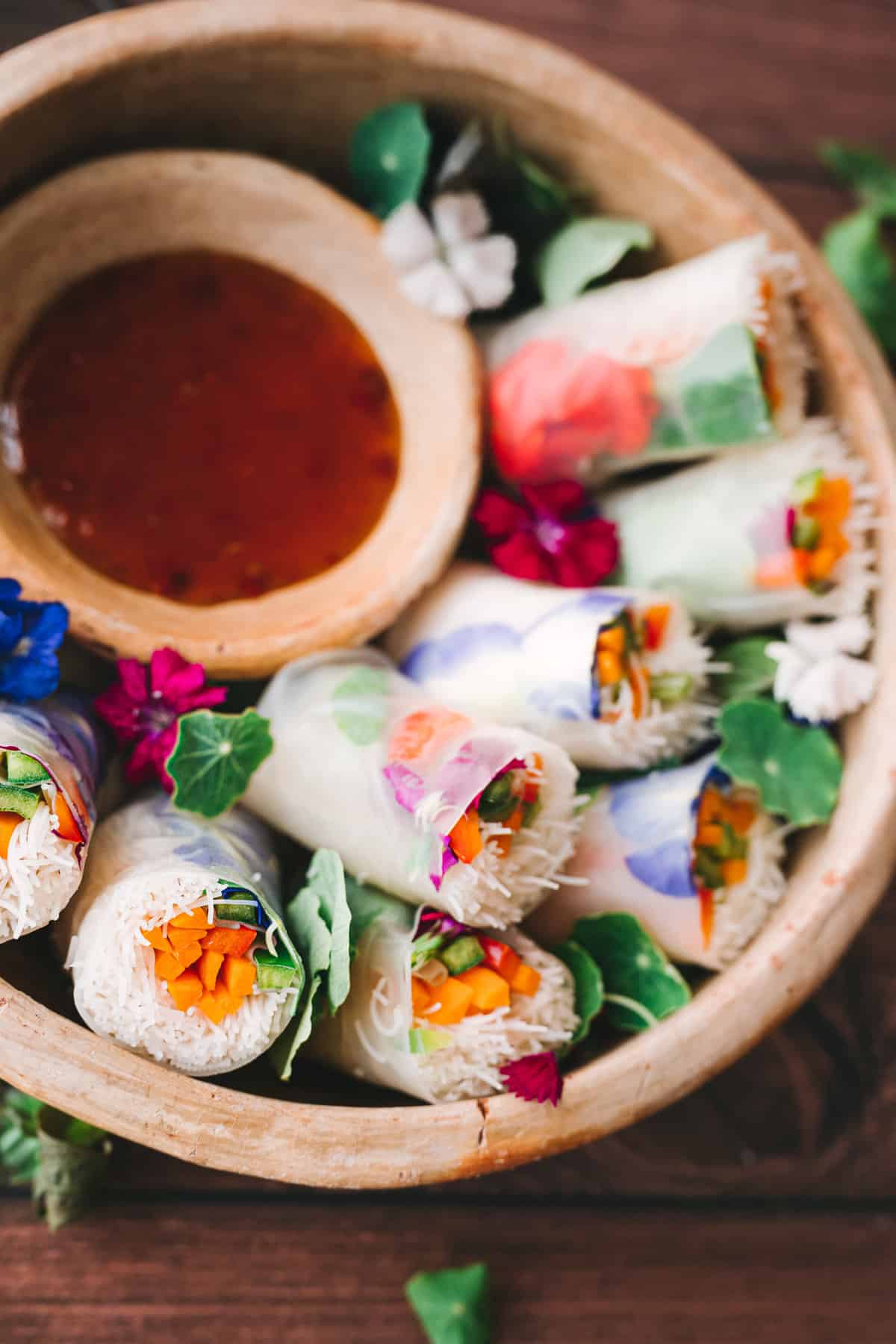 The best flowers for a summer roll:
Visit our post on The Best Tasting Edible Flowers for inspiration, these are our favorite edible flowers for savory dishes.
Nasturtium: Nasturtium has a mildly peppery flavor with an aroma reminiscent of mustard. It's perfect for savory dishes like these summer rolls or a vibrant edible flower salad.
Dianthus: Dianthus flowers are known for their slightly spicy aftertaste. They pair well with a savory dish like this one.
Pansies: Pansies have a very mild flavor, similar to lettuce, which makes it perfect for a vegetable rich dish like this one.
Tulip petals: The tulip flower is a member of the onion family. The petals of a tulip offer an an inviting texture, and flavor when added to a healthy and refreshing dish like this one.
Butterfly pea flower: This vibrant blue flower really makes these rolls pop! Their flavor is very subtle, so they are added more for their flair than flavor.
Herb flowers: Put your trimmings to work but adding your delicious herb flowers into these summer rolls.
Ingredients:
4 ounces Rice Vermicelli Noodles
12 8'-9' rice paper rounds
1 cup fresh basil leaves
1 cup fresh cilantro leaves plus 1 tablespoon chopped
1 cup fresh mint leaves
1 cup English hothouse cucumber, cut into matchstick-size pieces
1 cup carrot, cut into matchstick-size pieces
16 small edible flowers
How to assemble:
Place vermicelli noodles in a large bowl. Pour enough hot water over to cover; let stand until softened, about 10 minutes. Drain and transfer to a large bowl of ice water to cool. Drain and set aside.
Fill a pie plate with warm water. Working with 1 rice paper round at a time, soak rice paper in water, turning occasionally, until just pliable but not limp, about 30 seconds. Transfer to a work surface. I like to do this on a marble, wood, or plastic cutting board, which makes it easy to lift the delicate pliable rice paper for rolling. See FAQ below if you need to make these in advance for meal prep or entertaining.
First add your flowers one inch above the base of your rice paper in a line. Add a few leaves of each herb, cucumber, and carrot on top. Arrange a small handful of noodles on top. Fold bottom of rice paper over your fillings, then fold in ends and roll (like a burrito) into a tight cylinder. Transfer your roll, seam side down, to a platter. Repeat.
To serve, cut rolls in half on diagonal.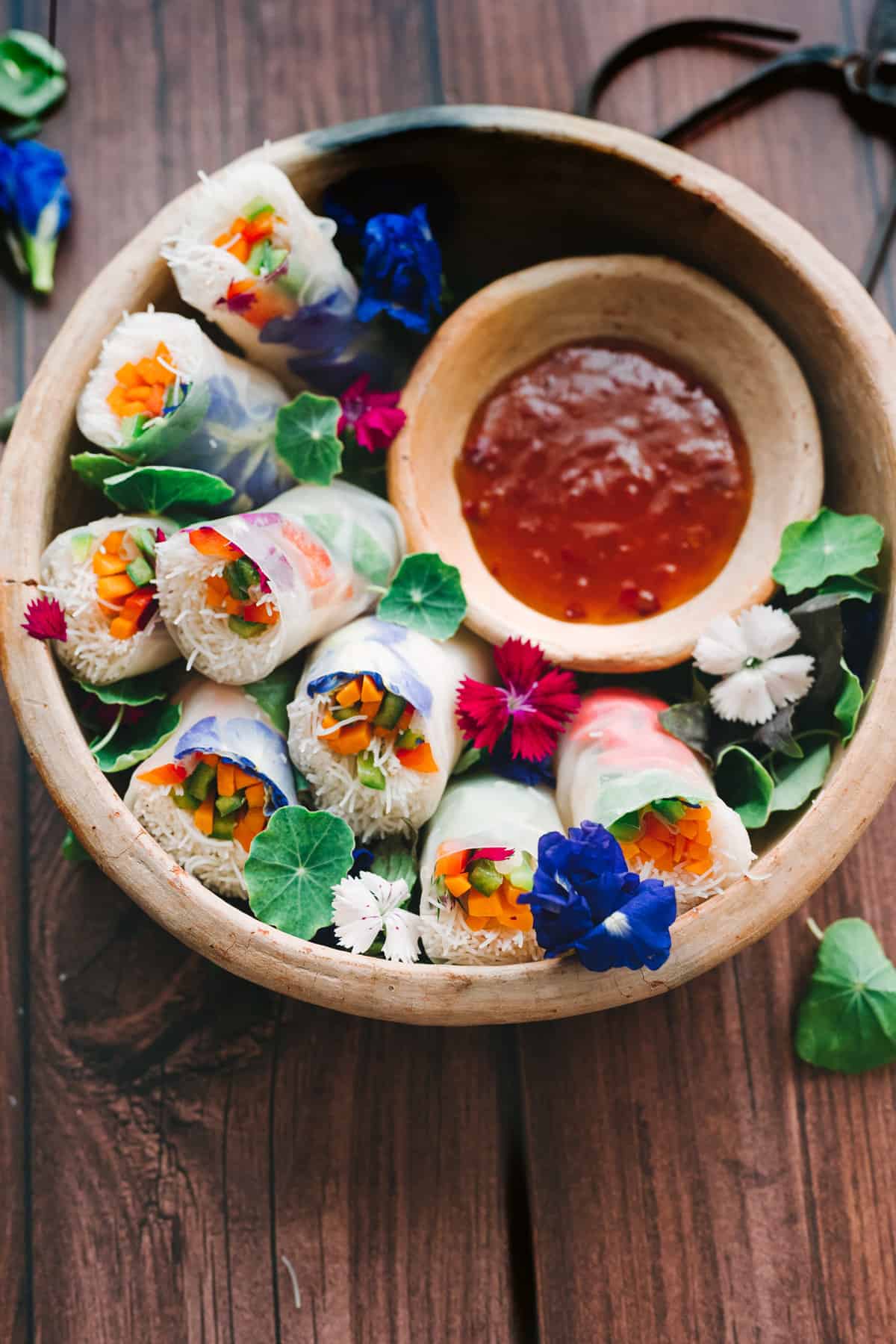 Frequently asked questions:
How far in advanced can I make these for an event?

This is a recipe that's definitely best made fresh the day of event. You can prepare them one hour ahead of time, and keep the rice paper moist by covering your rolls with a slightly damp clean kitchen towel, and stored in the refrigerator.
Where can I find edible flowers to make these?


Your own garden: If you are serious about decorating with edible flowers, the best place to get them is from your own organic edible flower garden. Now, I know not everyone has the time and space for an outdoor or even container garden. So, you can do what I do (now that we're living in the Middle East and there is no way I can grow flowers outdoors) and use an indoor garden system. This is how I grow my own lavender, pansies, and more. So - rule of thumb, the very best place to get fresh edible flowers is from your own garden. When I haven't been able to grow my own I've found it expensive to source the amount I need. For a one time project, keep reading.
Organic farmers: The next best place is to source them from organic farmers. In every country I've lived in I've been able to find someone who grows organic flowers for consumption. They may be very seasonal, so keep reading to learn how to preserve your flowers and make them last as long as you need. But, it's very likely you can find someone who is already growing them.
Farmers market: The farmers market will often have edible flowers due to their increased popularity. Before certain crops grow, they produce flowers - like squash blossoms, or cucumber flowers. And if you don't see any, ask the vendors. Maybe they'll bring some for you next time!
Grocery stores: During spring, you will likely see them in your the produce section of your local grocery stores. What I do is buy more than I think I'll need, preserve them. The best way to do is is to and make pressed flowers to preserve them so I can still use their natural beauty when they're no long in season. Sprouts and Whole Foods market has sold edible flowers in their produce section.
A local nursery: however you'd have to look for organic plants with edible flowers, these are the ones safe for consumption.
Online sites: If you live in the United States, there are several websites dedicated to selling organic flowers.
Gourmet sweet botanicals: Gourmet Sweet Botanicals sells high quality Edible Flowers and specialty items and ships direct to your door! These products are harvested, packed and shipped the same day from the farm to ensure the utmost in color, freshness & flavor. They ship nationwide and to Canada using FedEx and UPS overnight services.
Cherry valley flowers: As a USDA certified organic farm, we take great pride in growing our edible flowers without the use of synthetic chemical pesticides, herbicides, or fungicides. This means that when you eat our edible blooms, you're only tasting nature.
Melissa's farms: Melissa's Edible flowers complement many dishes, adding glamour and pure elegance. Varieties of edible flowers may include: Carnations, Hollyhocks, Daisies, Marigolds, Nasturtiums, Chrysanthemums, Chicory, Cornflower, Lavender, Snapdragon, Violets and Pansies. Few of the edible flowers have a lot of flavor; they are primarily added for color, design and aesthetic value.

We have an entire post dedicated to sourcing edible flowers, read if you wish!
What sauce do I serve these with?

Summer rolls are often served with a peanut sauce or sweet chili sauce.
How can I store them if I want to use them for meal prep or entertaining ahead of time?

If you wish to make a few summer rolls, consider double wrapping them to give them extra strength, since rice paper is quite pliable. Store up to 5 days, wrapped in Saran Wrap or wax paper to prevent the rice paper from sticking together.
What temperature do I serve summer rolls at?

You can serve them chilled or at room temperature.
BASIC RULES OF EDIBLE FLOWERS:
A little knowledge goes a long way towards ensuring your health and that of others, so make sure to read through these important precautions before consuming any type of edible flower.
Not all flowers are edible. Even simply garnishing a dish with a flower that is not edible can make you very ill. Be sure you have properly identified your plant before consuming. If you are foraging in nature, use a plant identification app, which helps people identify harmful vs harmless plant species so they don't get sick from trying new things while hiking through nature. Identify the flower exactly and eat only edible flowers and edible parts of those flowers.
Most store bought flowers are not safe for consumption. The type of flowers you plan to use for food should never come in contact with pesticides or other chemicals. The best edible flowers are ones you grow organically in your garden. The exception is the very seasonal food grade flowers sold in your local grocery store, more on this below.
Never harvest flowers growing by the roadside, chemically treated lawns, or areas with lots of animals.
If you haven't tried a particular flower in culinary uses, taste a small piece of the petal before consuming a whole petal. You can be allergic to flowers. Use flowers sparingly in your recipes due to the digestive complications that can occur with a large consumption rate.
.